Today's look is all the about pink gingham dress. This cute puff-sleeved dress has been incredibly comfortable to wear during the heat wave. It's easy to throw on and has major style points. I teamed the pink dress with black and gold accessories to offset the girliness. I also decided to pull my hair back into a slick bun worn with studded gold hoops. The look was put together in less than 5-minutes.
THE Pink gingham DRESS SHAPE…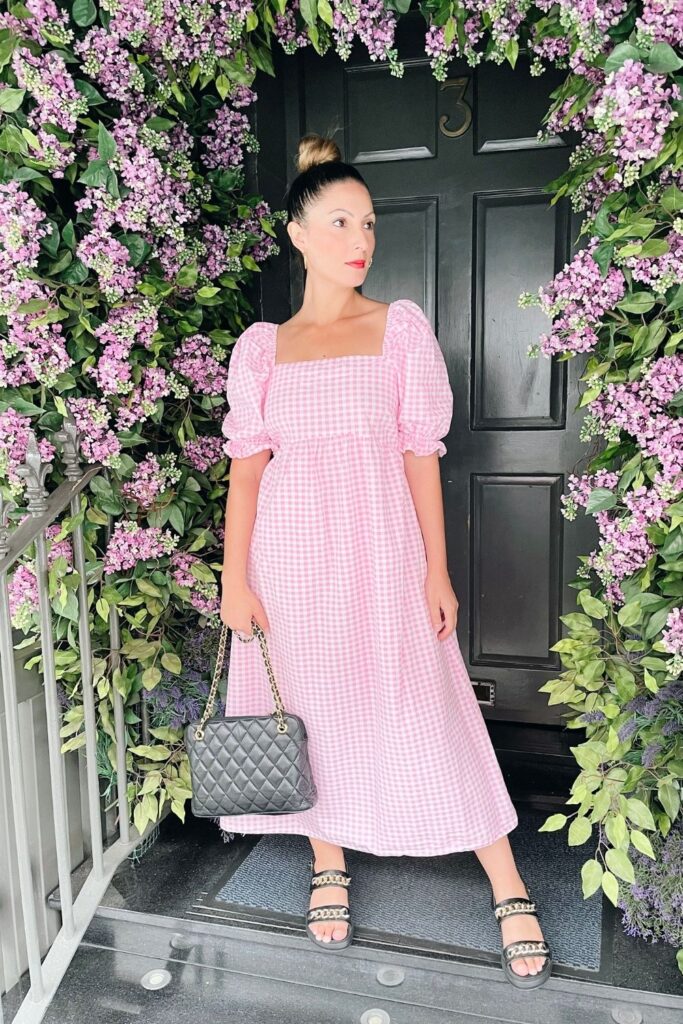 I really love this dress, it's simple and makes a statement BUT it's very different to my usual look. Whilst the style of dress is not typically my go-to for emphasising my hourglass curves (think waist-cinching or mid-drift enhancing dresses) it's actually a great shape for disguising weight gain.

The puff sleeves help draw attention to my shoulders, not the weight gain on my upper arms. The cinched-in area beneath my bust, helps create a waist, whilst skimming over my bloated round tummy, without clinging or feeling restrictive.

The A-line shape at the bottom of the dress is flattering as it pulls the eyes down towards my ankles hiding the weight gain on my hips, thighs and bottom.
Accessorising pink gingham
The black leather and gold chain flatform sandals are pre-loved via Vinted, and the quilted black leather bag is Vintage (and is in dire need of repair inside).
Not everyone likes the stark contrast between pink and black, but I do. You could opt for white or nude accessories for a softer look. I needed to toughen up the girly look.
Buying new clothes
I really try to restrict purchasing too many new clothes as I have so many dresses already – but this one was put in front of me, the last one, in my size, 100% cotton and comfortable (important to me right now as I have gained a lot of extra weight and been very uncomfortable squeezing into my existing wardrobe).
I have to confess that this is NOT a dress from an ethical brand, nor is it preloved. I actually purchased it directly from a high-street store, on sale. As it was an in-person purchase I was able to do my due diligence and check the clothing care tags, and the seams.
Sometimes it's not about where you purchase, but how you purchase (with consideration and intent to use for over #100wears) and how you intend to care for the garment. Building a sustainable wardrobe is a journey – not a final destination, everyone's path is different and how we all approach sustainable shopping is different too.
Ethical jewellery to finish the look
I love my Loft & Daughter hoop earrings – and these were the finishing touch. You'll know by now I like to mix high-street (old purchases) preloved purchases (high-street and designer) and new purchases (ethical and sustainable brands) to create my looks. Let me know what you think about this look, would you wear it?

Check out preloved clothing apps and search 'PINK GINGHAM DRESS' to see if you can find yourself one.
Check out my Stylists Picks for discount codes for some of my favourite brands – and head over to Ethical Brand Directory to discover more brands doing good in the world.