I take a look at 7 different types of clothing alterations, tailoring, repairs, and re-design services available in London, some of which also offer virtual consultations and accept repairs globally. I've selected a mix of services that cater to luxury items, vintage, upcycling, and visible mending.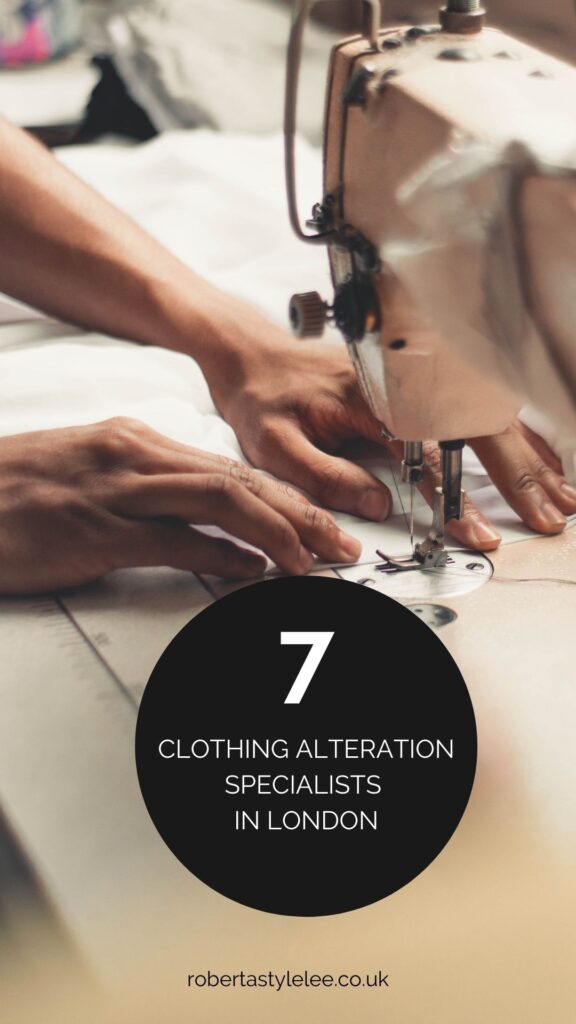 1. The Reclaimery – CLOTHING alterations & redesigns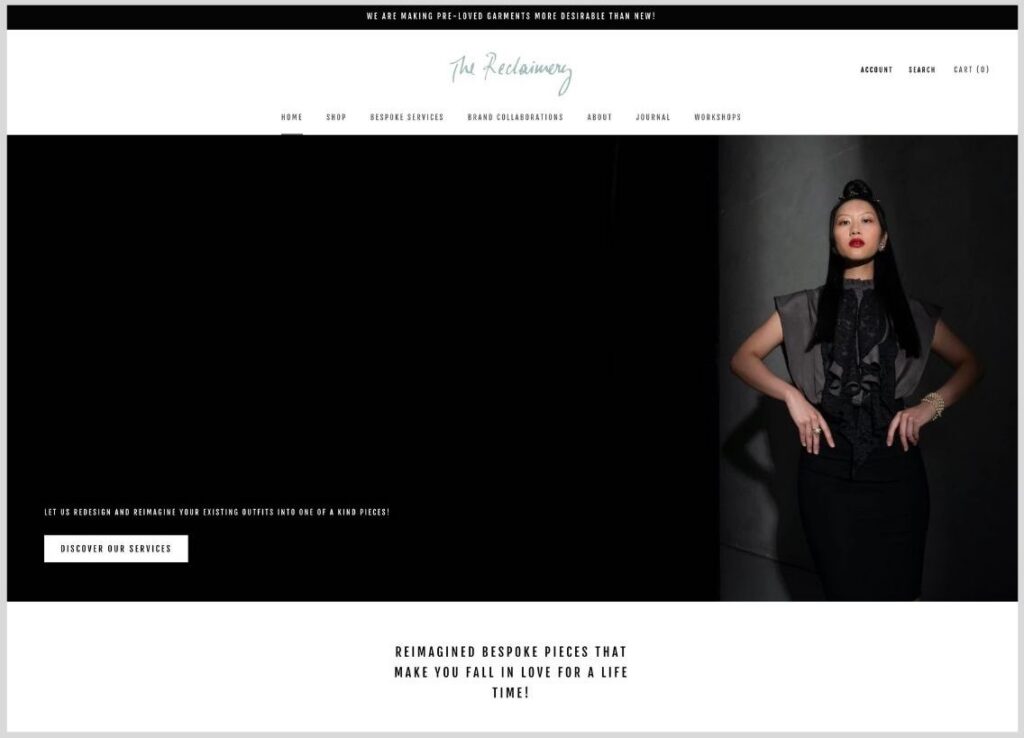 The Reclaimery offers alterations, repairs, upcycling, and embroidery services as well as bespoke clothing redesigns. The Reclaimery is more than just alterations, they are a platform that empowers communities and consumers and helps to protect the planet. They focus on social and sustainable practices, carefully working with what already exists and providing essential skills training and employment to local communities. They accept all types of garments from fast-fashion brands to luxury brands – and even vintage.

Prices start from £80 for services that will help you renew a top. Smaller alterations and minor repairs are all POA – as are larger redesign jobs.
How it works:
Use the contact form to get some guidance if you aren't sure exactly what service you'll need or how many hours of work it will take
If you do know what service you want you can go ahead and purchase a package that gives you a number of hours with a specialist
Take your measurements – see how to measure your body shape here
If you've booked a VIP service (the founder Juliet will visit you at home – London ONLY)
Pack up your items and send recorded in the post
You'll get confirmation that your pieces have been received and when you can expect them returned
Try on at home – and if there are any issues, you can get in touch and have a follow-up service to get the items tweaked

To book your first alteration or repair visit their website: use RSL10 to get 10% off your first job.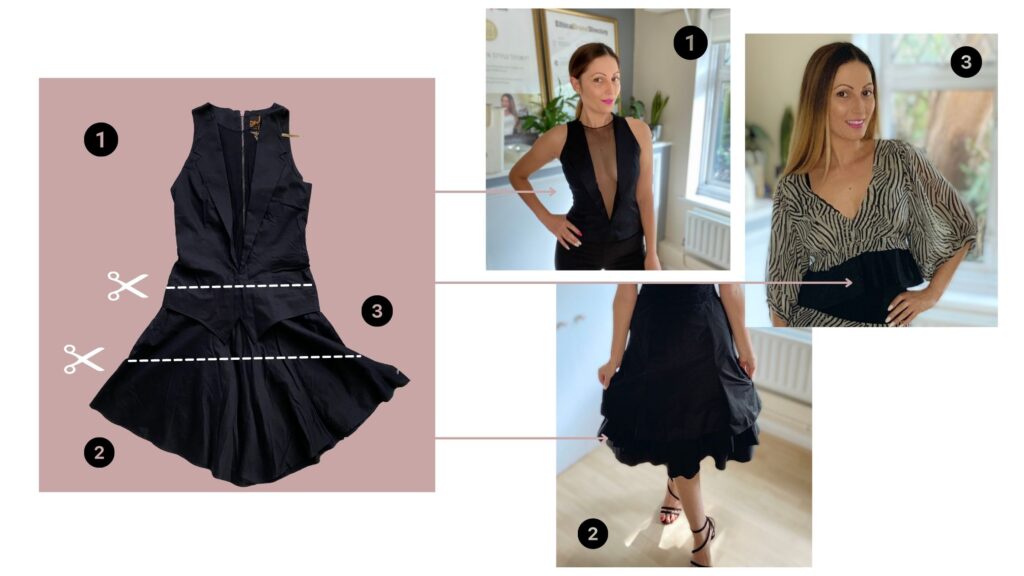 Check out their Ethical Brand Directory Listing – and see why they made the cut for my collection of stylist approved brands
You can also see them on my Sustainable Shopping Map in London
Check out my review of my Little Black Dress Transformations as part of a gifted service collaboration with The Reclaimery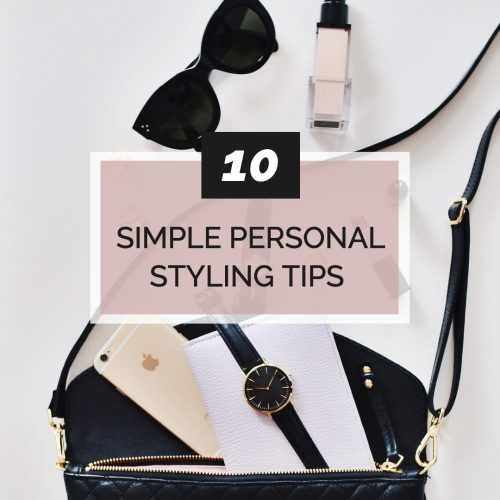 FOR EASY EFFORTLESS STYLE
2. The Seam – FIND LOCAL SEAMSTRESSES & TAILORS IN LONDON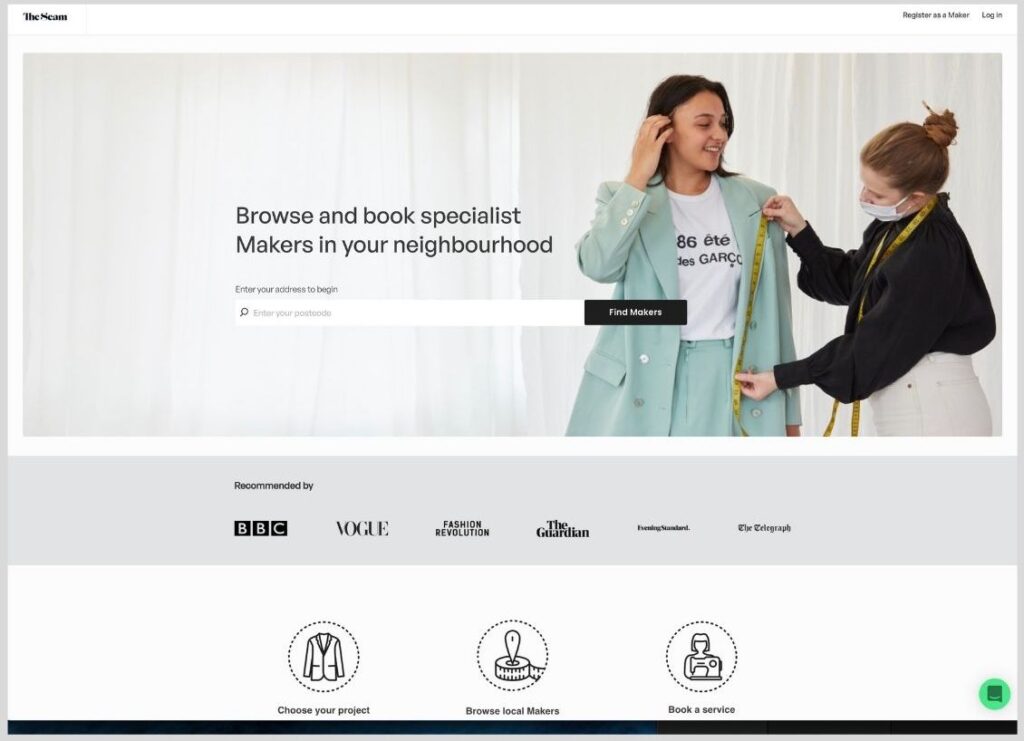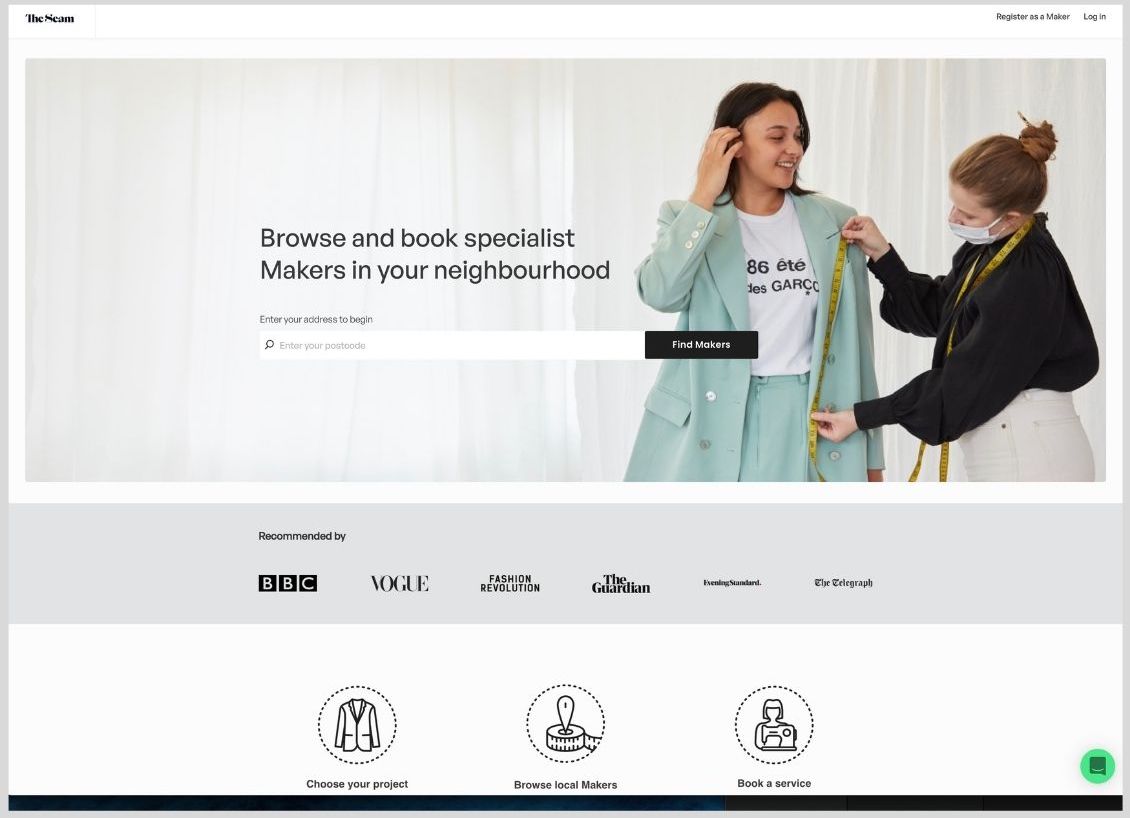 The Seam is a London-based business that helps connect local Makers with those looking for certain people with specific skills for their sewing-based projects. whether that's a simple repair or something made to measure. Use their simple search filters to discover local Makers near you who specialise in the service you need. You can even request for your Maker to visit you for a fitting at home or your workplace, it really couldn't be any easier!
Prices vary, an example cost would be a blazer that requires some fitting (tapering) and will cost you £48. Adding a new button will cost you £3 and a service fee of £8 is applied. It would appear that they accept all types of garments – you would likely need to specify if you're looking for someone with plenty of experience in vintage or luxury fashion.

How it works:
Enter your postcode on their website
Choose your project: alterations or repairs or custom projects
Choose your items: trousers, skirt or top for example
Select the alteration or repair required to form a predefined drop-down list
Browse Makers from a list sorted by location and distance from you
Select your maker and then decide if you will go to them or post the item
Enter what day you will go to their studio or post it, and when you need it back by
Complete payment
Check out their website for more information.
3. The RestorY – LUXURY FASHION AFTERCARE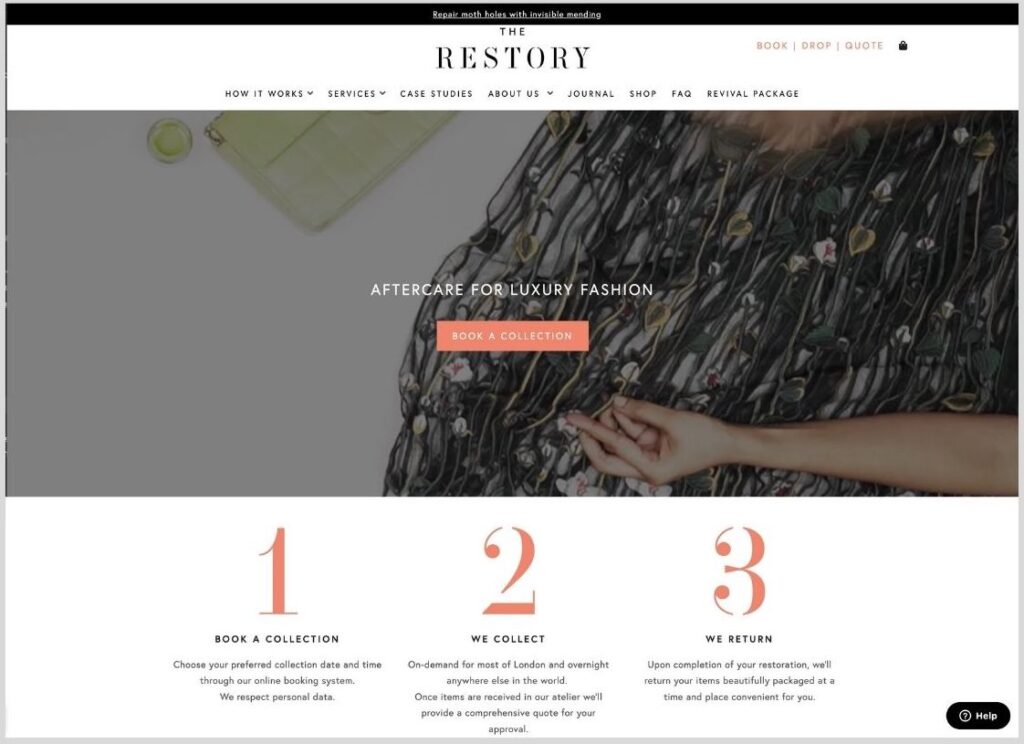 The Restory started out as the place to get luxury accessories repaired, spruced up, or given a makeover. They have now moved into clothing repairs which include wool (moth holes) to bridal gowns.
In terms of pricing, The Restory is definitely on the more expensive end. As they don't have examples of clothing repairs on their website, I can only gauge costs based on their other services. A pair of your beloved designer shoes that need a makeover can cost you anything from £250. UK collections cost £10. Those based in London have the option to book a day courier costing £17. Worldwide fees vary. It would appear that they accept all types of luxury garments – but you would likely need to specify if you're looking for someone with experience in vintage luxury fashion alterations (as they seem to focus on shoes, bags, and accessories more than clothes).

How it works
Choose your preferred collection date and time through their online booking system.
On-demand is available for most of London and overnight anywhere else in the world.
Once the item is received at their atelier they provide a comprehensive quote for your approval.
On completion of your restoration by their in-house team of artisans, they will return your items beautifully packaged at a time and place convenient for you.
Check out their website for more information.
4. Re-Considered – CLOTHING UPCYCLING SERVICE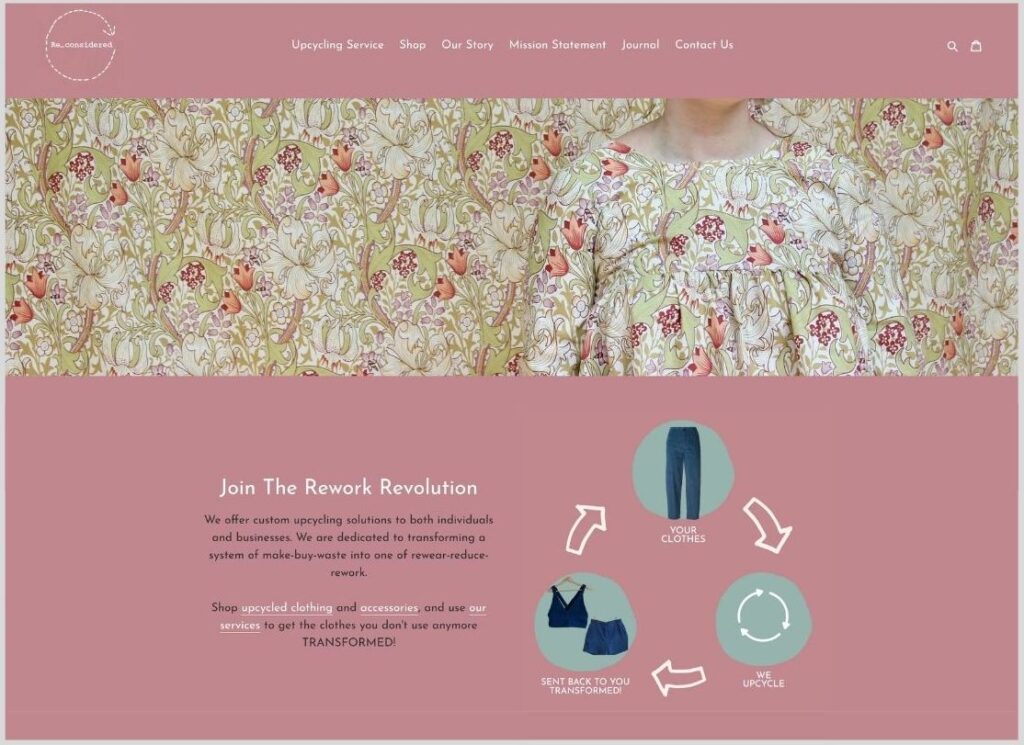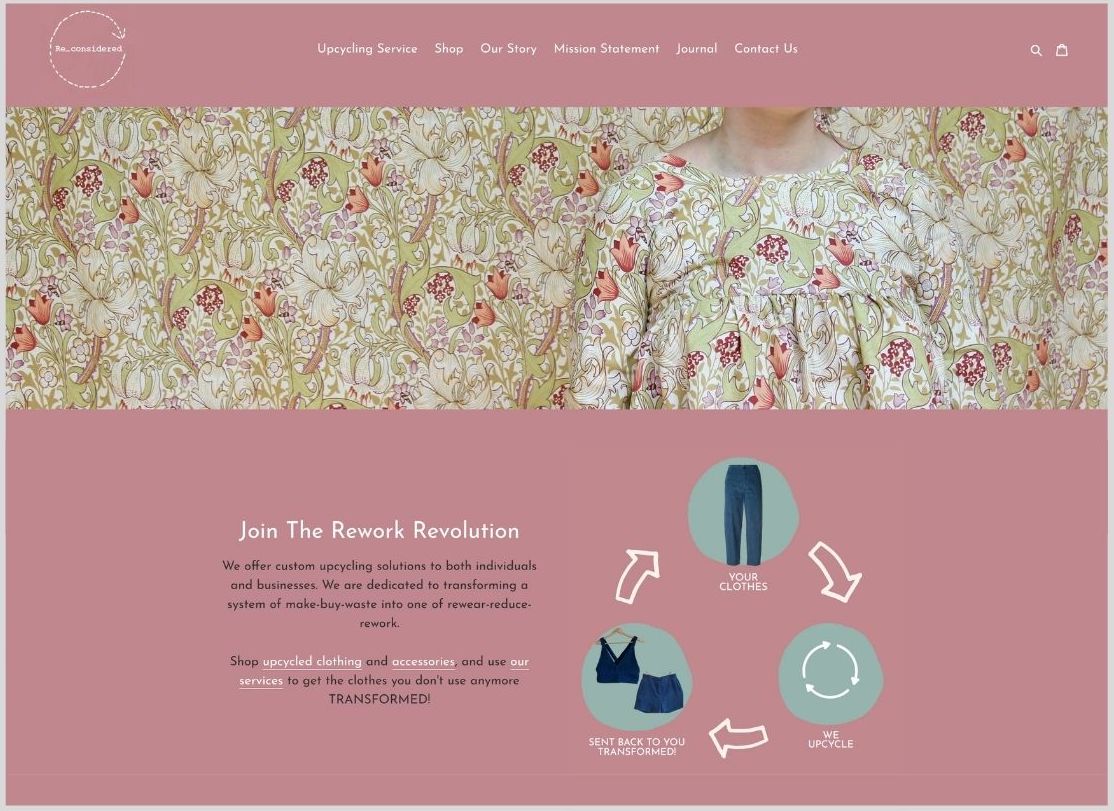 Reconsidered offers an upcycling service as well as a shop that sells a selection of one-of-a-kind garments that have been made from all kinds of salvaged materials like bed sheets, curtains, and other donated items.
Essentially this service is best suited for those of you who want to transform an unworn or unused item in your possession into a pair of trousers, or a large shirt into a top and shorts.
Costs vary, but if you're looking to re-work a dress into a top and skirt, it starts at £30. Alterations to the length of trousers from £8 – and a new shirt made from a pair of curtains starts from £45. They accept all kinds of garments for simple upcycling and alterations. Complex redesigns and high-end luxury upcycling are not really their wheelhouse – they make simple, fuss-free quality basics.
How it works
Find an item(s) you don't use/wear anymore
Fill out the form here and you'll receive an email with a link to a quick 5 min virtual appointment (they discuss your upcycle and designs)
You send or drop off your item(s)
They upcycle your item(s)
You'll have a whole new outfit sent back to you made from what you already own!
Check out their website for more information
5. The Clothes Doctor – CLOTHING CARE EXPERTS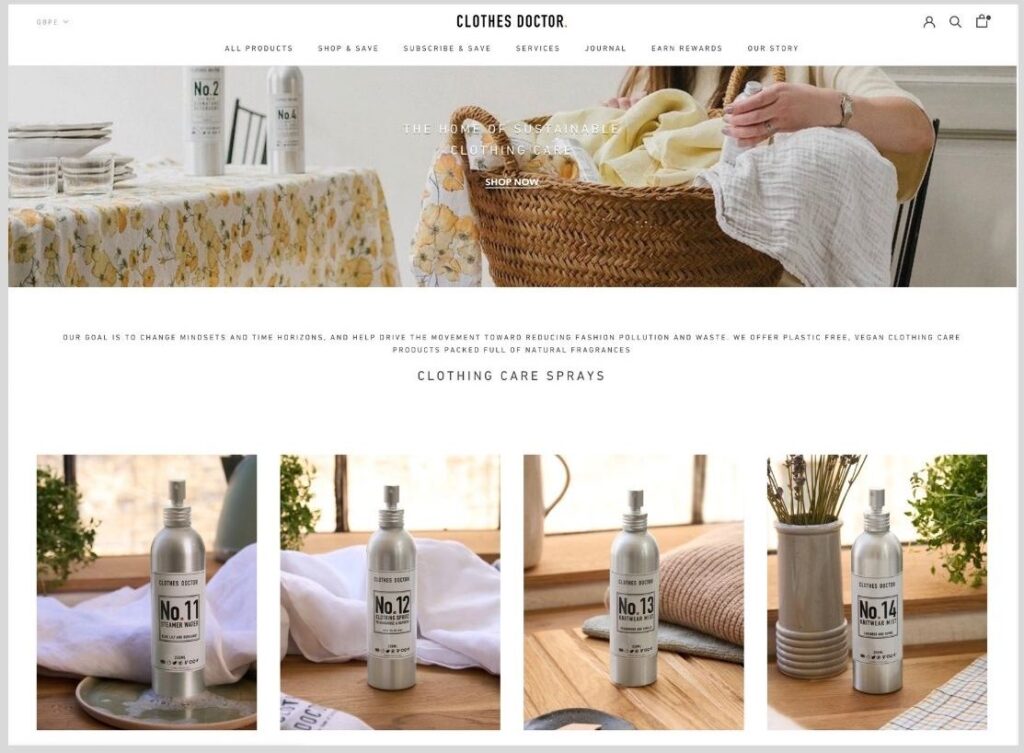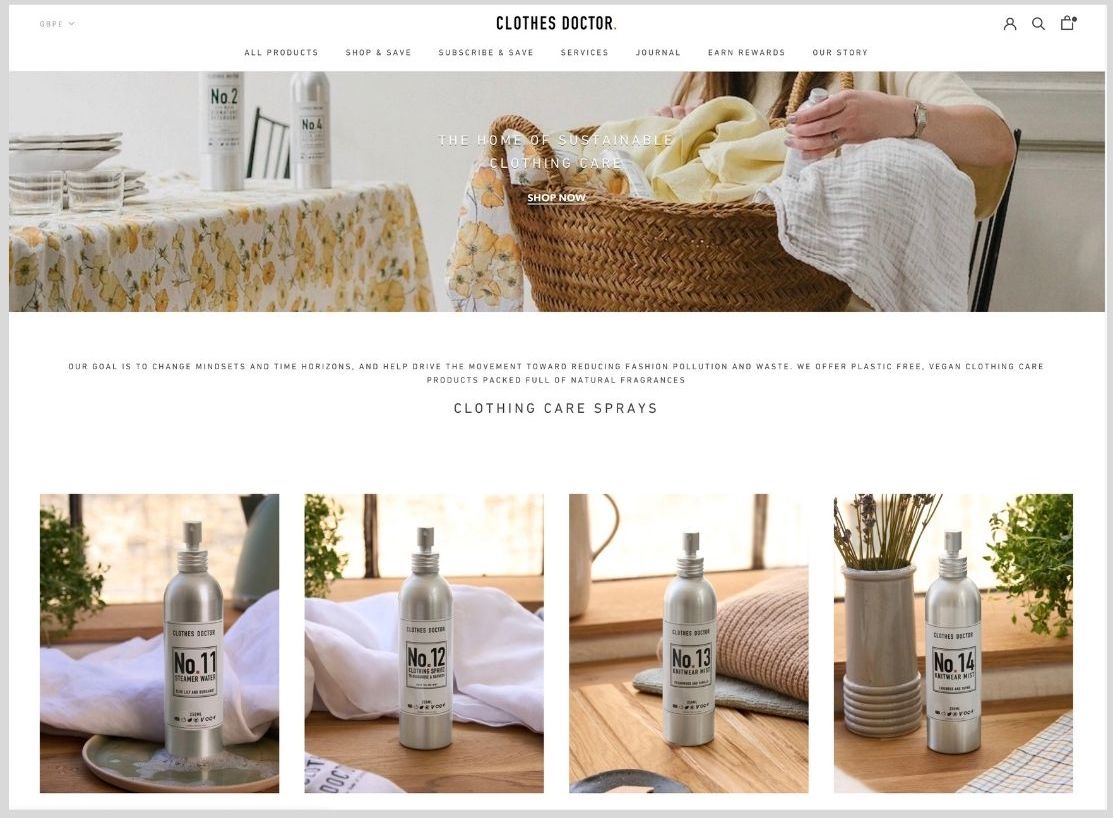 The Home Of Clothing Care. They offer online alterations, clothing repairs, and restoration treatments. However, they seem to have really moved their focus towards sustainable, plastic-free, non-bio, eco-friendly, fragranced laundry detergents, clothing care tools, and brushes, which can help you maintain your clothes for longer.
Costs vary, some are quite low, such as a zip replacement starts from £17, a fallen hem starts at £12 – and a coat or jacket relining will set you back £175 + It would appear that they accept all types of garments, but seem to specialise in restoration of materials like silk, cashmere, and leather.
How it works
Review the website for the service you require and the pricing
Request a quote
Send in your items (self-ship to their team, or choose to get a CollectPlus label)
7-10 days later, your revived clothes will be delivered to the comfort of your home.
Check out their website for more information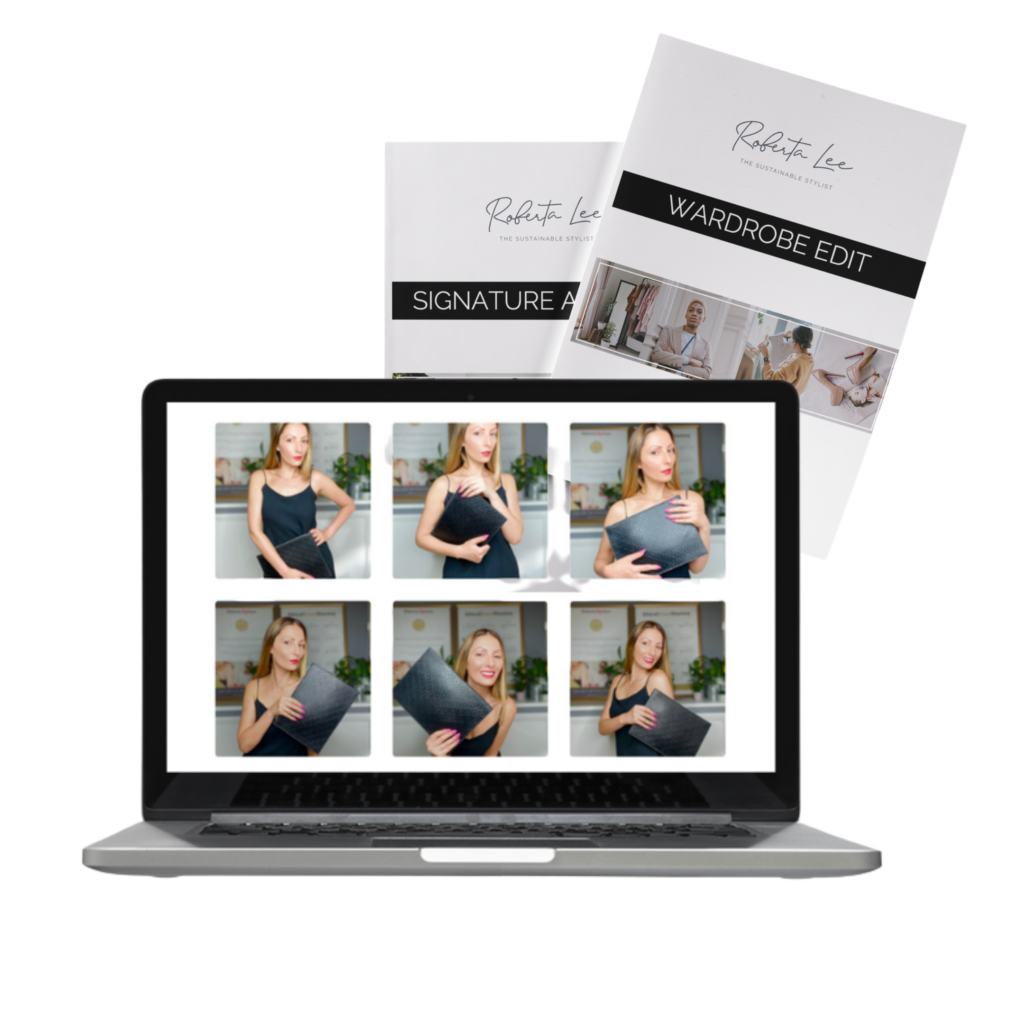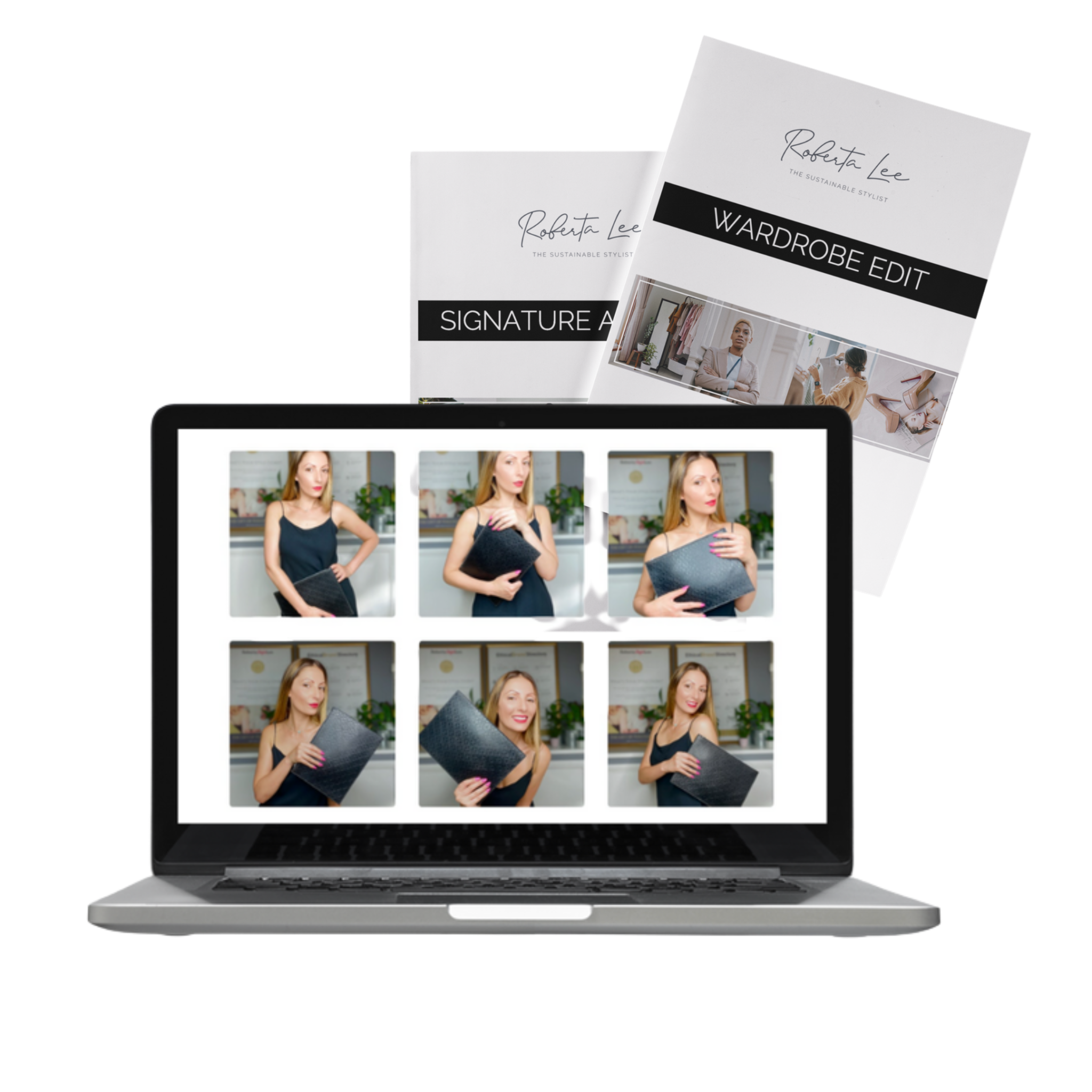 FEEL EXCITED TO GET DRESSED, KNOW YOUR STYLE & SHOP WITH PURPOSE
Drop your details below to learn more about the classes, outcomes, and experiences of other students who have completed the Create Your Own Personal Course. 
6. Splendid Stitches – VINTAGE CLOTHING repairs & alterations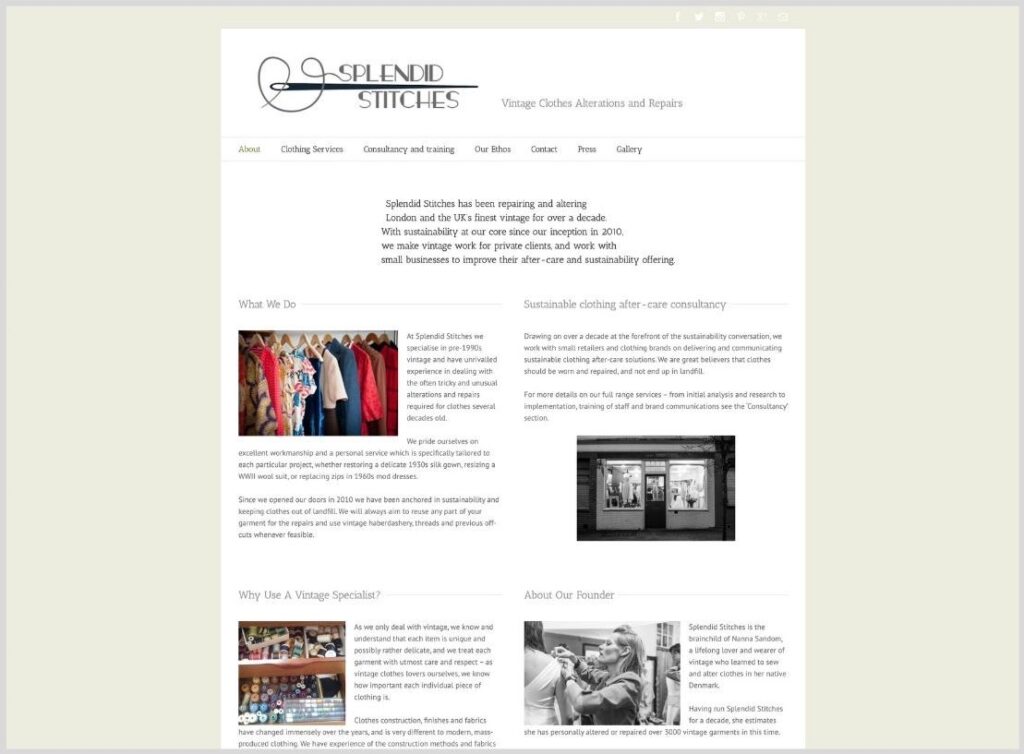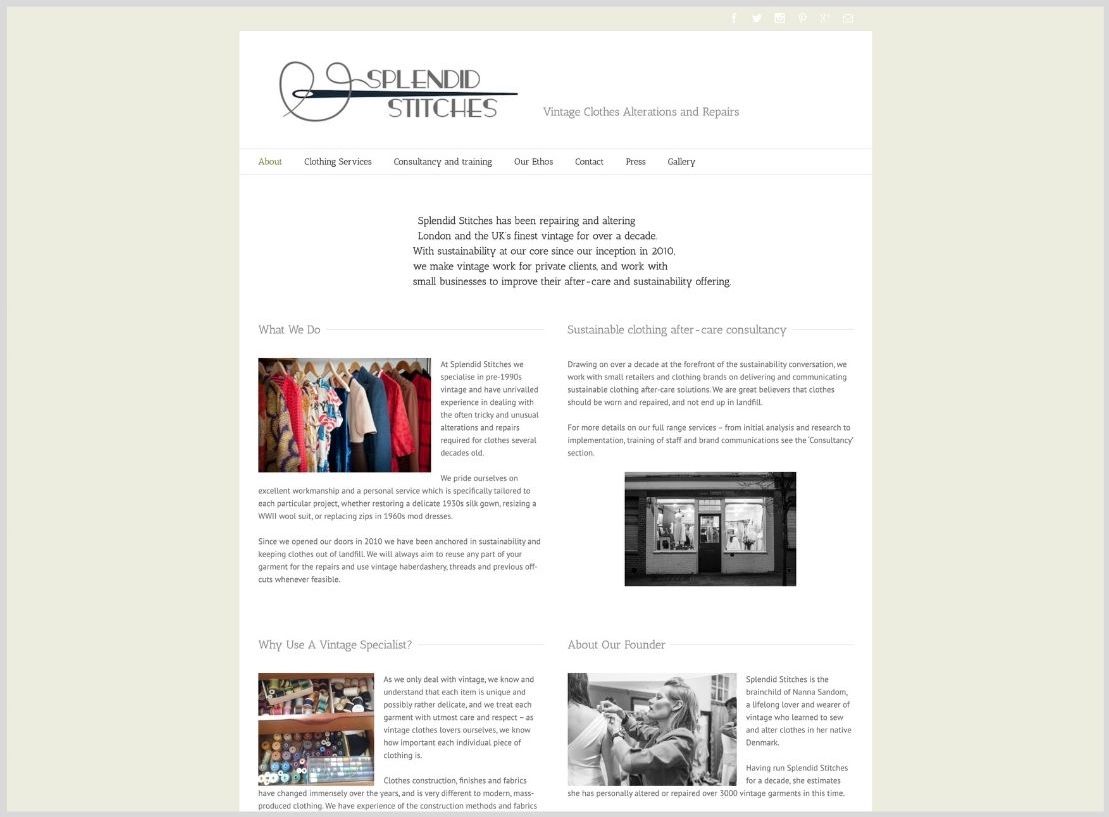 Splendid Stitches specialise in vintage clothes repairs and vintage bridal gown fittings in London. From Split seams to patching rips, tears, and holes. They even do reworks such as changing a dress to a skirt or jumpsuit to trousers and re-lining vintage garments. Splendid Stitches specialise in pre-1990s vintage.
Costs of repairs are N/K- their website is a little dated and also lacks good before or after pictures. However, they have been recommended to me on several occasions hence making this list! They are very specific about excluding any fast fashion or contemporary fashion – in fact, they refuse to work on fast-fashion garments for ethical and operational reasons.
How it works
Fill out the contact form with details and a photo of the vintage item
They will be in touch and confirm if a fitting is required in their studio
Note: they are unable to take on projects from outside the UK, leather, suede, or contemporary pieces.
Check out their website for more information
7. SoJo – THE CLOTHING ALTERATIONS AND REPAIRS APP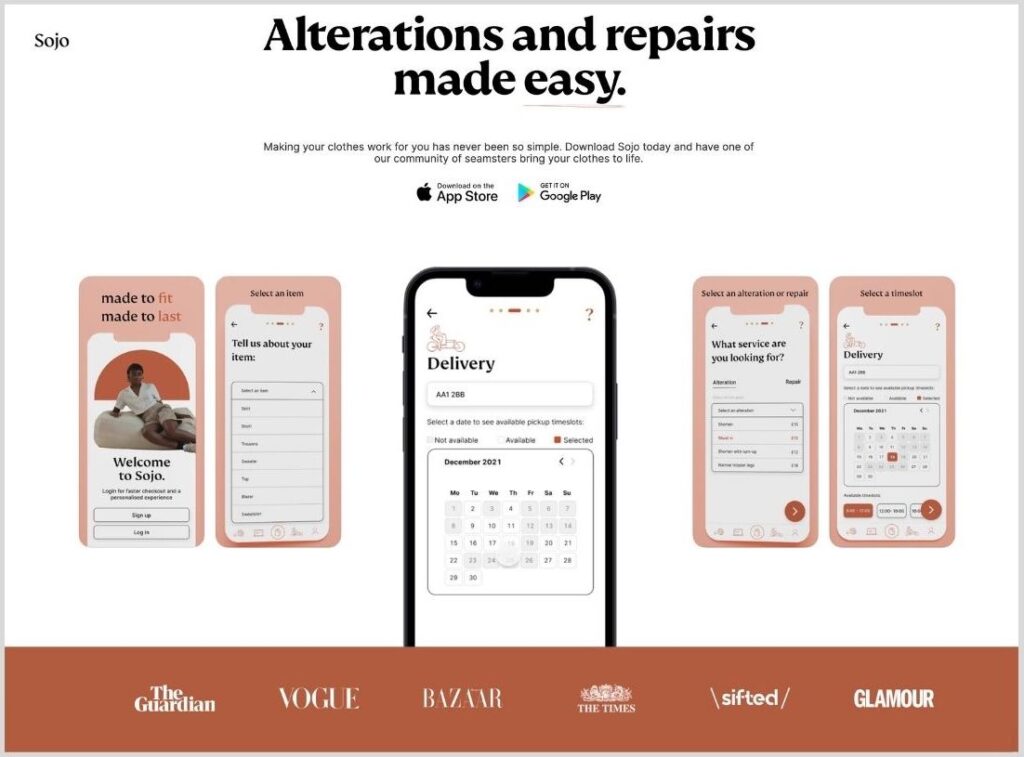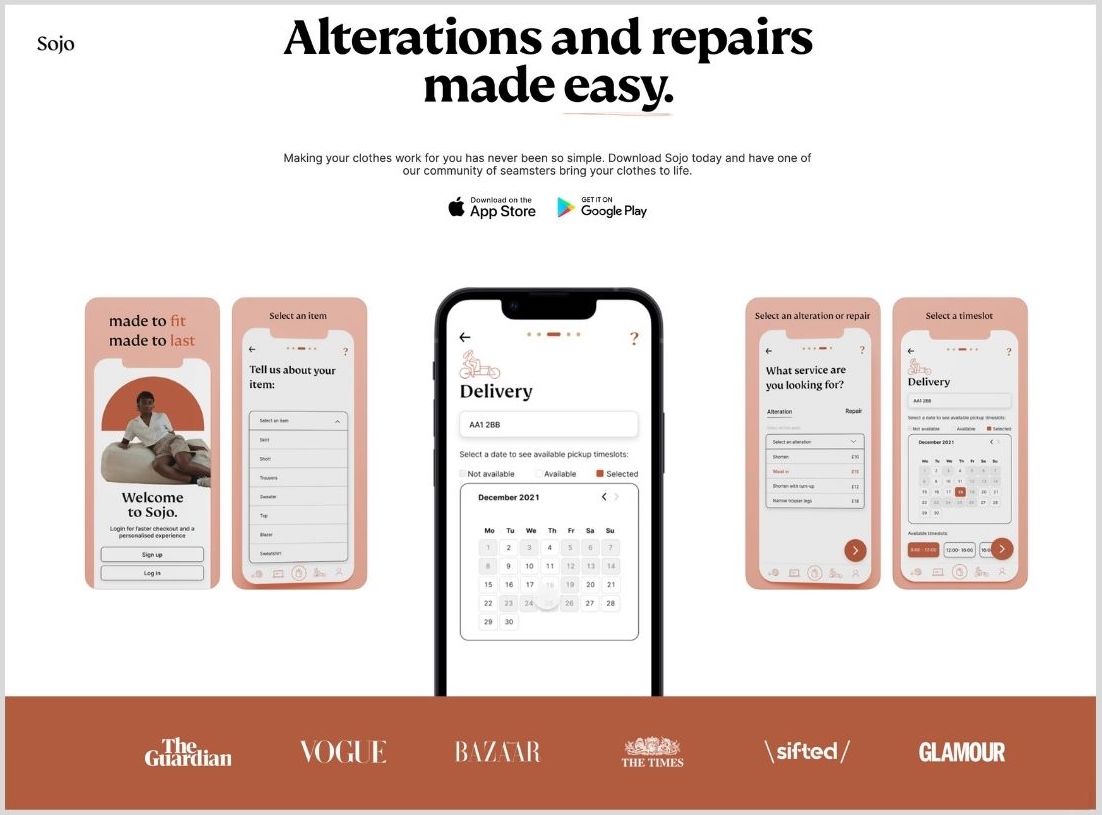 Sojo is the UK's first clothing alterations & repairs app. They are on a mission to help us all in our quest to create a more sustainable wardrobe. An ideal solution for Londoners who need to make small adjustments to their existing wardrobe and want the convenience of an app They connect customers to local seamstresses through their app, a very similar concept to The Seam.
The price for a pair of wide-leg trousers to be tailored at the waist it's £22 and the shortening of the hem is £16.50 with a turnup it would be £24.25. To repair a zip in the same trousers £22. Delivery is £3.99 for both the pick and return.
How it works
Download the app (iPhone)
Download the app (android)
Enter your postcode (see if your area is covered)
Select the garment you'd like altered or fixed
Select the service you require for that item
Book a pick-up time
I wasn't able to use the app myself as my postcode in my old North London (zone 4) address wasn't covered, nor is my new address which is even further North.
I hope you've found this blog useful and will consider trying out some of these amazing services. You may find my other blog: 3 Shoe and Handbag Repair Specialists For Your Radar (coming soon) useful too, make sure you sign up for alerts so you don't miss it. Let me know about your experience with these providers and if you have a blog or review with a before or after photo please pop in in the comments below.