Sustainable fragrances, all-natural perfumes, and eco-friendly scents are becoming more trendy as people ask 'what's in my perfume?' Discovering new fragrances that are sustainable and ethically made isn't always easy, particularly when you are used to purchasing mainstream perfume brands. If you go into the 'Perfume Shop' and ask them for a sustainable perfume, you'll likely be met with a blank face. I've pulled together a list of sustainable and ethically sourced brands for you to try out.

I also started to question 'is my fragrance ethically made? Is my perfume non-toxic? It's really not much different from wearing polyester clothes and comparing that to wearing organic cotton. Checking what's in the ingredients is also important, I highlight this in my '10 toxic ingredients to look out for in perfume' blog.
Non-toxic and eco-friendly perfume
It certainly puts things into perspective when you think about how much 'toxicity' we expose ourselves to through our choice of clothing, beauty products, and perfume. If like me, you've decided to steer clear of polyester because you don't like the idea of your skin absorbing toxins from the petroleum, then it stands to reason that we'd also want to avoid rubbing toxic creams, makeup, and perfume into our skin too. The skin is our body's largest organ, it accounts for more than 10% of our body mass.- and it's highly porous. It can easily absorb what we place on it, or what we expose our skin to – ultimately we're inviting that into our bloodstream. That's where safe, toxic-free perfume, sustainable fragrance, and ethically made scents come in – a key element in our signature style also includes our chosen aroma. So it's worth looking for a fragrance brand that is also aligned with your values.
Discover amazing sustainable perfume brands that are making their mark and being remembered for all the right reasons.
1. Sana Jardin – Ethically made FRAGRANCE



Sana Jardin is a socially conscious luxury fragrance brand that believes in clean and sustainable perfume as a vehicle for social impact and the economic empowerment of women. Sana Jardin is built on the principles of a circular economy – their alternative business model enables the women in their supply chain to become micro-entrepreneurs by up-cycling the waste products from perfume production.
One of my all-time favourite ethical and sustainable perfume scents is by Sana Jardin. I just adore the fragrance: Tiger By Her Side (Top notes: Cinnamon, Coriander, and Bergamot; middle notes: Siam Benzoin, Patchouli, and Moroccan Rose; base notes are Amber, Incense, Vanilla, and Labdanum)


But I honestly love so many of the other perfume options too. I was first introduced to layering perfume by this brand when I was gifted a set of mini fragrances, which is how I recommend trying and buying perfume so you don't invest in a large bottle you won't use, particularly if you're shopping online.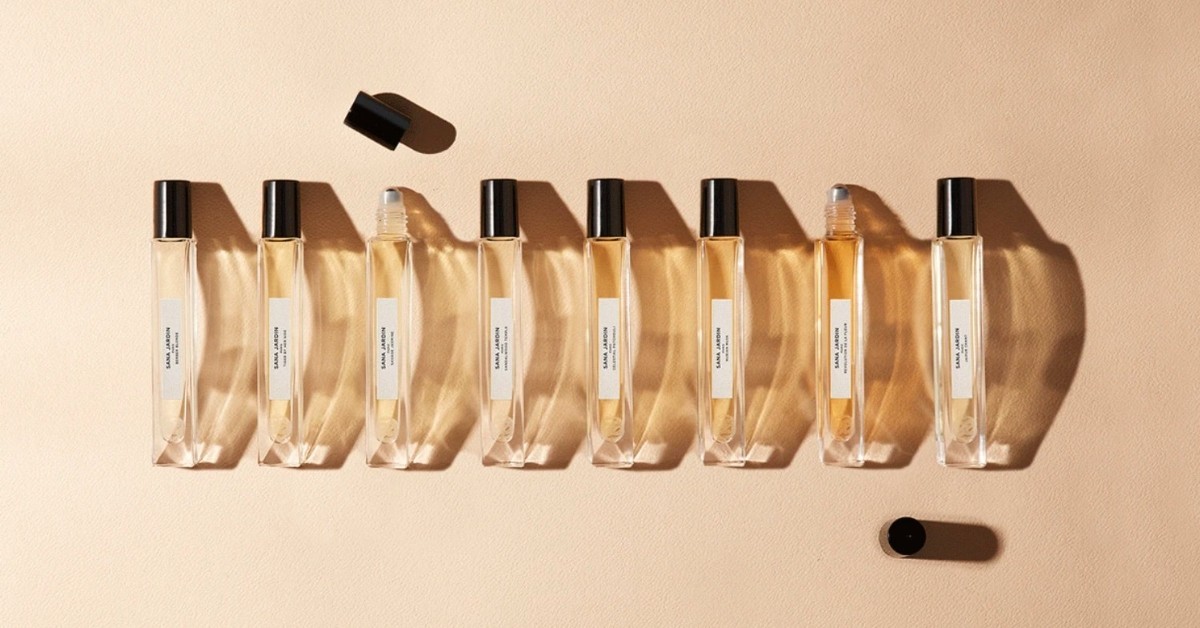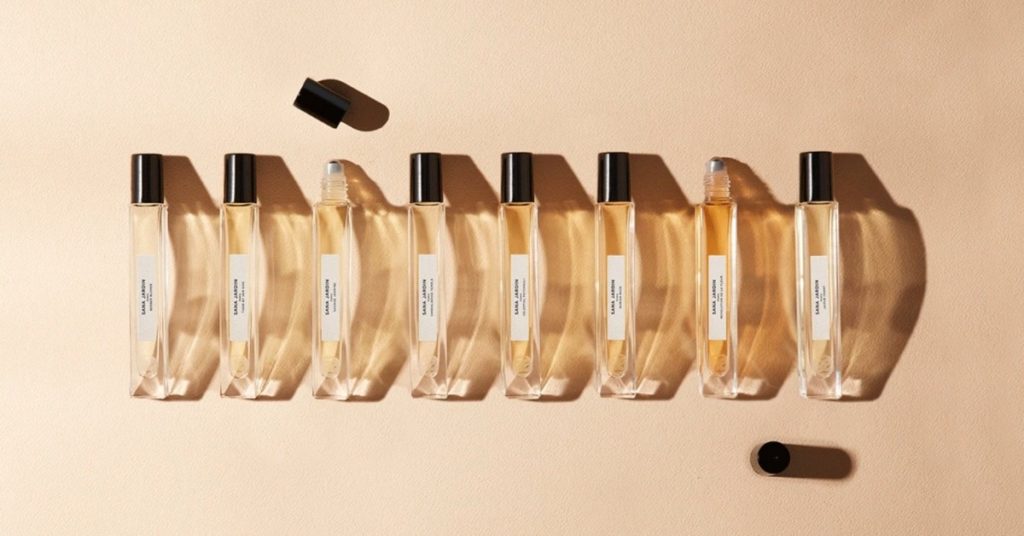 Visit their website here: https://sanajardin.com/
I was drawn to Tiger By Her Side in the mini-set and have the full-size perfume now, which only requires a very tiny pump of spray, and it lasts all day. I also enjoyed layering the other perfumes to create my own scents. I 100% recommend starting with sample sets when exploring a new perfume brand.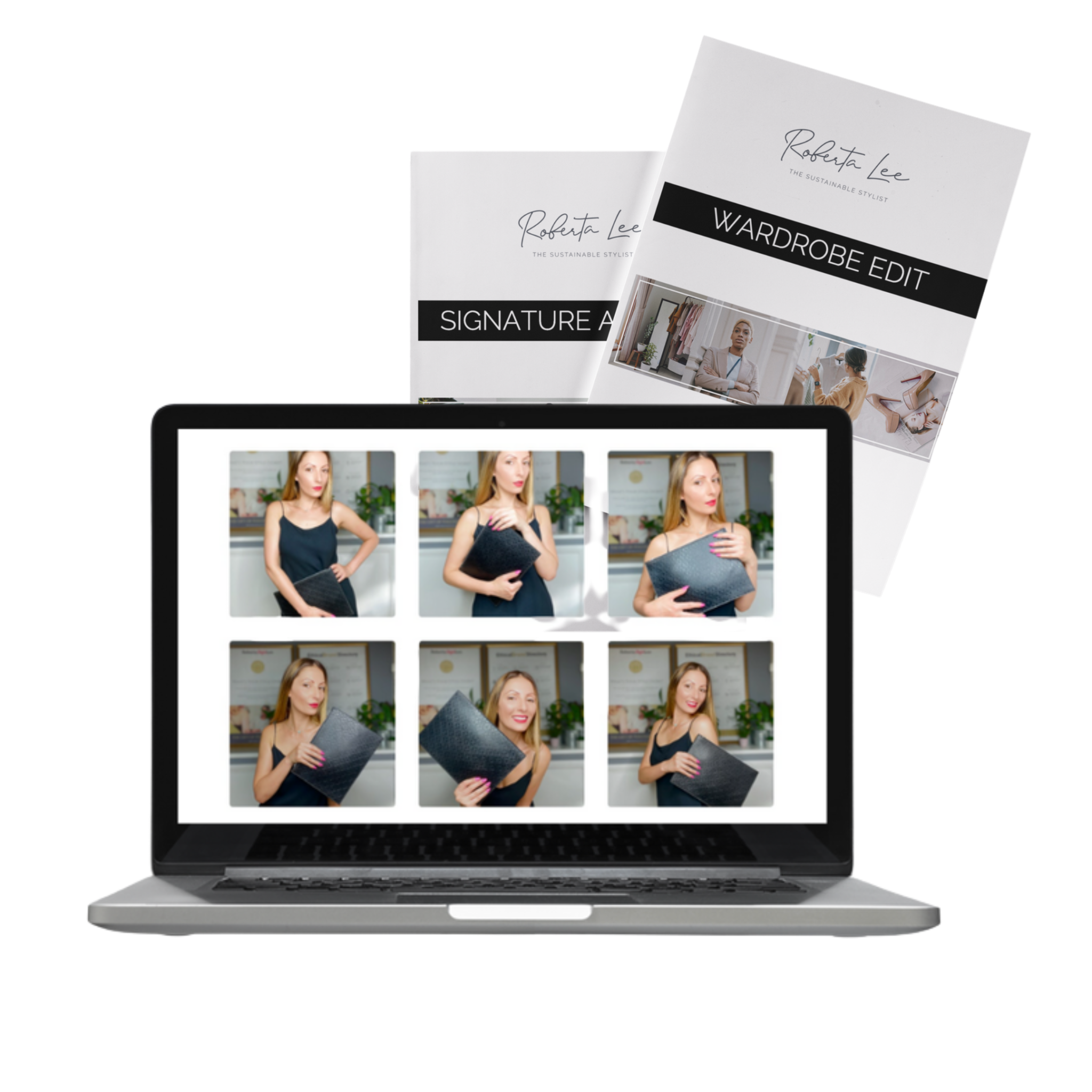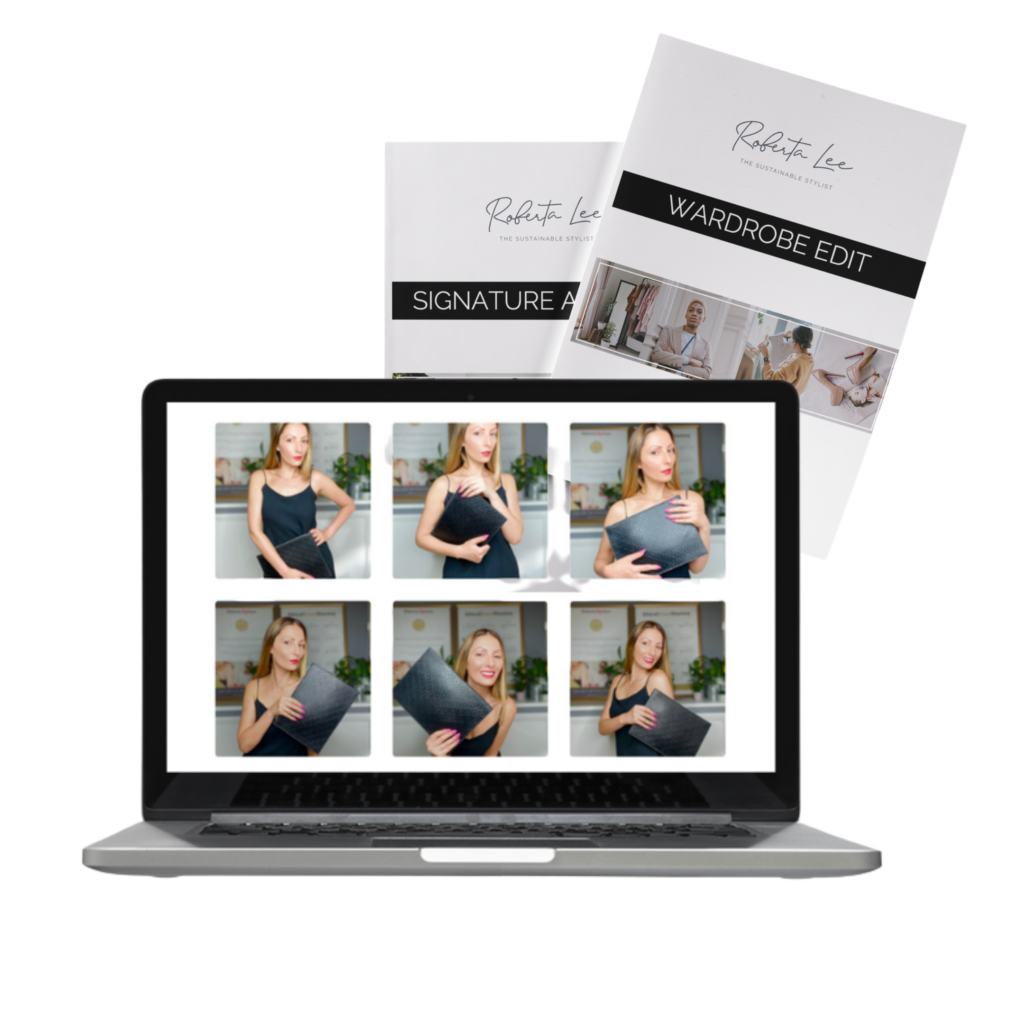 FEEL EXCITED TO GET DRESSED, KNOW YOUR STYLE & SHOP WITH PURPOSE
Drop your details below to learn more about the classes, outcomes, and experiences of other students who have completed the Create Your Own Personal Course. 
2. Ellis Brooklyn – ReSponsibly sourced PERFUME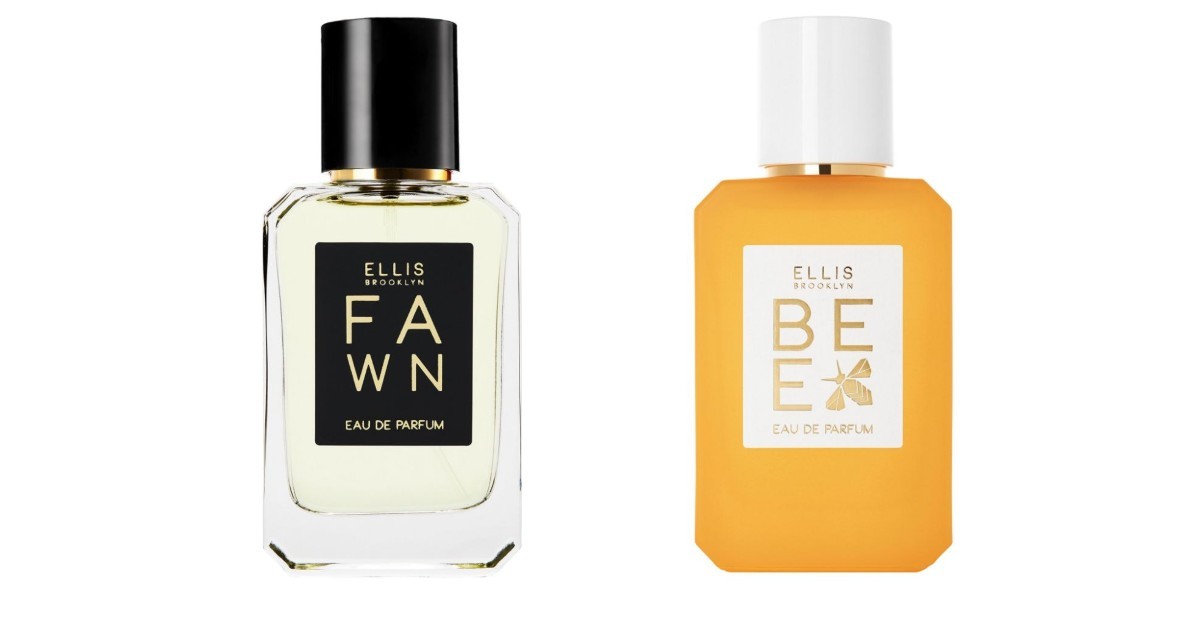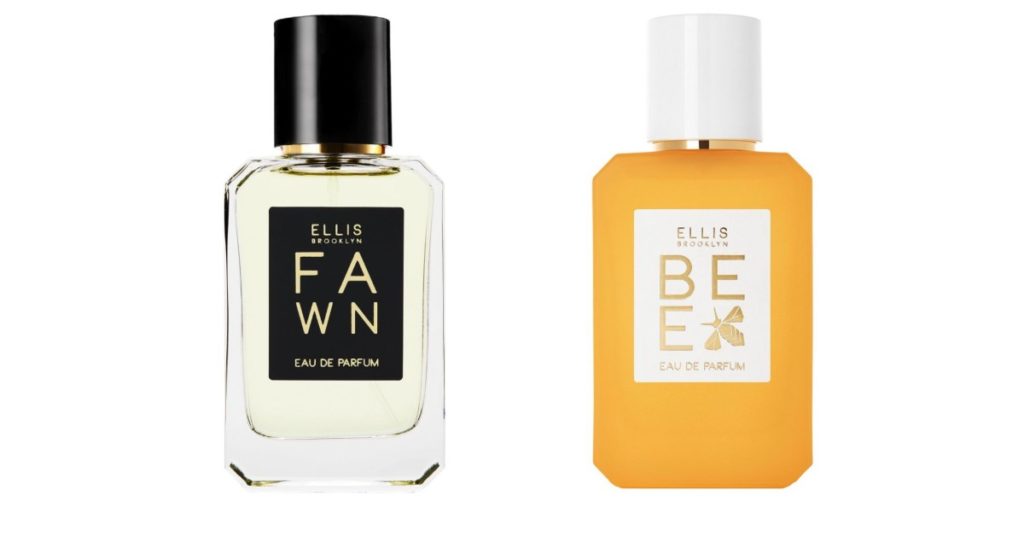 The next ethically produced, non-toxic perfume on my 'to-try list' is similar to Sana Jardin as the fragrances are made to be layered so you can create your own bespoke scent. Ellis Brooklyn is a cult brand based in New York. An innovator in clean perfumery, they are phthalate-free, paraben-free, PETA certified vegan and cruelty-free, sustainably sourced and eco-friendly.

Again, I love the fact that this company is doing things responsibly and creating scents that rival mainstream brands and enabling us to swap our toxic perfumes for ones that are good for us. The people who make the ingredients, and the perfume-making process is also kinder to the planet too.
The fragrance Bee really appeals to me (Pink pepper, Dark rum, Davana, Honey, Bran absolute, Cinnamon, Sandalwood, Vanilla bean, Cocoa absolute, Musk) or Fawn (Base notes: Amber, Vanilla, Musk, Middle notes: Damask rose, Lily of the valley, Coconut milk, Top notes: Neroli, Sicilian bergamot, Magnolia oil)


Visit their website here: https://www.ellisbrooklyn.com/

3. The Nue Co, FOREST LUNGS – A SUSTAINABLY SOURCED SCENT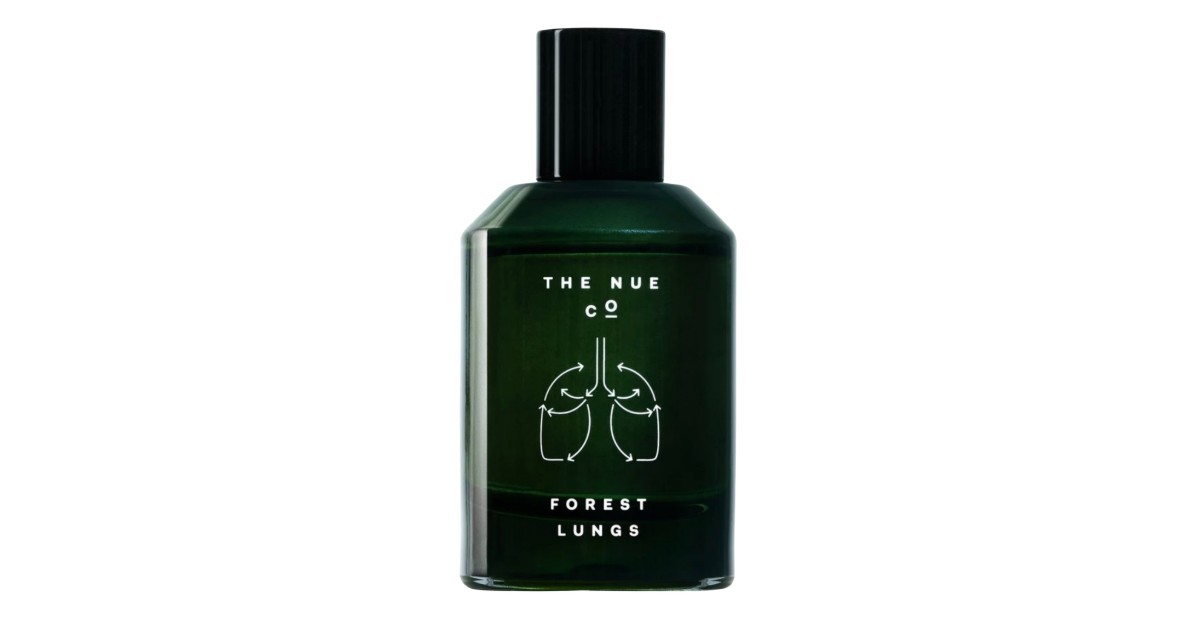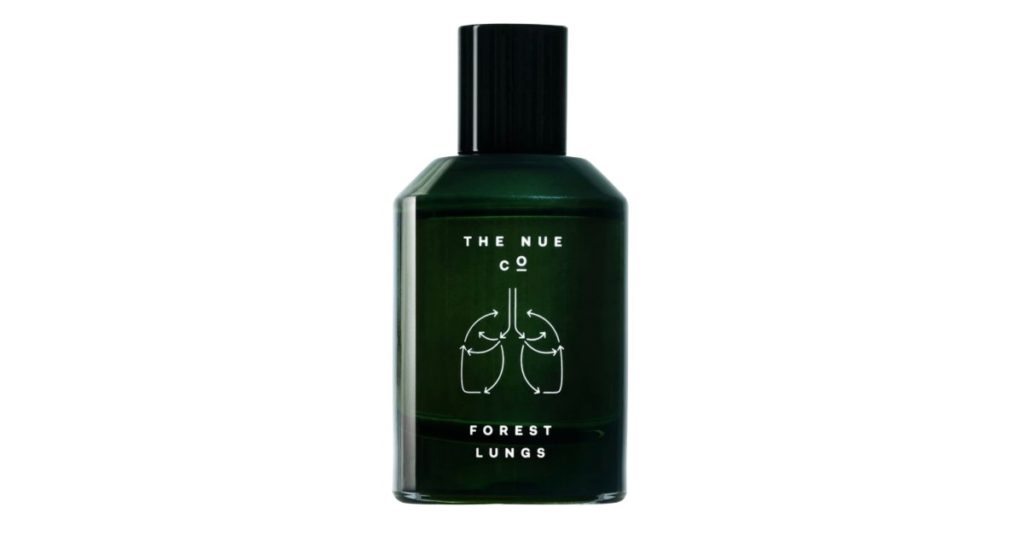 The Nu Co has created a new signature scent that is a complete game-changer. It's one that is actually good for you! Forest Lungs is a unisex anti-stress fragrance supplement that delivers the healing effects of nature to the body. It contains volatile organic compounds called phytoncides which are emitted from all parts of the tree and are believed to play an important role in plant immunity by preventing the growth of attaching organisms. Scientific research shows that phytoncides—once inhaled—significantly increase levels of natural killer (NK) cells in the human immune system. Phytoncides are also credited for the positive health benefits associated with forest bathing, namely stress reduction, anxiety reduction, and boosting the parasympathetic (rest) nervous system.
I'm not 100% sure this scent would be right for me, but I am fascinated by the concept. All of the ingredients have been sustainably sourced.

Forest Lungs has a woody, smoky, clean resinous, tart citrus scent. Notes: Vetiver, Cedarwood, Benzoin, Pine, Patchouli, BergamotIngredients are sourced sustainably, working with local initiatives. It is vegan, cruelty-free, and free from phthalates, parabens and hexane.

Visit their website here: https://uk.thenueco.com/products/forest-lungs

4. Henry Rose, PERFUME MADE TO EMPOWER & PROTECT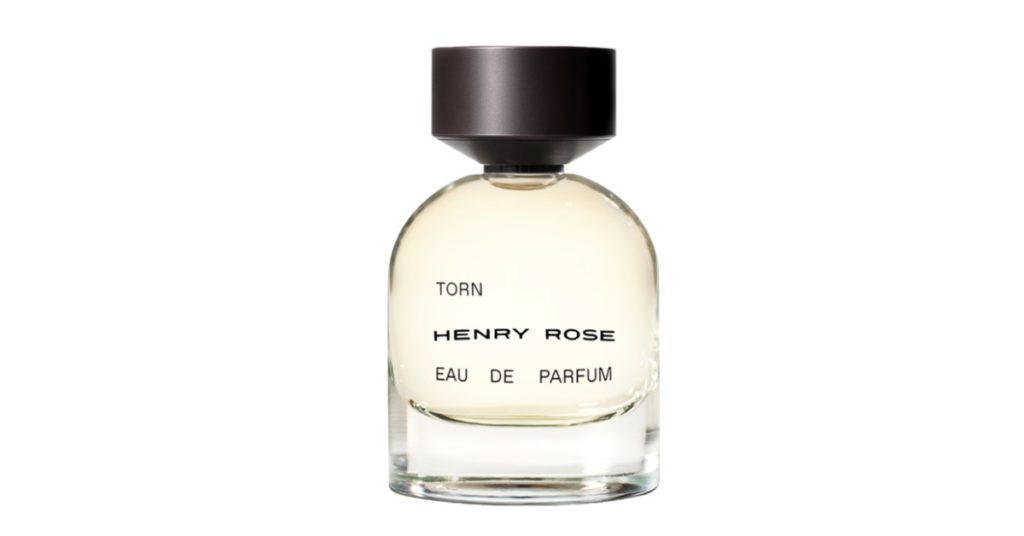 The Henry Rose brand has fantastic credentials. Whilst they started out looking to meet the EWG Verified™ safety standards, they now have partners in IFF, a luxury fragrance house, and only use a list of high-quality ingredients they trust. They also work with the Cradle to Cradle Products Innovation Institute to make sure they meet their standards too.
I used the online tool to discover a scent for myself, and Torn was recommended (vanilla bean blends with the earthiness of vetiver roots to create an aroma that's both spicy and floral).

Visit their website here: https://henryrose.com/

5. Lovorika, BEE – TOXIC FREE FRAGRANCE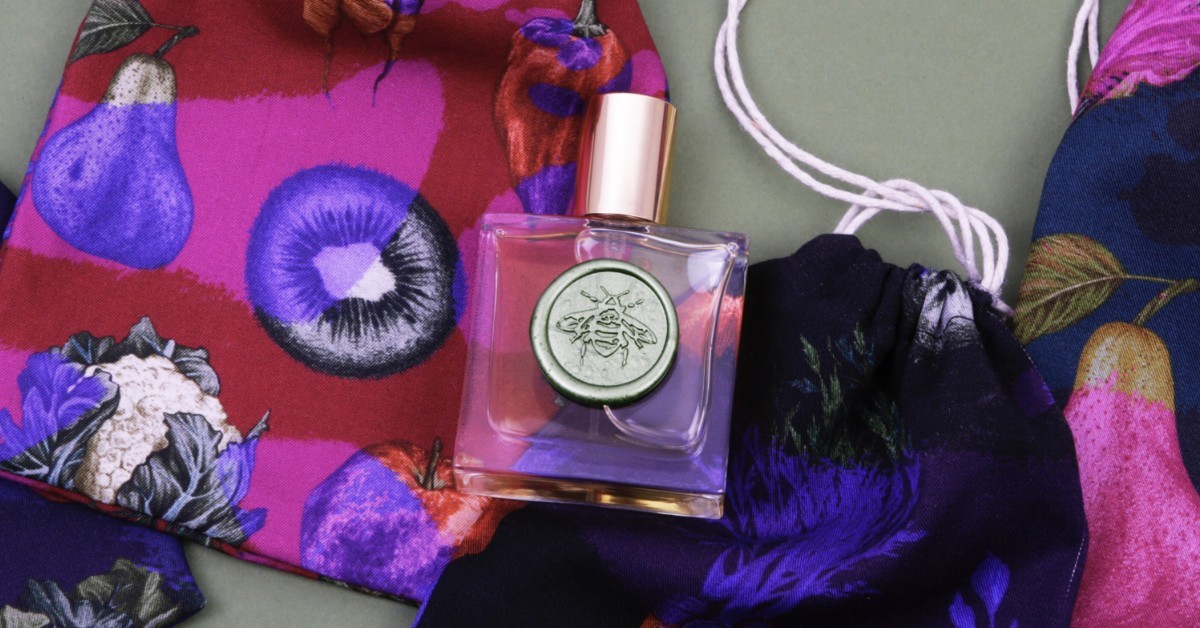 Lovorika is an ethical fragrance house that prides itself on being all-natural, vegan, sustainable, and genderless. They have come a long way since I first tried their signature range of 3 fragrances. I wasn't drawn to these scents, but I was very interested in creating my own signature scents at Daphne's scent-making workshop. What I like about this brand is the founder's commitment to transparency and educating consumers to say no to toxic chemicals which are harmful to us, animals, and the planet. It is actually because of Daphne and her passion for raising awareness that got me to switch from my synthetic perfumes and seek out toxic-free options for myself.
I have tried a few of their fragrances and have yet to find the one for me, however, I see they have more fragrances on their website. I am intrigued by the collaboration with Gung Ho (an ethical clothing brand that campaigns for awareness and how pesticides play a big role in Gung Ho's Food for Thought collection) on the Bee Perfume.
DRY OIL PARFUM: BEE (Top Notes: Bergamot, Sweet Orange, Lemon, Grapefruit, and Mountain Pepper, Middle Notes: Egyptian Geranium, French Lavender, Base Notes: Cedar, Vetiver, Sandalwood, Coffee)

Visit their Ethical Brand Directory website listing here: https://ethicalbranddirectory.com/brand/lovorika/
Read their founder interview here: https://ethicalbranddirectory.com/lovorika-interview/

Shop their full collection: https://lovorika.com/
6. Dolma – Vegan & Cruelty-Free Perfumes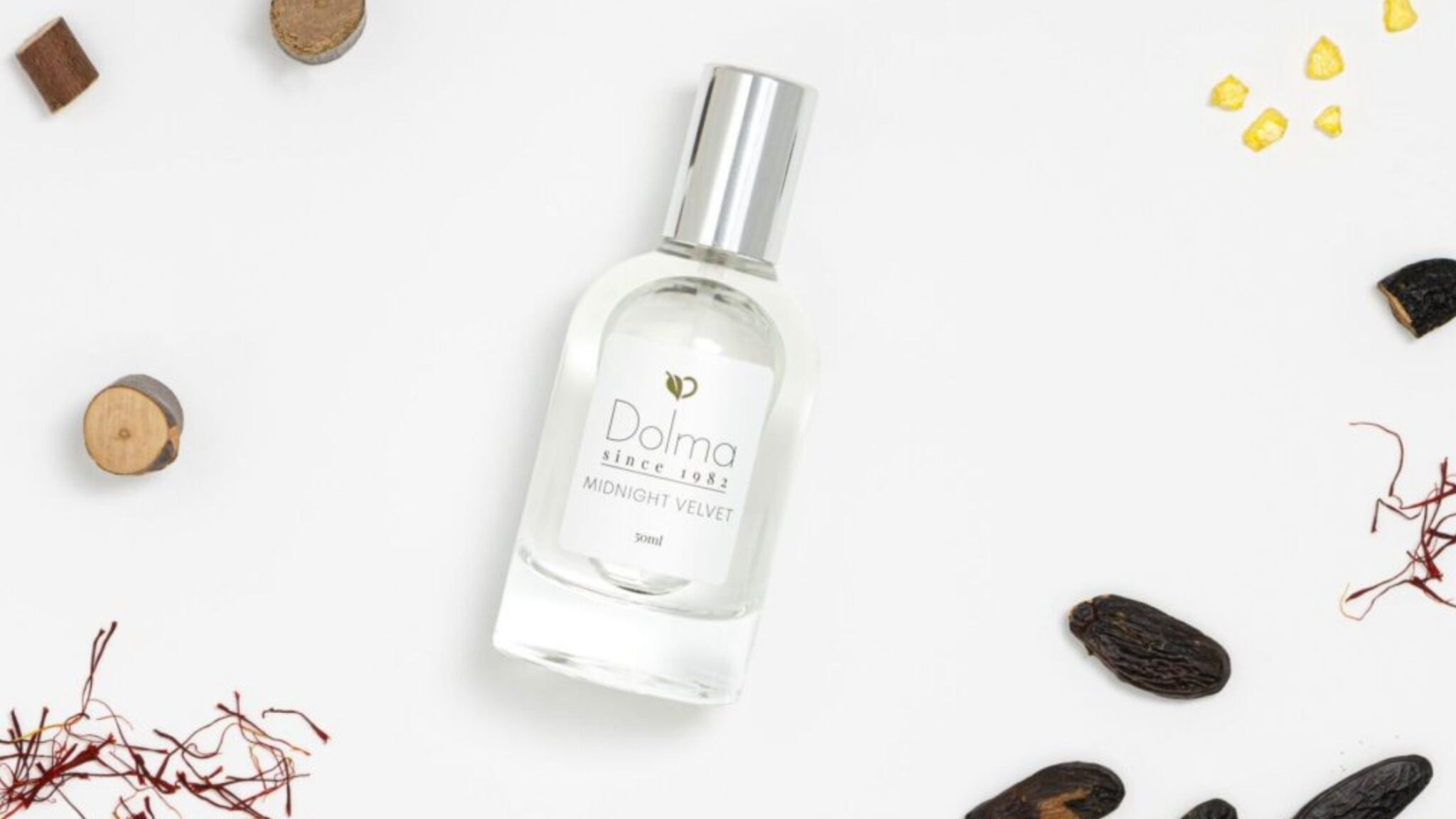 Next up is a vegan perfume brand Dolma that is cruelty-free. They also pride themselves on being sustainable and follow the strict regulations set out by Europe's largest Fragrance Association – IFRA (International Fragrance Association). They also state that they know ethical fragrances are important – all of their products are 100% vegan, cruelty-free, and made in the UK.
They list out all of the ingredients that they use here, so can research them beforehand to know what you're getting in your fragrance. Dolma chooses to use a blend of 100% natural ingredients and 100% safe synthetic ingredients, they highlight the reason why and it's because some natural ingredients can be extremely taxing on the environment. For example, did you know it takes 10,000 roses to fill a single 5ml bottle? I didn't know that!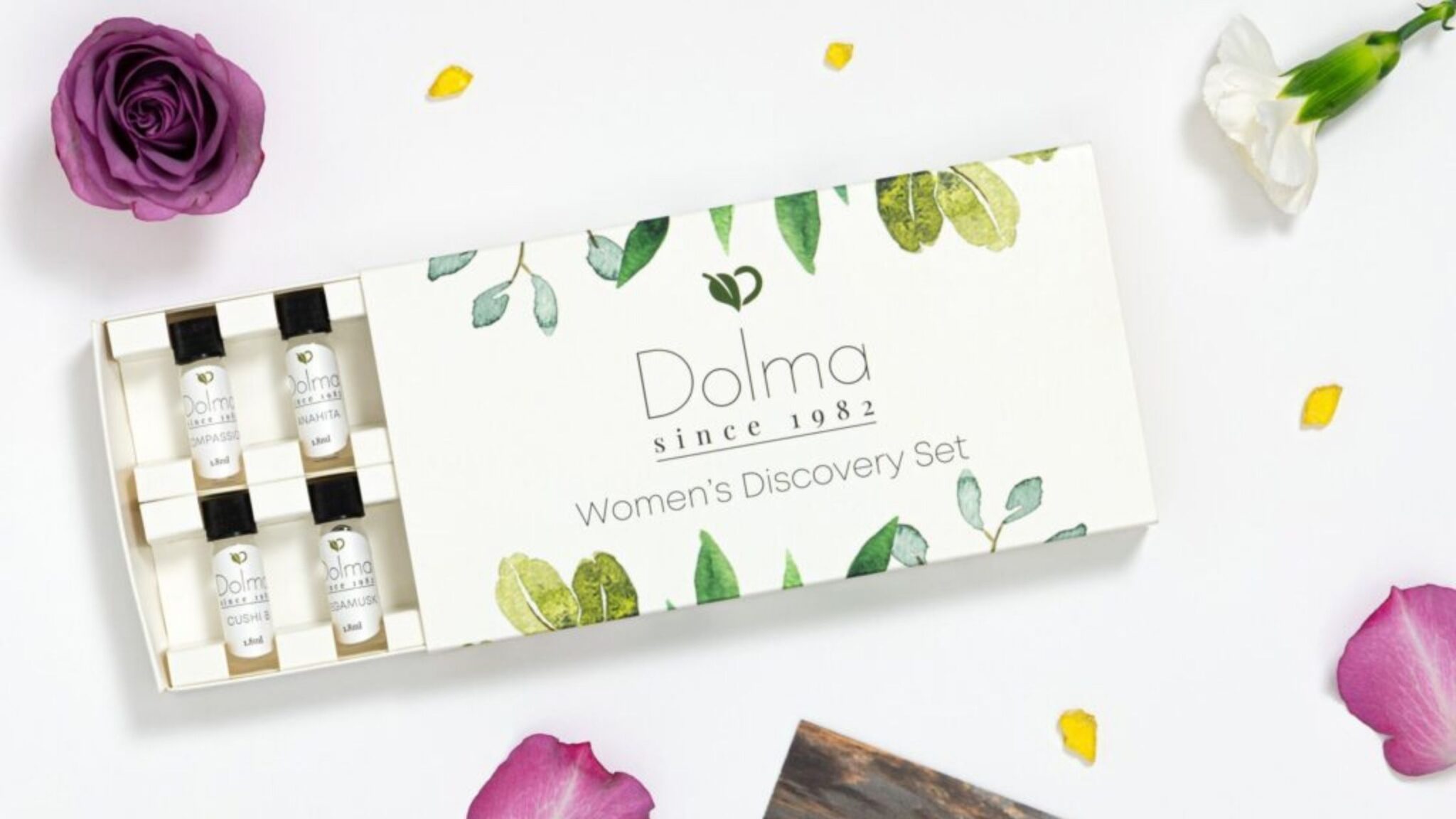 I was kindly gifted the Dolma Midnight Velvet and a Women's Discovery set to test out (I love layering perfume now – which I find is the best way to create your own signature scent) and was surprised at how strong all of the perfumes were. Just one tiny little spritz lasted all day and night. I am still in the discovery phase with my miniatures and haven't concluded on a combination that is truly 'me' yet…
I tested out the larger bottle, which sounded like my kind of scent. This was the Midnight Velvet described as: "An elegant oriental woody scent. Midnight Velvet perfume is the perfect match to your favourite vintage ensemble in deep, rich hues. A sweet and sticky resinous base with saffron and tonka to spice it up. Midnight Velvet inspires depth and intrigue"
MIDNIGHT VELVET PERFUME: Top Notes: Saffron, Tonka, Middle Notes: Jasmine, Amberwood, Base Notes: Fir Resin, Cedar, Golden Amber. Which I have finally decided that I do like. But I think I can smell the synthetic ingredients, and I find them a bit overpowering, I'm not sure… it could just be that it is so different from my usual fragrances (Tiger by Her Side). I think perhaps the peppery element gives it a slightly masculine feel, so I have been spritzing it on my partner (not telling him it's from the woman's section) and it really suits him.
Check out the DOLMA website here: https://www.dolma-perfumes.co.uk/
In my next blog, I highlight the 10 toxic ingredients to look out for in your perfumes (and why).