Knowing yourself, your values, and aligning the way you dress, shop and live is as much about Your Signature Style as anything else.  Our style is made up of lots of elements, such as our 'vibe' (smart, fun, professional, adventurous, etc) our most radiant colours, certain patterns and prints – and our chosen scent!
WHY Personal appearance matters – PEOPLE JUDGE
"Psychologists call it 'thin slicing' – within moments of meeting people, you decide all sorts of things about them, from status to intelligence to promiscuity"-  (Business Insider UK)
You do it to others – and believe me,  they do it to you.  So whilst we all may want to believe how we dress is rather trivial compared to everything we have going on in life – a lot can be said for those who recognise its importance and use it to their advantage – and do so authentically.
But it's not all about what others think, in fact, I would argue the most important opinion in this style evolution, is yours. How do you judge yourself? How you feel about yourself can change the way you act and behave for better or for worse.
Finding your personal style…
The truth is 'personal style' is a fluid concept it means different things to different people.  What one person finds pleasing to the eye, another finds less so, or even offensive.  
So how do you know how to get started and who to trust when you need styling advice?  
First of all, the person who you work with should inspire you… you should probably like them as a person,  as well as the way they dress,  even if it's not the way you want to dress – but their personality and creativity should 'pop' and you should feel drawn towards them.

Take me for example, I'm young at heart, creative, and proud of my body shape (for years I wasn't), I embrace my femininity and youthfulness – I'm now in my forties but people think I'm younger because I embrace being 'me'.

Find a Stylist that you can relate to
The second step, always do your research. Find someone who 'you' personally relate to and all of their content, comments and work is aligned with their 'values' – actually, when it comes to styling there are some things to consider – are you more swayed by 'academic qualifications' or do you value natural creativity and personal style?
You can then decide which is more important. Of course, check out stylists reviews!  Personal Style is as it suggests in the title, is 'personal and what one person may consider stylish, another person may not. That's why it's hard to compare – the main bit that is missing for many stylists is Personality. Find someone with who you will get on well with, and enjoy the experience.
There are a lot of people telling you how to create your own style, but not many are focused on doing that 'and' helping you create a sustainable wardrobe.
There are a lot of colour analysts out there too, who want to tell you which colours to wear, but be warned being a colour analyst doesn't mean they are any good at being a 'personal stylist'.

Of course, nowadays many stylists claim to be eco-stylists but still support brands that aren't eco-friendly, ethical or sustainable. A good way to tell if someone is really eco-conscious is to check their Instagram account and see if they are tagging in brands that aren't doing good for people or the planet.
Check the stylist's client reviews
See what other women have said about their work – do your research and look for Google testimonials that include photos and videos.  Here's an example of what some of my earlier clients back in 2016 thought about the work we did restyle some old clothes from her 90's wardrobe – a black halter neck jumpsuit and denim shirt dress. We looked at ways to breathe new life into them (other items featured: white T-shirt, necklace, Aztec handbag and peplum top were all from the Sapelle Showrooms in London). One of Yvonne's main challenges was a complete lack of confidence in her body and sense of style since having a child. She was absolutely gorgeous but could not see what I saw, so it was a fun and gently process of building up her self-esteem and being creative with her outfits to give her shape.
"Roberta is a force of creativity and confidence in abundance.  I was very nervous about attending a personal styling session but decided to treat myself for my birthday.  I left with new ideas and a great understanding of what clothes and accessories best suit my body shape and how to coordinate them.
Over the coming weeks, I noticed by my esteem increased which has inspired me to seek out more sustainable designers and a new way of shopping and seeing life. I really look forward to working with Roberta again in the near future"  – Yvonne, Career Coach, London
Make sure your stylist is authentic
What do you think? Do you think Yvonne's review reflects me and my values? I have always prided myself on bridging the gap between style and sustainability and helped women step into the most confident selves.
I was thrilled to get this testimonial from Yvonne as I felt she summarised me in a nutshell, who I am  –  what I believe in,  and best of all I inspired her to think about life,  not just her clothes.

Now it's up to you to decide what model works best for you.  You can see that my client's comments are very aligned with who I am as a person and what I do.  I'm known as The Sustainable Stylist which means:
I start with what you've already got and look at ways to reinvent your wardrobe
I get creative and see how we can transform exosting pieces into one-of-a-kind hard working heros pieces that will flatter your body shape and make you feel great
I don't promote shopping unless you really need it – and we have an investment strategy that helps you build your collection slowly and sustainably
I never encourage big shopping hauls in the sales or fast fashion stores either, it's counter intuitive fill up your wardrobe with 'new clothes' just for the sake of shopping
I also don't influence my clients to buy clothes in shops where I have negotiated 'commission'  –  instead I gently direct my clients to explore Ethical Brand Directory,  a non-profit project that supports independant ethical brands  
When I worked with Neen (shown below) she didn't have the budget for a big 'shopping haul',  she was quite crafty and owned a sewing machine  –  so her makeover focused on making the most of her wardrobe (decluttering) and making alterations.  A lot of the work we did together was around finding her confidence, identity and femininity in her signature style  –  something she felt she had lost after having her child,  in addition to being a stay at home businesswoman –  and living in the Highlands.  A practical style that embraced her personality and lifestyle was all factored in.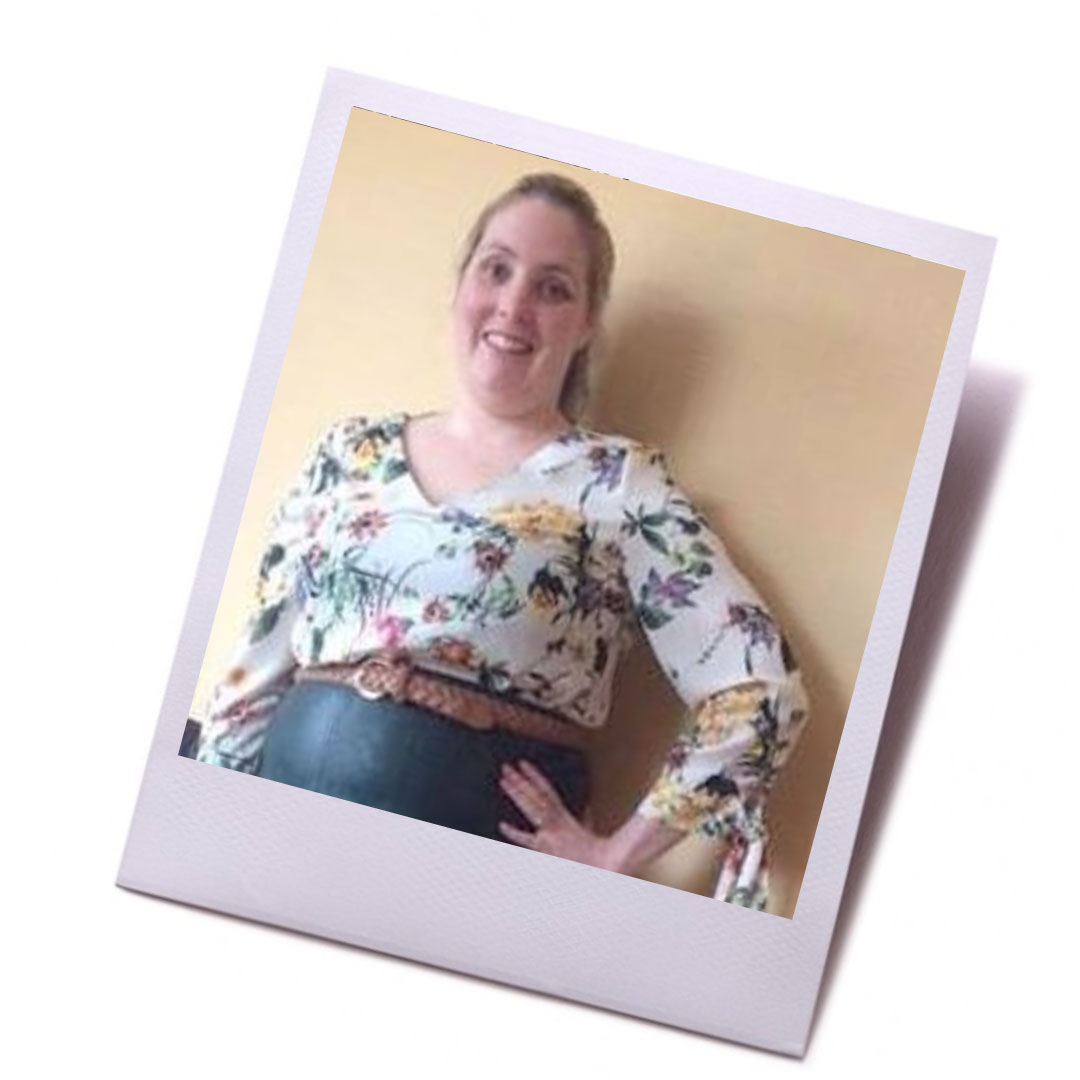 "Roberta helped me see that my weight isn't an issue and that with thought I can make my clothes work better for me. She helped me see the potential in my existing wardrobe that I'd given up hope on and helped me feel confident in some of my past buying choices and now I feel able to move forward with new ones with ease, never again will I cry in a dressing room!" – Neen, Mum & Business Women, Scotland
Some key 'PERSONAL STYLE' questions to ask yourself
Do you want to discover your true identity or dress like everyone else?
Who do you want to be?   
WHY am I doing this style makeover?  
Where am I now?  What will it take to become the powerful woman I know I can be?
Creating Your Signature Style is about empowerment.  True empowerment.  True to you.  True to your lifestyle. Embracing your natural beauty.  Feeling good about yourself as you are right now.  Embracing your personality.   It's about empowering the amazing woman within and allowing her to step into her most fabulous self.
Every woman deserves to look good, feel good and live great.  And you are no exception…
Of course, my styling services are all centred around my beliefs that our actions in life and business should not be at the cost of other people, animals or the planet. I empower women from the inside out but do so in a responsible way.  Now that's my Signature Style in life and the way I dress.
What could yours be?
I'd like to invite you to SIGN UP to my new course Create Your Signature Style.  It's a blended learning programme for both independent online study and online consultations. I will take you on a journey of self-discovery, empowerment and enable you to develop your own style, The course covers off all the usual (pretty boring) basics, body shape, colours, colour combinations, wardrobe editing etc – but what you get with this course is more than the 'technical stuff'  –  we get creative, we look at doing things in a way that's right for you  –  sometimes that means throwing the 'stylist's rule book out the window'.

I'd love to help you discover Your Signature Style  –  if you have any questions please don't hesitate to get in touch.
Roberta x