In this semi-permanent eyebrows review, I share my before and after photos of my eyebrow tattooing by Andrews Stassi, owner of Smudge Free in London.
Semi-permanent eyebrows sound like a dream don't they? Of course, the microblading treatment (a term used for creating the hair strokes technique of semi-permanent makeup in the eyebrow area) isn't for everyone, but for me it's ideal. I have sparse, patchy eyebrows as a result of overplucking in the 90s. Microblading it's the only thing that really helps restore shape and symmetry to my face in a natural and manageable way. If you grew up as a teen in the 90s then you'll be able to relate – remember the skinny brow? I do. And they still haunt me…
The bane of my life ever since has been waking up to patchy uneven eyebrows and having to fill them in with makeup. Add to that the annoying need to always ensure I have my brow makeup with me (in case they get smudged or need a top-up). Can you relate?

Choosing the right person to do your semi-permanent eyebrow tattoos
I decided to go back to Andrew Stassi at Smudge Free after taking a short break (not helped by covid and lockdowns) and get some help with my eyebrows – and I also wanted to enquire about some other procedures for my face (more on that in another blog). I went with Andrew Stassi (again) as I feel he really understands a woman's face – and how to carry out treatments in a natural way. He also uses the latest technology for safety and precision, a digital handpiece is used to apply the hair strokes:
"A unique messaging system recognises variations of skin density and so adjusts the needle penetration accordingly to implant the pigment evenly and with such precision. It has been specially designed to utilise a single-use only disposable cartridge system so cross-contamination is totally eliminated" –

Smudge Free
the semi-permanent makeup treatment process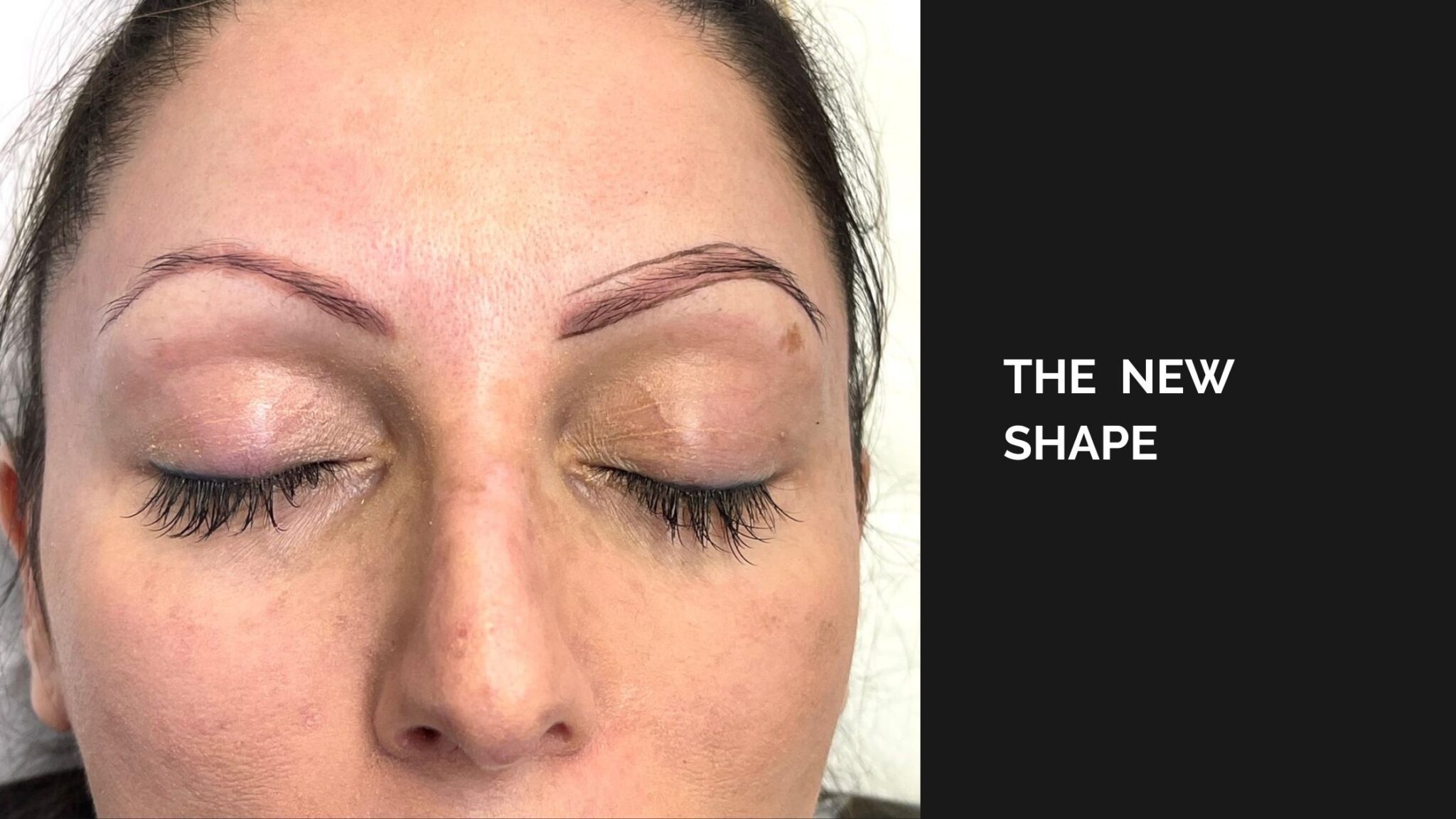 The first thing that happens is that the area about to be treated is wiped clean of makeup – and the numbing lotion is added (this takes about 20-minutes)
Next, you discuss what shape you want and the new eyebrow outline is drawn on so you can both see it and agree on it.
Then you agree on the correct colour for your hair strokes
And then it's time for the eyebrow tattooing to begin – it feels a bit scratchy, but not painful.
My New eyebrow style
This time I really wanted Andrew to create thicker eyebrows, my previous brows just felt too thin. We both agreed this was needed. In the image above you can see the outline in which he intended to work to add extra hair strokes to fill out the gaps. One thing I like about Andrew is that he works free-hand and he doesn't use lots of stencils to measure the face, the process feels more natural and it's a lot faster.
Colour matching the pigment for my eyebrow tattoo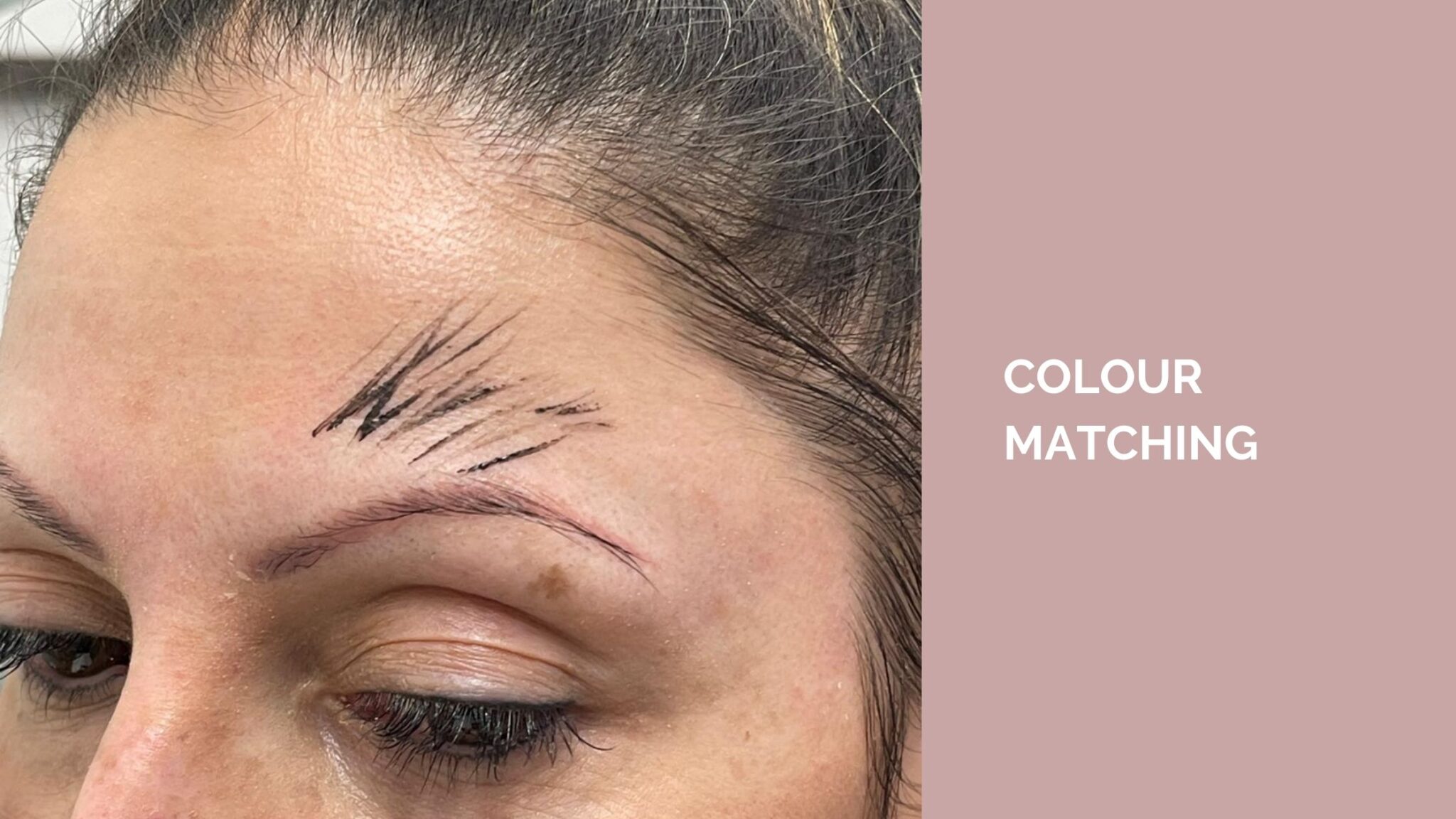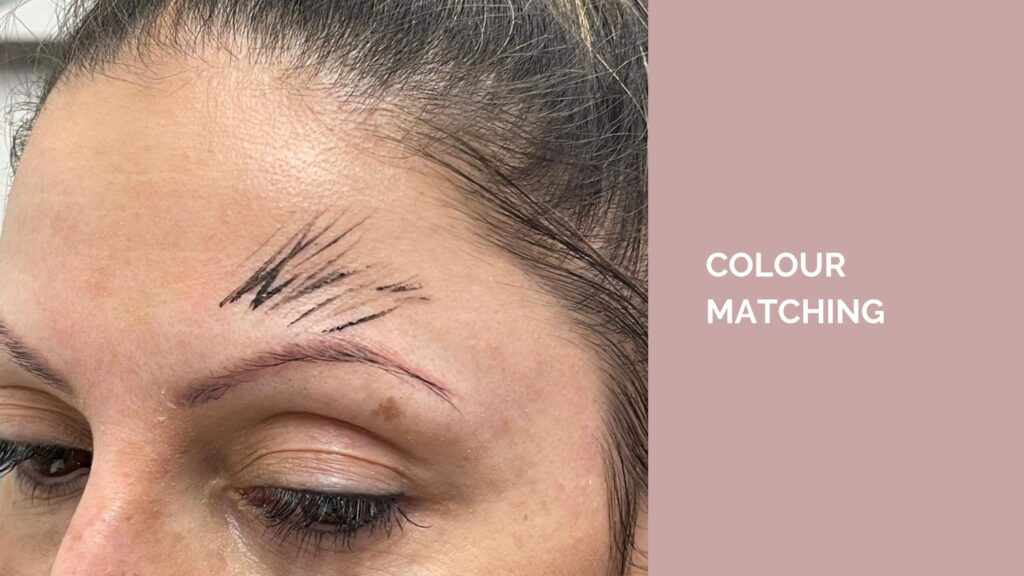 Then the colour matching begins so that the correct pigment can be used for the microblading, this means eyebrow strokes (the hairs) will look as natural as possible, matched to your hair colour. Andrew matched the pigment to my natural hairline which is very dark – I would have preferred a softer brown rather than something so dark – but he assured me this is the correct colour.
The results immediately after the treatment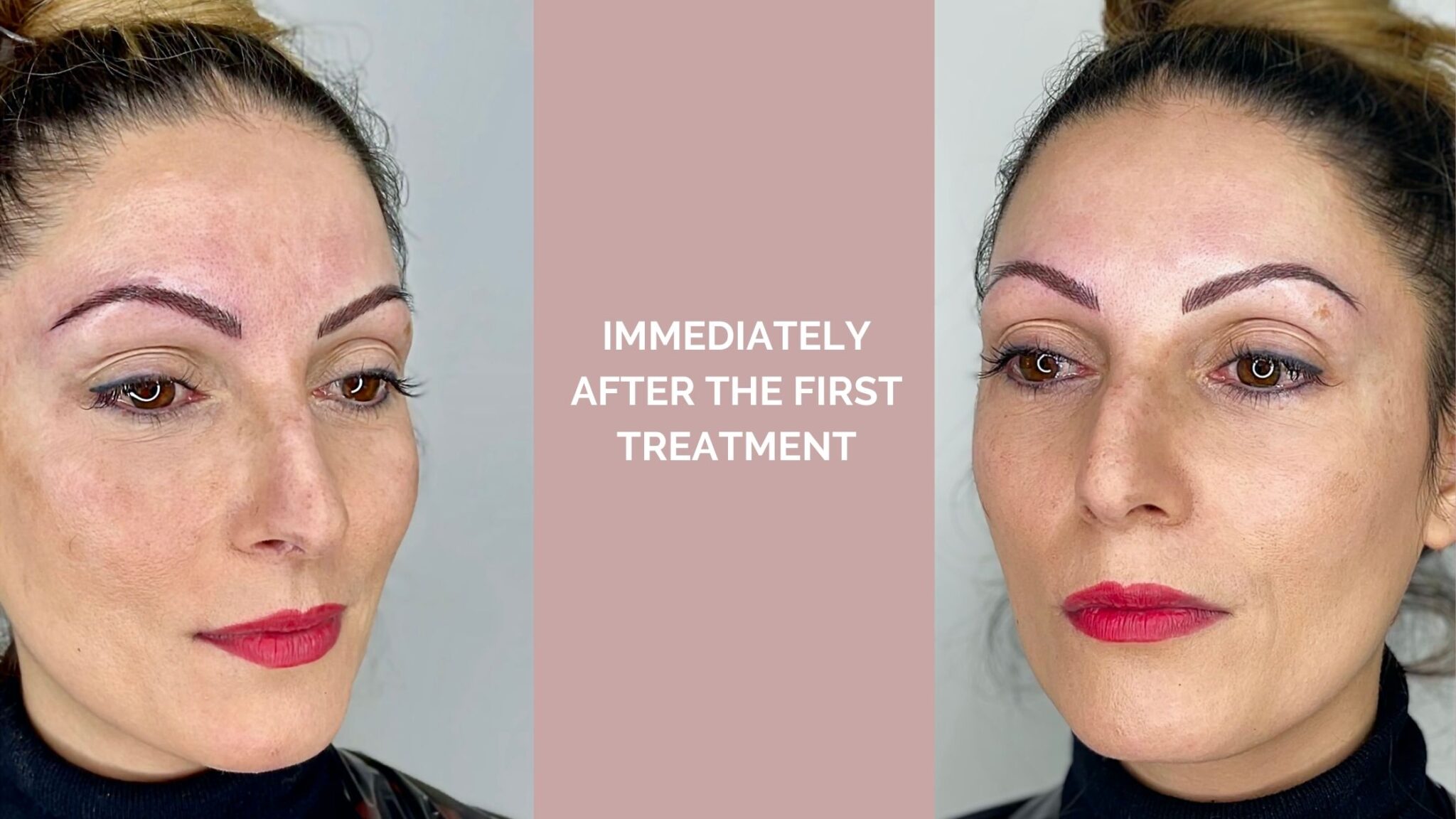 The immediate results are always very dark – but they do fade out over time. Since I have become so used to using pencils and powder to fill in my brows, I didn't find them too overwhelming or like they stuck out too much after the first treatment. Aside from the shiny balm that you need to keep on the brows whilst they heal – it's really not that different from wearing make-up. I felt comfortable going on camera and sharing pictures of myself during the 'healing' phase. You could easily return to work and not need to worry that everyone is staring at your eyebrows!

Semi-permanent eyebrows healed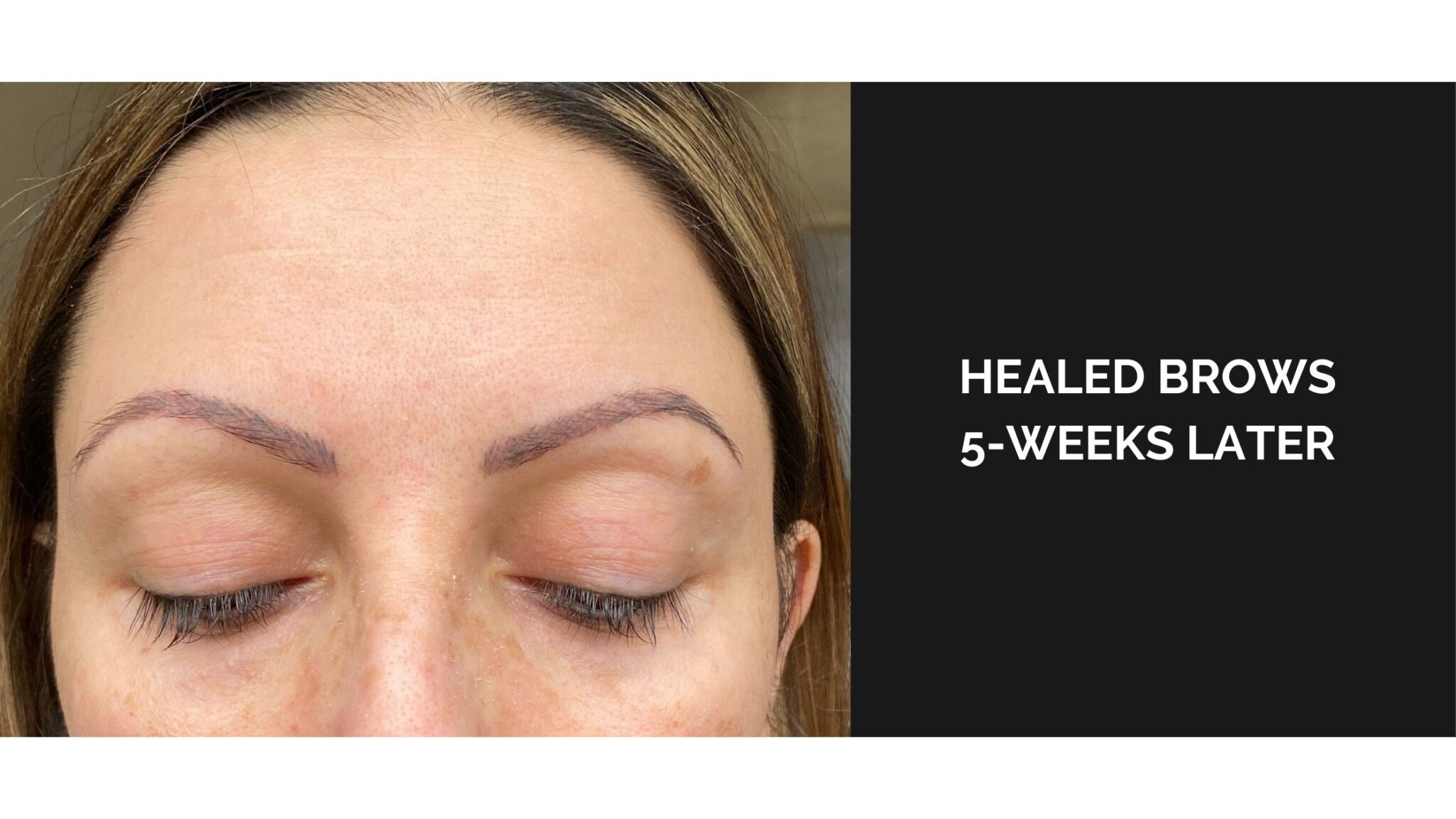 Personally, I have always needed to have the top-up after the first treatment – the healing process always reveals some patchiness. This time was no different and I had to go back to Andrew after 5-weeks and get my eyebrows topped up as there were noticeable patches where the microblading just hadn't taken. This is totally normal, and everyone will experience different results based on how their own skin takes to the pigment. It is to be expected to have to go back and have a touch-up. Based on how my eyebrows take the pigment I will likely need to keep my eyebrows refreshed more frequently than once per year.


AFTER the microblading Top-up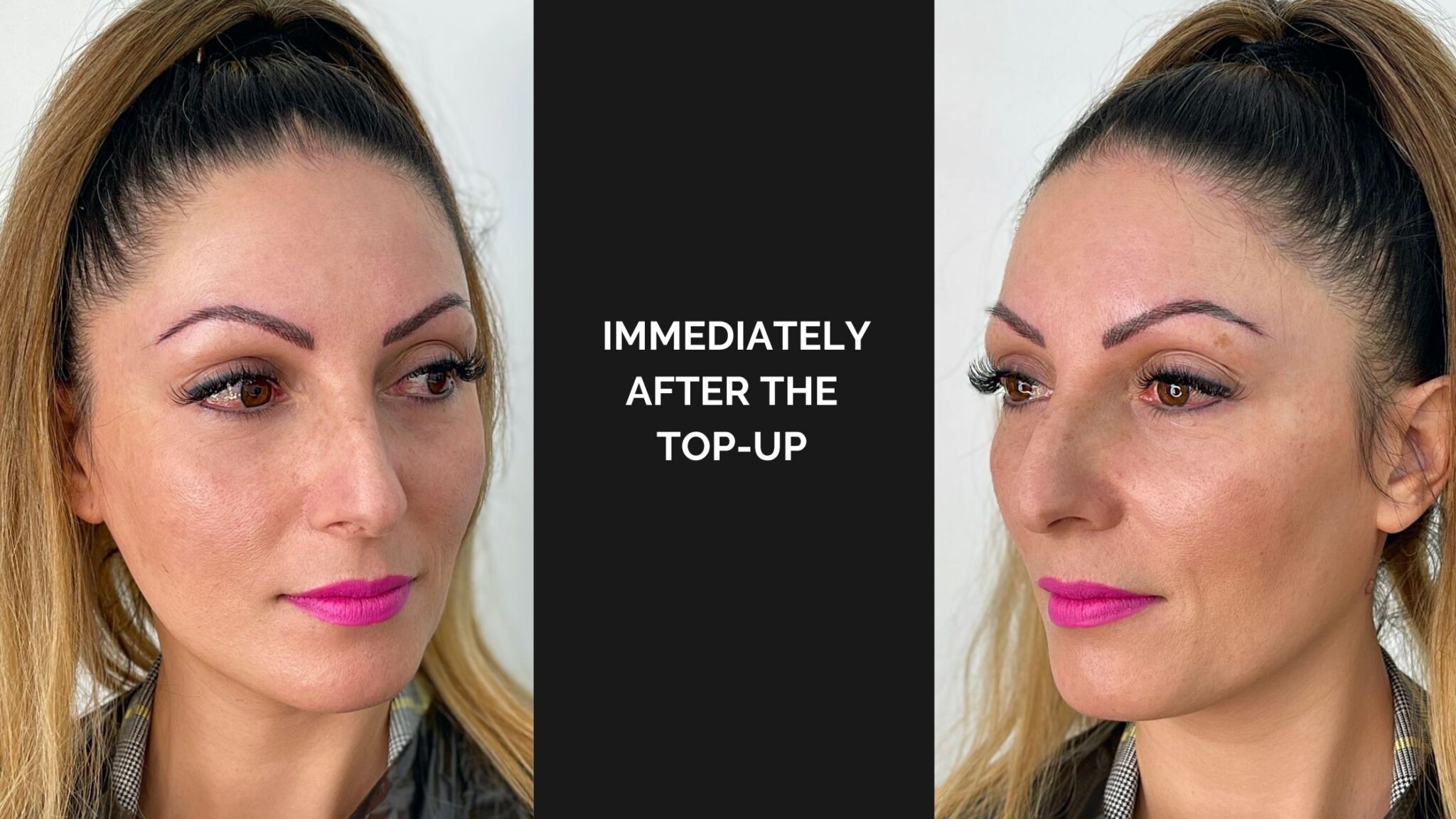 The top-up allows you to highlight any areas that you feel need a little more tweaking. Although the brow can look quite dense – it does fade after about 1-week. I am always putting factor 50 SPF on my face, so my brows tend to look more subtle. The thickness and the shape, this is the most important to me to have a balanced face – not something I was always able to achieve myself drawing my eyebrows on myself each day.
It's easy to add to the semi-permanent brows with make-up (once healed) if you want a more definition. I tend to do this to the part that starts above the nose and between the brows (the area called the glabella). In hindsight, I wish I would have explored some hybrid options between brow shading & microblading… next time!
conclusion: semi-permanent eyebrow tattooing with Andrew Stassi
The process with Andrew is very friendly and he puts you at ease – I would totally recommend him if you are in London, particularly North London.
His treatment room is very clean, as expected he follows all health and safety procedures and does it in a way that doesn't make you feel like you're at the dentist, more like a spa!
Andrew always makes me feel like a VIP during my treatments, there's nobody else waiting – it's private, it's a nice environment (with off-street parking too which is a plus) and he never rushes you out the door.
BONUS: I have had Microblading with Andrew in the past – and whenever something doesn't look or feel right after the first treatment or top-up, he never hesitates to offer to see you again. Something that is quite rare with most people today, who seem to charge you extra for every single appointment.
I would go so far as to say that Andrew Stassi sees his work as art – he is a perfectionist and his main goal is to see his clients feel confident and happy with their results – he's always willing to go the extra mile to ensure you are 100% happy.
pros of semi-permanent EYEBROWs
The benefits of getting semi-permanent eyebrows include perfect make-up upon waking up – and an absolute time-saver when it comes to getting ready. Then there's the less considered side to it, the sustainability aspect. having treatments like this that require top-ups every year means that you can reduce the amount of make-up you purchase and the amount of' beauty waste' you generate and all the associated carbon footprint with the initial purchase, the recycling, and disposal of the packaging. You can find out more about my thoughts on microblading being more sustainable than buying make-up in my previous blog here.
Cons of semi-permanent EYEBROWs
Of course, there are some downsides to consider to semi-permanent eyebrows, what if you don't like the shape after a few months or even a year? There's the possibility of an infection if you don't use a fully trained and safety conscious technician. If you don't have a patch test beforehand you could have an allergic reaction to the pigment. You also don't know if your body will accept or reject the pigment, meaning results do vary and for some people, the results will last longer than others.
It's also expensive – and definitely not something that you ever be tempted to find a 'cheap' deal via a Groupon for! Bad eyebrow tattooing can be a terrible blow to your confidence, I know. I found Andrew many years ago after having a treatment done elsewhere – and he had to correct the work of another company. That was when I sought out the very best specialists in London and he was in the top 3. Let me know if you have any questions or concerns in the comments!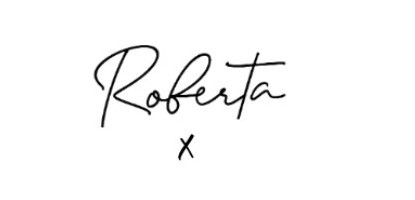 *Full disclosure: In return for letting Andrew share my results – and doing this review, I was offered a small discount.