Is leather more sustainable than we think? Leather jackets, boots, and bags have been used for centuries. It is one of the oldest and most "luxurious" materials. However, animal welfare concerns and awareness of the industry's impact on our planet have dulled its attraction. But before you write off leather, let's take a closer look at the facts. Should we buy 'pleather' and other artificially manufactured materials instead? Or is there room for both during a transition from a high-meat eating society to a low-meat eating society?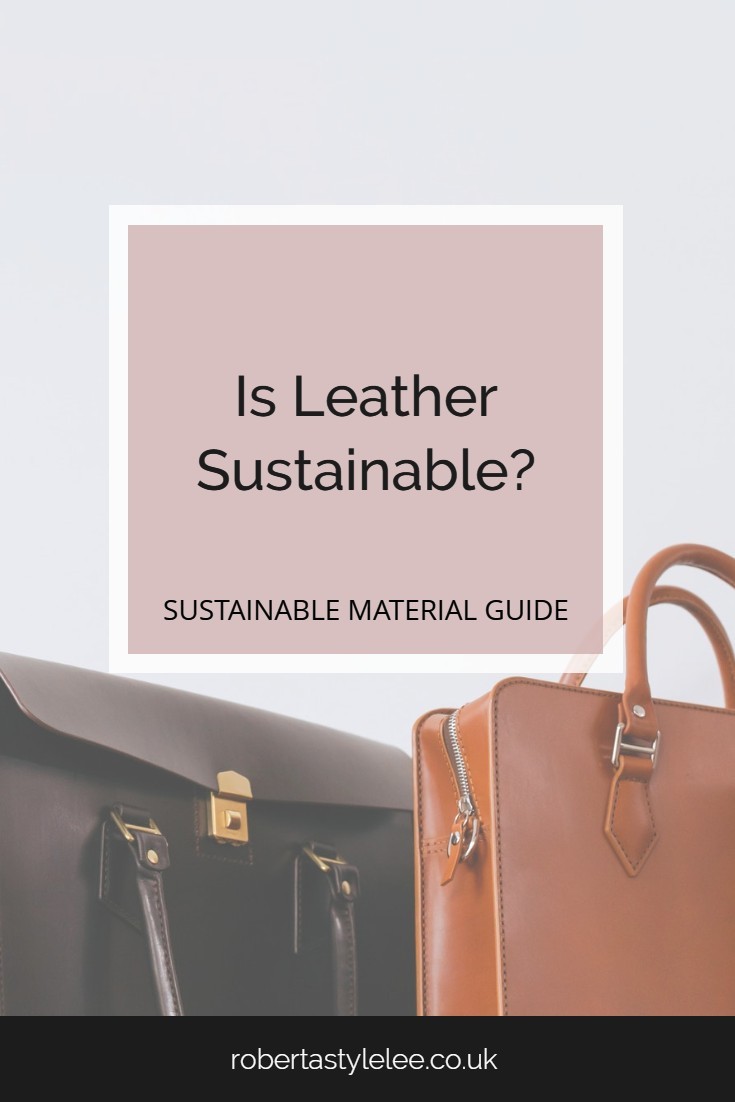 How is Leather Made? And How Much Leather Is There?
Leather can come from a variety of animals, although cattle hide is most commonly used and constitutes 65% of all leather production! Worldwide beef consumption is staggering – "in fact, high levels of meat consumption can be seen across the West, with most countries in Western Europe consuming between 80 and 90 kilograms of meat per person." (BBC Health | Hannah Ritchie)
When thinking about meat consumption, it's also worth taking into account that many of the world's poorest countries eat very little meat. Meat is considered a luxury. The ethical dilemma often arises when we pitch vegan mentality against sustainability – as long as most of the world continue to eat meat, there will, unfortunately, be leather as a by-product. And it is a question many of us wrestle with…" is it right or wrong to use leather in fashion?"
The leather manufacturing process is pretty complex. First, the animal hide has to be prepped which can involve soaking, hair removal, and bleaching. Next, the hide is tanned to optimise its properties and treated with chemicals. Some leathers also receive "finishing" – a surface coat that may include oiling, buffing, polishing, etc. All of these steps can be done with a lot of harm to the environment and with minimised impact on the environment.
Due to its long-lasting durability, and differing finishes, leather is commonly used to make belts, shoes, handbags, and jackets – but this also includes other apparel as well. I'm delighted to share a few brands I know really well that ARE doing their best to be ethical and sustainable and I believe their choice to use leather for the longevity of their products was the right choice.
Leather High Heel Shoes by Anthony Stoker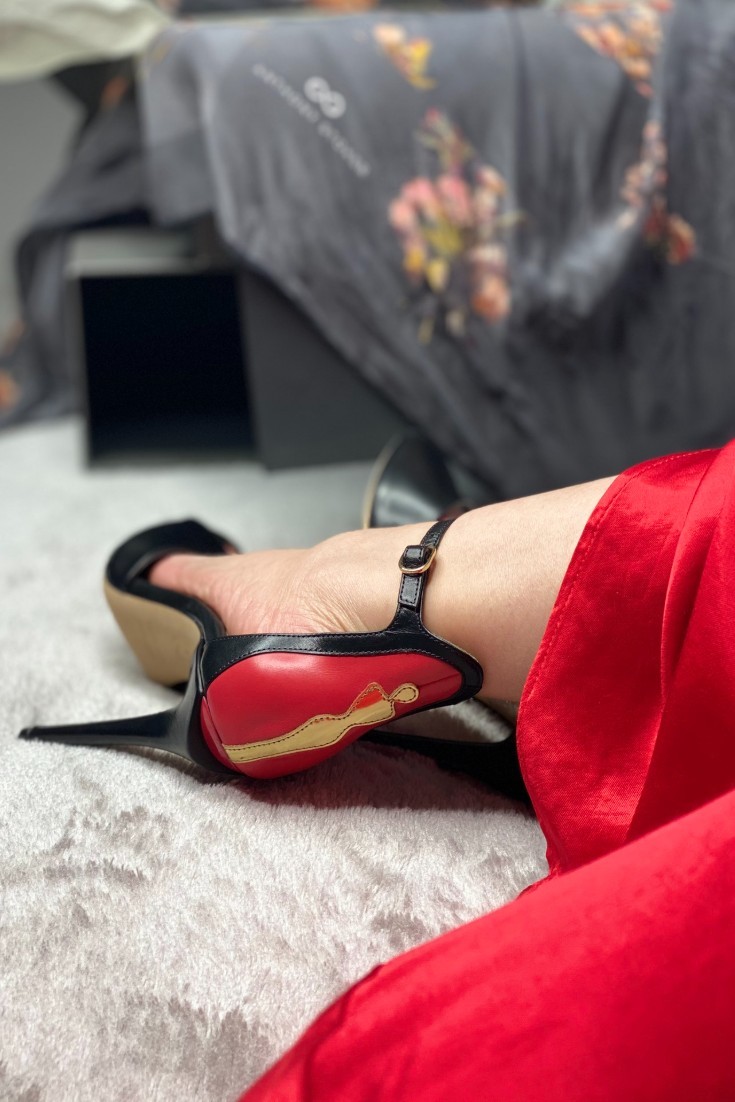 Timeless, ethically produced and sustainable, these Anthony Stoker heels are meant to be cherished forever. Anthony's designs are eye-catching, luxurious and made entirely from vegetable-tanned leather, making them a great ethical alternative to Jimmy Choo or Christian Louboutin.
Leather Clutch Bag by Priestleys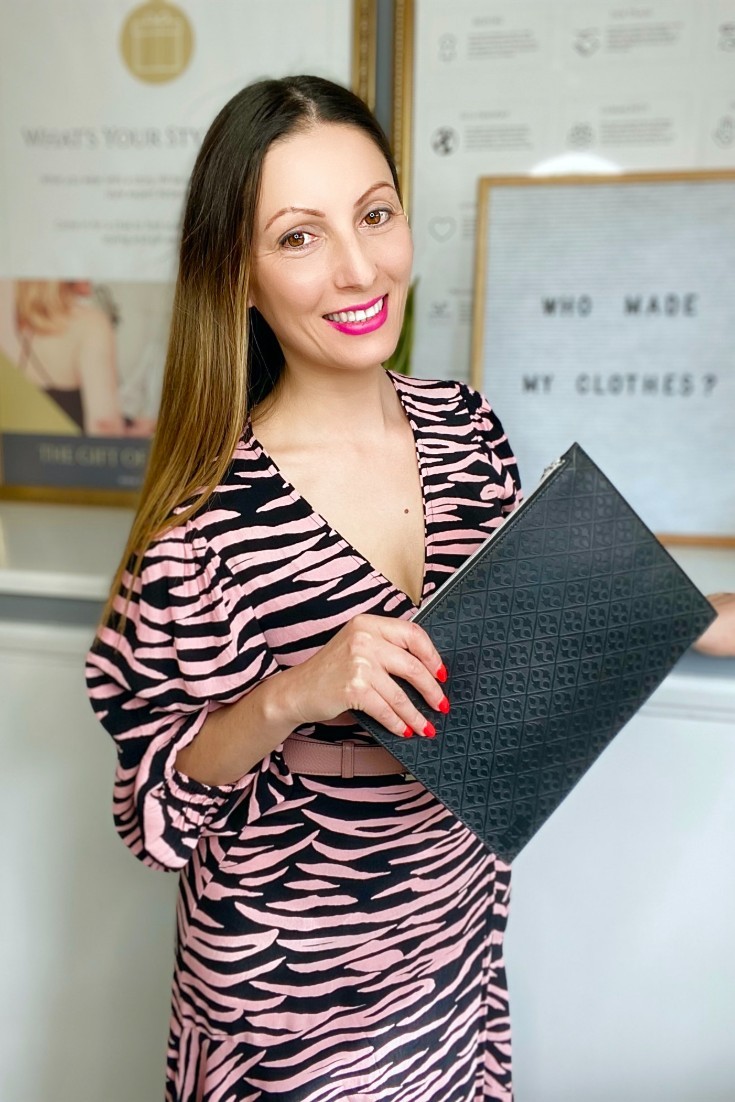 Made from vegetable tanned leather, this sleek clutch bag by Priestleys is stylish, sustainable and the perfect finishing touch to any outfit. This elegant clutch features a bold signature pattern and comes in a variety of classic colours (Black, British Racing Green and Oxblood) so there's something to suit every taste.
Ethically Made Leather Clutch and Belt Bag by Tatum Diamond London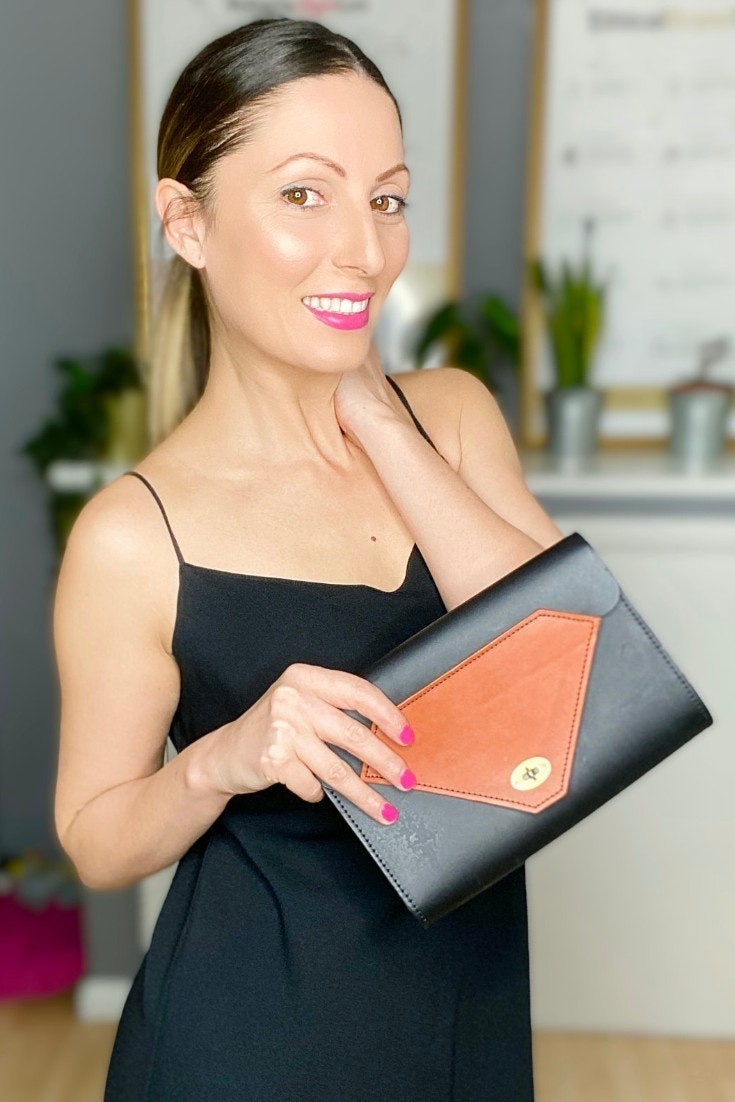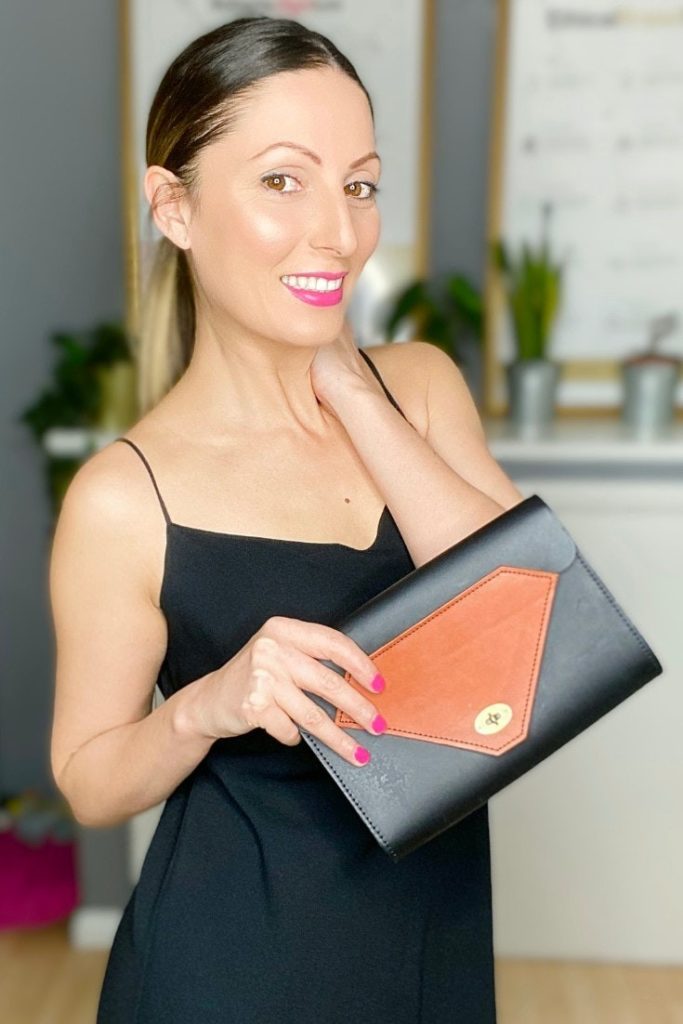 I'm a huge fan of Tatum Diamond London – an ethical fashion brand that creates luxury hand-crafted pieces for style-conscious women. Everything is made to order and they individually select every yard of material so they can account for each cut and stitch to ensure nothing goes to waste. I personally LOVE my Whitley Clutch which doubles as a belt bag. It's stylish, sustainable, and unique. A triple win!
FOR EASY EFFORTLESS STYLE
So, how ethical and sustainable is leather?
Leather is renowned for its durability but it can crack with wear. Regularly oiling leather keeps it supple and dramatically improves its lifespan.
While leather passes the #100wears test, environmentally, you'd be hard-pressed to find a more harmful material. As I outlined above, turning animal hide into leather involves an energy-intensive, chemical process and is often coloured with harmful dyes. So it's best to find brands that use eco-dyed leather and focus on responsible sourcing – AKA being able to track where the leather came from.
Conventional chrome-tanned leather is a massive pollutant that often ends up in waterways. This has a devastating impact on local communities and their environment. That said, tanning doesn't have to use harsh chemicals; vegetable tanning offers an eco-friendly alternative.
Leather is one of the pricier materials out there, and if you're after vegetable-tanned leather you can expect to pay even more.
Having interviewed many ethically-minded brands, I know that they will continue to use leather 'whilst it's still a by-product of the meat industry [because it] is the most sustainable thing to do'. But they will embrace non-leather alternatives when meat-eating decreases and leather is no longer considered a surplus to the meat-eating industry. I tend to agree – I absolutely HATE waste. I love animals, but I know my love for them will not stop meat-eaters indulging in a steak.
Leather: the pros and cons..
OK, so leather has a bad reputation, it's unethical to vegans, but to those backing sustainability, it's not all bad. Let's look at the benefits.: leather is hardy, versatile, considered very sustainable as it will last for years (even decades if cared for properly) and a lot of leather used today IS a by-product of the meat industry BUT it cannot always be traced from the source.
Unlike popular synthetic alternatives – AKA 'vegan leather' – the leather will eventually biodegrade if it hasn't been treated with so many chemicals that the leather is no longer 'natural'. Though this won't happen overnight, leather is thought to take between 25 to 40 years to fully decompose. This is still a lot better than vinyl and petrochemical-derived materials which take 500 or more years to decompose! Yikes.
So…how sustainable is leather? I would rate leather that is sourced purely as a by-product of the meat industry and treated with eco-friendly dyes as VERY sustainable. BUT the 'ethical' side of the meat industry troubles me… so this is the highest rating I can give provided the leather is treated in an eco-friendly way. But what about leather with origins that cannot be traced? Whilst the way the leather was sourced may be 'unethical', we are looking at 'how sustainable' it is as a material for use in fashion. Leather is long-lasting, durable, and can last for decades, outperforming any synthetic leathers we've seen to date.
My final thoughts
As long as people continue to eat animals, whether I like it or not, there will be a surplus of leather. If this animal hide is not used it will go to a landfill or be incinerated. And that is UN-SUSTAINABLE and highly wasteful.
Leather is an animal product so there will always be ethical questions around its use.
It's also hard for a brand that rescues leather from landfill to tell you IF the animals were reared ethically and slaughtered in the most pain-free way. Now, this post isn't about endorsing the use of rare leather by animals bred to be killed for their skins. That's inhumane – and as a lifelong vegetarian of over 20+ years, I can say that whilst I don't like eating meat – I can understand how normal it is for people to desire animal protein. When you are raised to eat meat and two veg, it's a hard habit to break – especially when we consider that humans have apparently been eating meat for the past 2.6 million years.