Leather's energy-intensive chemical production makes it one of the most polluting industries in the world! Still, leather boasts a unique texture that adds an edge to any outfit.
That's where Ultrafabrics' polyurethane blend comes in. (Also known as, Ultraleather). It's a synthetic alternative that doesn't comprise on leather's iconic look and feel.
So, just how eco-friendly is polyurethane? Could this be the guilt-free leather alternative we've been searching for?

In today's post, I'll take a closer look at the facts and investigate polyurethane's green credentials. So you can make more informed material choices when building your sustainable wardrobe.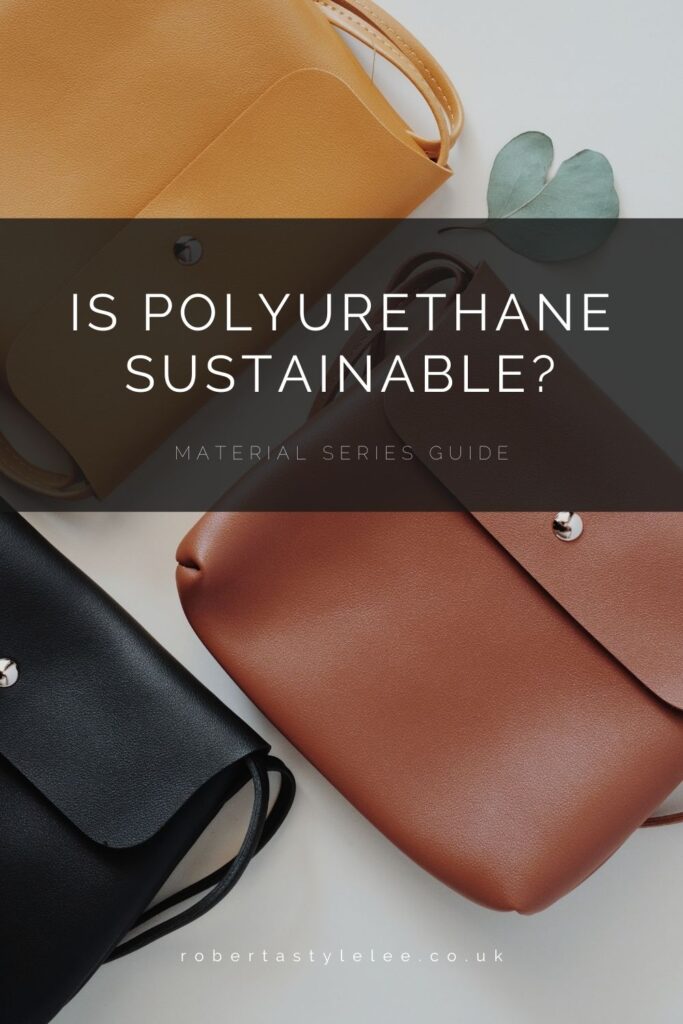 WHAT IS polyurethane?
Ultrafabrics' polyurethane blend is a whole new category of faux leather. It is entirely oil-based and constructed from 100% polyurethane layers bonded to a 100% reinforced rayon backing to ensure long-lasting wear.
The manufacture of Ultraleather is free from toxic by-products and uses a series of chemical reactions with 99% recoverable and recyclable solvents.
As a leather alternative, Ultrafabrics' polyurethane blends are most commonly for bags, biker jackets, skirts, belts and shoes.
The Morphbag by GSK — Vegan Leather Handbags
This 3-piece set by The Morphbag is an excellent choice for the style-conscious woman, who is busy, on the go and wants to look coordinated, pulled together and sophisticated. Each bag is designed to go with a wide variety of looks so you'll never be in a situation where you have no bag that goes with an outfit.
And for the vegan fashionistas out there – The Morphbag is PETA approved too. Each bag is made from 100% polyurethane leather that has been coated and textured to have the same look and feel as real leather. So you don't have to compromise on your ethics or aesthetics!
If you want to learn more about The Morphbag (and receive a 5% OFF discount code), visit their Ethical Brand Directory listing.
Canussa — recycled polyester bags
Like The Morphbag, this vegan leather bag by Canussa offers style and function in abundance. Canussa's perfectly sized bag has several compartments for 8 cards, notes, coins and a mobile phone. And thanks to its clever design, the strap can be adjusted to transform the bag into a purse, clutch, crossbody bag, shoulder bag and even a bum bag!
Innovative in design and material choice, Canussa's bag is made from SEAQUAL. Also known as one of the most certified, earth-friendly fibres in the world. By using 100% recycled polyester yarn, each Canussa bag recycles 10 used plastic bottles and transforms post-consumer waste into something beautiful.
Head over to Canussa's listing to learn about their ethics and brand values.
FOR EASY EFFORTLESS STYLE
So, how ethical and sustainable is POLYURETHANE?
"Durability is sustainability". As Ultrafabrics so rightly says, the hallmark of a sustainable garment is one that lasts. And Ultrafabrics' PU is designed to do just that.
Ultraleather is sturdy, but without the same ethical and environmental cost when compared to real animal leather.
Unlike animal leather which uses pollutant chemicals during the production process, Ultrafabrics adopts a more socially responsible and efficient manufacturing process to create the highest quality leather alternative. They are compliant with industry standards and do not contain toxic stabilisers found in PVC. Ultrafabrics PU is GREENGUARD® certified, which is a globally-recognised award for safe clothing produced with low chemical emissions.
POLYURETHANE: THE ULTIMATE ALTERNATIVE TO LEATHER?
Ultrafabrics' PU alternative offers the look and feel of real leather but at a fraction of the cost – both financially and environmentally. But at the end of the day, it's still a man-made fabric. It has a negative impact through its production process and end of life (if not recycled appropriately).
Like genuine leather, Ultrafabrics' PU blend is soft, durable and flexible. But it also has the following added benefits: greater stain resistance, lasting colour vibrancy – and, of course, it is cruelty-free.
That said, there is one glaring disadvantage to this faux leather: its non-biodegradability. It comes back to the great debate about plastic. Yes, polyurethane is inherently more eco-friendly than most other plastics. But like most plastics, it won't break down! And plastic derives from oil, and that in itself causes a lot of concern. Our planet's resources are limited and creating 'new fabrics' instead of utilising existing fabrics could well be the biggest reason to oppose PU leather.

MY FINAL THOUGHTS ON POLYURETHANE
I think PU has cemented its place as the viable cost-effective alternative for vegan brands. It certainly offers a great like for like quality when you invest in a good quality PU that can last a long time with the correct care. Once upon a time, PU was really the best ethical option for real leather. But times have changed and there are more material choices out there now.
However, despite its ethics, PU is still not the most sustainable or eco-friendly option. I don't like the fact that most brands don't offer a recycling programme and take back scheme to ensure their products are recycled. I find that approach quite linear, putting the responsibility onto the consumer isn't a circular approach (which is something I find missing from most brands that claim to be sustainable).

Ultimately PU leathers are petrochemical-based polymers that depend on raw materials from our planet. Oil is finite, we should not be wasting it. Do check a brand's sustainability page and its reason for choosing PU. These days I am looking at what type of schemes a brand has in place (or are working towards) to ensure their clothing and accessories do not end up in landfills.
Don't forget to check out my complete Sustainable Fabrics Style Guide to learn more about the materials you should look out for (and avoid) when shopping sustainably.