We all have those little black dresses hiding at the back of the wardrobe, that we invested in or kept hold of because we are told that the LBD is a wardrobe staple. That's true if you wear it. If you don't it becomes another item taking up valuable wardrobe space. Items can lose their appeal if they no longer fit or flatter your ever-changing body shape. It could be that it's broken or you've never gotten around to fixing it, or just lacks that certain WOW factor it used to have.
The solution?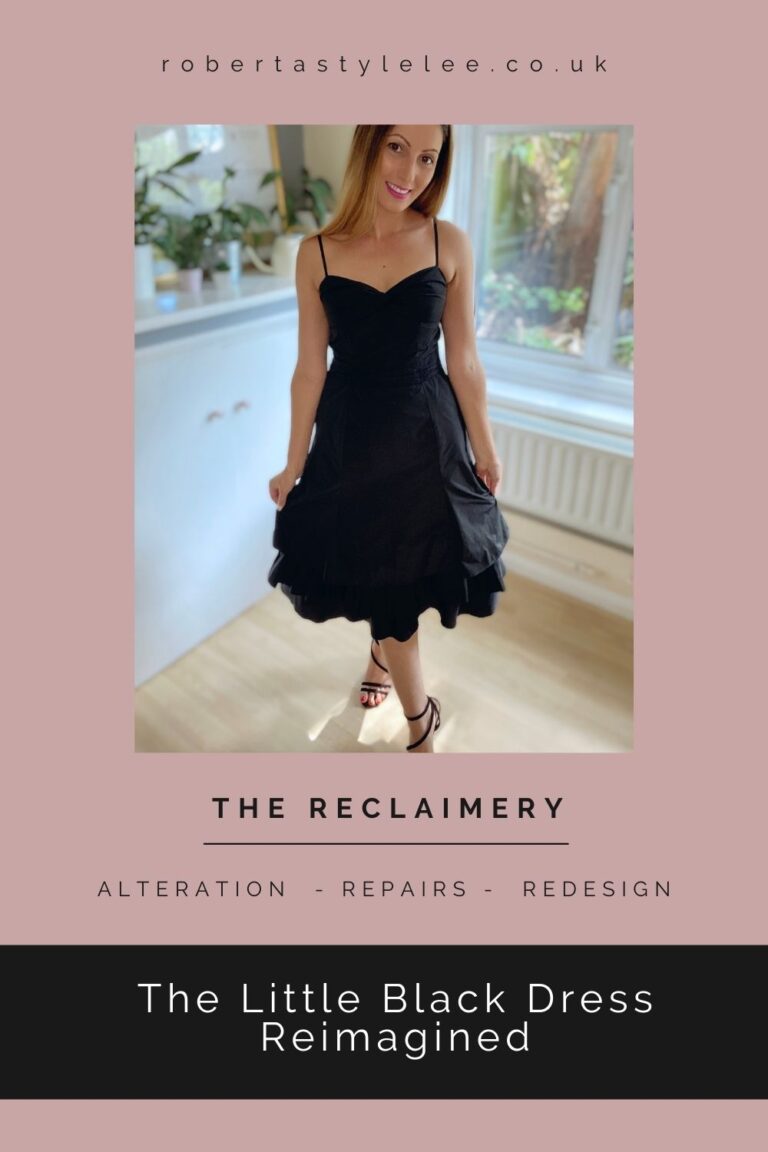 Alterations & upcycling services have come on a long way – they are now accessible and more affordable than ever. What I love most about these new services is that if you lack the technical skills to carry out the sewing alterations or know how to redesign your own clothes – then you can be your own fashion designer, and outsource the work!
Last year I teamed up with The Reclaimery to reimagine my own wardrobe and show how easy it is to have items not being worn transformed into new, more desirable, and multi-functioning pieces. *This was a gifted service. See how I transformed 3 little black dresses into more versatile capsule worthy pieces with The Reclaimery alterations and redesign service.
Getting Started With Clothing Alterations
The first step is to look for pieces that you believe will be more useful if they are altered in some way. For me, I looked at my collection of LBDs and another little black & white print dress that I wasn't wearing often at all. I am quite creative, so I already knew exactly how I could change the items (in a magic reality) so that I would wear them more.
However, I did need to have a consultation with Juliet the founder of the Reclaimery – I was fortunate enough to be offered a VIP Wardrobe Makeover experience, so after some exchanges, over email, we arranged to meet in person so she could take my measurements (although I could have done this over email). However, I also wanted to share some other items that I loved but needed to be repaired and I wanted to get a feel for what The Reclaimery could do (you can check these out in the next alterations blog).
The redesign & alterations process:
Look in your wardrobe and pull out pieces that have potential (if you need help with this I offer wardrobe edits & sustainable styling sessions)
Choose the items you want to be repaired, altered, or redesigned into something new
Take your measurements – see how to measure your body shape here
Confirm with The Reclaimery what you'd like done and they will do a consultation over email, video or you can book in for a VIP service (they visit you at home)
Pack up your items and send recorded in the post
You'll get confirmation that your pieces have been recieved and when you can expect them returned
Try on at home – and if there are any issues, you can get in touch and have a follow up service to get the items tweaked
LITTLE BLACK DRESS AlterATION NO.1
Background: This dress was a preloved purchase years ago on eBay, from sometime in my mid-twenties. It is a Karen Millen evening dress which has been made to a high standard. I loved the dress so much that I paid around £40 to have the top section completley altered to fit my small torso, so I have always loved the fit at the top. Hence my reluctance to get rid of it nearly 2-decades later!  In my twenties I never minded getting my legs out, but now I am in my forties - I just don't feel the length is right for me, it also stops right on the knees which is unflattering on me. 

My design idea: I knew that this dress still offered me potential but the length was stopping me from wearing it.  I wanted to have length added but I wasn't sure how we'd match the material or add length in a way that did not look DIY. I toyed with the idea of this being split into a 2-piece. 
the little black karen millen dress saved!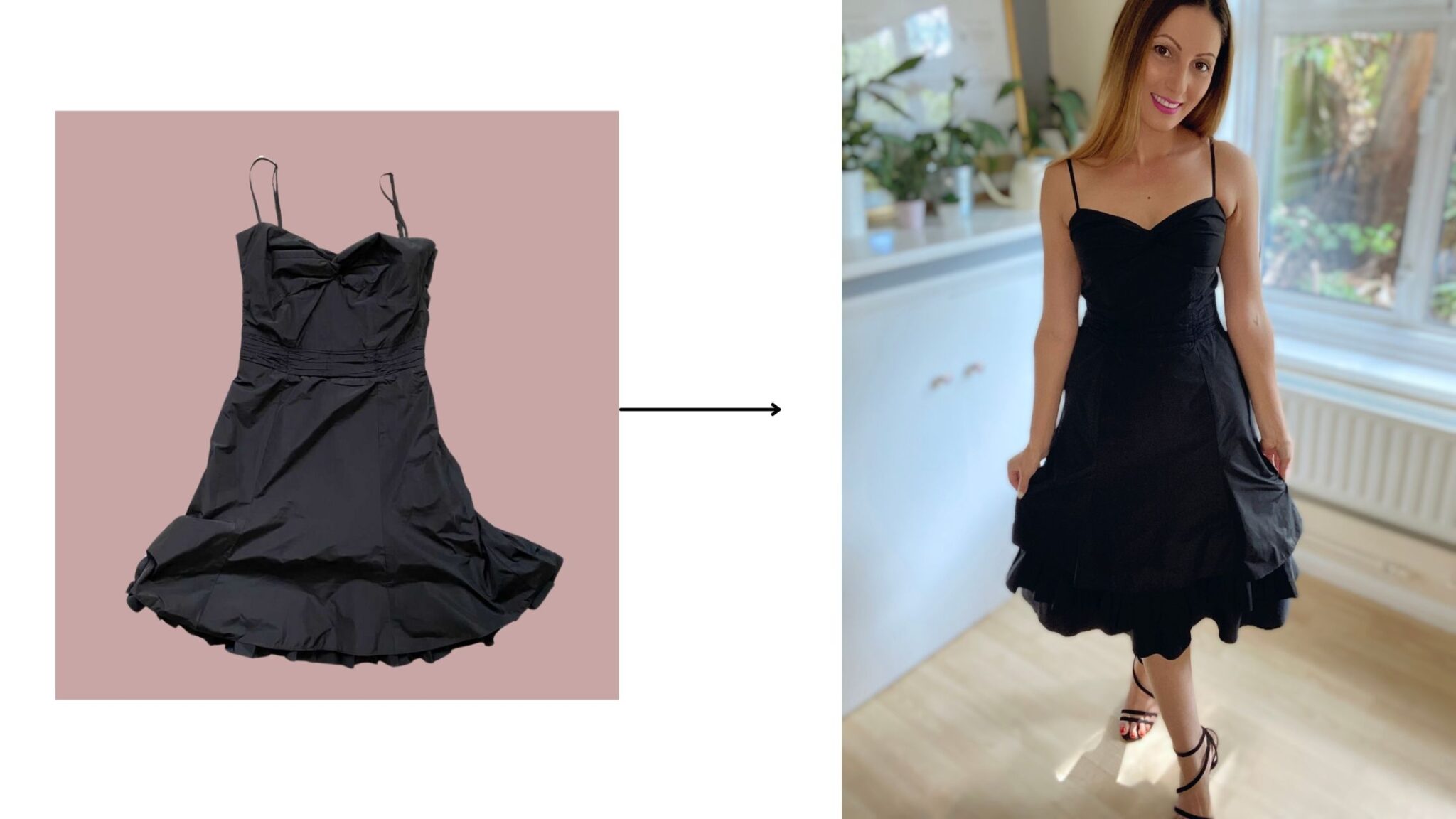 I was informed by Juliet the founder of The Reclaimery that it would be possible to make the alterations not look DIY and they could find similar coloured material and add that in the middle section, by dropping the original length and adding an extra section in between it would not look like the dress had been altered – instead, it would look as it was part of the design. She recommended that I keep it as a dress as it fit me so well, and I agreed to keep it as a one-piece!
USE CODEL: RSL10 to get a discount on your first alteration or redesign service
Style tips for effortless style
FOR EASY EFFORTLESS STYLE
the little black dress transformation

I was so pleased with the alterations to this LBD. I love how the dress went from 'meh' to looking much more 'couture'. In fact, I love it so much I am considering having extra ruffles added at a later date and making the bottom of the dress even more of a statement!
What's also great is the material used to create this extra section was salvaged from the Tuxedo dress I had given them. I really love this sustainable and super creative approach by Juliet and her team – the experience feels so personalised and beats buying something new that's not been tailored to your body shape, your wardrobe requirements, or personal taste.
The Little black TUXEDO dress redesign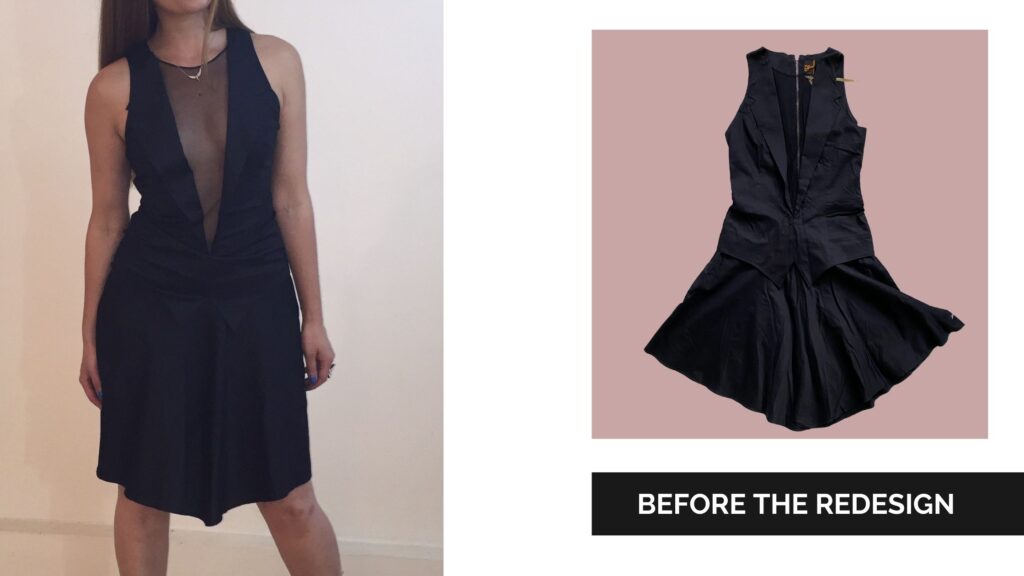 Background: This dress was given to me at the start of my Sustainable Styling career back in 2015 when I worked with an ethical fashion brand called DFYnorm (who sadly no longer exist - they were one of the OGs).  My brief was to create lots of different outfits out of a few of their pieces to show how they could be dressed up and dressed down.  I have sentimental attachment to the dress, so haven't wanted to let it go - BUT I know it deserves to be worn and cherished. I considered the reasons why I don't wear it and came up with an idea for getting more wears from it

My Design Idea: I knew this dress offered me more potential as a top. By getting rid of the skirt I could see how this would work well with multiple pieces I already had in my wardrobe, elavating it from quirky to super glam. 


the black TUXEDO TOP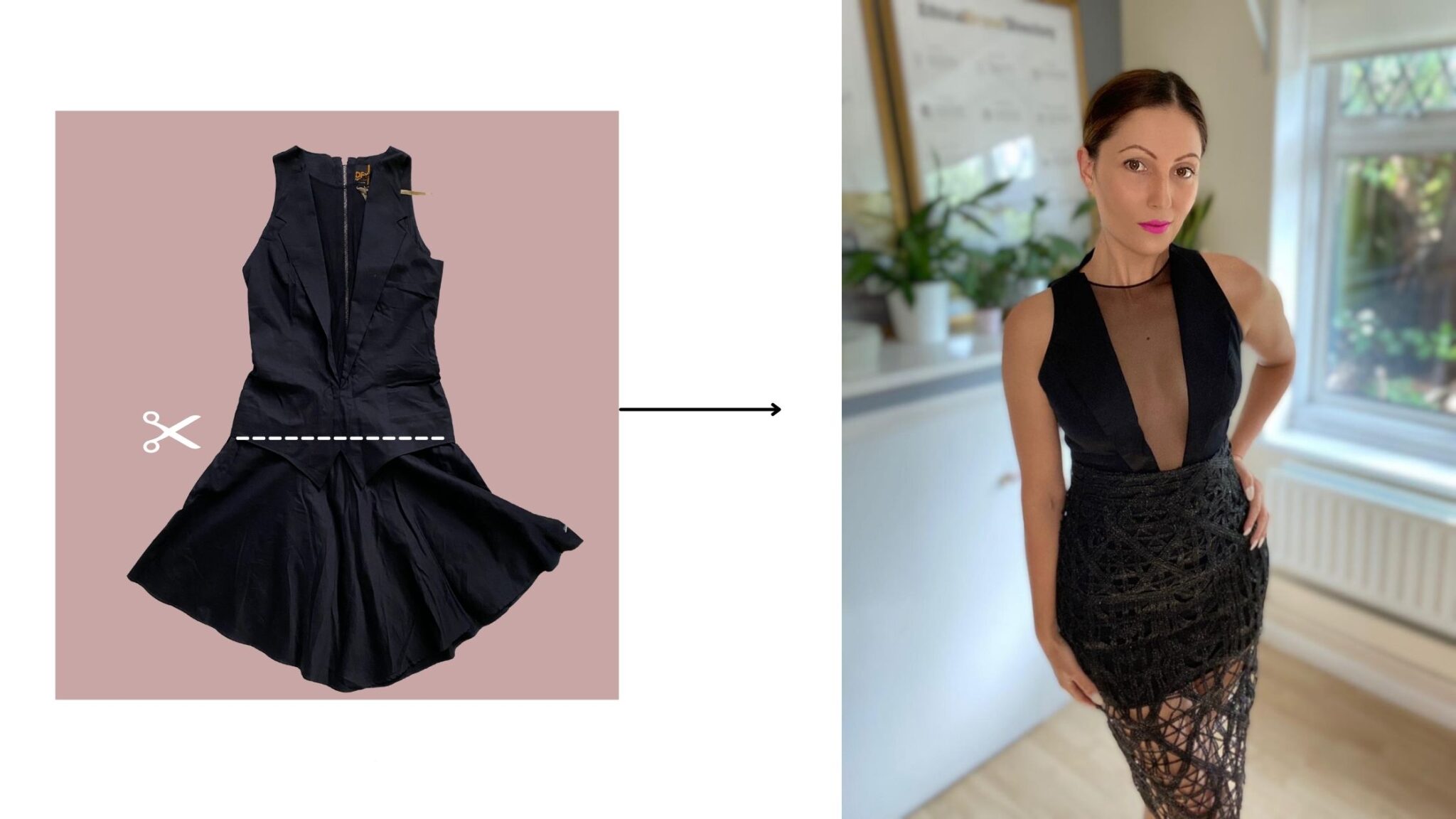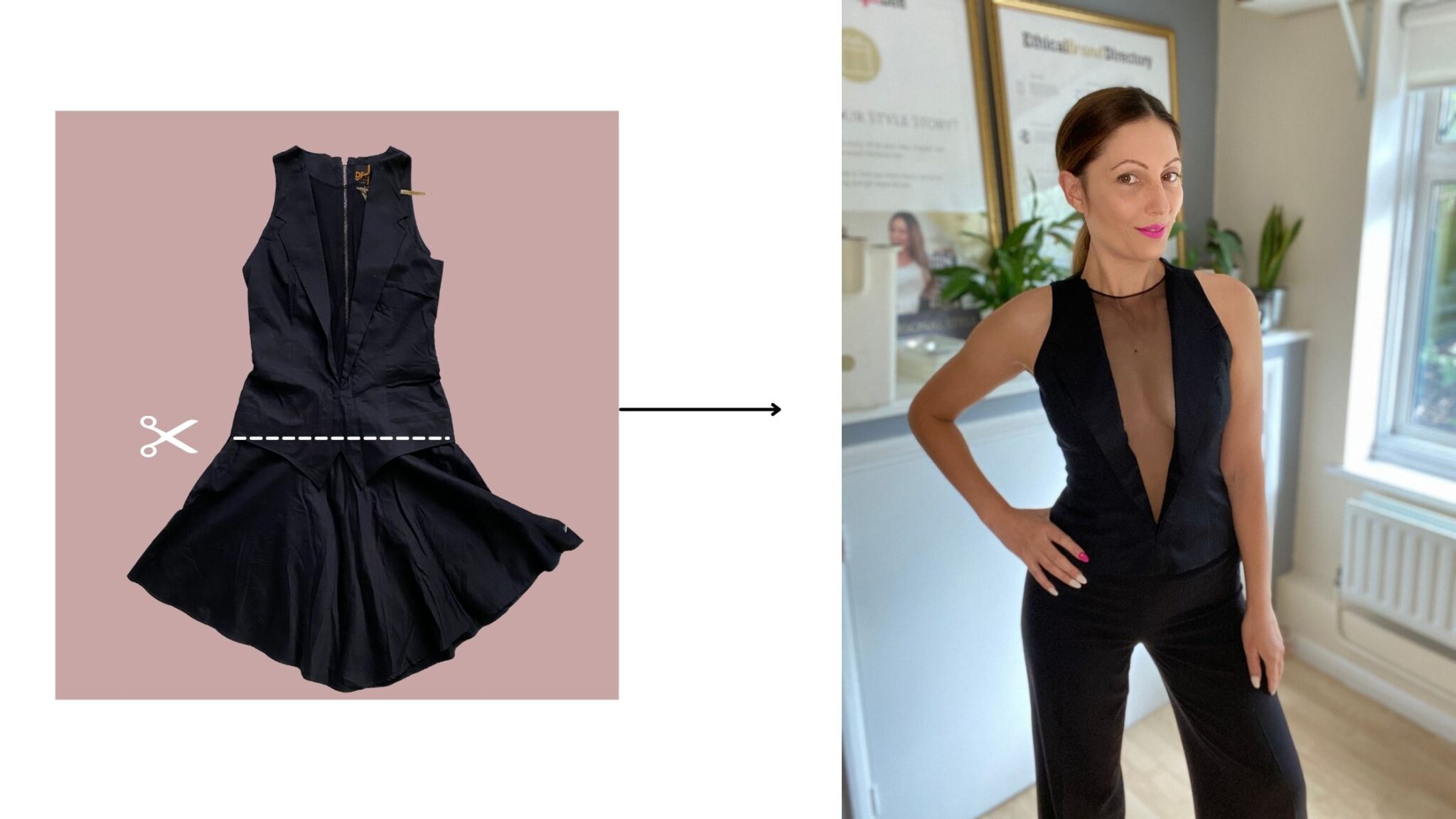 THE REDESIGN & UPCYCLING OF THE DRESS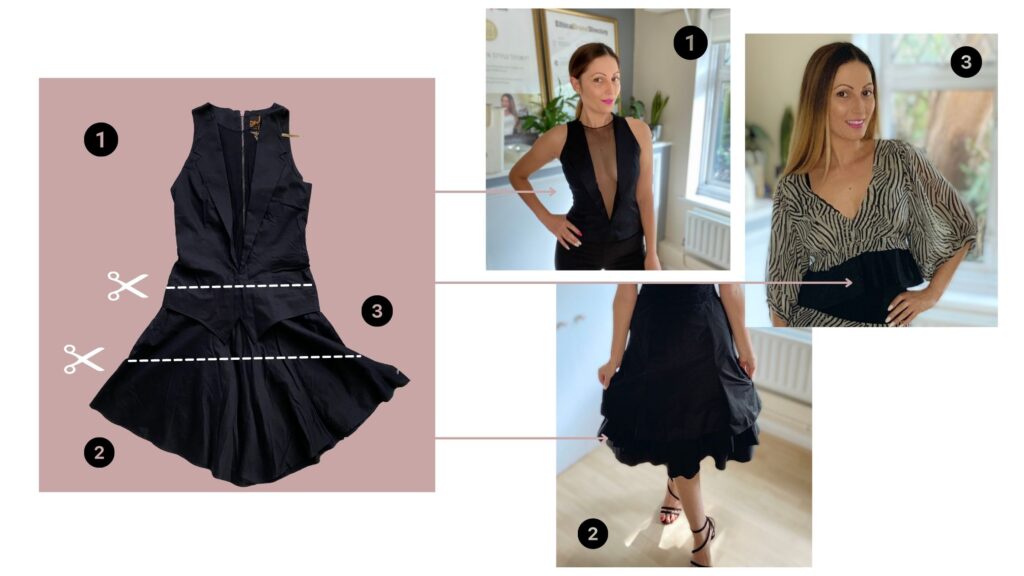 USE CODEL: RSL10 to get a discount on your first alteration or redesign service
Juliet said that it would be possible to make the alterations and turn this into an evening top, quite easily. They utilised the excess material, as The Reclaimery don't waste any material from their jobs, everything is kept and used. When I received the top I was a bit unsure of how to get into it, as the zip had been cut and permanently fastened at the bottom. I soon realised that the top could be put on by placing it over my head – so although I was expecting it to unzip fully, I found the workaround no issue at all.
I love the former Tuxedo dress much more as a top and I have enjoyed seeing how many ways I can wear it. Love love love the transformation. I also love that that 1 dress, has now been used to create 3 new pieces in my wardrobe that offers more versatility for my styling needs.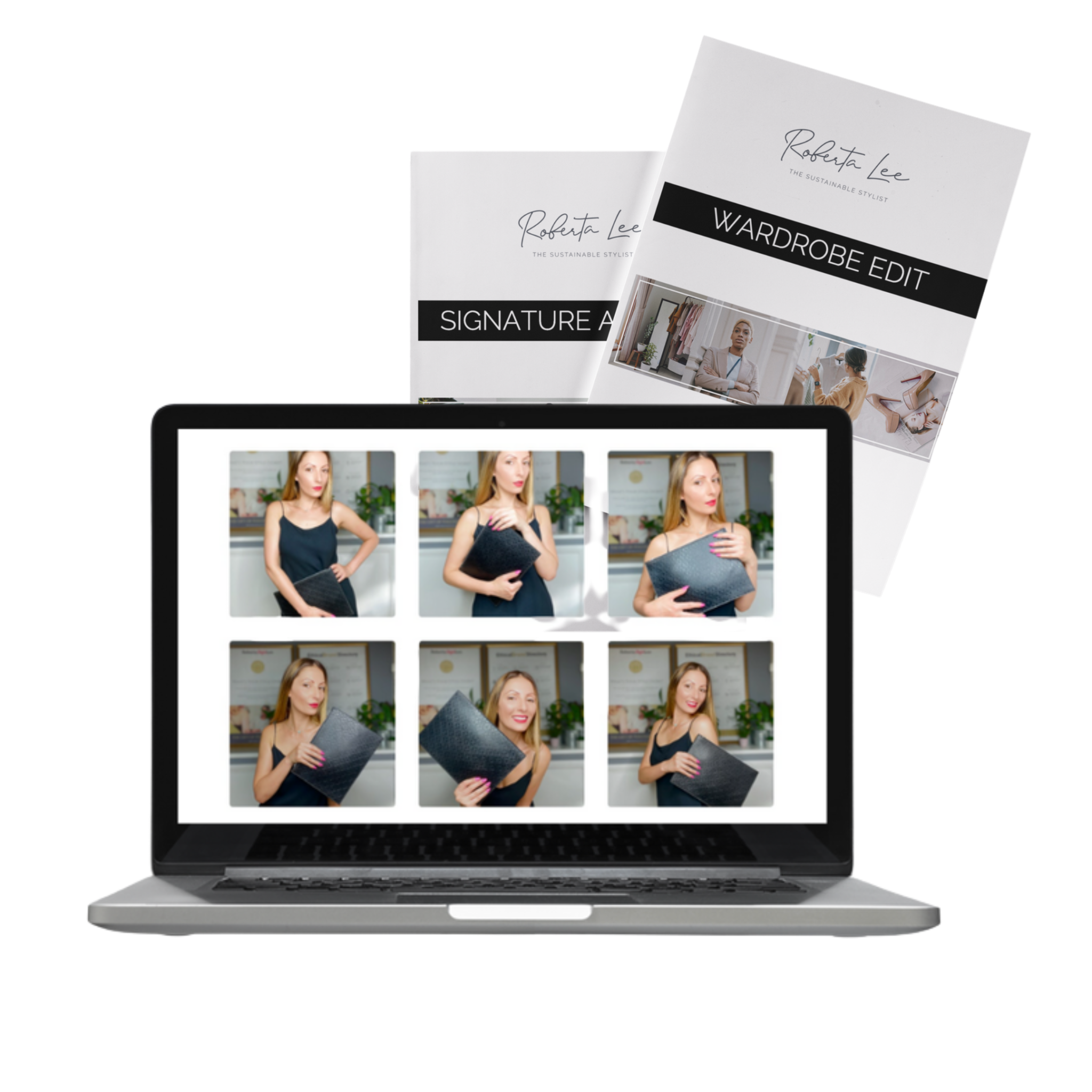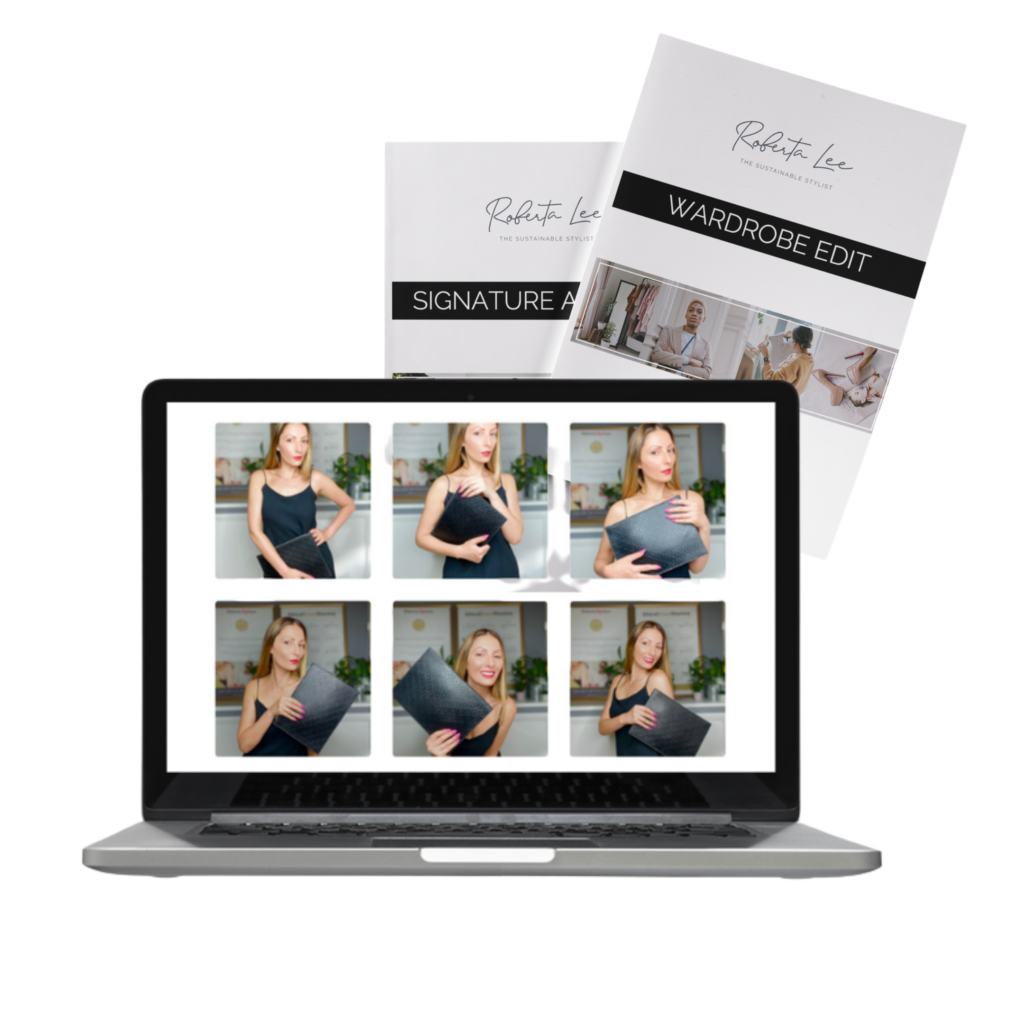 FEEL EXCITED TO GET DRESSED, KNOW YOUR STYLE & SHOP WITH PURPOSE
Drop your details below to learn more about the classes, outcomes, and experiences of other students who have completed the Create Your Own Personal Course. 
The Little Black & WHITE ZEBRA STRIPE DRESS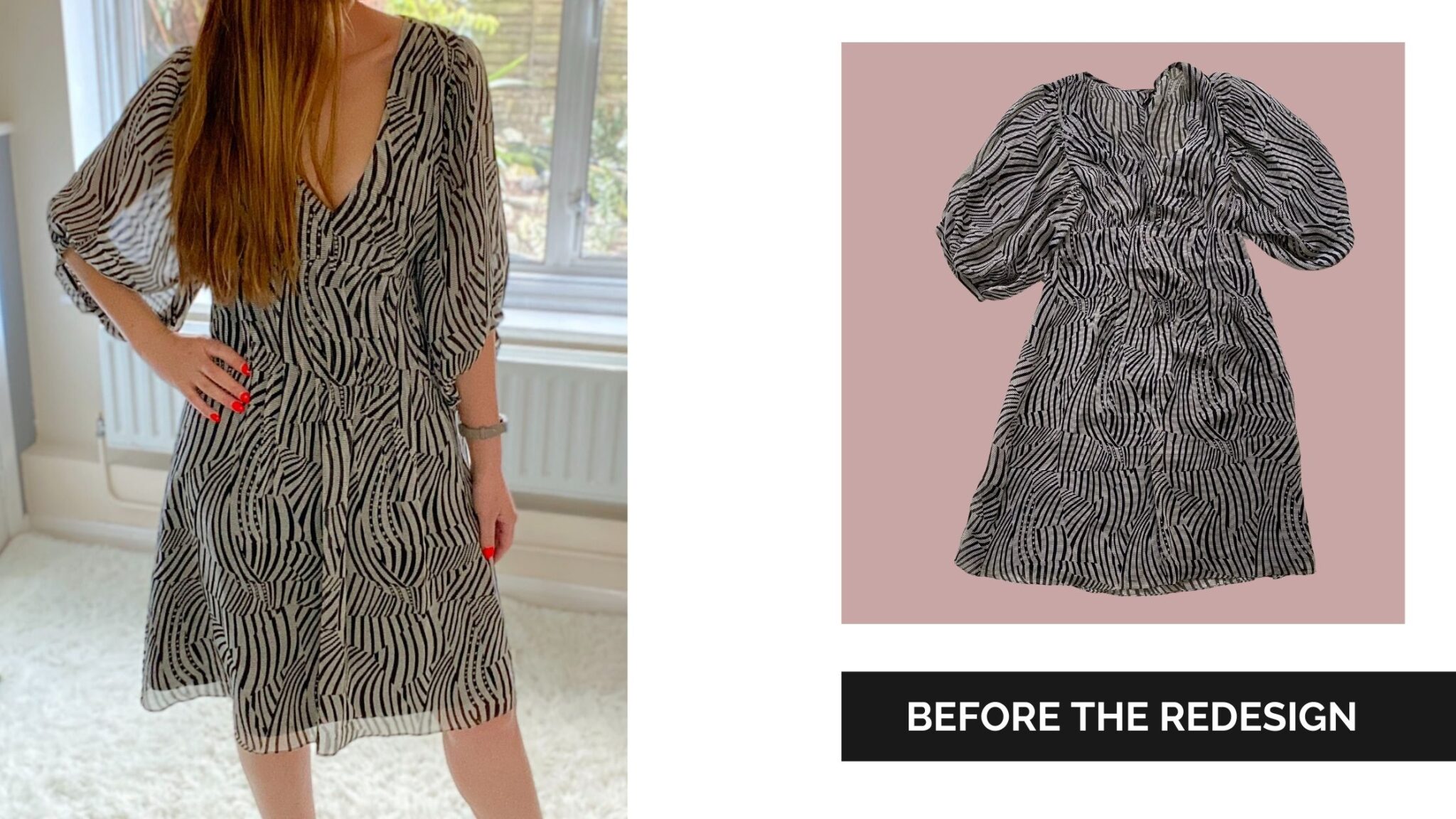 Background: Another one of my thifty bargains! I got this silk Ted Baker dress about 10-years (I think) ago on Ebay for under £20.  I was drawn in by the print and the material (investing in natural materials is something I learnt to do early) so I knew this would be a good fixer-upper.  Unfortunately the dress wasn't that flattering and a little big. I did wear it a few times layered over a cashmere jumper - but sadly I didn't get as many wears from it as I hoped. I also realised that there was a stain on the middle (at the front) section as well 🙁 

My Design Idea: I knew instictively that this dress would serve me better as 2-pieces.  I also did not like the length of the dress, it cut across my knees, very unflattering for my body shape.  I wasn't sure exactly 'HOW' this design would manifest, all I knew is that I wanted a cropped top and a skirt with a high-waist and extra length. 


Black & WHITE ZEBRA PRINT CO-ORD SET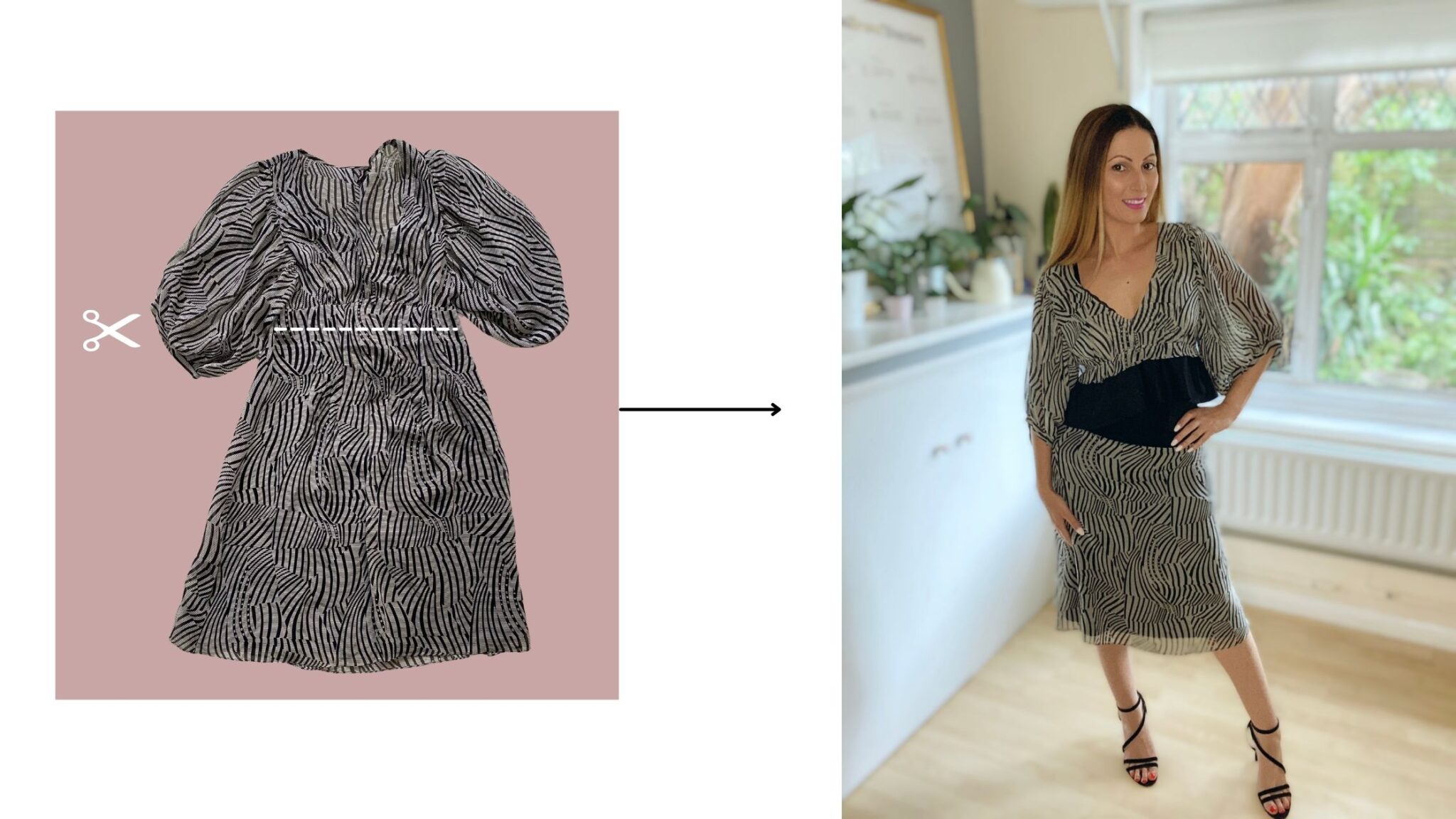 Black & WHITE ZEBRA STRIPE CROPPED TOP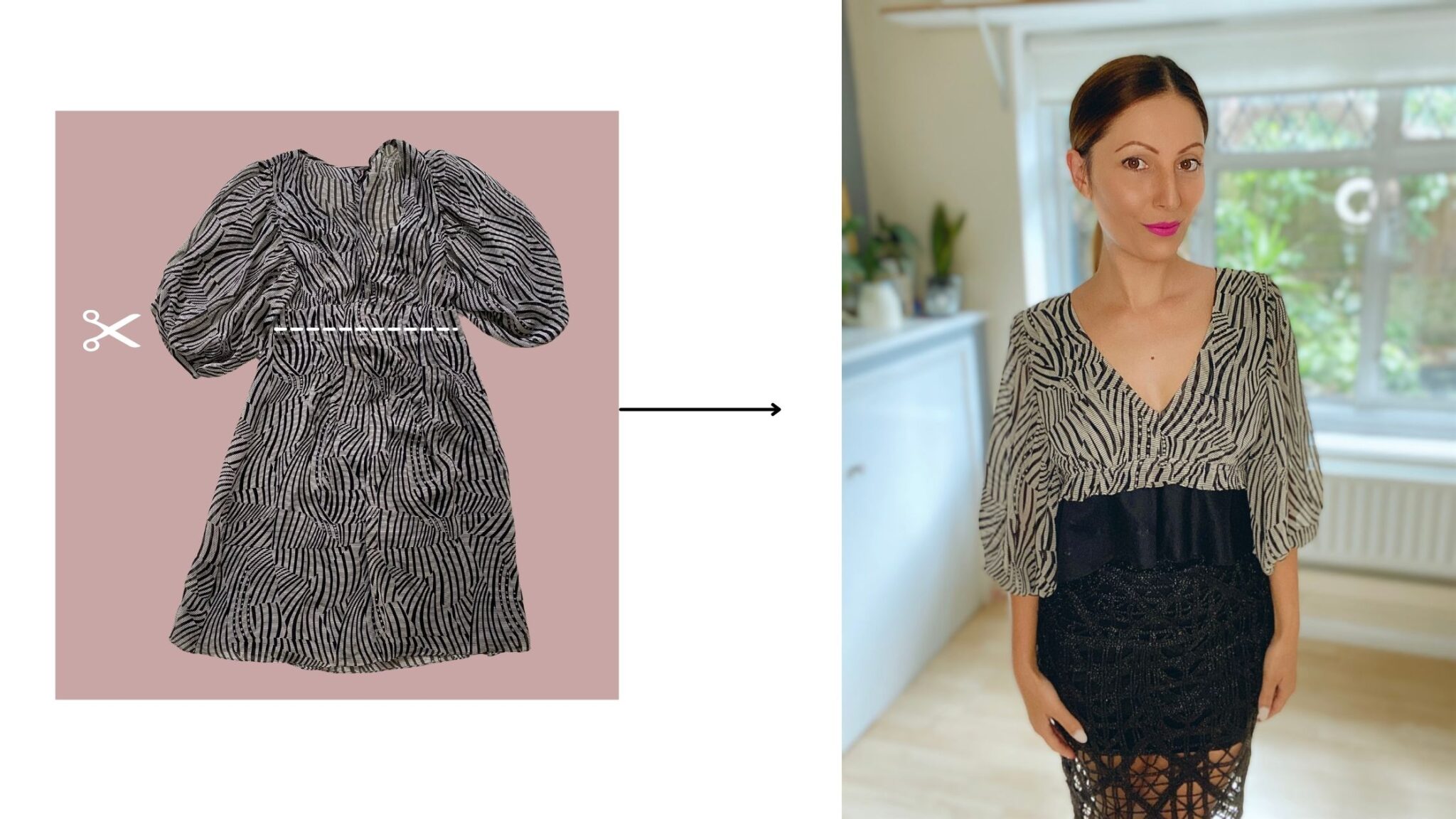 USE CODEL: RSL10 to get a discount on your first alteration or redesign service
I was very surprised with this new co-ord set, mostly because I wasn't expecting to love the top so much, and not like the skirt at all. The skirt did not end up being quite as stylish as I had hoped and it actually only worked worn co-ordinated with the top. I was hoping the skirt would have offered me more versatility but I actually just looked quite frumpy and I felt very unlike 'me' in it.
I think I need to have another go at redesigning this one – BUT the top I absolutely friggin LOVE…and… the extra material from that Tuxedo dress was used to make the cute ruffle hem on the top. The section that had the stain, is gone and a ruffle section in its place. That was a design feature I did not think of, so I was pleasantly surprised to see that Juliet and The Reclaimery team added this to the top for me. This is why it pays to work with sewing + upcycling experts!
Ultimately I think the top still needs a bit more done to it, it is still a little too big for me. Ideally, I need the design tweaked again so it doesn't reveal my bra every time I move. I think perhaps a hidden drawstring or elastic under the bust line could solve that problem.


THE RECLaimery alterations & redsign service summary:
I thoroughly enjoyed working with The Reclaimery to bring my designs to life – and with their expertise, they were able to take my design ideas to the next level, and do so sustainably. I cannot express enough what a joy it is to take items that you already own, and transform them into something new; it beats shopping any day of the week.
Services like The Reclaimery are so important if we want to keep clothing in circulation longer. They offered me a fantastic service that I didn't know I couldn't live without – now I have tried them, I am hooked. Instead of shopping for new clothes, I find myself looking at my wardrobe with a view of getting more things redesigned, altered, and fixed. My dreams of being a fashion designer have partly come true!
This is a service that I will definitely promote to my styling clients and I loved this experience so much I included it on my Online Styling Course! And… I was so impressed with what they did with these pieces I gave them some more expensive investment pieces to work with that still had their tags on… (more coming soon in another blog!).
USE CODEL: RSL10 to get a discount on your first alteration or redesign service
Let me know in the comments which dress transformation you loved the most!