In support of the #ShopEthicalInstead campaign and #BLOCKFRIDAY we want to introduce you to 8 amazing ethical businesses (that are contributing towards a better tomorrow) in this blog.  The EBD hosted its 2nd event of the year on Wednesday 15th of November at the Business Design Centre in Islington, London and welcomed brands on the Ethical Brand Directory to showcase their products and inspire conscious gift giving this Christmas.  It was a gentle protest to mindless mass consumerism (which is Black Friday). And it was yet again another great event!
"I had a great experience. It was refreshing to be to be in an environment, with like minded people, who share the same passion as me and are committed to make a change" "Excellent introduction to the Ethical Brand Directory, I will be back"


With special thanks to all of our speakers who contributed to the panel discussion and added their thoughts, opinions and expert views on the evening's ethical and sustainable topics.  Claire spoke about being a tailor and why bespoke creations are so important to the future of sustainable fashion, I spoke about the role of personal styling and how knowing your style means you'll buy and waste less stuff, making it easier to invest in higher priced things you'll love. Lucas spoke about his role as a vegan and founder of Alive Boutique (A Little Vegan Boutique) and we all challenged him on whether vegan fashion can be eco-friendly too.  Olivia shared her views on ethical fashion what we can do as consumers, what the brands are doing and what's going on behind closed doors. More on the panel discussion later in the blog…
We opened our doors at 6pm to showcase/shop/network. What made this especially nice was being able to see items normally you only get to view on a website, being able touch the material and ask the founders questions about how things were made. Being able to understand the product journey made this feel like a very conscious and considered shopping experience.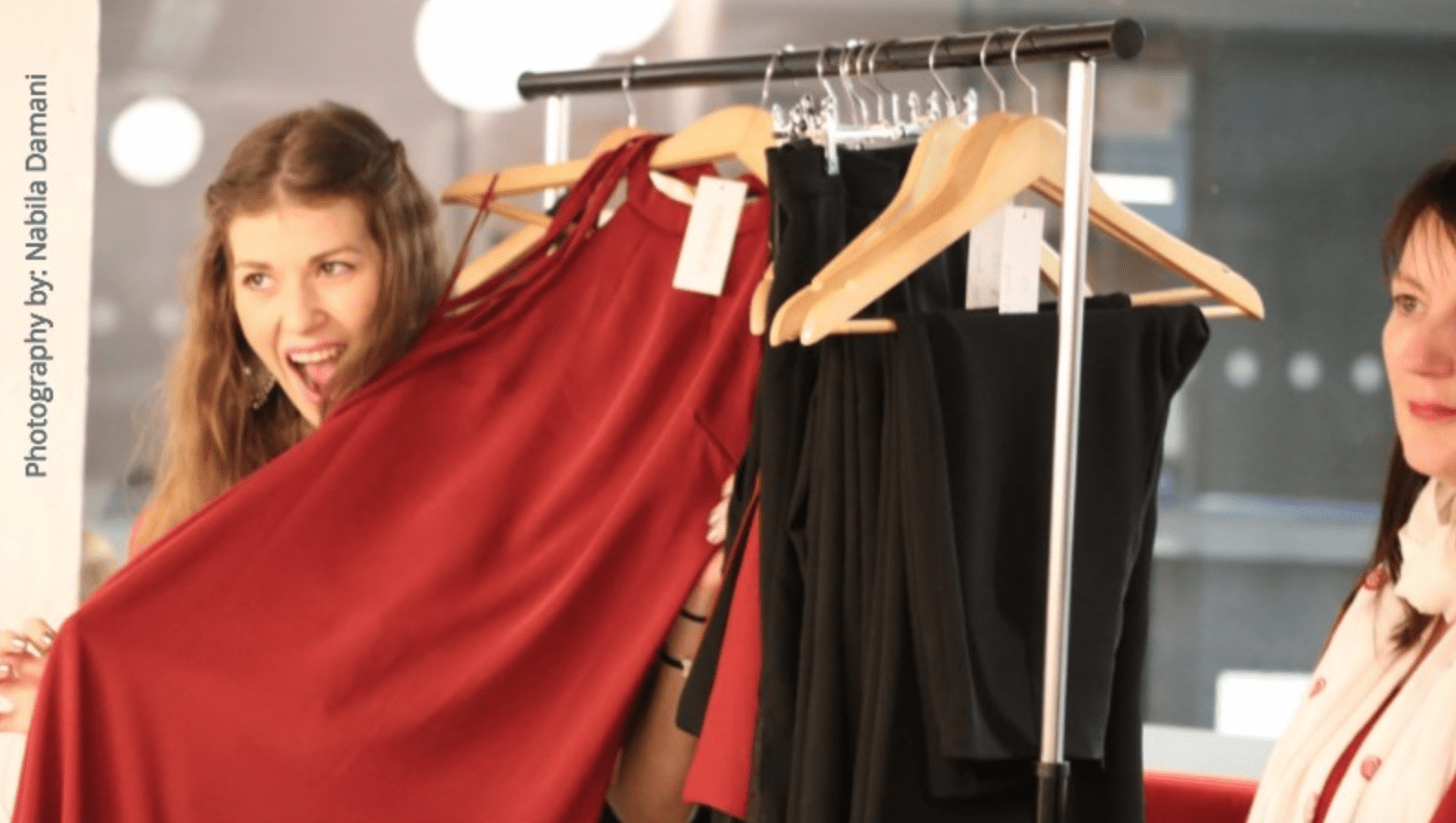 Let me introduce you to our brands that took time our of their busy schedule to support the EBD, attend the event and contribute to our growing community.
A is for Annaborgia
Annaborgia – who are a personal favourite of mine. Elegant, beautifully made vegan clothing for the stylish woman who doesn't want to compromise on aesthetics for ethics. You can read my blog and why I think they are so super awesome here.
Brand Description & Mission Statement:
Annaborgia was founded by its Italian Creative Director, Daniela Degrassi, to create a more conscious alternative to wedding attire. Annaborgia's "minimalist glamour" is designed to be multi-functional, transitioning seamlessly from casual settings to formal events.
A strong supporter of fair trade practices, all of the Annaborgia collections are produced in an atelier in San Francisco, California, USA, or Made in Italy in Daniela's hometown region using cruelty-free fabrics that are manufactured without any dyes that are toxic to the environment.
C is for Couchman-Bespoke
Couchman Bespoke originated with bespoke clothes in 2012 made for friends and family. The business has developed into a ready-to-wear brand specialising in contemporary formal/ tailored attire that is made from ethically sourced cloth.  The clothing is made in Britain and inspired by our modern lifestyles and needs from clothing being worn from day to night.  The designs are focused on structured silhouettes with Japanese origami pattern making techniques.
Clothing shouldn't cost the earth.  Couchman Bespoke is dedicated to reduce the environmental and human impact and waste from the production of clothing made under its name.  Resulting in quality British tailoring that is stylish and sustainable.  Throughout clothing manufacture there is a lot of pollution created such as CO2 from factory machines and transportation in between suppliers, and chemical through colour/ print dyeing and finishes to cloth that end up in the air and water ways.
E is for Embellished Truth


I am a little bit in love with this brand and the clutch featured in this image…especially because each item is handmade with love in London. Gotta love an eye-catching clutch.
Brand Description & Mission Statement:
Embellished Truth is a luxury British accessory label which focuses on environmental sensibilities. Each bag is made using the finest eco-friendly leather which has been vegetable tanned in Europe.
The tanning process is free from chrome and other heavy metals and uses vegetable substances which are harvested in a sustainable way. The end result is beautifully soft, breathable and biodegradable leather.
Embellished Truth supports UK manufacturing and craftsmanship with each piece individually made with love in London.
F is for Fresh Lifestyle


I have to say I am amazed at every product I try from this company. Everything is so FRESH and it really does do amazing things for your skin. I have a review of this brand coming soon!
Brand Description & Mission Statement:
Fresh Lifestyle is an ethics-first brand that stands for 100% fresh skin and body care products that are synthetic-free and ethical in every way.
They believe that products shouldn't just look good – they should also:
• Be fresh & totally free from preservatives & synthetic chemicals
• Have a genuine, noticeable effect on the way your skin looks and feels
• Have a positive impact on the environment and the people who create the products
• Be both vegan and cruelty-free
L is for Lyme Terrace

Effortlessly cool and kind – I love that the guys behind this brand have kept things simple with great attention to detail, sustainability and ethics at its heart.
Brand Description & Mission Statement:
Lyme Terrace is a menswear brand dedicated to producing clothes in harmony with nature. It was started by two friends in London's Camden Town with the aim of inspiring change through the medium of clothing.
Lyme Terrace offers an alternative fashion model that values social, environmental and economic capital as equal. They do this by only using certified organic, regenerated or recycled fibres for their garments; they then manufacture locally in the UK (mostly London) to guarantee fair working conditions and environmental practices along the supply chain. Transparency is ensured by a refreshingly open pricing model that shows all the costs and profit markups.
L is for LoveEco
LovEco
is all about bringing together the best of what sustainable clothing industry has on offer. Their  aim is to represent innovation, quality and craftsmanship.
At LovEco they firmly believe in creating your own individual style and looking great – in a responsible and environmentally friendly way. One of their goals is to help reduce waste and to help banish unethical practises that today's fast fashion industry is so often criticised for.
R is for Roberta Style Lee
Well, this is me… my brand is Roberta Style Lee the parent brand of the Ethical Brand Directory. I created the EBD as I was fed up of searching google to find ethical and sustainable clothes and coming up with hippy, hemp and sheer ugliness. I knew I wasn't the only one who cared equally about aesthetics as ethics, so I decided to pull together a list of brands I loved to help my styling clients – and voila EBD was born, but very quickly my needs for more ethical alternatives grew, so did the EBD.  In my role as an eco-stylist I encourage a less is more approach. An M&S study revealed that UK adults only regularly wear 44 percent of their clothing. The other 56% is wasted – a sustainable wardrobe is so important and I believe if more people knew their signature style they would buy less, waste less, invest in the best and we'd see less clothing end up in landfill – and that would help us create a more sustainable future.
Brand Description & Mission Statement:
Roberta Style Lee is more than just speaking, coaching and styling. It's about inspiring confidence and empowering you to be the best version of yourself from the inside out – and doing it in a responsible way. It's where ethics, sustainability, conscious consumerism, confidence and personal style all come together. At Roberta Style Lee you can find resources to stay confident and stylish, buy my online personal styling course, gift vouchers, tickets to attend events, book in for bespoke styling and workshops.
Mission:To empower women to be the best version of themselves from the inside out – and do it in a responsible way.
S is for Soapy Fairy

Beautiful hand made soaps that don't cost the earth. I really loved the beautiful options and I will be stocking up on these once my current supply is all gone!
Brand Description & Mission Statement:
Soapy Fairy is an eco-conscious and eco-friendly brand, all of our soap are handmade and organic made from natural ingredients, no chemicals are added.
They want to raise awareness among people by using soaps which are good for their skin but also for the planet. All of their  packaging is recyclable. They are also a vegan brand, so cruelty free for animals.
S is for Starseeds
An interesting brand that uses food waste, such as coffee beans in their textile production. Coffee beans are actually known for neutralising smells, perfect for sweaty activewear!
Brand Description & Mission Statement:
Starseeds are an ethical, sustainable athleisure-wear, carefully produced marrying style and the softest, sustainable jersey fabrics to create fashion that makes a different. Inspired by a shared love of yoga, great design and wellbeing, Starseeds shows that it is possible to look good and be mindful, without compromising on your sense of style and ethical standards – not one little bit.
They believe that every conscious choice matters, and that going organic and natural needn't stop at what we put into our bodies. Words alone won't change the world but everything they stand for is summed up in just four: 'the lightness of being'. It's their everyday mantra, encouraging them to enjoy the moment and feel good with every choice they make, while always thinking about the legacy they'll leave for the future.
W is for Where does It Come From?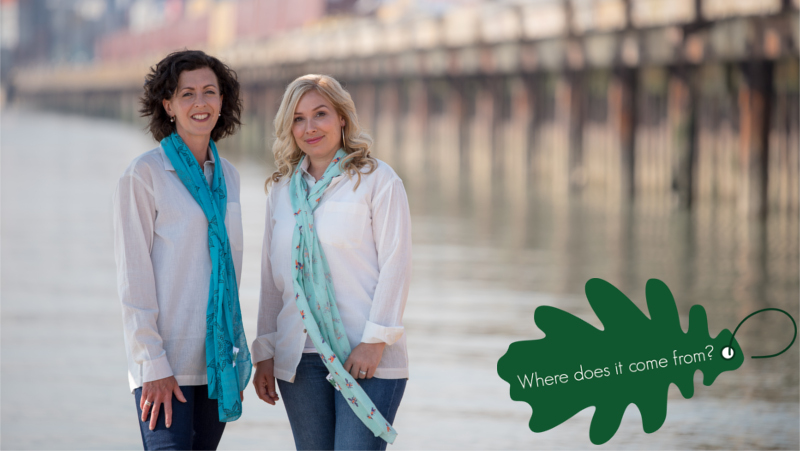 This brand stocks some unlikely, unusual prints in their range. If you like animals or bugs you can find some rather quirky men's shirts, scarfs and other accessories in their collection. They also sell some classic pieces too for the less outrageous shirt wearers out there 😉 and loads of fun bits for kids.
Brand Description & Mission Statement:
Where Does It Come From? is a clothing brand with a difference – their garments are all completely traceable. Their strapline is 'Cool Clothes that Tell Tales' because our customers can explore the creation story of anything they buy from them. All their garments are created with minimum harmful impact on people or planet so when you wear them you feel fantastic – inside and out.
Their Mission: To create ethically and sustainably clothing that is high quality and beautiful for the benefit of makers, the environment and consumers. They share the stories behind their garments to inspire people to have a deeper relationship with their clothes and to shop more ethically in future.
A BIG thank you 
Without the help and support of these brands we wouldn't have been able to put the event on – so we owe everyone behind each brand a massive thanks and endless appreciation for all their hard work helping us sell tickets and market the event. EBD is all about the community and that's why we get such awesome feedback by people who come to every event – the intimacy and passion of our get-togethers are always so inspiring and leaving me beaming with pride.
Our speakers and panel discussion  
The evening was also kept lively by a enthusiastic panel discussion, plenty of wine and networking time. During the panel discussion we spoke about the role of personal styling and bespoke tailoring in ethical fashion and a creating a sustainable future. Claire Couchman and I spoke about the value of knowing your own style and investing in custom fit clothes – we both felt that this was something we need to embrace – retuning to a simpler time where being able to access a tailor isn't elite. Even getting poorly made clothes to fit you better is the more sustainable option, rather that than just keep buying off the rack and accepting a semi-Ok fit, chances are you'll wear a custom fit piece more and it will stay away from landfill longer.
We had some really lively debates happen across the evening which was rather exciting (I must remember to buy extra wine for the next event!) we had audience members getting involved and sharing their views on certain topics too. Most memorable for me was:
In our panel chat with Lucas Windhager we discussed vegan fashion and beauty and if it's as eco-friendly as we think. The answer was no. Not in all cases. This is when your values need to influence your purchasing decisions. This then fed into the whole  topic of why knowing your personal style is so important, because your style is not just based on how you dress but how you live – people are starting to shop based on their values now. It's a really interesting time for conscious consumerism – and another reason why we added a browse by 'cause' on the EBD search and filter.
"The more you know…the harder it is to shop!" Loved hearing @R0bertaLee and @OliviaPinnock discussing the intersections of ethical consumption at the @EthicalBrandAZ conscious Christmas showcase last night

— Takeitupwearitout (@Takeitupwearit) November 16, 2017
Olivia Pinnock's statement about you have to be in the Fashion industry to really make the biggest changes – generated a great response. This threw up a hot topic around large high-street brands and some of the unsung heroes working hard to influence change from within. It made me think about my tendency to be quick to judge a big brand based on everything it isn't doing, without giving them credit for things they are doing. My heart and loyalty is with the little brands who have ethics and sustainability in their DNA, who are small, agile and able to operate ethically without the pressure of appeasing CEOS and shareholders. Big brands will only change when their profits drop, so it's down to us the consumer to boycott theses shops and support smaller brands who are all about positive change.
After the event in September feedback suggests that we needed more time to network, so after the panel talks we all had time to chat and learn more about one another. I was as always delighted to welcome some new faces and see some EBD guests return for another event.


Some of the feedback we received was just wonderful, here are just a few reviews:"I loved the discussion on ethical clothing, what a person values and their actions as a consumer and a brand" "Looking forward to the next great event" we also got another great blog write up from Ellie from take It Up Wear It Out
Fed up with Black Friday? Why not #ShopEthicalInstead ? I discovered fab ethical brands at the @EthicalBrandAZ Conscious Christmas Showcase, and enjoyed the panel discussion about personal style and personal values https://t.co/9RkOFTfHfo pic.twitter.com/Sbf11WJKmJ

— Takeitupwearitout (@Takeitupwearit) November 24, 2017

Well that's all from me in this summary of the EBD Conscious Christmas Showcase and Networking Event. If you missed this one, make sure you sign up for alerts on the EBD so you have plenty of time to organise your diary and join us for the next one.  For all Londoners EBD will be launching an after work ethical brand and consumer networking sessions in zone 1-2 starting in January/February 2018 – make sure you are a member of our meet-up group so that you know when events are happening.
Until next time, stay strong avoid the mayhem on this crazy Black Friday and try to always #ShopEthicalInstead. If you are looking for discount codes check the Ethical Brand Directory as lots of brands have discount codes for EBD visitors.
Roberta x