Secondhand September is an awareness campaign created by the Charity Oxfam to encourage people to shop secondhand for an entire month. Their campaign has seen great success at shopping locations like Selfridges London in 2020 and is supported by the Queen of Thrift Bay Garnett. Garnett who is well known for her thrifty styling skills has helped to curate Oxfam's beautiful pop-ups to show that second-hand isn't second best.
Oxfam has created this campaign as they believe in protecting our planet, as well as helping people beat poverty around the world, and our unwanted clothes can help them achieve those goals. By giving your clothes to charity, instead of throwing them in the bin, they can be diverted from landfill. When we give our old clothes a new home in somebody else's wardrobe, it helps protect the planet from our zealous consumerism and throw away culture. And, for 2021 the actress Sienna Miller has got involved to support the campaign, appearing as the cover girl for this year's challenge, showing that it is entirely possible to look fabulous and help save the planet.
The Secondhand September Challenge
Oxfam is encouraging us all to shop only second-hand clothing from your local Oxfam charity shop or online for a period of 30-days (or more) across September. And they are also encouraging us to donate any good-quality pre-loved items that someone else could benefit from, that you no longer need or use. So this is also a great time to clear out your closet and make sure you have a hard-working wardrobe, rather than a cluttered one full of things you never wear.
Oxfam Secondhand Shopping Links
Shop Oxfam Online: https://onlineshop.oxfam.org.uk/
Find your local Oxfam Charity shop or Boutique: https://www.oxfam.org.uk/shops/


Dare to Rewear, style more and shop less
For those of you who already know me, you'll be familiar with my obsessive outfit repeating and refusal to keep showing new outfit pics on my IG. For those of you discovering me for the first time, I have been very proactive in showing that it's totally OK to keep re-wearing things, so I just LOVE Oxfam's caption of Dare to Rewear, normalising using clothes as they were intended (aka to be worn many times, not just a few!)
Re-wearing is such an important step in the sustainable fashion movement and reducing our overall clothing consumption. I am a BIG fan of re-wearing my favourite pieces that I wear again, and again, on repeat and have been a loud and proud #outfitrepeator for many, many years. I really hope to inspire more people to shop less, and style more – and that all starts when we stop shopping for a moment and sit down and create our own personal style. Once you have clarity on your style identity, you'll have the confidence to shop for yourself and invest in truly long-lasting pieces, rather than buying cheap and replacing them often.
My style is made up of preloved pieces, sourced from charity shops like Oxfam, online auctions like eBay, clothes swaps, premium reseller platforms like Vestiaire Collective, and independent ethical and sustainable brands. I've spent many years shopping for preloved, secondhand clothing online and in London, so if you're London bound, or live in the capital, check out my Sustainable Shopping Map to see which are my favorite Oxfam charity shops and boutiques, as well as many other sustainable shopping destinations.
Sustainable Shopping Map: Shop Secondhand September in Vintage & Charity Shops In London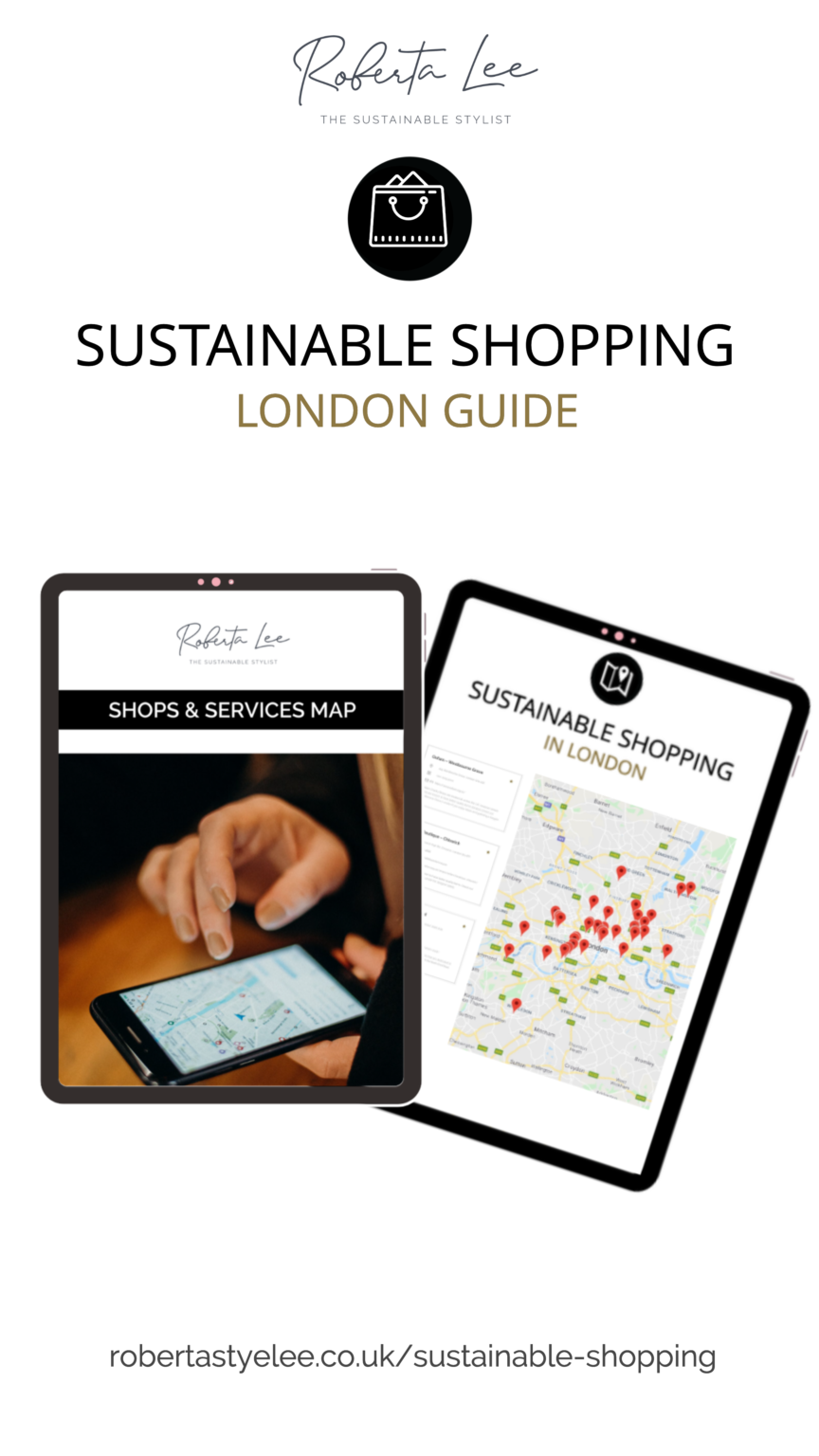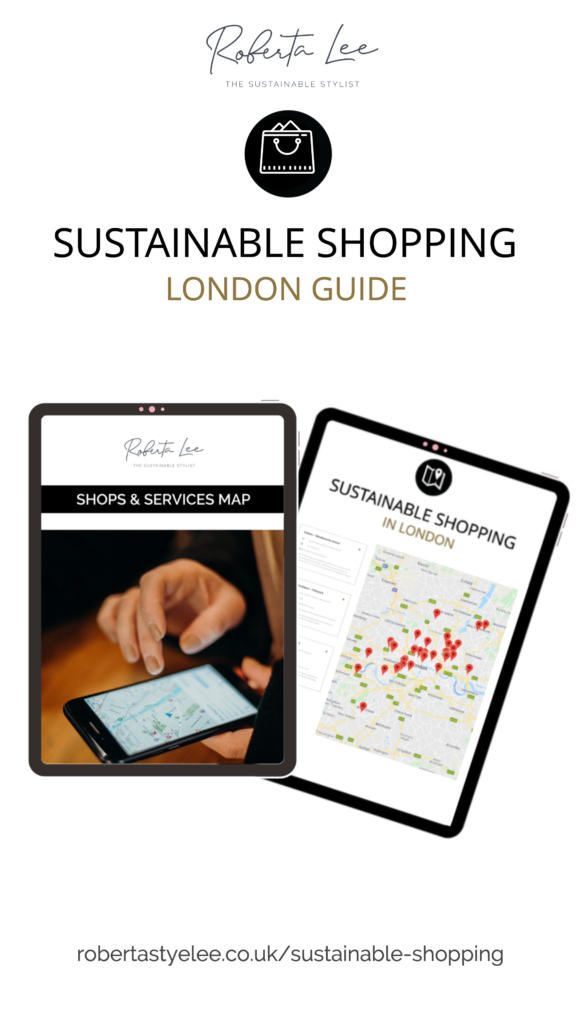 You'll see I have added several Oxfam hot spots on my sustainable shopping map, covering London. These are some of the better-known Oxfam locations that have high-quality pieces donated, so if you're after high-quality affordable designer pieces, I would recommend you check out Oxfam Boutiques on the King's Road, the one in Fulham, and Westbourne Grove.
My secondhand shopping tips for thrifting and shopping consciously
After all my former years of being a serial shopper, and after 6-years as a reformed fashion addict (who now opts for quality over quantity) along with all my year's of sustainable styling experience, I have found that there are some very easy shopping tips to follow to avoid falling back into a wardrobe full of clutter and wasting money.
These tips will help ensure your wardrobe remains in line with your life and style (as well as keeping you focused) by only adding long-lasting quality pieces that are cost-effective, offering you a great cost per wear (CPW) on any 'new to you' investments you make it into your closet.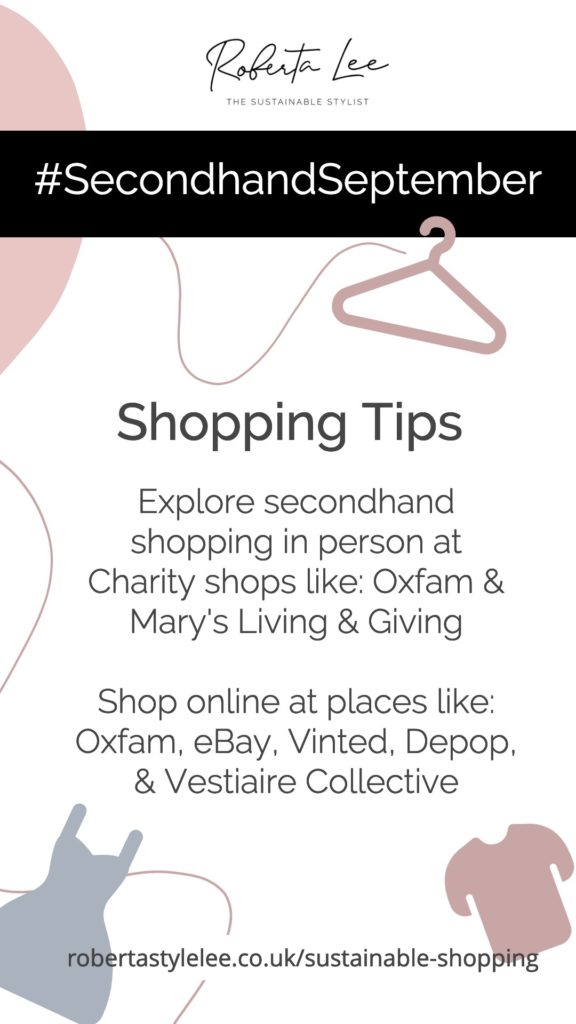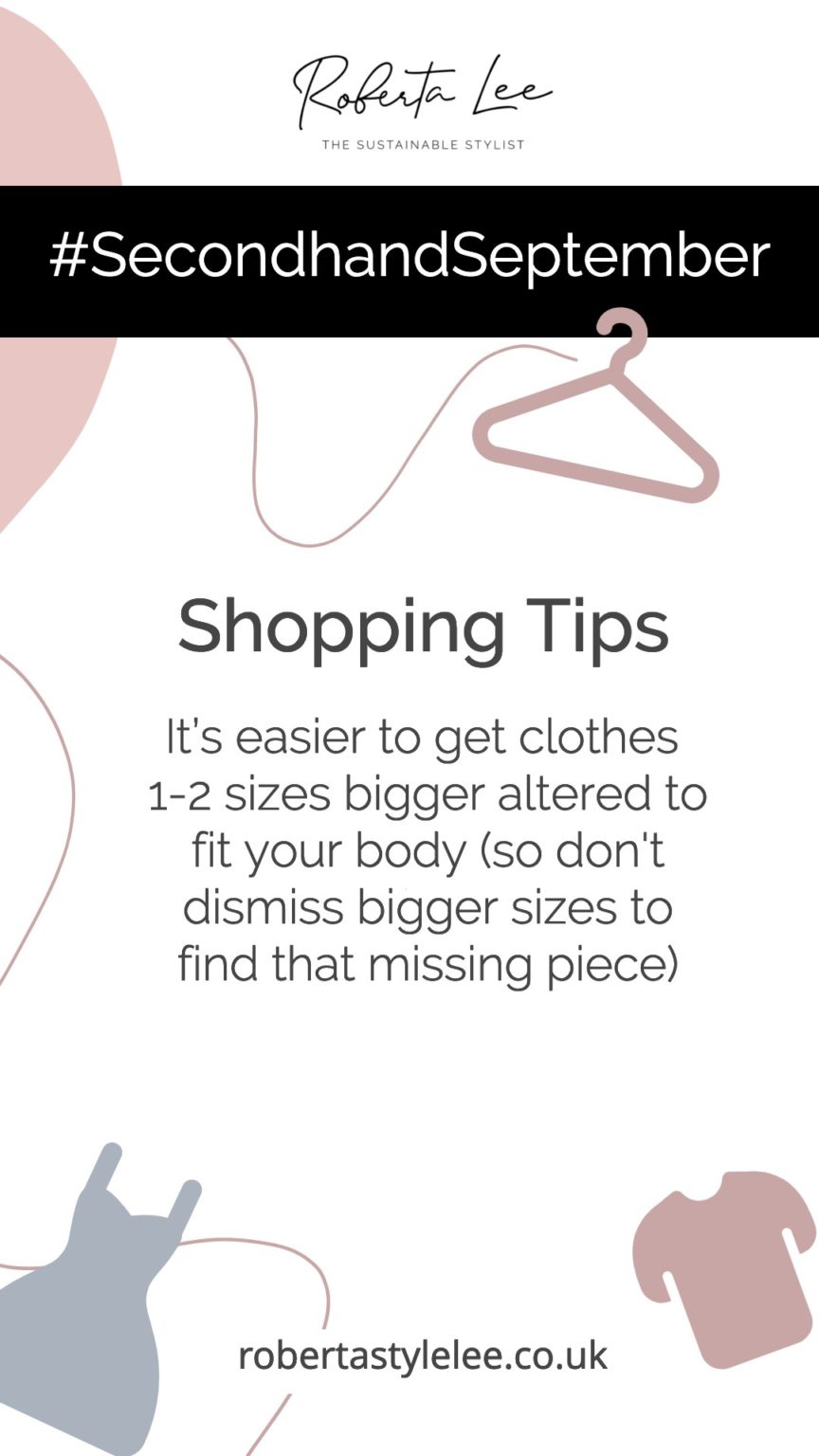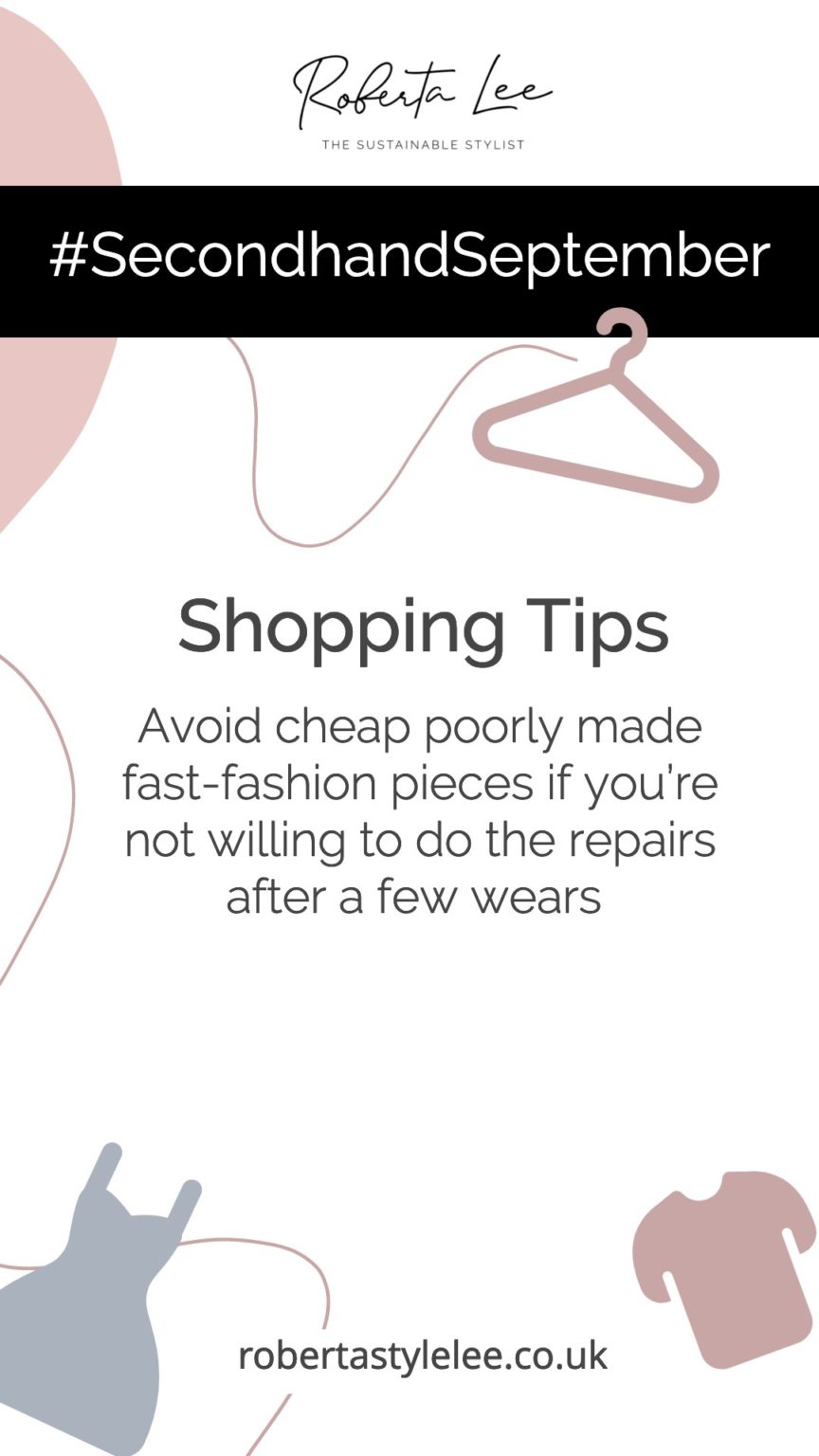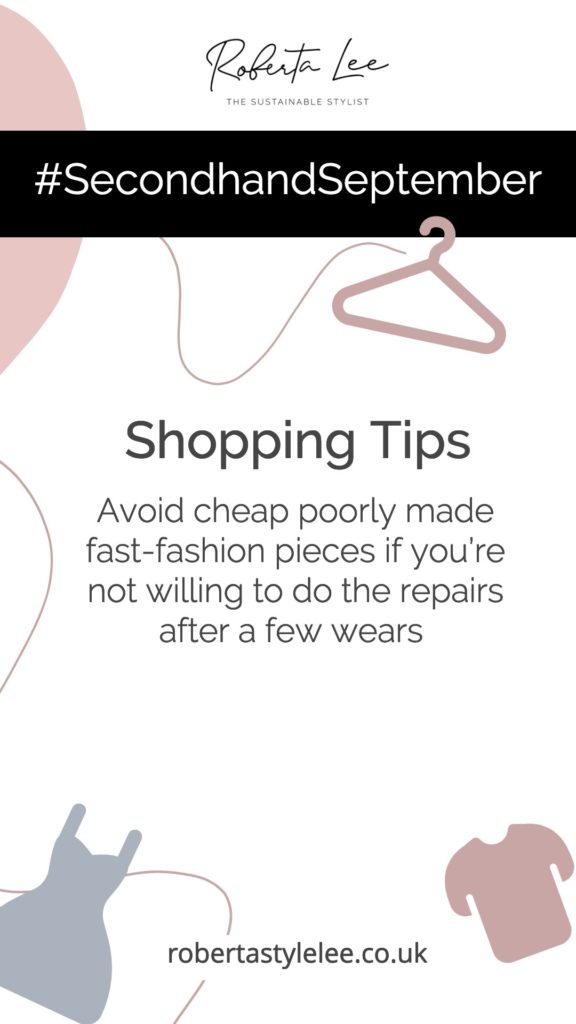 I really hope you like the tips, please feel free to share these on your social media and inspire others to shop secondhand this month, and every month.
Check out my blog: 10 tips for thrifting and shopping secondhand and check out my online style guides for more tips on shopping, the best charity shops in London are featured on my sustainable shopping map, there's a sustainable fabric guide, one for caring for your clothes, and one for building a sustainable wardrobe.
If you have any other secondhand shopping tips please leave them below.