New Year's Eve party outfits are often a source of stress, yet it is still one of the most looked forward to nights of the year to get dressed up. Most women want to look their best for the celebrations. And why not? It's a chance to pull out the festive favourites and get your glam on! New Year's Eve tends to be the last big night of the season and a chance to really go big with luxe fabrics, sparkles, and statement pieces.
Before contemplating buying anything new this year, take a look through your existing belongings and pull out any clothing that gets you in the party mood, such as:

Velvet
Sequins
Baroque
Lace
Glittery / Shimmery materials
Embellished pieces
Metallics
Mini dresses
One shouldered pieces
Bows
Frills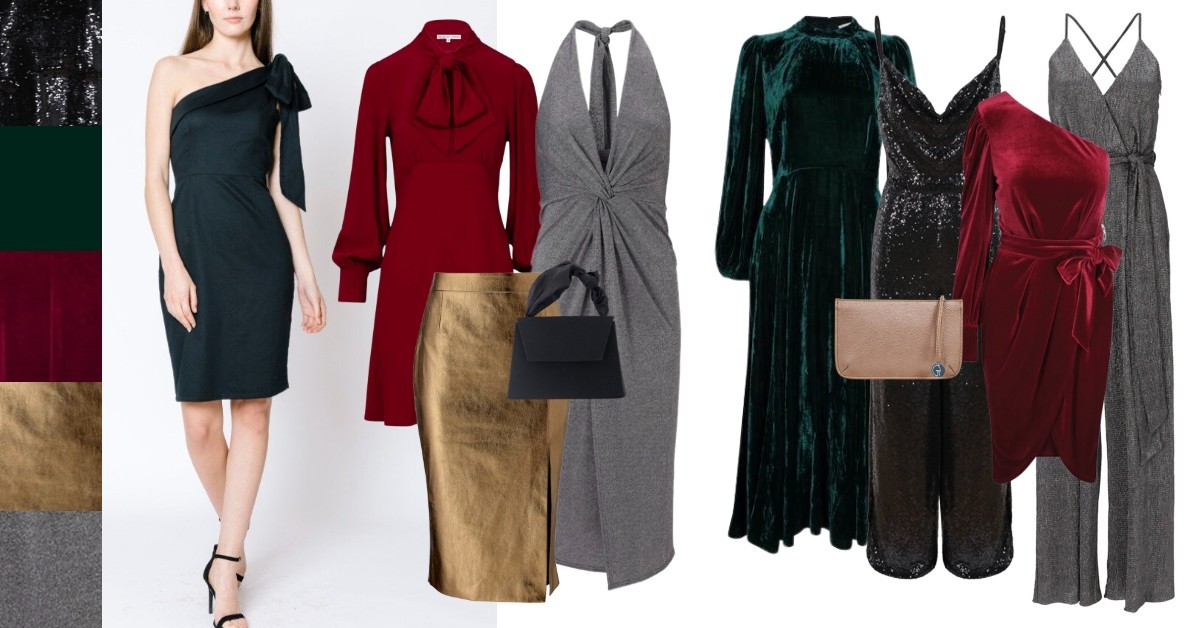 Think about those festive party colours (that most of us already have) that are probably already in your wardrobe :
Reds
Black
Silver
Gold
Burgundy
Mustard
Bold prints

New Year's Eve Outfit Ideas
These outfit ideas are classic, timeless and will be perfect for multiple occasions (not just a New Year's Eve Party!).
If you cannot find anything that truly inspires you from your own wardrobe, it may be that you just need some help finding your creative mojo. There are so many sustainable options hiding in your wardrobe, all it takes is a little repair here or there, or to reimagine a piece into something new (and more you).

Take a look at the outfits I created from my existing wardrobe with a little helping hand from my friends over at The Reclaimery in London, I turned some less than WOW pieces into perfect NYE-worthy party outfits.
Preloved NYE Party Season Look 1: Mixing Patterns & Textures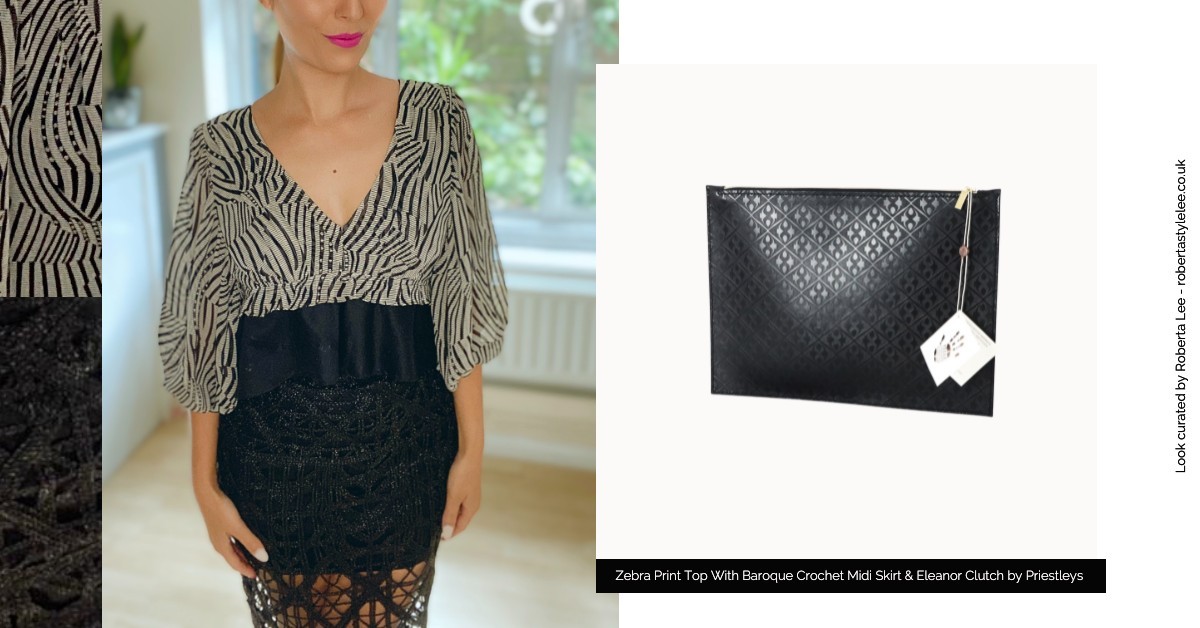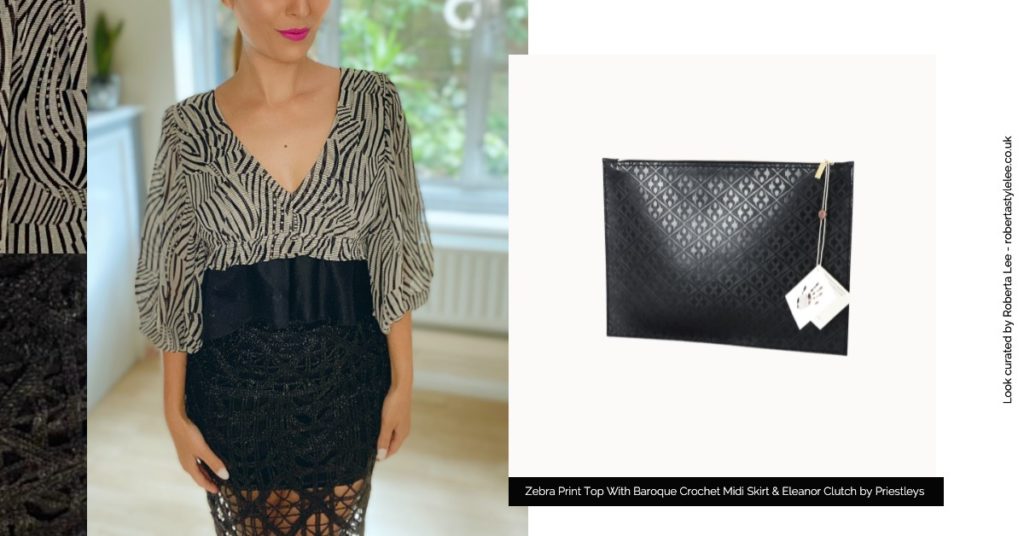 I love this look. It's perfect for a sophisticated night out (or in) and glam enough for a NYE party. This is made from 2 separate pieces. The baroque crochet skirt is really old, purchased years ago, actually for an NYE night out. And I originally wore this skirt with a high neck long-sleeved bodysuit and pointed ankle boots (on repeat).
I decided to match the baroque crochet skirt with my old, but new, zebra-print top, a recently reimagined piece that I worked with The Reclaimery on. Sometimes I just have visions of what clothes should look like, but I lack the handywoman skills. The Reclaimery listens to what I want and makes it happen. This used to be a less than flattering dress! Can you believe it? It now works beautifully with my skirt – but also looks great with jeans too. It can also be layered over a ¾ sleeve turtleneck top for a little twist of winter layering.
Outfit Details
Preloved zebra print silk dress turned into a top by The Reclaimery (*gifted service) Use code RSL10 for 10% off your first alteration service
Very old baroque lace high waisted skirt with a mini skirt underneath
The Eleanor patterned clutch by Priestleys (gift*) Use code RSL10 for 10% your made to order clutch
Preloved NYE Party Season Look 2: Plunging Necklines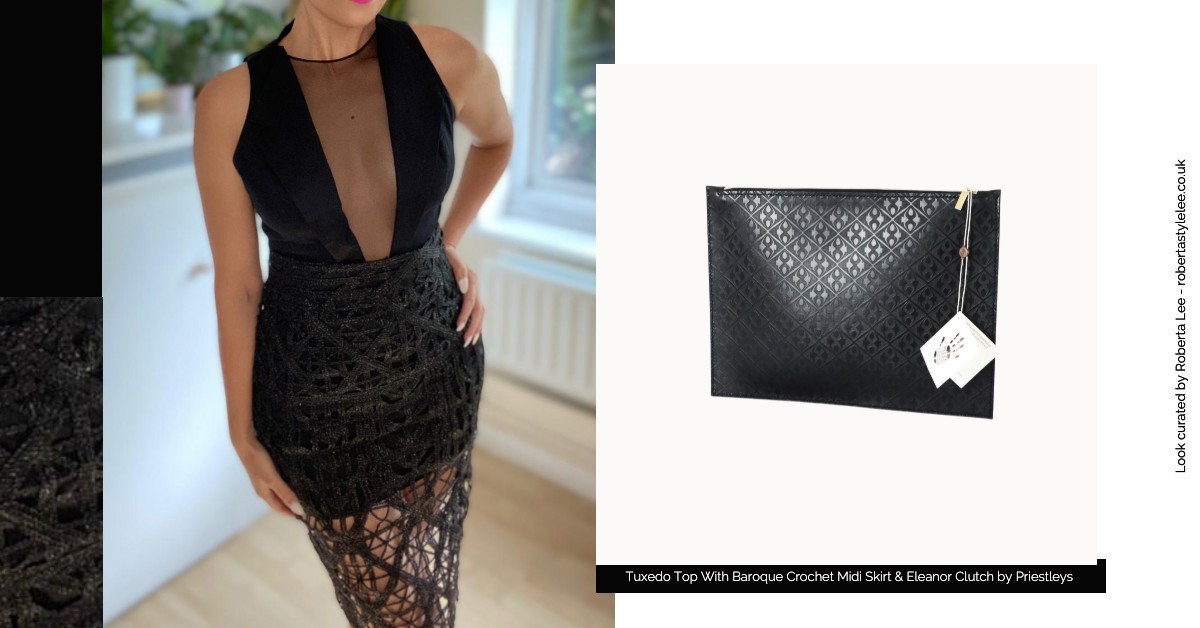 This look is far more daring as there is a lot of my skin on display – but I think it works. The great thing about having a lot of black evening wear is that it can easily be mixed and matched. Style tip: Go for contrasting materials and to try to stick to one colour for a more sophisticated look.

This is another look I came up with whilst trying to maximise the number of new outfits I could get from the Tuxedo top, which has a great but also sad story. This top was originally a dress, with a rather unusual hemline, which just didn't do anything for my legs. It's a sad story as it's one of the first ethical brands I ever supported and worked with back in 2016/17. Sadly they didn't make it – and are no longer around. I couldn't bear to part with the dress, but also couldn't wear it as it was, so I asked The Reclaimery if they could turn it into a top – and they did. The ruffles on the zebra top (above) are actually made from the skirt section of the dress.


Outfit Details
Tuxedo top, reimagined by The Reclaimery (*gifted service) Use code RSL10 for 10% off your first alteration service
Very old baroque lace high waisted skirt with a mini skirt underneath
The Eleanor patterned clutch by Priestleys (gift*) Use code RSL10 for 10% your made to order clutch
Preloved NYE Party Season Look 3: The classic little black party dress
The classic LBD! It's a Christmas and New year party fail-safe. I've taken an old dress that was an awkward length and had more layers added on the hemline, giving it more volume and extending the length past my knees. I love this dress. It was purchased (preloved) about 10+ years ago and had been altered to fit my twenty-something figure. But I fell out of love with the length… and just held onto it waiting for my opportunity to change it. I shared my story with The Reclaimery and they transformed it for me.
Style tip: If you love the way a top part of a dress fits, consider layering a skirt over the top – if you are comfortable with added volume on your lower body. This is a great style hack for inverted triangle body shapes, who have wider shoulders and narrow hips
Outfit Details
Preloved NYE Party Season Look 4: The classic little red wiggle dress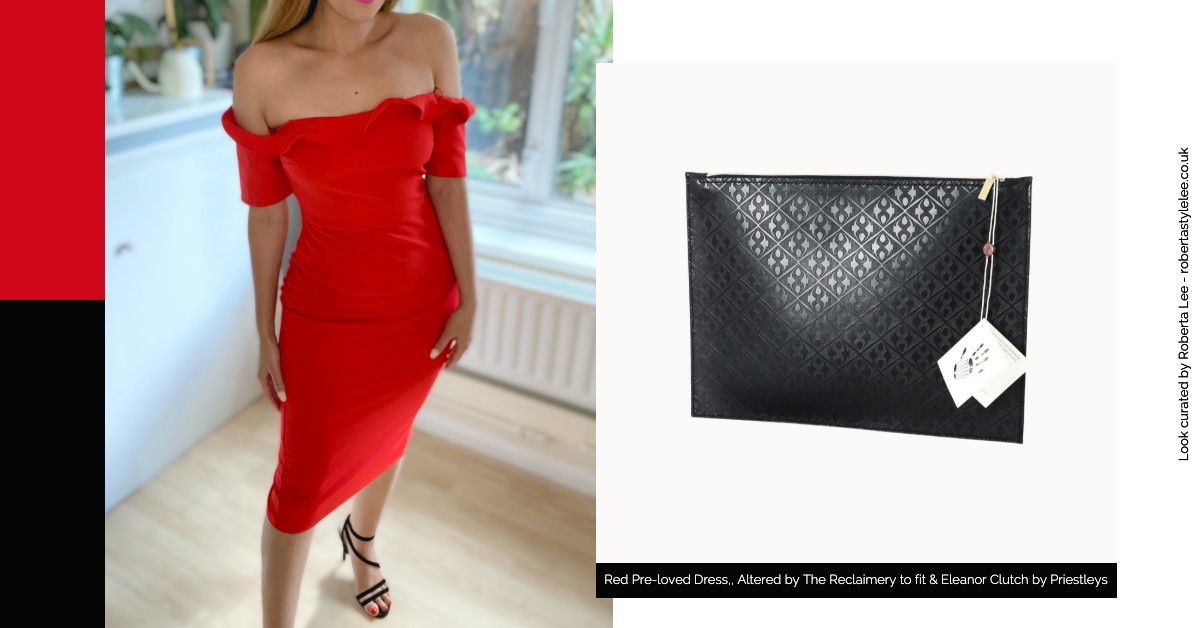 If you're familiar with my work, you'll know that I have been talking about wearing preloved clothes for many years – and I have been sourcing secondhand gems for years. And this dress was just one of those ones that caught my eye.
I knew it was broken and intended to fix it – but I didn't. 4-years on, and I finally had it altered by The Reclaimery and it fits like a dream. And it's the perfect festive red, it's flirty and fun and brings energy into the room. A great outfit for a party – and not just for the new year!

Style tip: If you want to wear black with red, keep accessories very minimalist, otherwise you may end up looking like Santa's wife. Gold and white also really work well with red at Christmas and New Year, for that extra festive touch
Outfit Details
New Years Eve Party Outfit Ideas by Ethical & Sustainable Fashion Brands
I always recommend that you refrain from buying new party pieces unless you are certain you'll get over #100wears from it. Environmental charity Hubbub estimates that people spend an average of £73.90 each on new party clothes at Christmas… with many of those items being worn less than three times before being discarded or forgotten about at the back of the wardrobe.
I recommend sticking to timeless classic pieces – as you can always play with accessories, your hair, makeup, belts, and shoes to change up your look.
Look 5: Party Outfit Traditional Black & Gold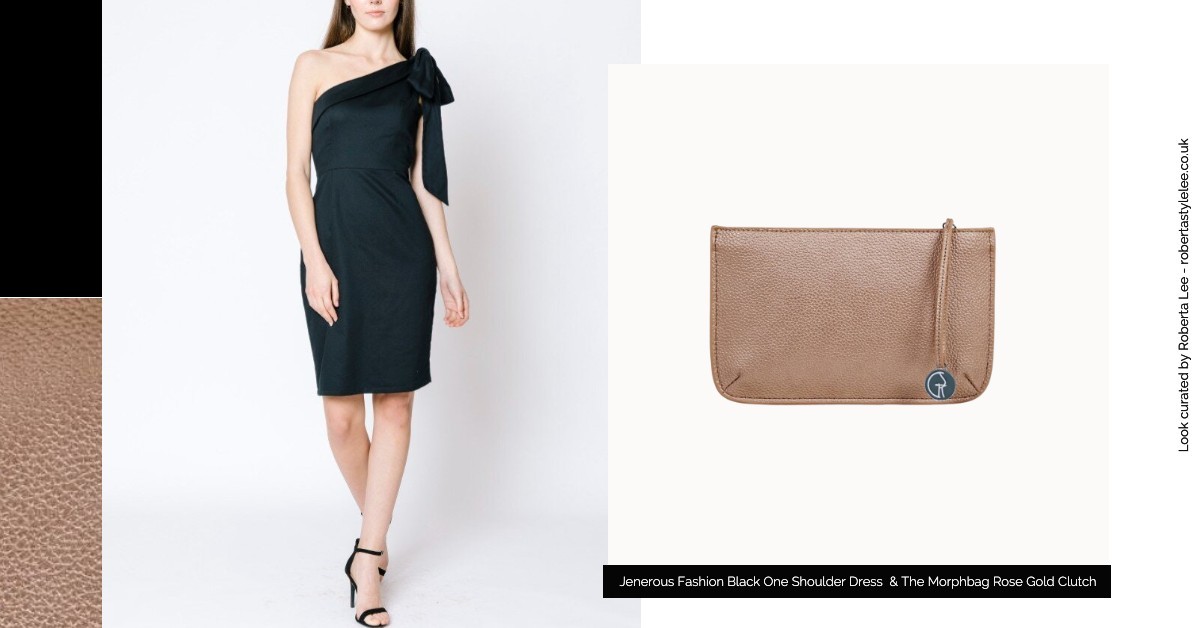 One-shouldered dresses are classic, they are perfect for special events and never go out of style. Black and gold is a combination that is timeless, oozes sophistication, and will never go out of style. Perfect if you're looking for a hardworking capsule dress that you can wear throughout the year to all kinds of events.
Outfit Details
Look 6: Party Outfit Bold Prints & Red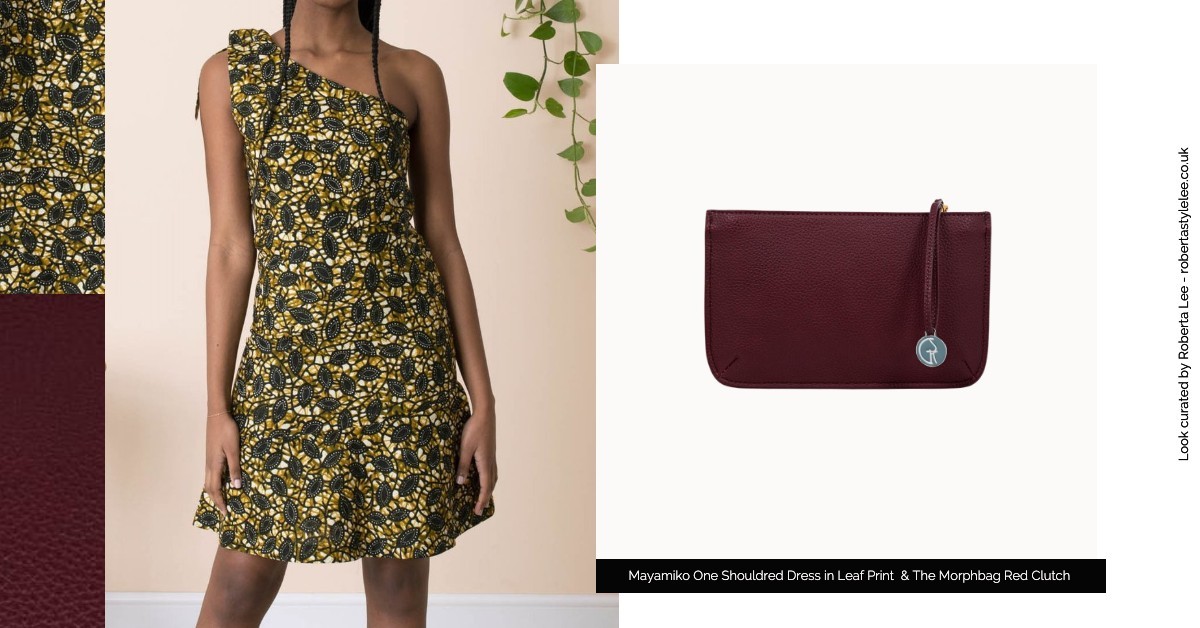 I think sometimes we forget that prints can be just as festive as wearing red. Instead of pulling out a colour from the dress, decide on a complimentary one, such as a deep berry red, and go all out with deep berry red lips, nails, and shoes.
Outfit Details
Leaf print dress by MayaMiko
Deep red clutch by The Morphbag by GSK Remie Studio
Style Tip: Although we often associate New Year with sequins and decadent fabrics, a vibrant print can work too – this outfit would also work well with a mustard yellow clutch or olive green accessories.
Look 7: Red & Gold New Years Eve Party Outfit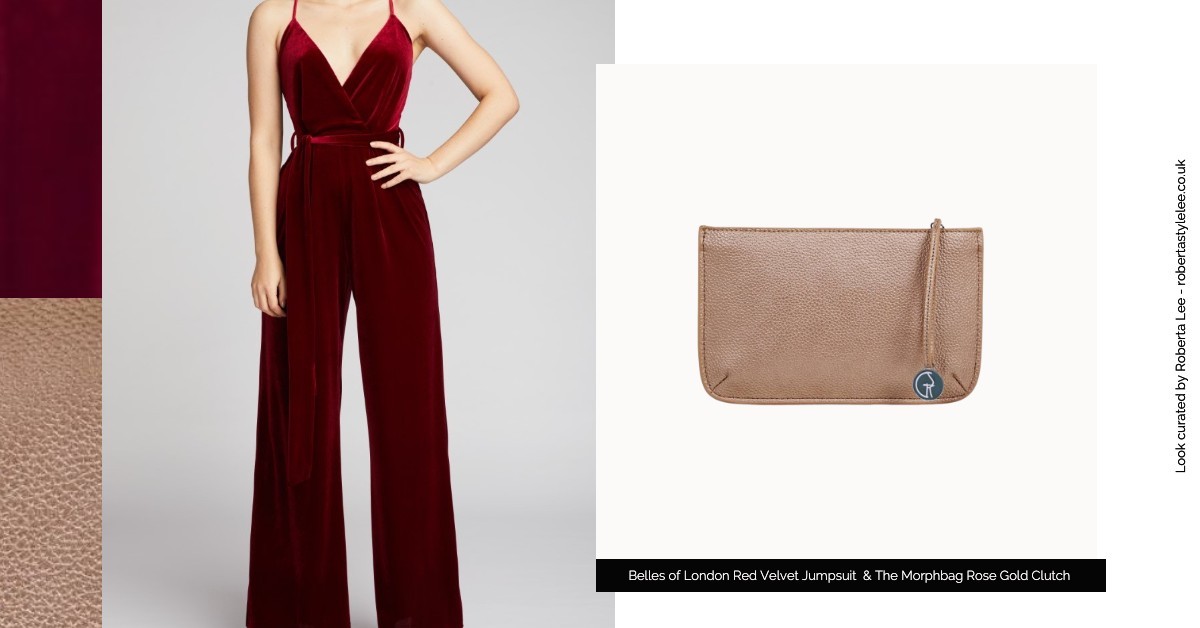 I absolutely adore the comfort of a jumpsuit and a red velvet one just screams festive vibes. This one is a firm festive favourite (and if jumpsuits aren't your thing, Belles of London also do a very cute dress in the same fabric, which I have had my eye on for a while) and it works perfectly with a little gold clutch bag.
Outfit Details
Style Tip: Very often contrasting fabrics work well when paired together. New Year's Eve is a great time to experiment. Velvet and Metallics go great together – red and gold are a classic combination that is bold, and never goes out of style.
Look 8: Red & Black Party Outfit for NYE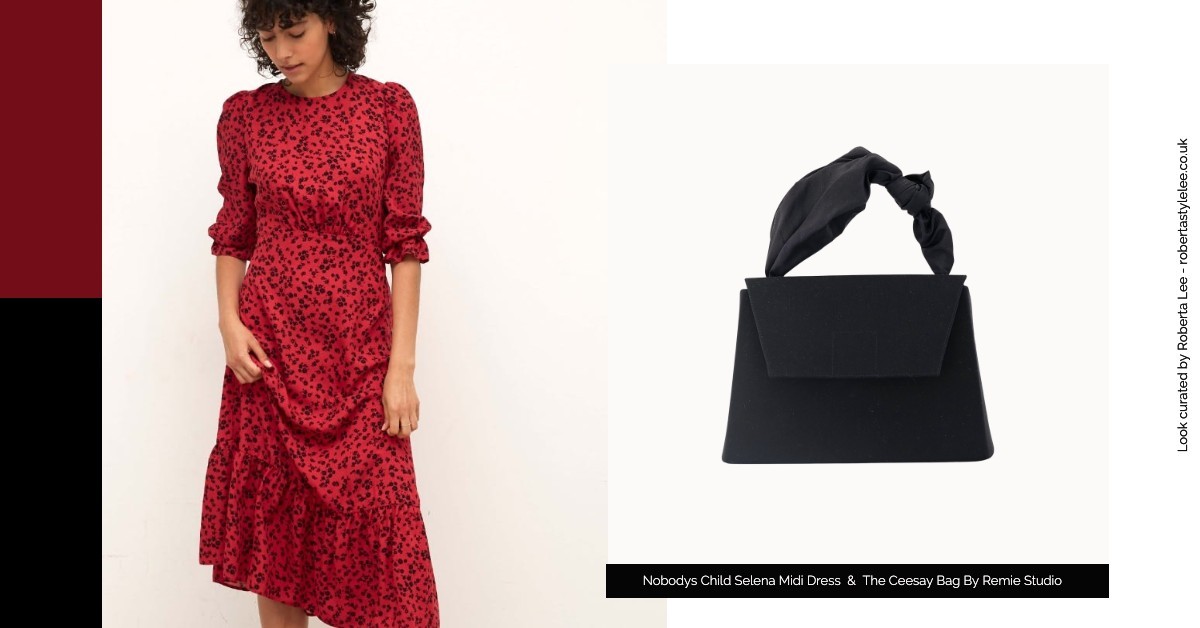 We often forget how a simple day dress can be glammed up for a night out. Just add a cute bag and some heels – and you've got a look that you can party in. Switch the heels for trainers and you've got a dress that will take you to brunch and everything in between. I love a hard-working red dress!
Outfit Details:
Style Tip: Experiment with different types of belts and jewellery to glam up a day dress. Very often some simple tweaks with accessories can really elevate an outfit.
Look 9: New Years Eve Green & Gold Party Outfit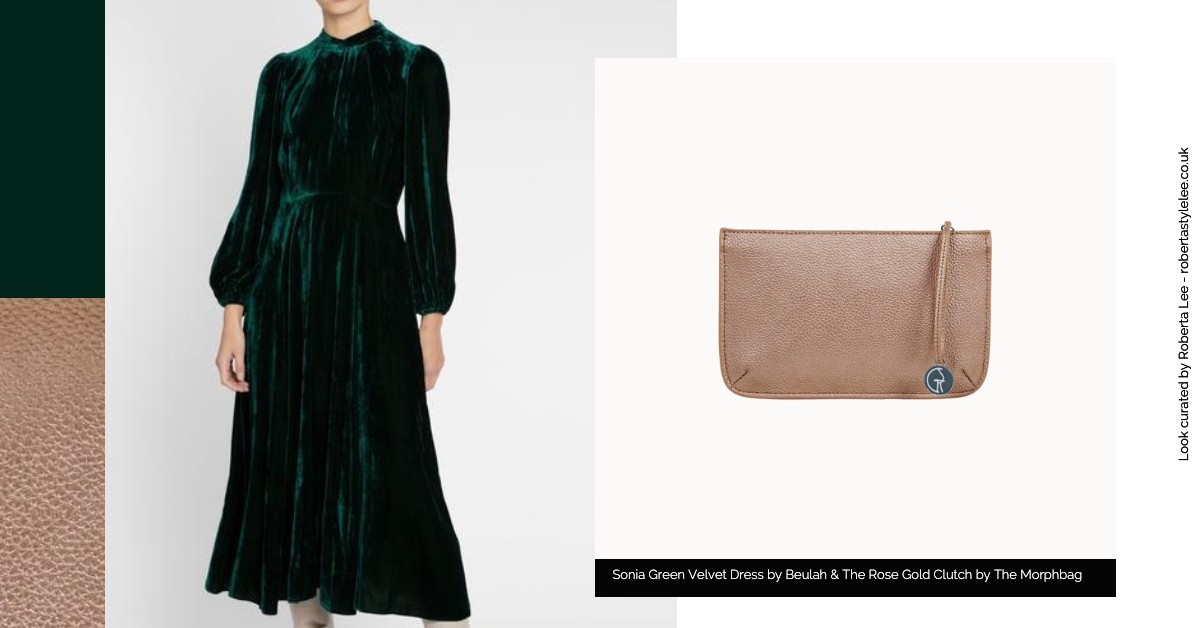 An ode to the bell-sleeved day dress in velvet – if this isn't understated festive glam, I don't know what is. Just add a gold clutch and some heels – and you've got a look that ticks all the boxes for comfortable festive fun.
Outfit Details
Look 10: Green & Black Party Outfit for New Years Eve
If a deep dark green isn't your thing, go for an avocado hue instead. I love the detail and structure of this dress, whilst the ruching of the dress keeps it interesting, it has a level of comfort that most party pieces don't offer. This dress can easily transition through the seasons – some simple accessory swaps can make this dress an all-rounder for autumn winter
Outfit Details
Style Tip 3 – Borrow, Swap, or Rent Your New Year's Outfit
Before buying a 'NEW' party outfit, really consider the alternative options and the sobering fact that most party outfits see less than 3 outings. Call a friend or family member who is a similar size and see if they have anything you can borrow. Or take a look at the influx of clothes swapping apps that have popped up to help great clothes stay out of landfills.
If you're looking for something really special, and just want to treat yourself, consider renting a dress for a fraction of the RRP price. You'll be able to wear something incredibly glam and likely find a rental close to the price of £73.90! I've featured 7 of the best places to rent clothes – although I have to admit to having enough in my own wardrobe that I have not (yet) needed to rent anything.
If you're shopping consciously and have thought of at least 5-ways to style your new investment, then go forth and treat yourself. If you can't find what you love secondhand, try and support small businesses – these are the ones that really need our support during the pandemic. Times are tough, but if you can afford to splurge on a new dress, jumpsuit, skirt, or handbag try to shop ethical instead.
If you need ideas for styling and maximising your looks in your wardrobe, check out my online styling course, which includes some video calls with me!