The sharing revolution has finally taken a hold in the U.K. It continues to grow and now provides so many options it's hard to know where to start!
The rental market is in fact estimated to reach £269 billion by 2025, according to Forbes. It shows no sign of slowing down.
Once upon a time there were very few rental platforms. Now, we are spoilt for choice.
I will begin with the two I have used personally and highlight others that have popped up along the way.
Rental Platform # 1 – My Wardrobe HQ
Not only is it the UK's first rental platform, but you can also sell your items on there too. I found them to be super helpful when listing and organising the return of my clients items.
More recently they've launched a kids division, which is a fantastic idea for parents that love styling their kids in high-end gear without the hefty price tags.
Best for: luxury brand lovers that can afford to rent designer items for 4-days.
Highlights: Access to some of the most luxurious high-end designers. The option to rent and then buy is a nice touch. They also deduct the cost of the rental from the sale price.
Price Points: rentals start at as little as £4 per day on a 4-day minimal rental.
Designers: Zimmerman, Isabel Marant, Gucci, Stella McCartney, Celine, Alexander McQueen, Mulberry, Chanel, Saint Laurent, Vilshenko, Coach, Temperley, Zandra Rhodes, Franks London, Vivienne Westwood, Perfect Moment, Lulu Guinness, Needle & Thread, Bora Aksu
Website link: https://www.mywardrobehq.com
Rental Platform # 2 – By Rotation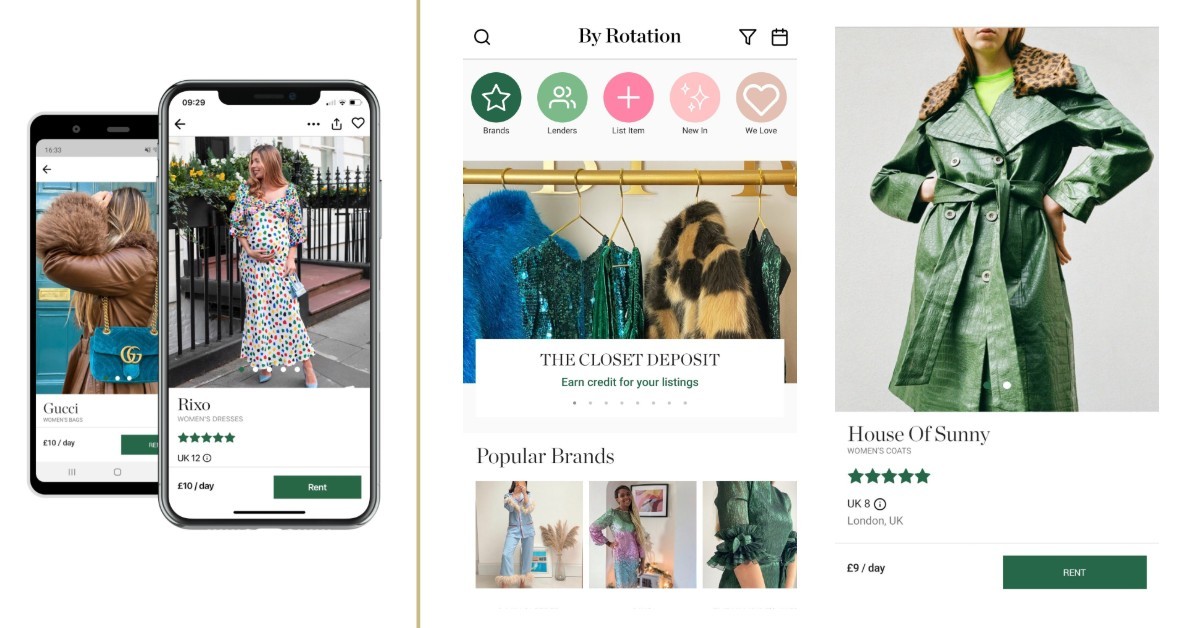 A peer to peer rental platform that has reached dizzy heights in such a short amount of time. Founded by Eshita Davies, the concept is based around people rotating their wardrobes, with a rather lovely strap line of #whatsmineisyours
Best for: Fashionistas with a taste for designer goods and sustainability.
Highlights: The option to rent for a day makes it very affordable for people who would find the cost of buying the items new, out of reach. You can even rent out Stacey Dooley's wardrobe!!
Price Points: rentals start from £5 a day
Designers: Hermès, Christian Dior, The Vampire's Wife, Rixo, Ganni
Download the App: https://www.byrotation.com
Rental Platform #3 – Hurr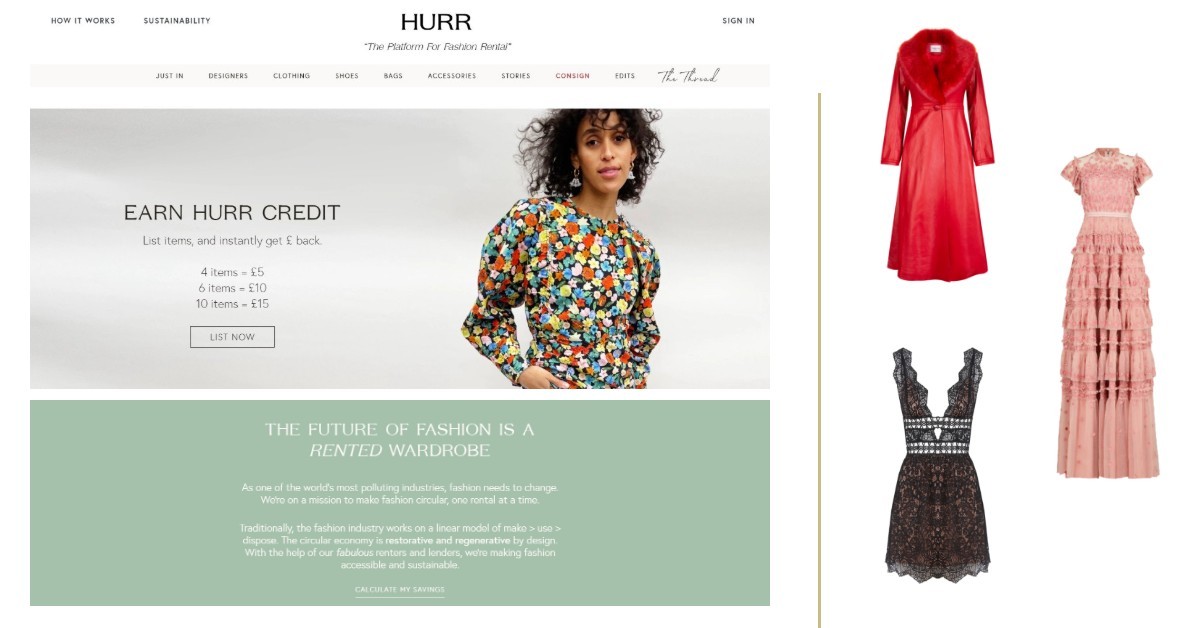 Get access to some of the UK's best wardrobes. Rent over 7000+ designer fashion items online from #HURRGirls.
Best for: A great resource for those who want a fresh outfit without compromising on sustainability. A mix of everyday outfits and key pieces for nights out.
Highlights: The website has a big emphasis on sustainability. I particularly love their sustainability calculator where you can work out the environmental saving of renting your clothes, instead of buying new and wearing once. On each item up for rent they show the environmental savings of your rental over a purchase.
Price Points: You can expect to rent items at around 10%-15% of the RRP
Designers: F. Faithfull The Brand, Farm Rio, Fendi, Figue, F.ilkk, Filly Boo, Finery London, Florence Bridge, Reformation.
Website: https://www.hurrcollective.com
FOR EASY EFFORTLESS STYLE
Rental Platform # 4 – Onloan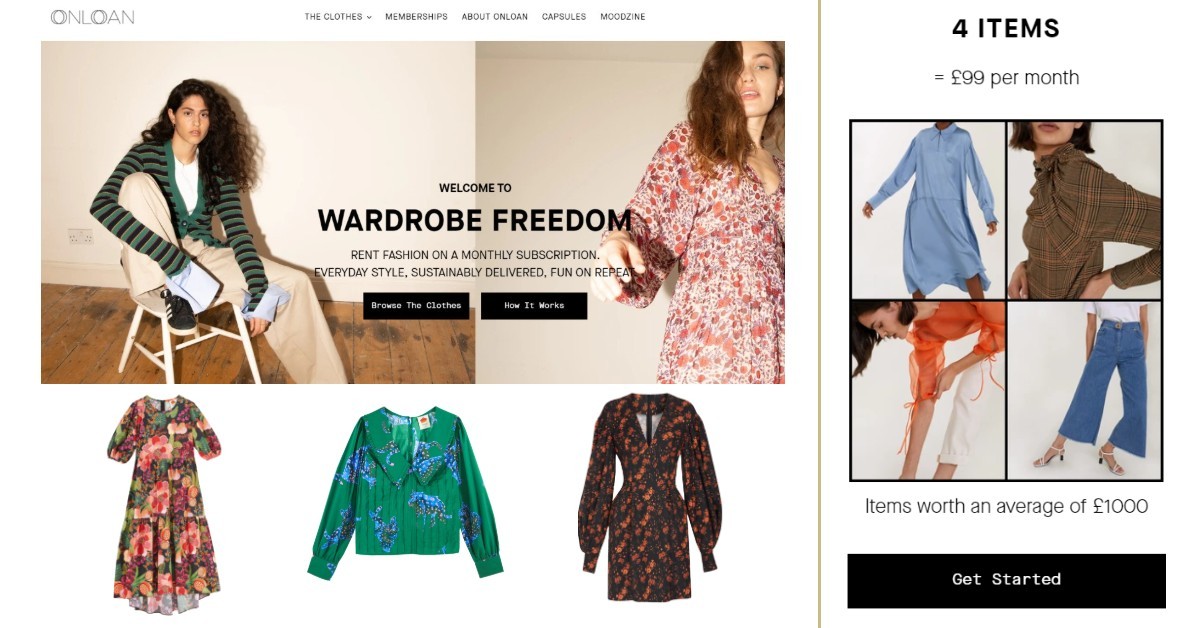 Onloan offers the option to have a 3 or 6 month wardrobe capsule which gives you a monthly wardrobe refresh.
Best for: Busy professional women who want to look styled and smart without trying.
Highlights: A monthly rental service with the VIP treatment.
Price Points: from £69 a month for 2 items worth £500.
Designers: Shrimps, Hayley Menzies, Olivia Rose the Label, Joseph and Sea NY, Mother of Pearl, House of Dagmar.
Website: https://onloan.co
Rental Platform # 5 Rotaro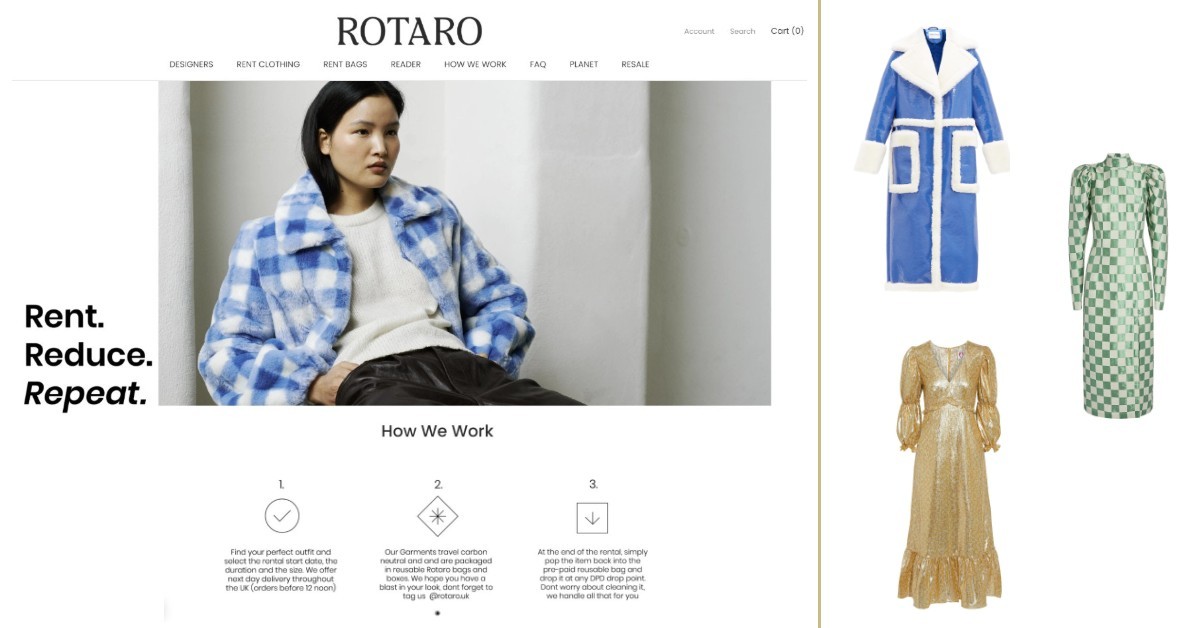 Rotaro is a cult label fashion rental site serving the whole of the UK, showcasing innovative brands, with carbon neutral shipping and biodegradable packaging.
Best for: Experimenting with new styles.
Highlights: A great way to discover lesser known and cult designers. The option to rent and then buy, and the cost of the rental deducted from the sale price.
Price Points: Rent bags from £15
Designers: House of Sunny, Baum Und Pferdgarten, Reformation, Cult Gaia, Attico, Dream Sister Jane, Jacquemus.
Website: https://www.rotaro.co.uk
Rental Platform # 6 Endless Wardrobe
A high-street version of My Wardrobe HQ, which offers you the ability to rent for up to 14-days and a keep forever' option, with the rental fee discounted.
Best for: Those who love the High-Street and want the flexibility of either 4, 10 or 16 day rental period.
Highlights: Unworn items are refunded, they recommend you drop in an extra size just to be sure. Leave the swing tags and ribbon on any items that you don't wear to get a refund. Plus they state you won't be charged for damage or stains.
Price Points: £25 for 4-days
Designers: Free People, Whistles, Alexa Chung, Never Fully Dressed, De La Vali, Essential Antwerp.
Website https://www.endlesswardrobe.com/rent
Rental Platform # 7 LoanHood
A new app, coming soon. A fresh and urban app offering users of their community to the opportunity to access one another's wardrobes and rent out their style. No subscription needed!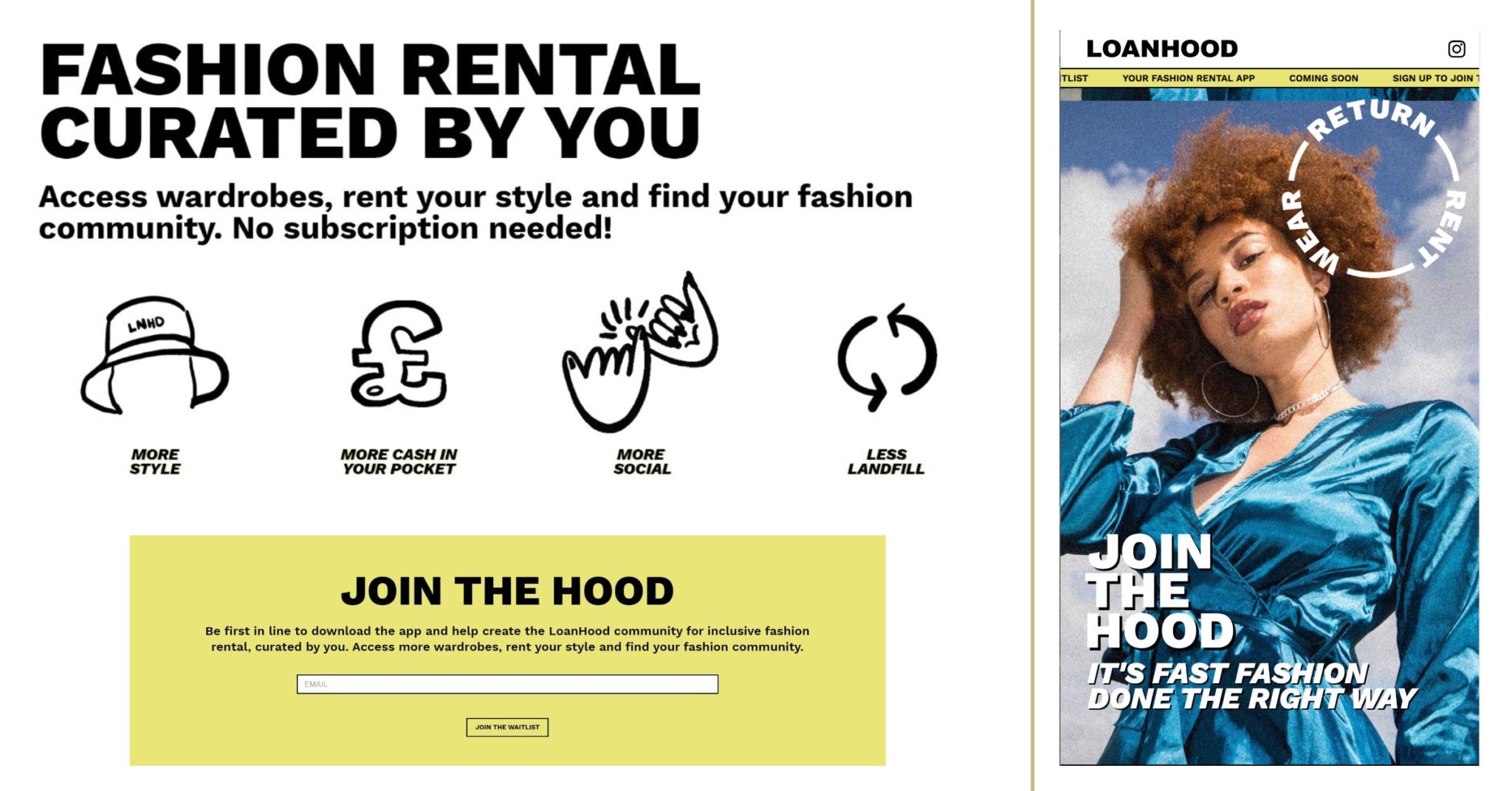 Best for: Urban dwellers and Fans of depop. The fresh and funky vibes of their branding is aimed at a younger demographic.
Highlights: TBC
Price Points: TBC
Brands: TBC, but from conversations with the founders it will be a mix of everyday high-street to the likes of Ganni, possibly even some Balmain Streetwear.
Website address: https://www.loanhood.com
Additional Reading sources:
UK offers untapped fashion rental market worth £1bn, says new report