On Thursday 18th July Ethical Brand Directory reached a major milestone, we turned 2-years old. As a bootstrapped project, led by myself a team of volunteers and interns – it's been a labour of love and no easy feat. But we've survived, evolved and have many new things to look forward to.
We issued a press release before the event (which you can read here) which details the project. But I wanted to share what this has personally meant to me, as a woman who is passionate about supporting other women, being a leader in the change-maker space, and making the world a better place.

My motivation
It all started with fashion. In fact, too much fashion to be more precise. I loved clothes and would shop for fun, for social gatherings, to relax, for reward, because I was bored, on my lunch break, because it was on sale, because I wanted to be seen in something new, I'd fall in fickle love after I saw something in a magazine… the truth is I used fashion to fill a void.
I didn't know it at the time but my love for shopping was destroying me, putting me into serious debt, making my life more stressful than I could ever imagine and – worst of all, my mindless shopping was having an impact on things I had never considered before. The fashion industry exploits women, workers, and damages the environment, not to mention the way animals are treated…
I had to stop
I stopped reading magazines.
I stopped going to London Fashion Week.
I stopped subscribing to fashion newsletter.
I stopped scrolling fashion blogs.
I stopped using shopping malls as a destination to go to.
I stopped going into shops to browse if I was bored.
I deleted shopping apps from my phone.
So I could start…
I started working on my signature style.
I had time to really think about my personal values.
I started to think about how I could wear my values too.
I began shopping my own wardrobe.
I became a serial outfit repeater.
I replaced the buying something new feeling with doing something positive for the planet.

And in all of this, I found myself, my own story and my own narrative. Pretty darn empowering if you ask me. I've never felt more confident and sure of who I am and how I dress.


The True Cost
I had never ever stopped to think about where my clothes came from or how and why they could be so cheap. I was so disconnected from the entire process, as most of us are – that I lost the all-important 'relationship with my clothes' and as a result I over consumed and discarded clothing like an old takeaway.
There were many pivotal moments for me, but the main ones would have to be:
Meeting female entrepreneurs launching ethical fashion brands back in 2015 and learning about the Fashion Industry (major eye-opener!)
Watching the True Cost movie and reducing myself to tears and making a commitment to change (big emotional shift and level of consciousness as a result)
My 12-month fast-fashion Detox – where I stopped buying new clothing and started shopping my own wardrobe and started to live by my #100wears rule (my true sustainability values emerged without me compromising on looking good).
What's next
Having spent so much time working on Ethical Brand Directory these past 2-years hasn't left me a great deal of time for my personal styling business, which is what started Ethical Brand Directory in the first place. I wanted to give my clients an alternative resource to explore and help them create a stronger bond with their clothes, who made them and help them wear their values.
As I take some time to look at what's next it's very clear that public speaking will still be a major priority, as a leader in the changemaker space – it's important to be visible and use all these years of experience to help inspire and influence more fashion lovers to think about their personal impact.
More 1:1 Styling
My role as The Sustainable Stylist will continue, as I love my 1:1 work. I will continue in this space, working with high-profile clients, and I have also been unofficially doing men's styling for a while now – so I will be launching my men's styling services soon too.
A bigger platform

However, after having some success working with those in the public eye, working on major fashion shows, fashion shoots and being on TV – it's clear that my journey as a leader needs to evolve. I need to reach a larger audience if I truly want to inspire people to change.

Dare I say it, but climate change is a tough reality for us all to deal with and whilst protesting with Extinction Rebellion might be some people's way – it won't be the way for all. Sadly climate change activism feels like an inconvenience to many. As a nation we already have a lot of problems going on, not to mention the personal battles we are all going through. It's a lot to chew…
We have to find ways to empower more people to build a sustainable wardrobe, there's no point 10% of the population doing it perfectly whilst the other 90% don't engage. We need 90% of the population creating a Sustainable Wardrobe imperfectly, rather than not at all.

My message is simple, just start with your clothes… clothing contributes to so much, yet the subtle change we can make in our wardrobes can make a major difference. And believe me, once you open the ethical wardrobe door, it starts to trickle into all areas of your life.

Celebrity Styling & Fashion Shows and Editorial Shoots
I've had some great opportunities over the past 2-years which I haven't really shared. The highlights for me so far are:
Being a regular on the ethical Fashion & sustainability speaker circuit across London
Hosting 2 Going Green Online summits (2018 & 2019) bringing together changemakers from around the globe to share their stories and tips
Working with Deborah and her team at Deborah Milner and Amy Powney and her team from Mother of Pearl at the Fashion for Conservation Gala with Sir David Attenborough
Being asked to comment on Megan Markle wearing heels during her pregnancy for a 3-page spread in the Daily Express
Working with various high-profile individuals for event styling
Styling Ethical Fashion Brand shoots
Being on the ITV News
Talking on the Pure London Future Stage doing live styling and a mini catwalk show!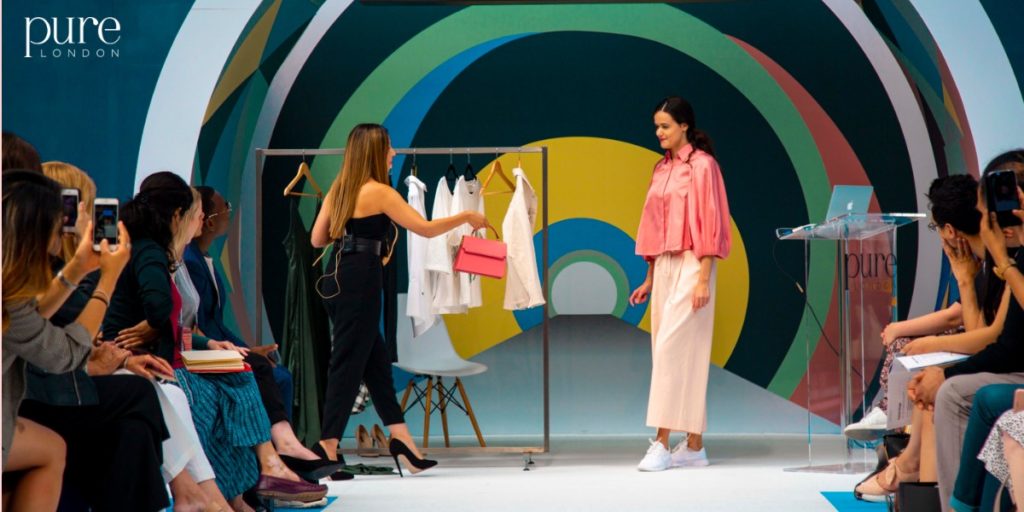 ---
So that's what the 2-years looks like from me, the woman behind it all – Ethical Brand Directory's founder…

It's been whirlwind and I've been honoured to be able to have all these opportunities. I certainly look forward to what's next.

If you're looking to take some steps towards a more sustainable wardrobe can download my Top 10 Styling Tips (for women) by clicking below.

If you're interested in taking your styling to the next level or would like to discuss speaking or consulting opportunities, please contact me directly via my website here.