HYLO is a sustainable trainer brand that is on a mission to reduce waste & bad design in sports. Using materials science to make high-performance trainers. HYLO put sustainability at forefront of what they do, from the overall design concept, the development of biodegradable materials, and opting to keep their prices fixed and fair to represent the true cost of a sustainable sports shoe. Even their packaging is sustainable and they take responsibility for the end of life of their products too. See below!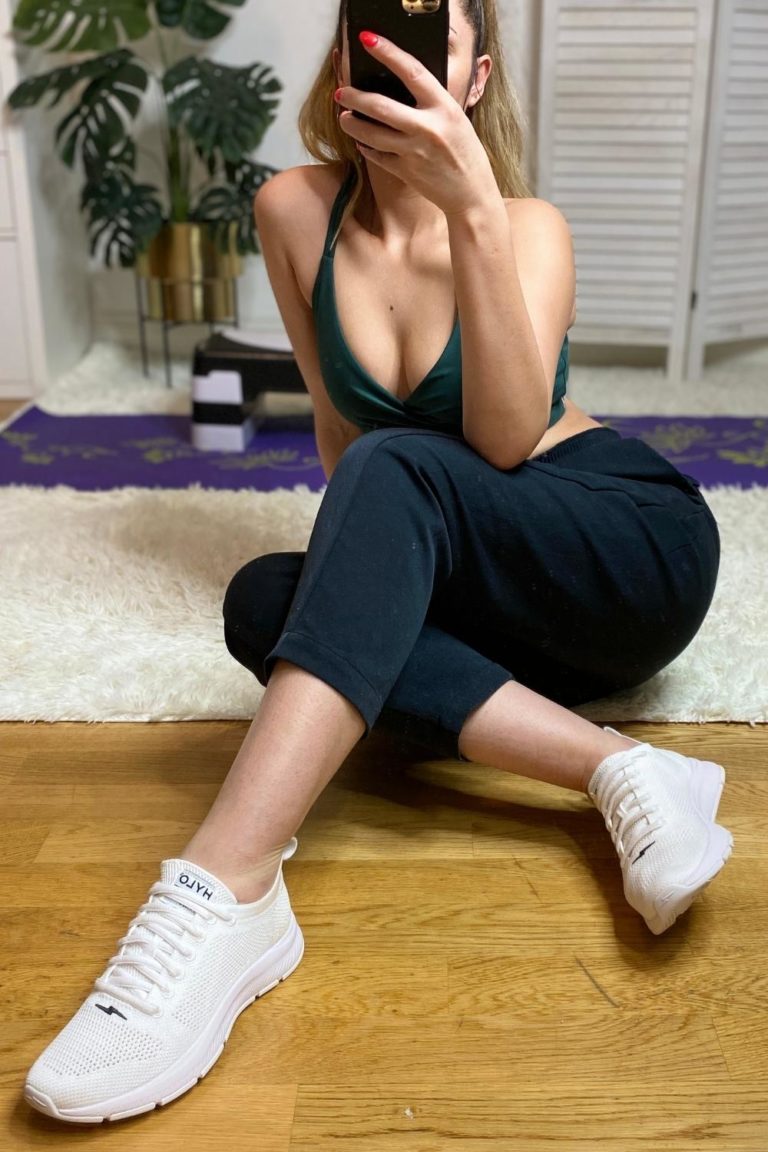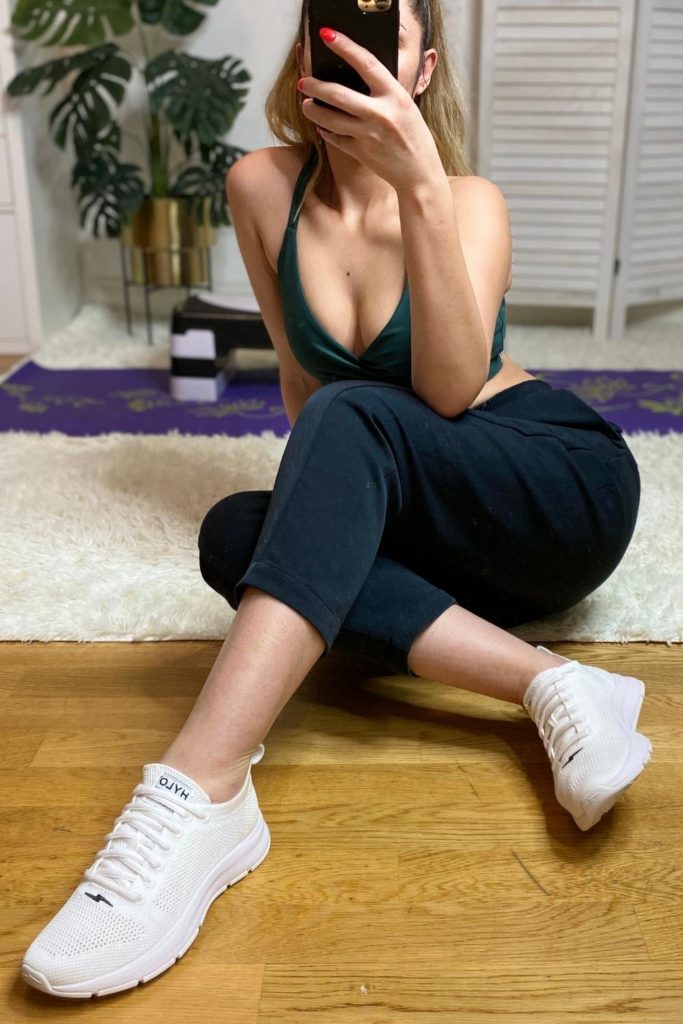 FIRST IMPRESSIONS OF HYLO
When I discovered HYLO or more to the point when they kindly reached out to me, I was immediately drawn to their mission statement: HYLO is a movement of Athletes for Planet, using materials science to make performance products in a better way.

I believe the passion and insight of the founder Michael really come across and the brand sits really well with my personal value. As a lover of fitness, sustainability, and style, I'm always looking for sustainable swaps for things that I have that are old, and trainers are one of those items which I wear until there are holes in them before I replace them with new pairs.

The trainer designs are simple, which I love. A classic style like this never dates. This is something you know is important for me as a Sustainable Stylist!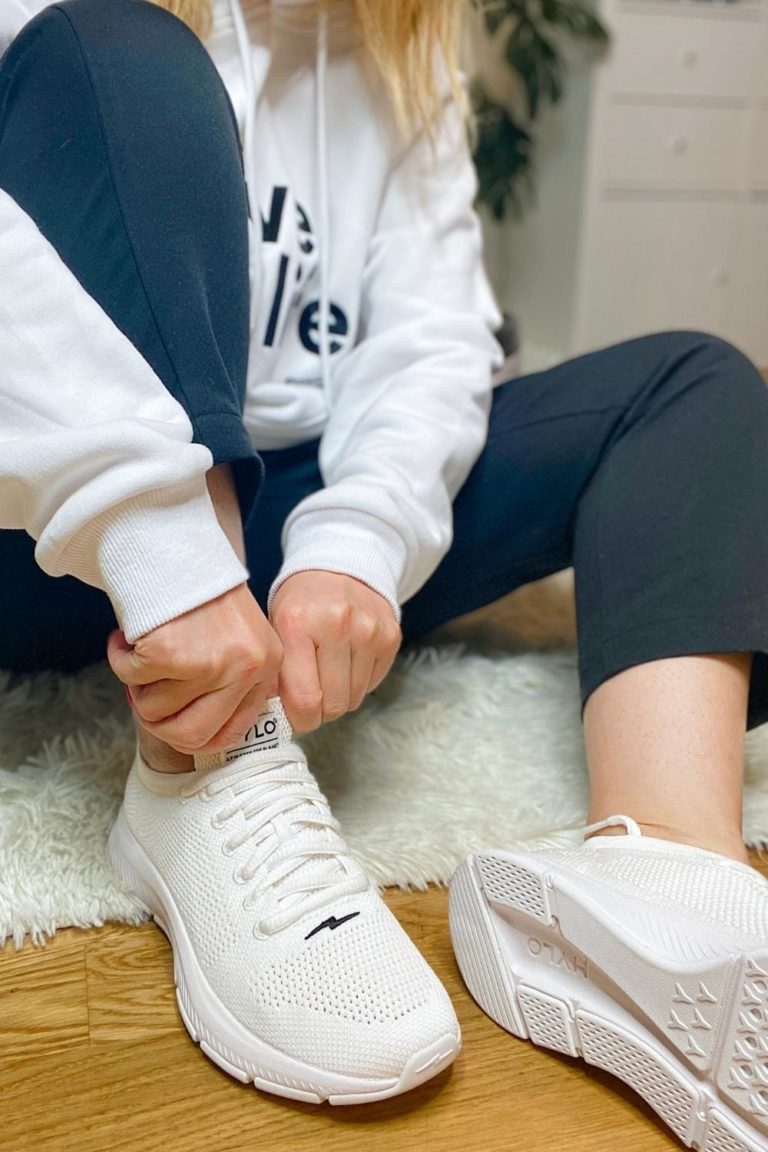 BRANDS LIKE HYLO ARE REDEFINING SUSTAINBILITY IN SPORTS
Sustainable sportswear isn't a term we hear frequently – and usually, it means a brand has used a % recycled polyester in their products or they are using plastic bottles to make athleisure items. As we all know, diverting plastic from the sea and from landfills is important – but the issue with anything made from plastic is always going to be micro-fibers. This is why material innovation is key for the sports industry.

What I am most impressed with about HYLO is its big and bold commitment to shake up the sports industry and make sustainability a priority.
I believe this sustainable footwear brand are key in helping people realise that sustainability is a shared responsibility. They are having the conversations that need to be had, highlighting that our fitness, health, and passion for sport should not be at the cost of the planet.

Carefully crafting their products with materials science with sustainability and circularity embedded into what they do, this brand is here to impress those with a love of high-performance sports trainers – those with a love of simple style, and those that require sustainability to be firmly on the agenda when they shop.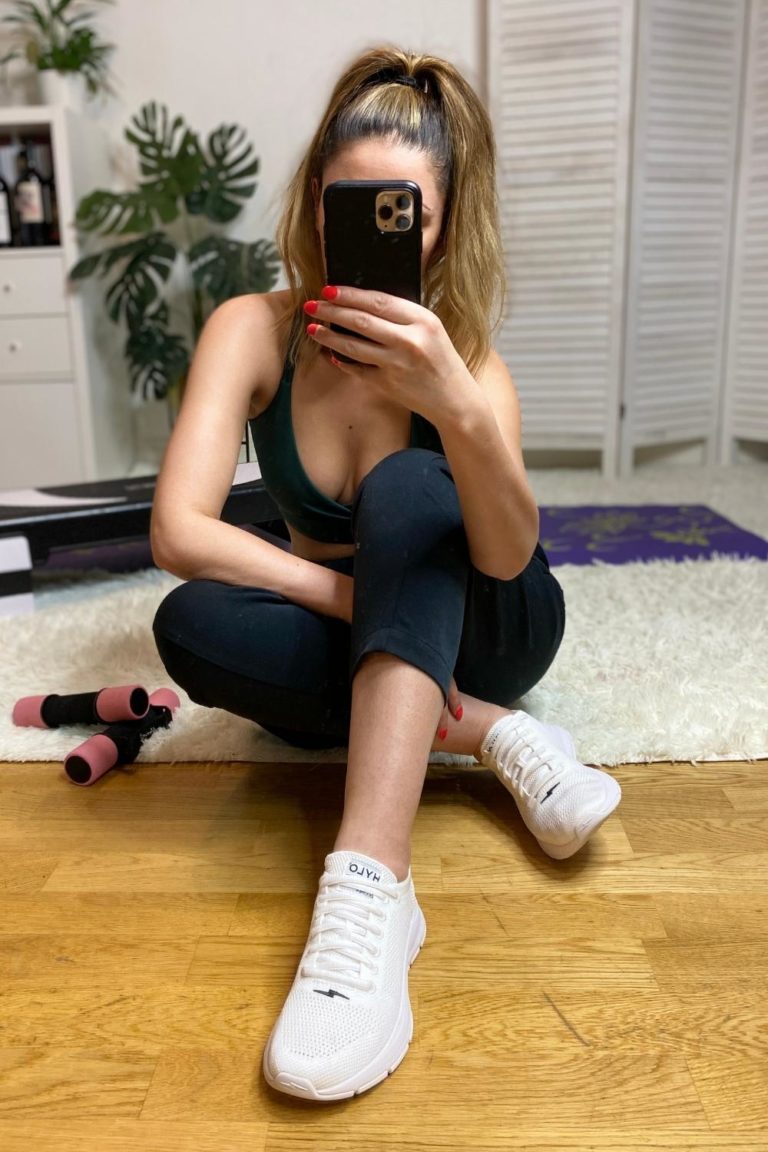 HYLO – A SUSTAINABLE TRAINER BRAND
HYLO is a relatively new trainer brand to break onto the scene, and so far they've been nothing short of passionate and impressive in their quest to change the industry. In 2019 the founder of HYLO Michael <surname> decided that after 10 years in football, he's had enough of sport's negative impact on its Planet – and lack of positive action. He decided to do something about it. He'd seen sport's power to change lives and mindsets so decided to start a company that used that to inspire positive change for Planet. Two years later, HYLO was launched with Michael deciding to give up the beautiful game to focus on being an Athlete for Planet – full time.
HYLO use materials that are renewable, circular, and resource-light to enable them to move the industry beyond a petroleum material (that's plastic-derived materials that are man-made like polyester) dependency.
They use a range of materials to construct their trainers. Footwear is renowned for being complex and difficult to break down and recycle – but HYLO is doing a great job at finding alternative materials that are kinder to the planet, like cushions for your feet – but also offer that high performance that's required in sports.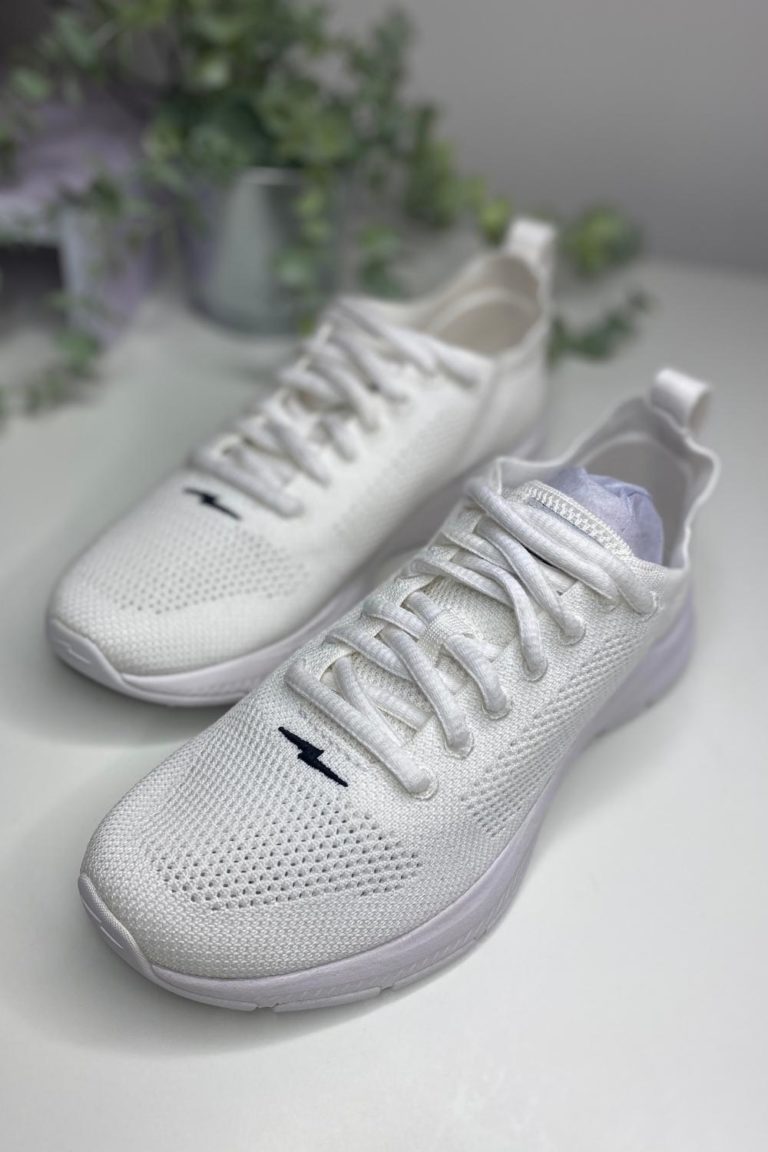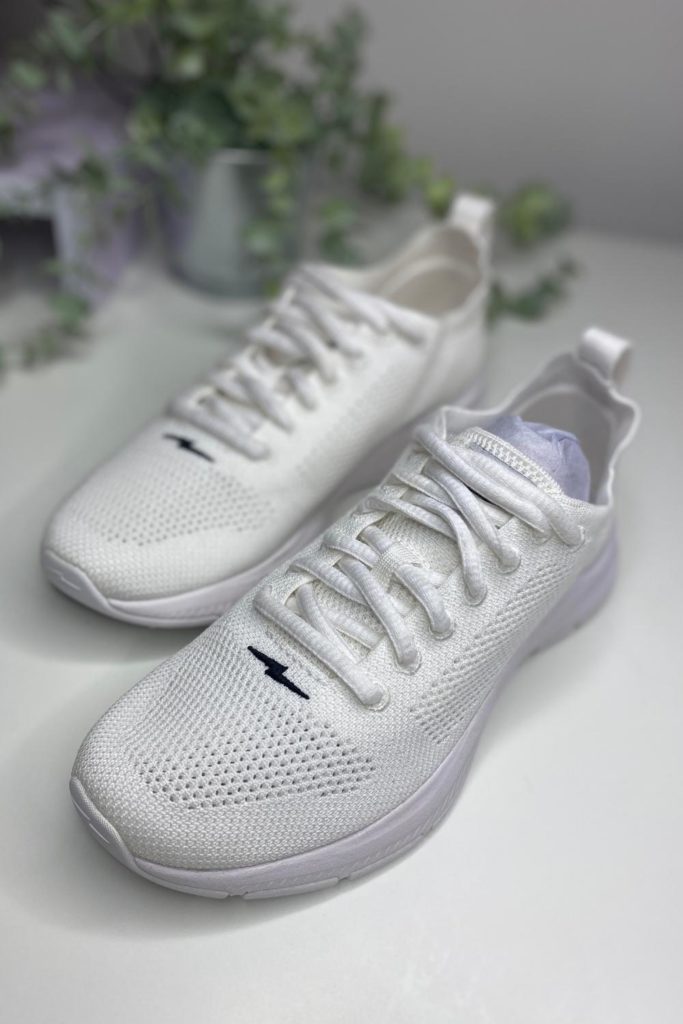 Some of the sustainable materials that make up my trainers include:
Corn spring
Natural rubber
Corn Fibre
Bioform
Organic Cotton
Biorel
Algae Bloom
You can read the full breakdown of whaich materials is used in each part HERE – this is another amazing part of what this brand does. I love the transparency communication and ease of finding what I want to know on their website.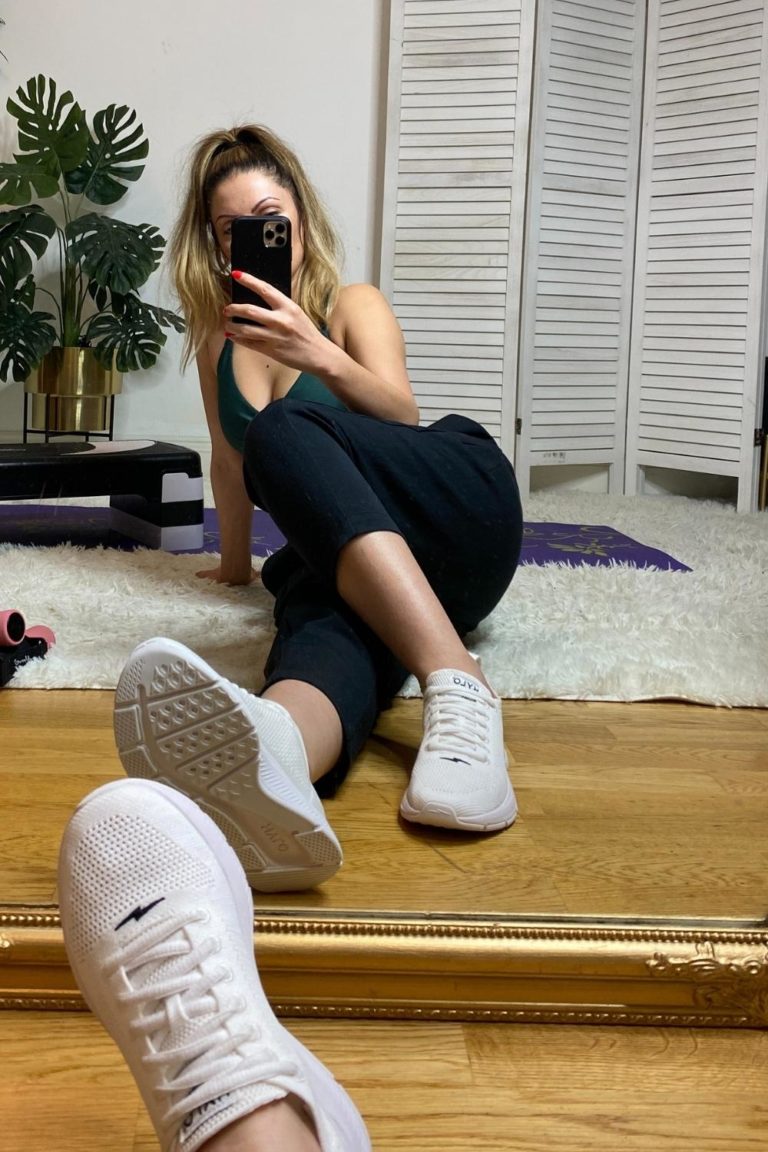 IS HYLO AN ETHICAL BRAND?
Hylo, they've looked at their manufacturing and saught a factory in China they trust and have independently audited. All of the trainers are Assembled in SEMS, China, and HYLO conducts regular third-party audits of labour conditions.
HYLO also states in its Modern Slavery Report that "
Together with our auditing partner we have and will continue to audit our suppliers to ensure compliance to laws and human rights addressing child labour and the employment of minors. By conducting audits focused on social compliance, we ensure that all workers are
paid for the hours they work and get time to rest and recharge."
You can read the full report here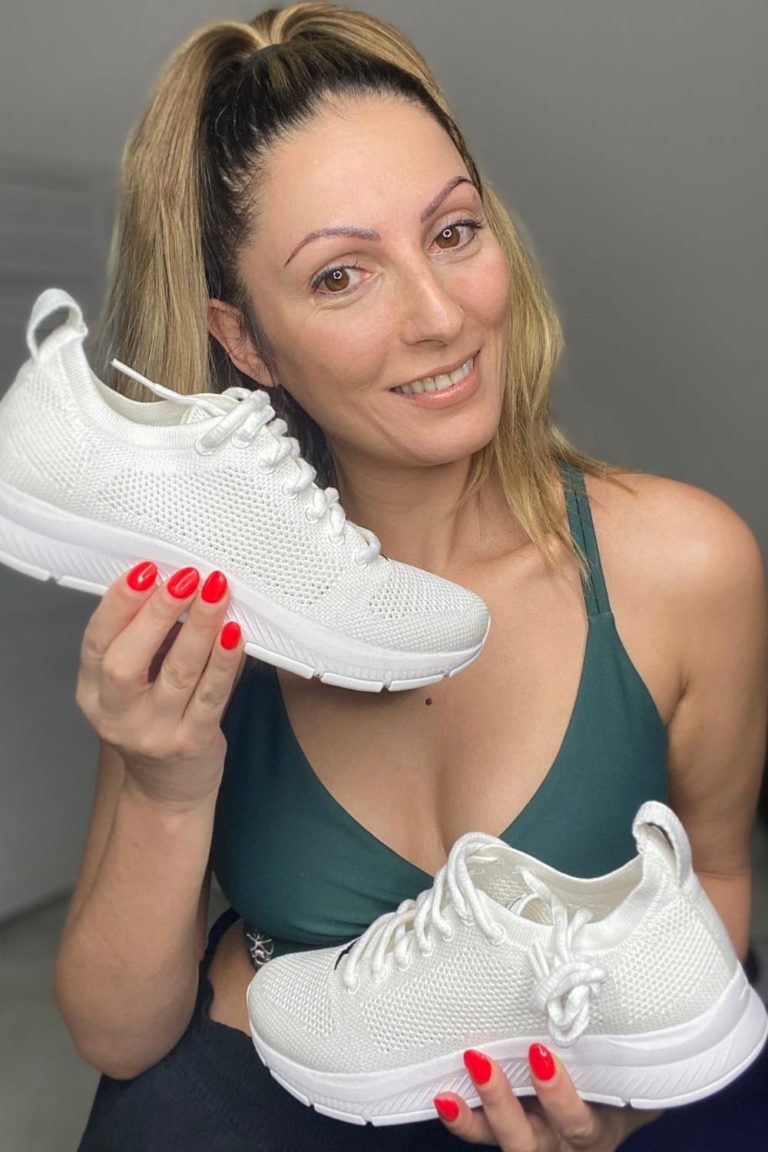 Hylo doesn't tout themselves as a sustainable brand, but a lot of what they do, and how they do it tick the sustainability boxes for me.

I like that they don't define themselves as such either, and are very transparent about the carbon footprint as a business:

"Every product has a footprint. Ours are no different. We are constantly seeking ways to reduce our carbon impact, and will always offset our footprint to zero and beyond.."


https://hyloathletics.com/pages/carbon


Their composition is Corn Spring® 28.82%, Corn Fibre 28.52%, Natural Rubber 20.44%, Corn-Based Reinforcement 7.77%, Algae Bloom™ 7.02%, Organic Cotton 4.15%, Bioform 1.64%, Water-Based Glue 1.55%, Polyester 0.08%, Water-Based Ink 0.01% (and I just love that information is clearly labeled on the product page on their website.
Packaging: Our box is made of FSC-recycled cardboard with no additional packaging used from the factory to your feet
Recyclable: When you are finished with your Corn Runners, you can send them back to them for recycling.
Carbon: The carbon footprint for these trainers is 6.56kg CO2e – a 52% reduction compared to the average running shoe's 13.6kg CO2e (Cheah et al, 2013).
Supplier: Assembled in SEMS, China. Five of the ten materials used are sourced within 60km of their factory.
FINAL THOUGHTS ON HYLO TRAINERS
Hylo is what I would call a sustainable sports brand. If you liked Nike's Roshe trainers or have been a fan of Allbirds, then will love HYLO. My trainers are designed for use on the road, the track (if I were that athletic), and in the gym (or for me home workouts), they are extremely lightweight and comfortable – and also look just as good worn casually with jeans or a dress for an off duty look.

First and foremost they are practical, comfortable and support your feet and absorb impact – quite an important element of a sports shoe. Secondly, they are innovating with newer more sustainable materials and are fully transparent about their CO2 impact, and they list their suppliers. And third, they look great (important for a stylist) I always get compliments when I wear mine – and I love telling people about how they are made.
I hope you enjoyed this blog review.
Roberta x
---
Outfit details: