Find out if you should wear white or cream by carrying out a few simple tests. These will help you determine if you are likely to have warm or cool undertones – or neutral undertones!
Basically, the best way to do this is to focus on looking at the under-eye area and place a white T-shirt or towel around your neck and look at how your skin reflects the tones (this is quite hard and I have tried this with male clients and they struggle to see the difference).
You're looking to which of the two, creates a less flattering effect. It's almost always easier to spot what you don't like and see if something accentuates your skin in a less than desirable way. Which one emphasises your redness? Does one make you look grey or a bit yellow? Does one enhance the whites of your eyes or make you look ill?
So before you get started, set yourself up properly so you can carry out your own mini analysis the best you can.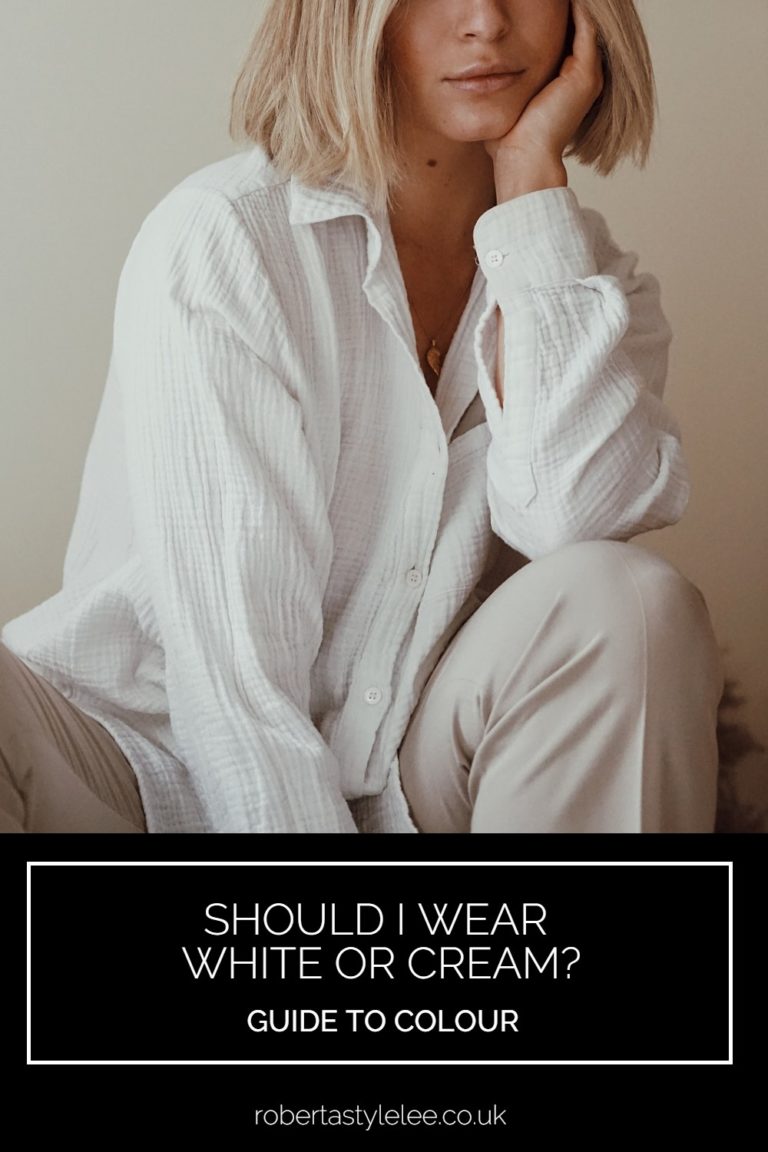 SKIN ANALYSIS FIRST STEPS
You need a good source of natural light and a large, full-length mirror is good. I prefer a full-length mirror for everything mind you – but if you have a small mirror in good light, this is fine too.
Grab a white towel and a cream towel or T-shirt, or even a pillowcase. Basically, you need 2 pieces of cloth, something pure, crisp white & something cream to carry out this test. 

If you have long hair move it away from your face. Tie it back. If you wear makeup take it off. It's better to do this test when your skin is natural, so no fake or recent tan. You should be testing for your usual colour for most of the year. 

Wrap the white material around your neck and look under your eyes. Does the white emphasise your dark circles or make you look a bit washed out? 
If you are cool, the white fabric should give you an illuminated glow, while the cream colour will make you look a bit ill, a little bit yellowish.
If you are warm, the cream fabric should give you a subtle warm glow, while the white will make you look drawn out and pale.
You could be neutral, if: it's really hard to tell the difference between the two. You will find that colour analysis that goes through defining colours will provide you a better conclusion with regards to your undertones.
WHAT'S THE DIFFERENCE BETWEEN WHITE AND CREAM?
Well if you are looking for a simple style tip to help you look good without trying… figuring out if cream or white looks best on you is an effective way to edit your wardrobe.
WHITE & COOL TONES
White is cool and reflects – blue, pinkish, purple undertones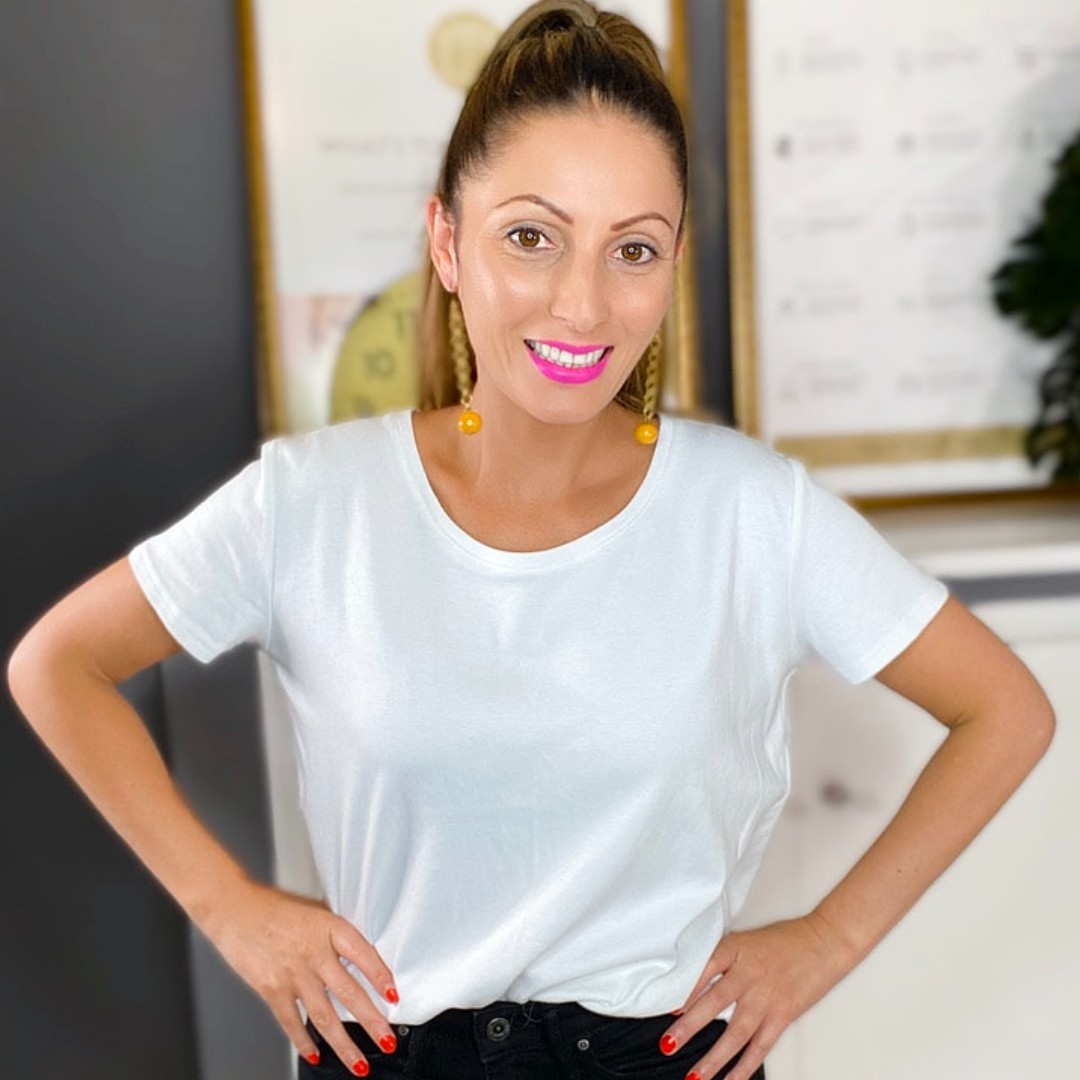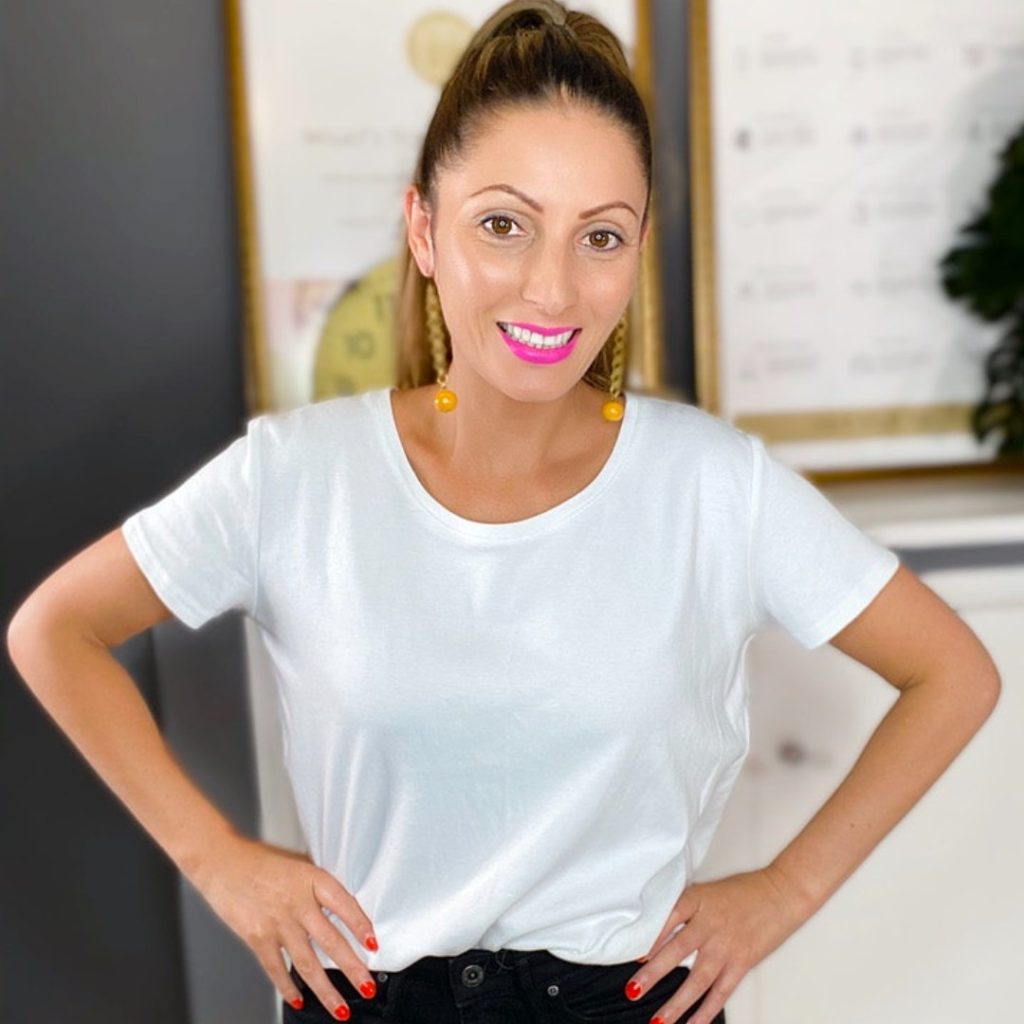 CREAM & WARM TONES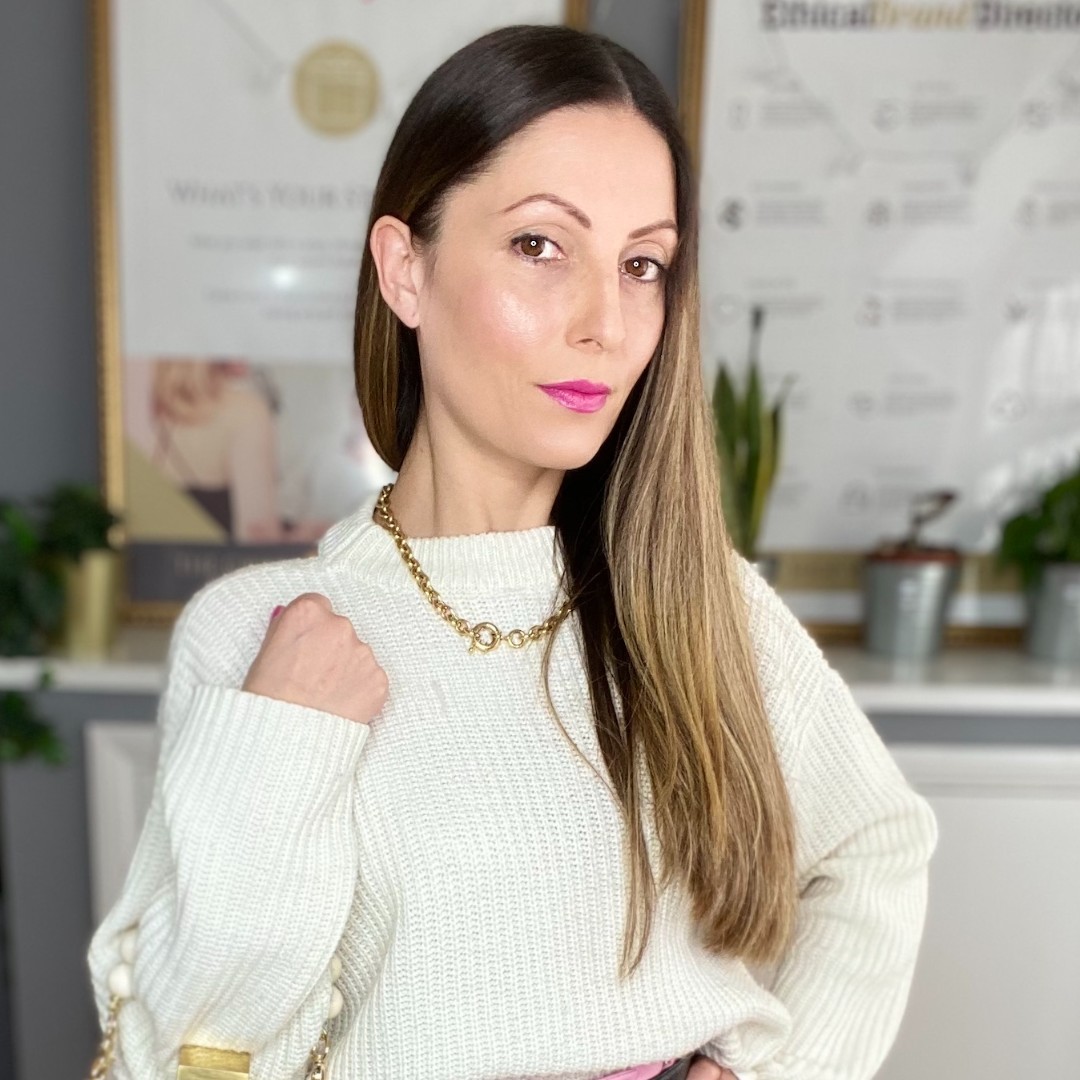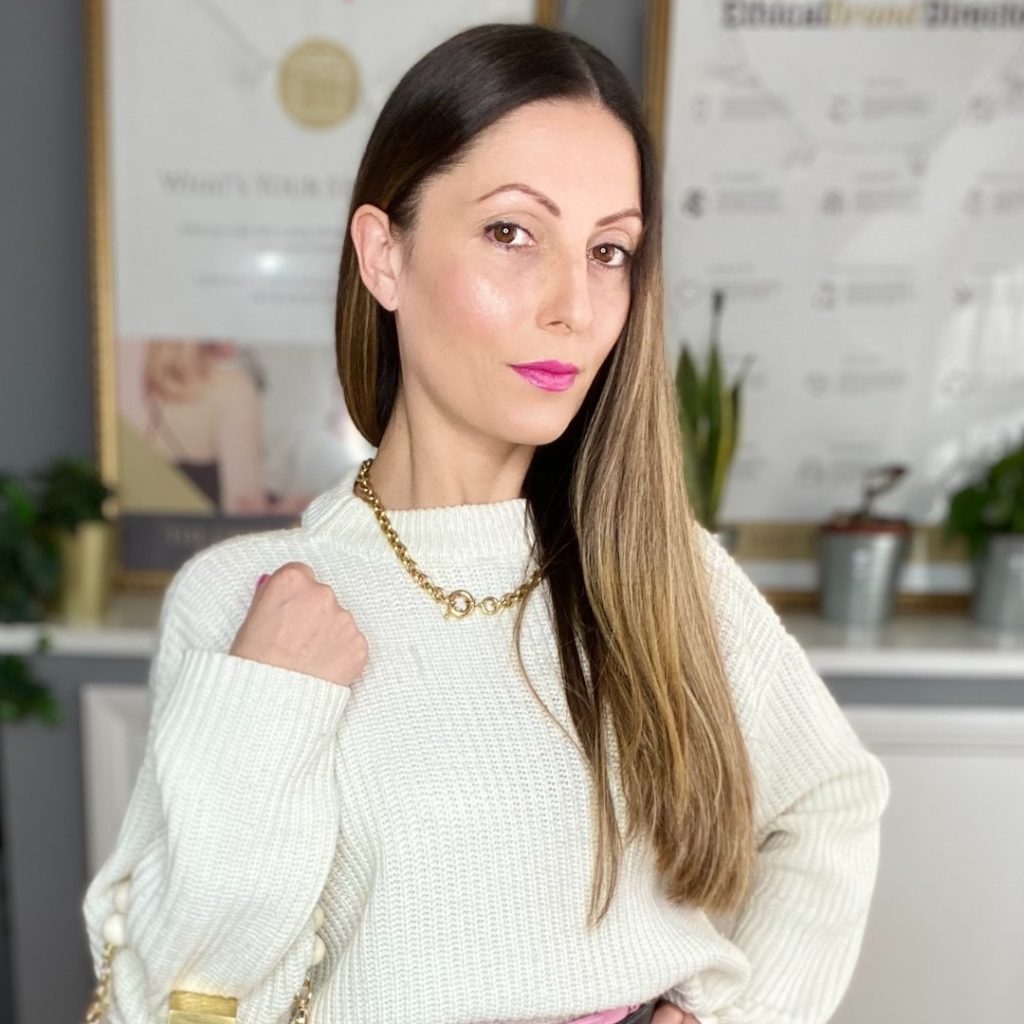 Cream is warm and reflects yellowish undertones. Cream is a lot harder for a person with cool undertones to wear and will often require a lot of makeup.
CAN I BE BOTH WARM & COOL? COULD I BE NEUTRAL?
Actually, this is something that used to confuse me to no end.

I have naturally dark hair, brown eyes and golden, seemingly warm tones to my skin. My hair is lightened but I do maintain dark roots and light ends and, yes, I still wear a lot of fake tan too. I have softened the stark contrast between my skin and hair colour – so upon first glance, you may think I have warm undertones and my skin appears warm and sunkissed.

However, if we stay focused on the question: is cream or white better for my skin?. When I look closely at my own complexion in natural light, without makeup – I have a lot of pink that shows up on my face. This is a clear sign of being cool.

I would say that despite being analysed as a Cool Winter, I am quite neutral in the sense that I look pretty good wearing clear bright colours from my assigned season which is a Cool Winter, but I can also wear some from clear bright colours from Warm Spring too.
However muted warm colours look dreadful on me, like olive, terracotta orange or mustard.  But that doesn't answer the question of what looks best on me, is it white or cream? 
FOR EASY EFFORTLESS STYLE
Final word on wearing white or cream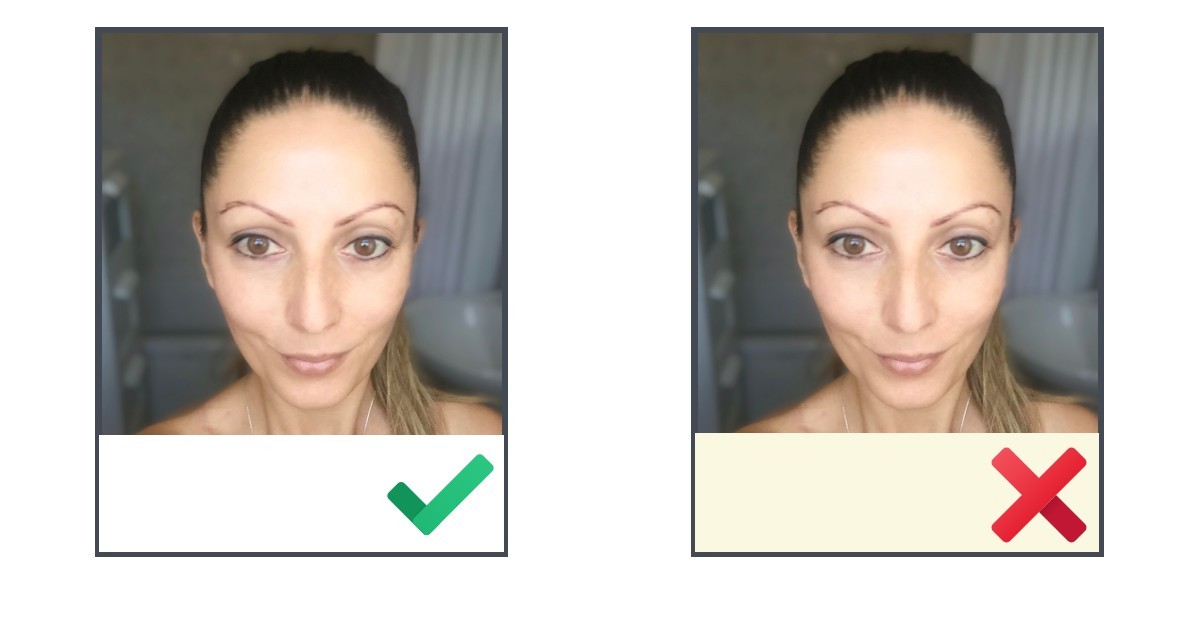 If I wear cream, I do look a little unwell.  I can get away with cream if I pile on the makeup and go for a very bright lip.  Due to my cooler undertones, white is far more flattering on me.  White is the recommended neutral for a Cool Winter. And you can see that white is the more flattering of the two images shown above for me. 
When getting started it is best to look at whether white or cream looks best on you, and then stick to either a warm or cool colour palette to avoid confusion. If you cannot determine which looks best.
Look at other colours that are clearly warm and clearly cool and see which ones look best on you without makeup, such as Black (cool) Vs Brown (warm) Pine Green (cool) Vs Olive Green (warm).
That may help you figure it out, just remember those with cool undertones look best in white – and those with warm undertones look best in cream. If you look significantly better in silver jewellery that's also a sign that you should be wearing white instead of cream. Those with warm undertones look great in gold.
A person who is fairly neutral will get away with wearing both.
Good luck, and do let me know in the comments if white or cream suits you best.