Taking care of your shoes is the most sustainable thing you can do. Never let your shoes get so worn out they get to a state of disrepair. Many people don't know how to take care of their shoes properly and find themselves needing to buy new ones frequently, which means lots of old shoes end up going to landfill… which is not very sustainable at all. Or sadly people buy cheap shoes, which are not designed to last. Many fast-fashion brands that make cheaply constructed shoes, which aren't designed to withstand repair, or even be recycled – made to be worn and thrown away once they get to their end of life. Leaving us the consumer with the burden of finding a place to recycle them, or sending them to landfill.

"Each year, 20 billion shoes are purchased throughout the world: 95% of them are incinerated or disposed of in landfills at end of life" – Angarde
Did you also know a shoe can be made up of 16 different components? And each of these 16 components is typically made from different materials. This means a shoe is actually quite difficult to break down and recycle according to shoe expert, Susannah Davda known as  The Shoe Consultant.

Therefore prolonging the life of your shoes is the best thing you can do for the environment.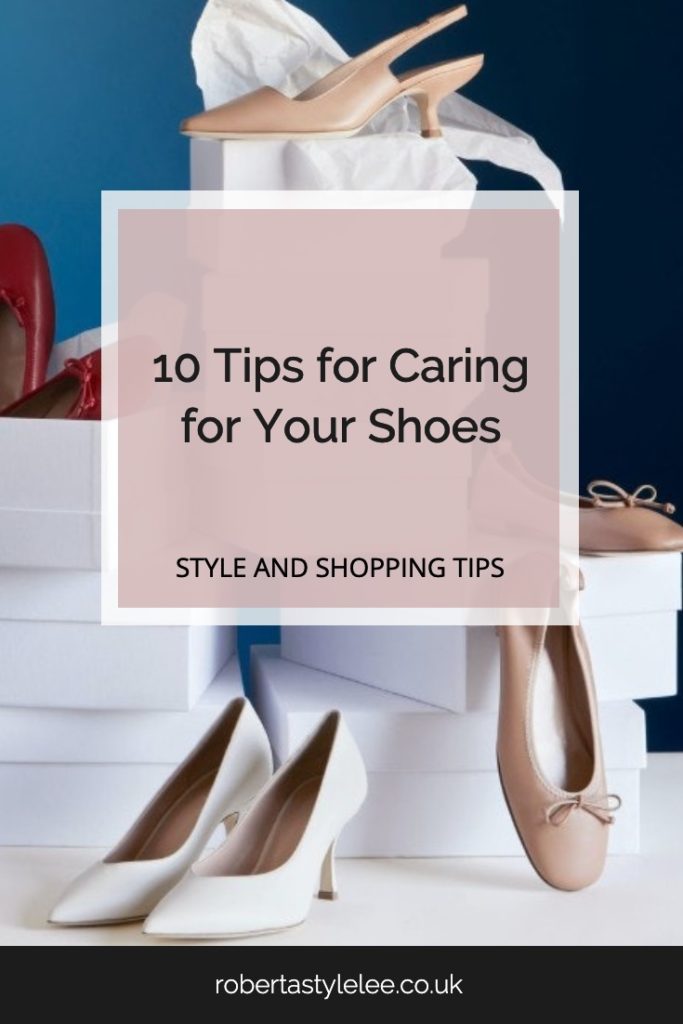 Here are 10 tips to care for your shoes so they last longer:
Spray new shoes with a shoe protector spray as soon as you get them – grab an eco-friendly spray from a brand like LiquidProof or Famaco (which I use).
Before wearing shoes out – break them in at home with chunky socks to avoid any blisters and help them mold to the shape of your feet.
Take your shoes to the cobblers and get new soles and heels added (if they are smooth leather) as this will prolong the life of the shoes and make repairs much easier for the cobbler in the future.
Use shoe trees, or stuff them with paper to hold their shape when you're not wearing them.
Alternate your shoes, sweat builds up in shoes and can destroy them slowly over time. Allow them to dry out and avoid wearing the same shoes 2-days in a row.
Clean the insides regularly, don't let sweat and dirt build up.
Try and always wear tights or socks, rather than going bare foot (if the shoe allows for it – otherwise stick to tips 6+7).
Clean the outside of your shoes after they've got wet or muddy, don't ever let it dry into the leather and soles. If they get scuffed or stained, treat this ASAP – I read a great blog from Urban Shepherd Boots about how to get stains out of leather.
If your shoes are made of leather, polish them to keep them supple. This keeps them moisturised and waterproofed, a good polish will lengthen the lifespan of your shoes.
Finally, if your shoes get wet NEVER dry them out on the top of a radiator as this will reduce the longevity of the shoe, warping the stictching, soles and inner and outer materials.
I personally LOVE shoes, and I treat my shoes with great care, which is probably why I have so many that still look like new! Of course, I have many pairs so it's easy to keep them on rotation. We all have our guilty pleasures, mine is footwear and handbags…
Caring for PU and Synthetic Shoes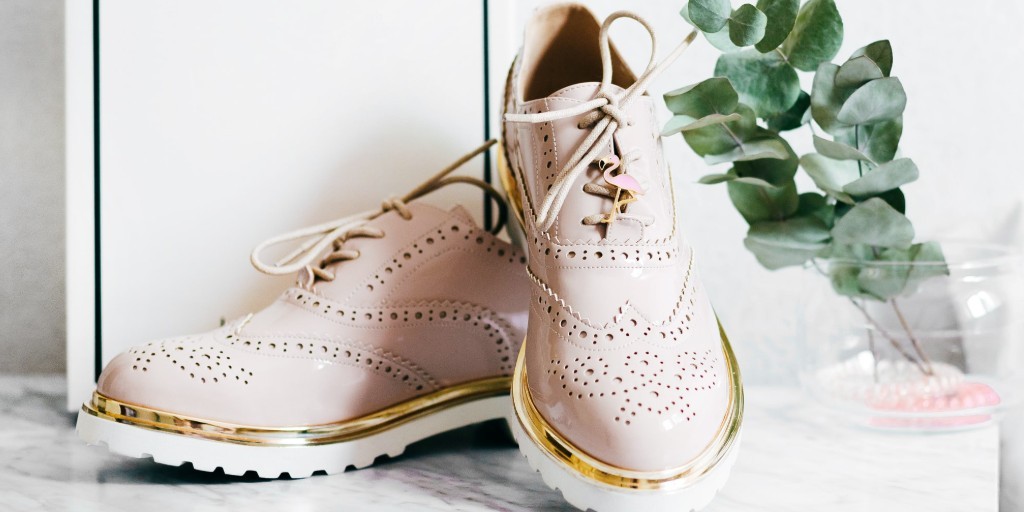 I know that leather is controversial, and while I am not a vegan I do understand that many people may read this and want to know how to maintain PU, Synthetic materials or Pinatex shoes.

Caring for non-leather footwear:
You can follow the same steps with non-leather shoes, swapping polish for a PU protector spray.
When cleaning your shoes, or after they've got wet don't expose them to high heat, always best to keep it below 37 degrees.
Spot clean shoes quickly with soapy water, or even just water if they get marks on them. The longer a stain sits on the material the harder it is to remove.
FOR EASY EFFORTLESS STYLE
Buy New or Pre-Loved Shoes?
Nowadays I try not to buy too many pairs of shoes brand-new. I always look to see if I can find some pre-loved by someone who has worn them once and decided to sell them as they weren't comfortable, or have just never been worn. I personally use seller sites like eBay, My Wardrobe HQ and Vinted for pre-loved treasures!
Check out my blog for the best places to buy and sell pre-loved clothes (and shoes) here.
I don't tend to buy shoes that been 'worn' in as they aren't good for your feet. I say that realising how privileged I sound, when there are people in other countries who rely upon the charities that take away our old shoes. This is another reason we should take care of our shoes – because one day we may be passing them on to someone who really needs them.

Then of course if I cannot find what I am looking for I opt for ethical + sustainable brands, and only then if I really cannot find what I need, I consider buying from a designer or high-street brand as long as it is high-quality and will last me for years to come.
Where Can You Recycle Old Shoes?
This is a great question, and sadly it is not an easy answer if your shoes are broken. Recycling shoes that are lightly worn is relatively simple. You can donate to charity, pop in a shoe-bin, many shoe-shops like Clarkes offer this service too – but it's only for shoes that can be passed on, it's not for shoes that are beyond repair.
The best thing to do is look at repairs and avoid sending your shoes to landfill. I have never needed to throw a pair of shoes in the bin, as I have always taken great care of my footwear, and repaired them as soon as signs of wear start appearing. However, I am not perfect! In the past, before sustainability and recycling was being spoken about, many pairs of my sports trainers that I donated to Charity, will have undoubtedly found their way to landfill.
Do you know of any places that take broken shoes, to deconstruct, for effective recycling of parts? If you do let me know in the comments – I have really struggled to find places in London.