It's not a new idea that investing in your style, is an investment in your future – but it's probably a new concept to most that knowing your personal style can save the planet. On Thursday the 24 of January I officially launched my new series of Sustainable Styling Workshops & Clothing Swaps in London. I invited a small group of savvy ladies to come along and test out the concept, get some styling tips and understand how to build a sustainable wardrobe.
What happens when we don't know ourselves
We waste so many clothes because we just buy things on autopilot – or worse still we buy things we think will fit us, but we never take the time to actually know our body shape, understand our colours or explore who we are as a person and dress in a way that accentuates that.
Most of us cover up bits we're not too keen on, and that's about the most detailed we get into the process of buying clothes. But what if you were to take a step back and question your motives for buying something new?
What if you couldn't buy something unless you'd wear it 100 times. This is the model I use with my clients all the time to see if the pieces they are looking to add to their wardrobe will really serve them, or just take up precious space.
Bringing style, sustainability and ethics back into one place
As you may already know, I'm a stylist and passionate entrepreneur on a mission to save the planet, even if it's one wardrobe at a time. Back in 2017 I set up ethicalbranddirectory.com as an alternative place to guide my clients if they needed to buy anything new. But I still had this idea back from when I was doing pre-loved events with my friend Kate in Exeter all those years ago, that the 'pre-loved market' has a vital role to play in sustainability. It's just needs a bit of a rebrand from smelly moth eaten clothes to a place where stylish women like myself would actually go in order to refresh their wardrobes.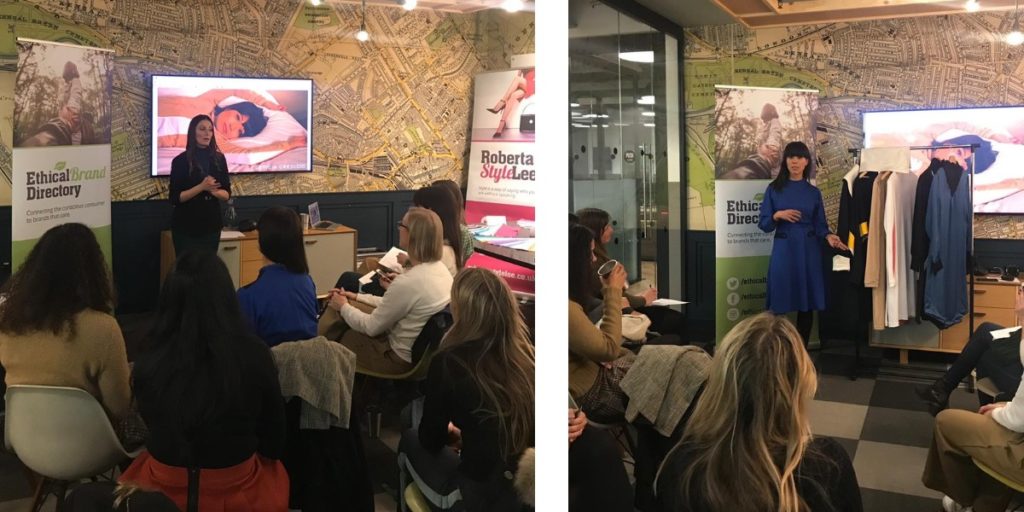 This was the first Roberta Style Lee and Ethical Brand Directory team event of the year – and it all came together really well. We welcomed one of our new brands Leticia Credidio to talk about her brand – and she showcased some wonderful organic loungewear that you'd be proud to be seen in at home.
Building a sustainable wardrobe
We've all seen the stats that the fashion industry is hugely polluting, and that we all wear about 20% of our wardrobes 80% of the time – but leading with shock tactics is never a great way to motivate people for long lasting change.
Building a sustainable wardrobe is the same; people will still want to buy from the high-street, or their favourite brands… my job isn't to shame them, but to simply inspire them to rethink what they do with their existing clothes and where to go when they're looking for something new.
Before investing in anything new it's really important to know:
Your Style
Your Body Shape
Your Colours
I wouldn't recommend investing in anything new until you've nailed these 3-points and have absolute certainty.
People we welcomed
The event itself was designed to be an experience, focusing on community aspect of sharing clothes and finding your style twin, as well as the evening being about making you look and feel amazing too! We received a lot of feedback regarding the intimate and friendly way the workshop was ran – and we intend to keep the format like this for our next event too.
Clothes we steamed
We received a good mix of clothes – for the next event we will be sending out a list of items that we are looking for and doing a more thorough audit of the clothes before they reach the rails. This takes time so we'll be closing down the next ticket sales a good week or so before the actual event.
Overall we received a lot of clothes in the S-M sizes and in neutral colours – perfect for a Summer or muted Spring colour season. We'll be uploading these into the online swap shop ahead of the next event so our VIP guests can know what to expect ahead of time. I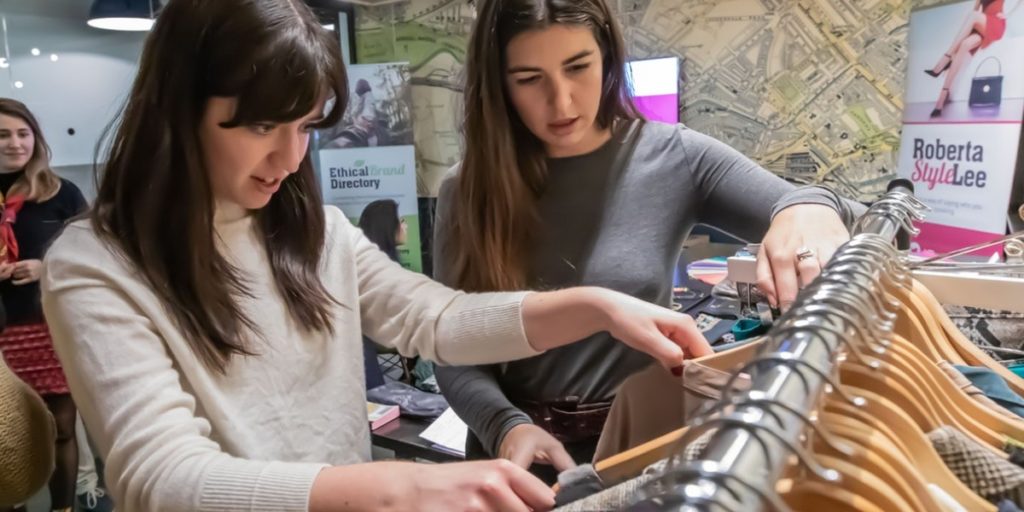 Here some of our guests' thoughts on the workshop and their key takeaways:
"The main thing for me was meeting amazing people and doing recommendations, and I feel really really fulfilled, so thank you." – Teresa
"Tonight's event was great for me because I'm trying to branch out with my own style and add a bit of colour to my wardrobe. With Roberta's help it was nice to understand how colours have different seasons, how my body shape can change and be toned and bettered in ways that I wasn't aware of." – Besma
"There's a lot of things we don't know in everyday life when we choose our clothes, it's mind blowing… so I recommend you should all go to Roberta" – Utami
Our next event
---