Gift Certificate
Experiences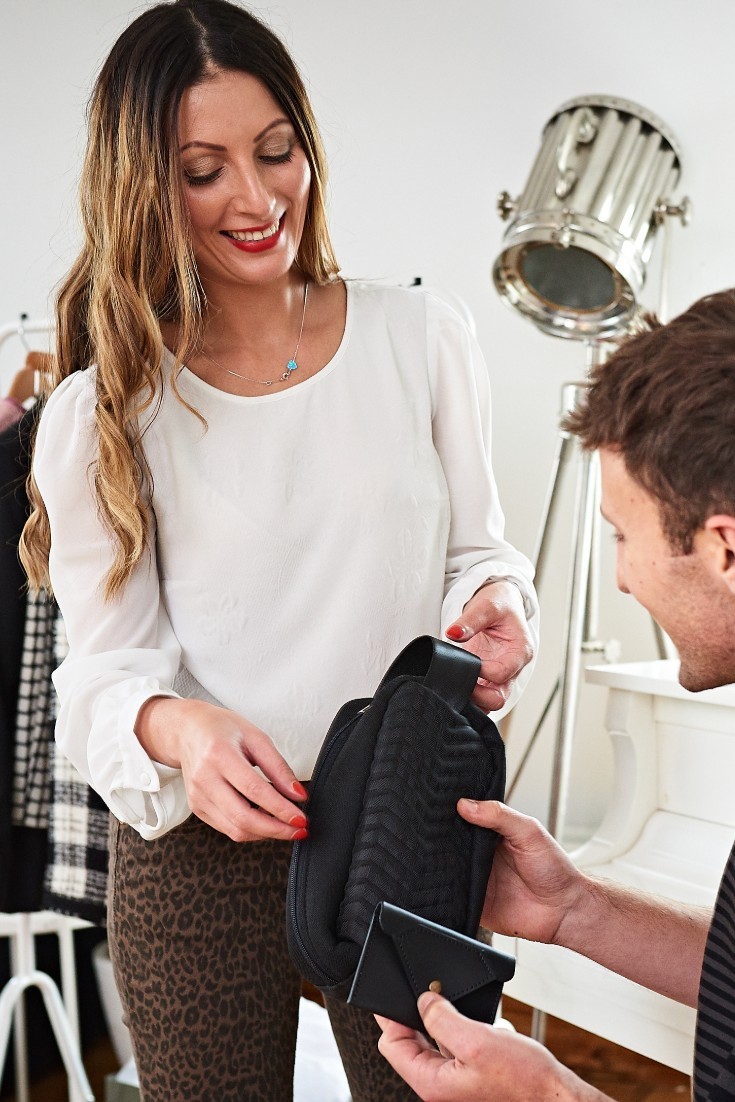 Gift experiences are sometimes the best option for the person who has everything they need or never takes time out to to treat themselves. Perfect for mums, dads, entrepreneurs and those in the public eye.

Personal styling services aren't just for those who need help with their 'style' but those looking to refine their closet, whether that's making space, re-organising, or transitioning towards a minimalist wardrobe.

If you're stuck for a gift idea, give the gift of style with a Roberta Style Lee Gift Certificate.

We offer physical gift certificates, and digital certificates are available upon request. You can purchase by heading to our services page and clicking on the Gift Voucher product.

Select from £25, £50 and £100 values.

If purchasing a gift certificate in a presentation box on our website, please ensure you specify a delivery address and we can also add a short personalised message with your order. Gift boxes and delivery is charged at £4.99 for shipping in the UK.
After the session with Roberta I had a very clear sense of what my capsule collection needed to be. I quickly went through my clothes and identified the few purchases I needed to make. Within 2 days I had sorted my wardrobe for the season. I absolutely love Roberta's coaching style. She's friendly, clever, and truly perceptive. She interprets my needs quickly and effectively helping me save a lot of time!
PERSONAL STYLING CLIENT | LONDON
Thoroughly enjoyed my colour analysis session with Roberta! If I am being honest, I had no idea what to expect (and was borderline skeptical!) before I had it done but wow, I was most certainly impressed. Roberta was professional, friendly and really took the time to explain why certain colours did compliment me and which didn't, and it all made so much sense! I am looking forward to putting my found knowledge to use. Thanks Roberta. I would thoroughly recommend your colour analysis session to everyone.
(Monica, TV Chef | London)
The same qualities that make Roberta a fantastic stylist also make her a brilliant coach. 1. She has exceptional attention to detail, this means that not only can she can spot an outfit at 100 yards but she ensures that you're getting the best from a session. 2. She takes the time to get to know you and then helps you to push your own boundaries. Roberta took the time to understand when I was genuinely pooped and when I needed some tough love. I am also a pretty classic dresser, with some hang ups, but she encouraged me to try some clothes on that I would never have picked up myself and 9/10 I was pleasantly surprised. 3. Finally Roberta is honest, she's honest when something doesn't suit you and when she lets you know when you need to work harder to achieve your goals.
(Elizabeth, Styling Client | London)
I started the edit stage at the weekend and 1 bag was deposited again the charity shop and I have decided what to wear on Saturday night that doesn't require a new purchase, leaving more money for cocktails. I have identified two gaps...long jumper/tunic to go with leggings for laid back look and school runs, and a go-with-everything jacket for smart casual days or evenings, mostly to be paired with jeans… Work in progress which I am enjoying very much, so thank you for the inspiration.
(Helen, Personal Styling Client | Bournemouth)
I had my style consultancy and wardrobe edit with Roberta and what an eye opener. We'd never met before but she instantly understood my needs. I didn't realise the depth we'd go into online with me digging out the entire contents of my wardrobe and seeing not only how it looked but how I FELT in things. As a business woman who works from home and has a 11 Month old son...plus a hubby who never dresses up combined with living in the highlands... you get the idea. It's been easy to slip into slobby unfeminine clothes. I enjoyed having an overhaul and having to be honest with myself felt easier with Roberta holding my hand through the process. Also on a practical level I have more space in my drawers and a batch of clothes I can sell. It's outside of my comfort zone doing this but everything Roberta has said so far makes perfect sense. Her colour advice is bang on and the style she's suggested makes sense to me. We have a pile of yes and a pile of let's modify and work on it. She's amazing and empowering. Work with her!!! One epiphany I had is that we worked out my clothes make me think "god I hope nobody comes round and sees me" which isn't ideal energy for me to have when I'm trying to attract new clients whether anyone sees me or not!
((Neen, Online Personal Styling Client | Scotland )
Thank you very much for all the very professional attention you gave me in our various sessions. It was a pleasure to meet you and I found the experience a worthwhile exercise for me, to review my thinking about clothes, by rule of 5 and colour matching, and especially to 'get on with it' in clearing up that big wardrobe! I feel doubly lucky: to have won those sessions through a charity raffle, and to have received a high quality service from you.
(Francoise, Online Personal Styling Client | Edinburgh)
If you're looking for enlightenment, forget yoga! Get your colours done with Roberta!
(Daniela , Personal Styling Client | Italy )
I spend ages trying to wear the right outfit, Roberta is helping me realise so many new aspects I need to take into consideration when I wear and buy clothes. Can't wait to complete course.
Karisma, Personal Styling Client | London
The wardrobe edit was a real eye-opener that not only streamlined my wardrobe into versatile outfits but challenged me to let go of clothes I'd been emotionally hanging on to for years
(Harjit, Personal Styling Client | Essex)
Roberta helped me see that my weight isn't an issue and that with thought I can make my clothes work better for me
(Neen, Online Personal Styling Client | Scotland)
I have really appreciated Roberta's support she has always motivated me when I have gone to her to get advice. I have always envied her amazing style in fashion and I have always appreciated any advice when it comes to shopping for new clothes. Roberta is always so busy but somehow she keeps herself looking absolutely great - I plan to work with her again over the next 6-months ready for my summer holiday next June.
(Sam, Styling Client | Somerset )
Roberta is a force of creativity and confidence in abundance. I was very nervous about attending a personal styling session but decided to treat myself for my birthday. I left with new ideas and a great understanding of what clothes and accessories best suit my body shape and how to co-ordinate them.Over the coming weeks I noticed by self esteem increased which has inspired me to seek out more sustainable designers and a new way of shopping and seeing life. I really look forward to working with Roberta again in the near future
(Yvonne, Personal Styling Client, London)
We had a group session with Roberta for personal colour consultation each of us were a different season, and we could actually see the difference on all 3 of us. Never realised why I did not look great when I felt great!!! It was all to do with what colour I was wearing. Thank you Roberta for showing me how it all works. X
(Shar, Group Colour Analysis | London)
My experience with Roberta was great. I was a bit lost in my life before I met her, not knowing what I wanted to do as a living and where... She helped me to figure out what kind of work would make me happy and how to get it. During the different sessions, whenever I was feeling low, she remained cheerful, patient, and focused. At the end we had pretty good results, I've made decisions, I have more energy because of the advice she had given me. One month later, whenever I have doubts about myself, I keep thinking of what she would say to me, and act according to that.
(Agathe, Confidence Coaching Client | London)
I've used Roberta's fashion SOS service now for two very different events - a wedding in Venice and a London awards ceremony. She helped me repurpose an old dress with a couple of key new accessories, supporting me while I was in the shopping centre via WhatsApp. More recently, she did a live make-up and hair tutorial, after correctly assessing what would complement my chosen look for the evening. I am so impressed, I would never have done those things without her help.
(Leanne, Personal Styling Client | London)
I had a personal styling session with Roberta which went through colour analysis, a wardrobe edit and personal branding. As a business owner who works from home, I'd got into some bad habits of dressing down everyday and only dressing up when I had a meeting or event to go to. So it was really important for me to know how to dress the part and be the face of my brand even if I was at home. Roberta showed me how I could do that by going through which colours complimented me, how to style my outfits using just one item of clothing that could be styled in five ways and getting rid of clothes I'd been hanging onto for years. The session revealed so much more than I had expected. Roberta is hugely inspiring. Not only does she know about style but her skills as a confidence coach really helped me overcome a few wardrobe attachment issues and hone in on what image I wanted to portray to the world. Roberta really understands the dilemma a lot of women face when it comes to issues around body image and styling. She's open, honest and not afraid to talk about her own experiences. An empowering woman and a wonderful experience!
(Harjit, Confidence, Style & Personal Branding Client | London)
After the session with Roberta I had a very clear sense of what my capsule collection needed to be. I quickly went through my clothes and identified the few purchases I needed to make. Within 2 days I had sorted my wardrobe for the season. I absolutely love Roberta's coaching style. She's friendly, clever, and truly perceptive. She interprets my needs quickly and effectively helping me save a lot of time!
(Mariana, Personal Styling Client | London)
When Roberta mentioned getting started with my makeover with a color analysis - I didn't even know what it was. Now I am quite obsessed with it! Finding out what colors compliment my natural beauty (especially when going make up free!) is such a confidence boost! But besides the vanity reasons, color analysis is really a life changing experience, and when done with Roberta, it is truly empowering. Here's why. .. First, it's fun. Roberta is professional yet personable and puts you at ease. I was stunned when some of my least favorite colors draped around my neck actually illuminated my skin and made me look fresh and healthy - no make-up required and no looking old or tired! Secondly, color analysis made me quickly get rid of old clothes that were just sitting in my closet without a reason. Finding out those colours didn't even compliment my features gave me just the excuse I needed to make some space. Third, this small investment into Roberta's confidence and personal styling services is already proving to be a money saver. I normally buy pieces I like without thinking if they would match with my existing wardrobe or whether they are right for me. I never end up wearing them because I don't have enough matching items in my wardrobe to create lots of outfits. Now I know exactly what to do next time I'll go shopping! Saving myself time and money!
(Daniela, Personal Styling & Personal Shopping Client | Italy)
I had a personal styling session with Roberta as I had an important event to attend. I hate shopping and I literally panic whenever there is an event coming up. She is incredibly knowledgeable about fashion & style and honestly felt her service went above and beyond - she listened to my fears and was able to turn it around. I left the session smiling, feeling confident. I got lots of compliments in all my outfits. Thank you so much, Roberta. I would recommend her over & over again. It was such an amazing experience.
(Oyinda, Personal Styling & Personal Shopping Client | London)
Roberta really helped get my look together in record time. She had some great pointers and I look forward to working with her again
( Minerva, Event Styling, TV appearance & Gala | London )
Omgggg this is why I love you. I would never have thought about these looks. Thank you so much 😘😘😘 I can't wait to attend more events and really get into dressing up 😁
(Online Personal Shopping Client | London)
What you wear tells a story, write your next chapter with me, Style Expert Roberta Lee.

I offer bespoke styling and personal branding services for men and women because what we wear matters. And whilst an outfit does not define who you are, the right outfit can bring out the best in you.