Last month Ethical Brand Directory proudly sponsored Ethical Brands for Fashion Revolution 2020 event. And we're continuing to support Fashion Revolution in June – and beyond! – with a series of online clothes swapping events.
As lockdown life becomes the new norm, many of us have newfound time on our hands and are craving a sense of connection and community – and clothes swapping could help! From the comfort of your own home, you can get involved with the ethical community and sustainably upgrade your wardrobe. A win-win if you ask me.
It's super-easy to get involved – just order a ticket by clicking the link below. This one-time membership fee gives you entry to all future swapping-sessions in our Fashion Revolution Series, with £1 from every ticket purchased donated to charity.
How the Swap Works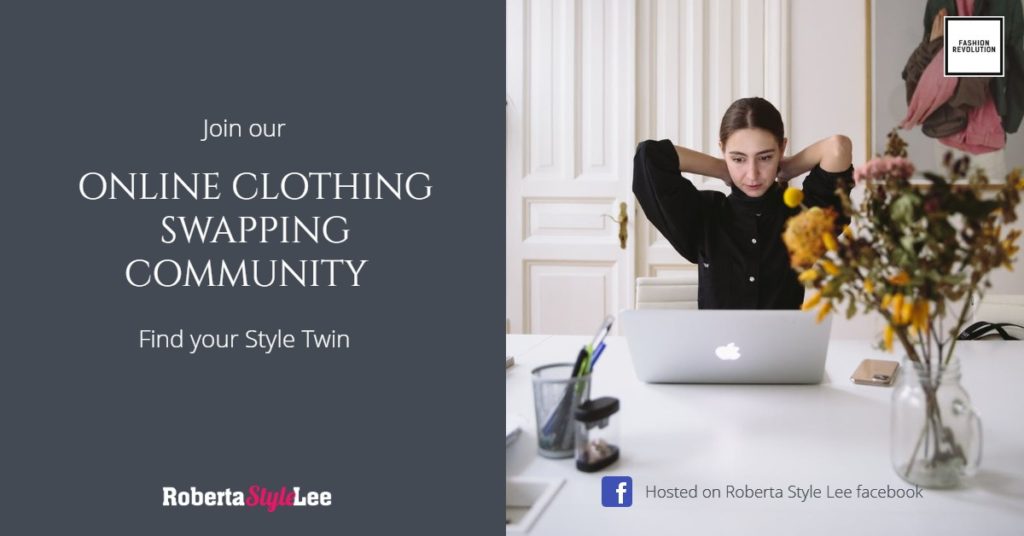 It's pretty simple, find 5 pieces you'd like to swap and register for your ticket. We'll send you an invite to join one of our Facebook groups (depending on your size and gender, which you pick accordingly). Yes! We've got a swap lined up for the guys too because being sustainable with our clothes is for everyone!
We've split our swap groups into standard UK sizes for women (and a separate group for men). And for all of you shoe-lovers there is also a separate accessories, bags and shoes group which you can join as well! 😉
Swappers will need to:
Photograph each item you want to swap
Provide a description of each item: material, any defects, share a love story about your item if you have one & any other special info someone might need to know (i.e. if it's been customised to fit, previously been repaired)
Ensure swapped items are delivered and posted
And here's what you need to do in the 'live' session:
Join Facebook before the 'go-live time' with your pieces prepared
The host will open the session @1 PM (unless another time has been specified) and will introduce you
You have 60-seconds to jump in and do a live video to show off your pieces (highlighting the size and any defects/special features etc.)
After your live video, you'll be invited to list your item/s in the market place
More on the Clothes Swapping Community…
Clothes swapping has really found its stride in recent years. And thanks to the digital space, there's no need to stop swapping and sharing with the ethical fashion community just because of lockdown!
The clothes swapping community is based on shared values and trust. When joining an event it's always good practice to of course be respectful and build good community trust. Be respectful of the person receiving an item. Make sure it's clean, well-wrapped – even add a nice thank you note and share more about the piece. This is more than just a way to sustainably upgrade your wardrobe, it's a community where you can make friends – and maybe even find your style twin!
I hope to see you there!
Happy swapping,
Roberta x