This is the week to turn your clothes inside out (not by accident because you're tired) but on purpose, grab a piece of paper and write 'Who made my clothes?' Take a snap and then post it on social media tagging in the brand.
I seem to have a lot of River Island clothes from my old clothes haul days – which I haven't thrown out because I have tried to get maximum use out of them. Before I buy from them again though I want to know… WHO made my clothes. I posted my picture on Twitter yesterday and received no reply as of yet. (It's not looking good RI…) I will be doing another repost of the tweet and sharing this blog with them today too.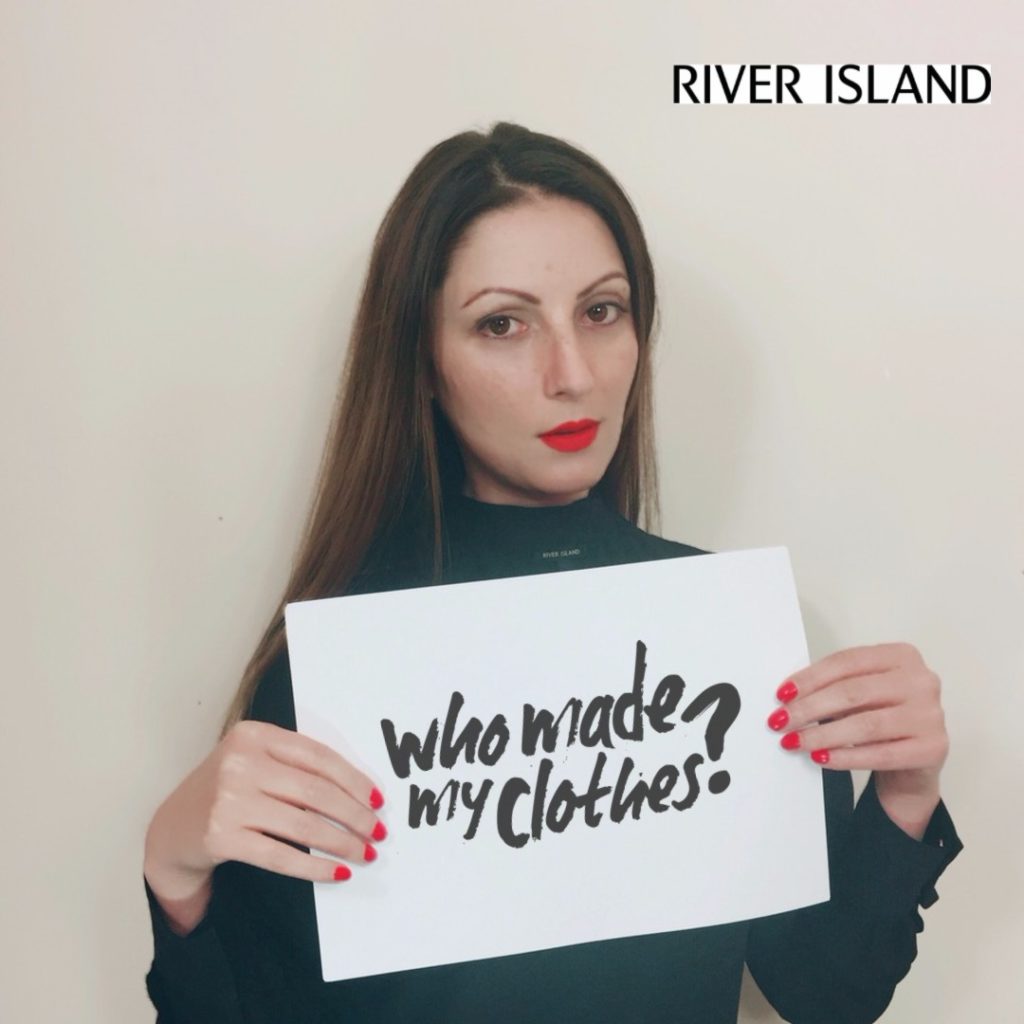 Here are the steps:
1 – Find the brand's twitter handle that you want to know about for my one it was @RiverIsland
2 – Take a photo of yourself asking the brand Who Made My Clothes
3 – Open twitter – upload your snap and copy in the text:
Hi @[brand] I'm [name] and I want to thank the people who made my clothes via @Fash_Rev http://fashionrevolution.org #whomademyclothes?


Simply upload your photo to twitter, add text (template shown above) and hit send – then just SHARE, REPOST, SHARE, REPOST and SHARE!
Good luck getting a response, let me know in the comments which brand you've asked "who made my clothes" and what they say to you 🙂
Roberta x
—————————————————————————————-
The Fashion Revolution
The Fashion Revolution is a global movement which occurred after the tragedy which took the lives of over 1138 and injured over 2,500 factory workers in the Rana Plaza factory, in Bangladesh, India which collapsed on the 24th April 2013 – that was the day the Fashion Revolution was born.
The fashion industry has a very dark side to it and one that has for so long lacked transparency and accountability across the supply chain. Fashion is wonderful and it can and should make us feel good, but not at the cost of other people and the planet.
Find out about what I'm doing to support the #FashionRevolution and how you can get involved here: https://goo.gl/Nm32l9