Understanding what warm colours are – and how they differ from cool colours – is key if you want to create a harmonious wardrobe and find colours that flatter your complexion. So, what exactly makes a colour "warm"?
In this post, I share everything you need to know about warm colours: what they are, examples of warm colours, how to wear them and who should wear them.
"Life is a sea of vibrant colour. Jump in." – A.D Posey
Have you ever worn a foundation that made your skin glow? Only to try another similar shade to find your skin looking dull, washed-out and generally "off"? Yes? Well, there's a reason for this. It depends on the warm or cool undertones in your skin. Whether it's makeup or clothing, to find the "right" shade you'll need to match a colour's undertones to the undertones of your skin.
So how do you know whether you're more warm-toned or cool-toned? And what does it actually mean?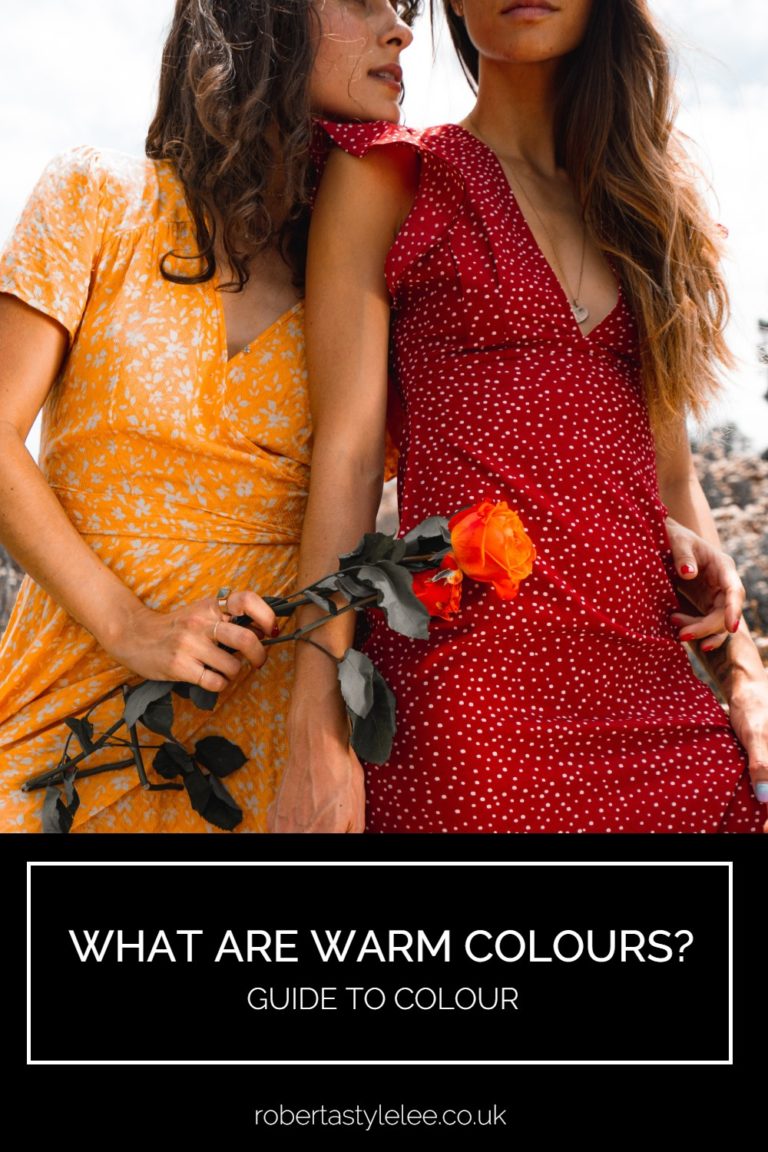 How can I tell if a colour is warm?
Warm colours are those with a yellow-ish or black undertone. Imagine how everything looks through your tinted sunglasses or on a beautiful day in autumn when the leaves are falling. The hints of yellow give these colours a sunny warmth, while those with more black mixed in appear darker and can seem more muted. When you look at the colour wheel you can see that colours are split into warm or cool based colours, but don't let that confuse you.
When we refer to cool and warm colours in colour analysis we are referencing a season that is defined as warm, such as warm spring or warm autumn. These seasons encompass all of the colours shown on the colour wheel, even those we define as cool (confused yet?). The reason a warm season can wear a "cool" colour is because there are "warmer" versions of these colours. For example, blue is typically defined as a "cool" colour but there are warmer shades of blue. Look at the warm blue versus the cool blue…
Let's look at the example of a warm blue versus a cool blue above. Can you spot the difference in terms of temperature?

It's not always easy to see to the untrained eye, if you find it too difficult to tell the difference working with a colour analyst may be the best option. If you are London-based and are happy to go onto the waitlist, I would be happy to assist you. You can enquire about the VIP services that I deliver in London.
Can you see how the warm blue appears to be softer, and just feels warmer, while the cool blue is noticeably icier?
Think about painting. If you were creating an autumn or summer scene, you'd want the warmth of the sun to show, so you'd mix in lots of yellow or add black for darker, more muted tones. But if you were painting a winter scene, you'd go for a clear crisp white and mix in a bright blue to make it look cold.
How do I use the colour wheel?
You can use a colour wheel to help you understand what colours pair nicely together. Opposites work well, such as red and green, colours that sit side by side such as Pink (red-violet) Purple (violet) and Blue (blue-violet). However, if you are looking for a colour wheel that has colours defined for your SEASON then you may be interested in enrolling on my online course, where season-specific examples are shown on the handouts.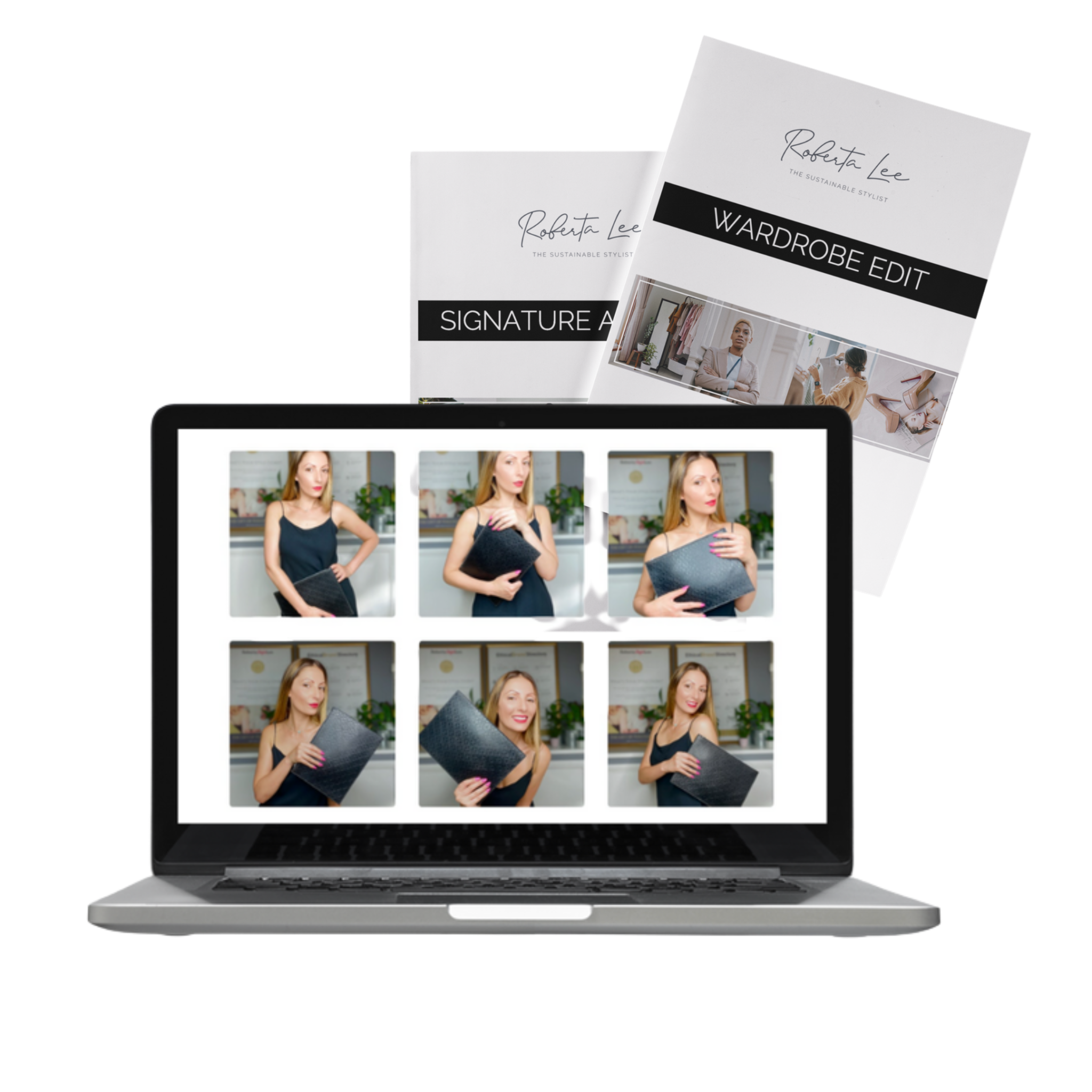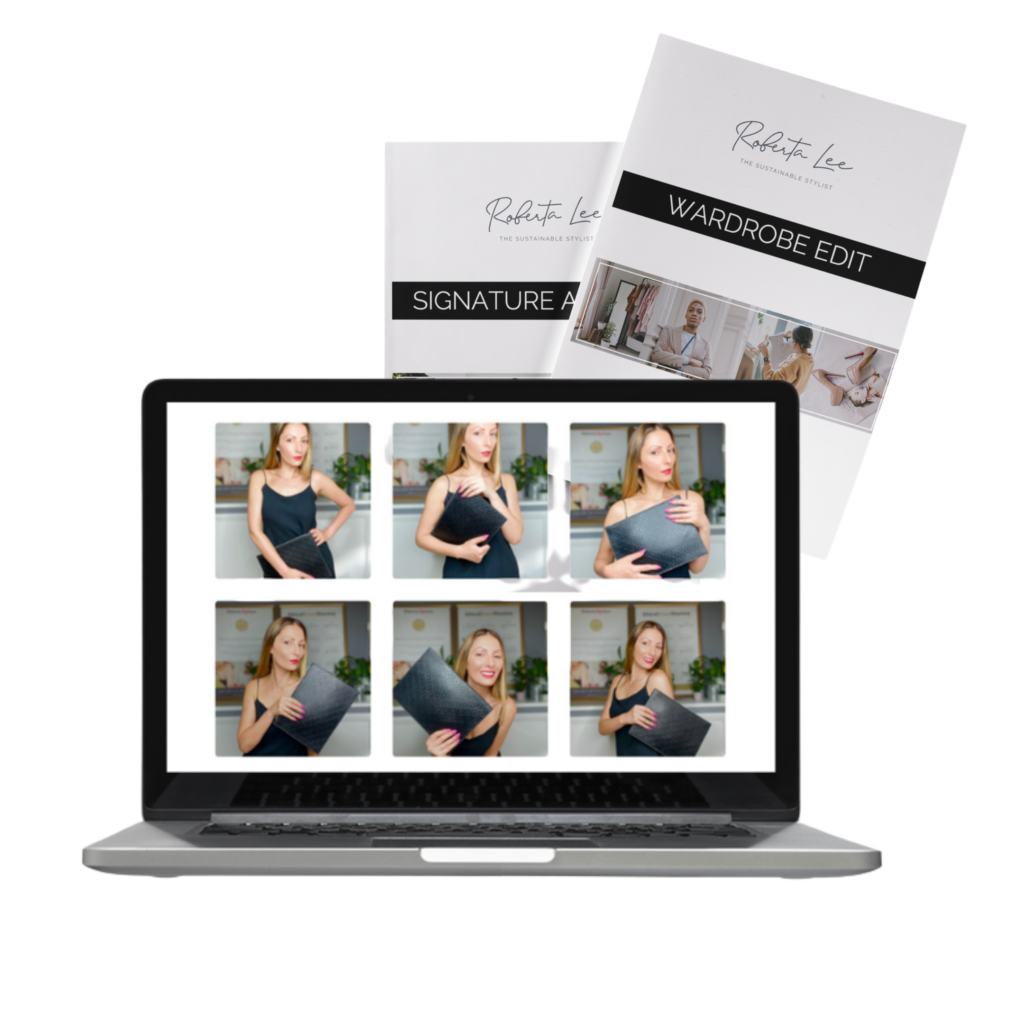 FEEL EXCITED TO GET DRESSED, KNOW YOUR STYLE & SHOP WITH PURPOSE
Drop your details below to learn more about the classes, outcomes, and experiences of other students who have completed the Create Your Own Personal Course. 
Examples of Warm Spring Colours
Ivory white
Browns
Yellow
Bright yellow-greens
Warm blue
Peachy pinks
Orangey-red
Examples of Warm Autumn Colours
Dark greens and yellow-green
Yellow
Gold
Orange
Orange-brown
Burnt red and red
Cream
Black
How to Wear Warm Colours
Colours can clash if you don't pair them correctly. As a general rule of thumb, try to combine warm undertones together (and the same goes for cool undertones), otherwise, your outfit could feel a little off, that said once you know how to work colours you can experiment with tonal dressing, which can often include different shades of one colour worn from top to toe.
But this doesn't mean your colour choices are limited. You can experiment with contrasting or complementary colours for a bold look – to avoid colour confusion and temperature clashing (when a cool colour doesn't go well with a warm colour, despite the colour wheel indicating they 'should' pair nicely. Try and stick to just wearing warm colours, it can sometimes be fun to play around with the intensity of the colours.
For example, warm but muted green (khaki green + orange/red ) is on the left and the opposite would be a clear, bright warm, these pairings are following the 'intensity' of the colour, on the left is warm and muted, on the right is warm and bright.
We can now see just how striking it can look to match 'WARM' colours but play around with muted and brights. Always wear your SEASON (aka: Warm Autumn closest to your face, and if you want to wear a WARM spring wear it as trousers, a skirt or accessory but do try and keep away from your face as the intensity will fight for attention with your natural complexion.

FOR EASY EFFORTLESS STYLE
Who Should Wear Warm Colours?
If you've done colour analysis and have been told you are a warm spring or a warm autumn then wearing colours that are warm will be best suited to your skin's undertones. That's not to say that colours that are defined as 'cool' on the colour wheel aren't for you, you just need to find the 'warmer' versions of these colours.
If you are unsure about your undertones you can do a DIY test at home and see if cream or white looks best on you. Remember that white = cool and cream = warm .
Who Has Warm-Skin Tones?
There are plenty of warm-toned celebs who wear their colours really well – and you might be surprised by how much they vary in appearance.
Contrary to what you might expect, Nicole Kidman is a warm tone. You'll often find that fair-skinned strawberry blondes and red-heads with freckles look best in warmer colours. At the opposite end of the spectrum you have celebs like Jessica Alba or Kim Kardashian who have a bronzed warmth to their skin. Kim Kardashian is a great example of someone with warm tones who looks great in spring colours.
Other famous warm tones include: Beyonce, Viola Davis, Lucy Liu and Jessica Beil.
Did you guess any of these warm-toned celebs? Are you a warm tone? No? Then you're likely a cool skin tone. Read my quick guide on cool colours to learn how to wear them and who should wear cool colours.