For the past month, I have been testing out some new beauty products.
And today I want to introduce you all to a new cruelty-free brand that makes natural anti-aging products called Nakin.
I'm always a little skeptical about endorsing beauty products – as I don't feel like I'm able to give an honest review unless my skin has had adequate time to try it. However, I gave it a go and produced a review within 1-month, so here's what I discovered during that time: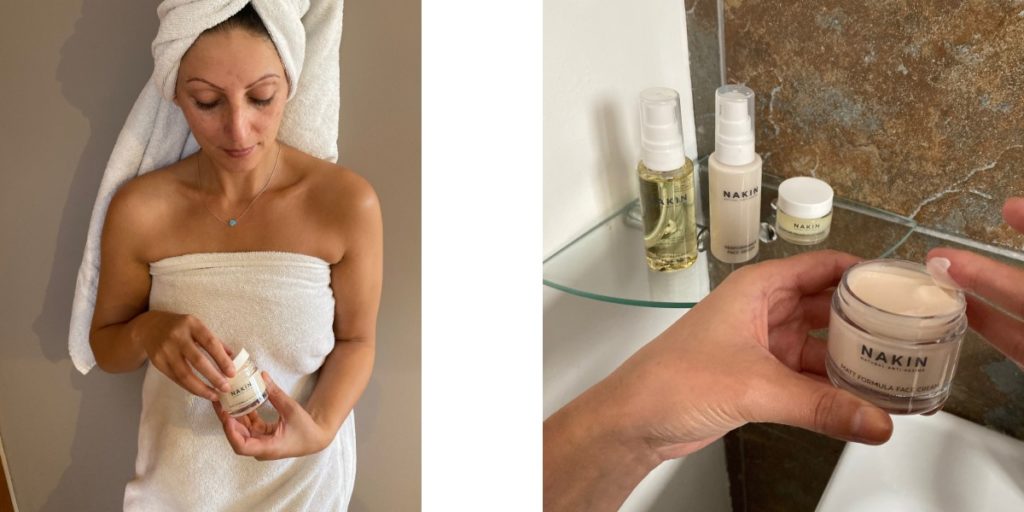 Before I tell you which one I fell head over heels in love with, I will introduce each product I tested out, below.
I have to admit that I have used the products sparsely because I don't use a large quantity of anything of my face. If like me you are a minimalist when it comes to lotions and potions for the skin – then you'll find these products will last a lot longer for you too.

Nakin Natural Anti-Ageing Lip Treatment Balm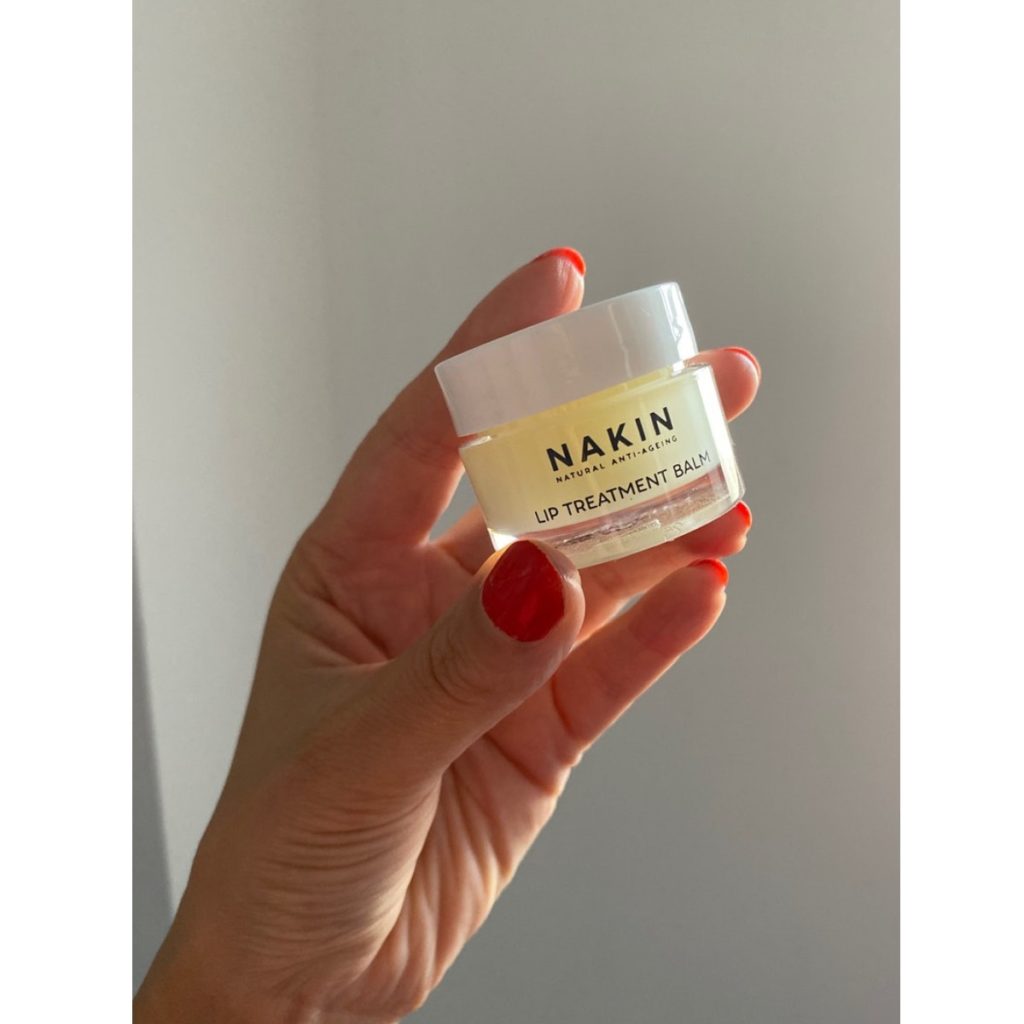 This is what they say: "Plump and perfect your lips with this anti-aging lip balm, a natural lip conditioner from Nakin's high-performance range. Created with an active complex of shea, mint, argan and baobab oil to flood lips with nutrients and hydration, our lip balm creates superb lip care for dry lips. For anyone who has sensitive skin and has been looking for a natural product that can take care of their lips, this is the one for you.– Nakin website
This was what I thought:

This was the first one I tried, let me tell you about the Nakin lip balm… oh my goodness… I love it.
I find lip balms can be a little waxy, and sometimes sticky. I hate it when my hair gets stuck to my lips because I'm wearing a balm, however, the Nakin balm surprised me.

The Nakin Natural Anti-Ageing Lip Treatment Balm is light, refreshing and non-greasy. No fly-away hair getting stuck in this stuff!! My lips feel nourished within minutes and there's no sticky residue. I've noticed the dry chapped bits of skin that I always seem to be biting, have practically disappeared since I started using it. It's doubles up as a great base for my lipstick (after blotting it first). It also leaves a slight tingle on my lips, which I love.

Would I recommend?
Yes.
Have I seen a noticeable difference?
Yes. My lips are more hydrated and plump.
Nakin Natural Anti-Ageing Revitalising Face Oil

This is what they say: "A natural anti-ageing facial oil blended with skin enhancing plant oils that glide on without greasiness, our revitalising face oil helps all skin types (especially dry skin) to smooth lines and condition dry areas. Using this oil will leave skin feeling calm, energised and hydrated with a glowing radiance. It's so highly rated that Nakin has been nominated for Best New British Skincare Brand." – Nakin Website

This was what I thought:

This is the product I used the least because I find oils can be a little greasy for me. I used it at night when I remembered- and it did leave my skin feeling hydrated the next morning. I will need to test-run this product a little longer to be able to give a full review on it. I expect the winter months to be very drying on my skin and this little bottle of oil will be a welcomed rescue remedy at the end of each day.

There's only so much product I can put on my skin in 4-weeks – so I'm keen to see how I get on with this one after a few months.

Would I recommend?
Yes.
Have I seen a noticeable difference?
Not used it for long enough to be able to tell. But I am excited to find out!
Nakin Natural Anti-Ageing Matt Formula Face Cream

This is what they say: "For anyone who has oily, normal or sensitive skin, finding a face cream that brings balance to your skincare routine can be tough. You need a product that is going to protect skin and still hydrate. Our matt formula face cream contains baobab, argan and jojoba oil to nourish skin with vitamins and minerals, while the powers of pomegranate and hyaluronic acid impart a smooth, hydrated complexion. It creates an enhancing natural anti-ageing moisturiser that your skin will love.
The Nakin Matt Formula Face Cream is a favourite of Christian Vermaak, celebrity make-up artist to many A-list stars including Kylie Minogue, Dannii Minogue, Amanda Holden, Tess Daly, and Caroline Flack. Christian loves to use it under foundations, which is no surprise as it is the perfect primer under make-up due to the silky softening, non-greasy texture." – Nakin website
This was what I thought:

I used this product sparingly as a little dot of the Nakin Moisturiser goes a long way. Due to the serum (explained below) I didn't feel I needed a great deal of extra moisturiser. It really hydrated my skin and also left a great base for my make-up. I'm looking forward to using this more throughout the winter when the cold and central heating will start to play havoc with my skin.

Would I recommend?
Yes.
Have I seen a noticeable difference?
Yes, my skin seems more hydrated and I think I can see a temporary reduction in my fine lines when I'm wearing it under foundation.
Nakin Natural Anti-Ageing Performance Face Serum

This is what they say: "The active formula includes hibiscus and hyaluronic acid that condition, smooth fine lines and improves elasticity, restoring the appearance of skin. This serum is suitable for all skin types including sensitive skin" – Nakin website
This was what I thought:
Ok, last but by no means least is the Nakin serum. I didn't think I would be so in love with this product but my skin seems to love it. Unlike many serums it just glides on, my skin absorbs it and it provides a wonderful base for my moisturiser and foundation. I've been using this every single morning, without fail and I'm feeling very confident about it.

If it gets rid of wrinkles remains to be seen, but I have noticed my fine lines seem to be less noticeable when I combine the serum and moisturiser religiously!

I am loving the fact that Nakin is all-natural and free from nasties. The products are definitely doing something for my complexion… I'm going to stick with them and update this blog in a few months.

Would I recommend?
Yes.
Have I seen a noticeable difference?
I think so, however, I can't say I've seen a real difference to my wrinkles yet, but my complexion is definitely brighter – I really like this one…
---
Behind the scenes

As the founder of Ethical Brand Directory I am always keen to ask more questions, so I reached out to Cris Beetham the founder of Nakin to find out more.

Me: What steps are you taking to be more sustainable at Nakin?

Cris: On a daily basis I am looking for better packaging, I hope that the containers available will be much more eco very soon, so that we can improve our eco work.

Me: What are the barriers to being more sustainable with your brand?

Cris: The biggest barrier for Nakin at the moment, is to find suitable containers that are not made from plastic, or glass.

Me: Can you tell me more about your plastic containers – what plastic are they and are these easily recycled by most councils or do they need to be sent somewhere specific?

Cris: Most of our products are widely recycled, although it depends on local recycling facilities, because these vary so much. The pumps on our face serum and face oil will need to be dismantled before being recycled, and again it then depends on local facilities.
The plastic is:
Advanced Cleansing Milk & Toner: clear PET bottle with white PP flip-top lid
Matt Formula Face Cream & Dew Cream: clear PETG jar with white PP lid & EPE liner
Performance Face Serum & Face Oil: clear PET bottle white treatment pump (with overcap) PP, LDPE, Glass & EPE
Eye Cream Complex & Lip Balm: clear PETG jar with white PP lid & EPE liner
Me: Are you aware of the United Nations Sustainable Development Goals? If so what areas are you working on?

Cris: I am aware of the UN goals, and I just try to be an ethical company as much as possible, we buy our supplies local in the UK and make sure it is all from sustainable sources and cruelty-free. Nakin is an ethical company and we try to be fair in all our work.
---
Nakin product review summary

I really like this brand – and whilst I haven't had enough time to ascertain if all the products work for me yet, I do love the immediate results on my skin. From a product perspective, I like it's natural, cruelty-free, and my skin has responded well to the formulas.
Now, as a business – I think there is room for more expansion on how the Nakin is working towards the SDGs, however, I do believe that the founder's Cris has a real concern about the environment and wants to do better in the future, which fills me with confidence. She's written a blog all about wanting to be plastic-free but also the perils of using glass. It's worth a read.

I will definitely try more products from their range. I will be back for more of the serum, and I will top up my lip balm once its gone too.
Let me know if you give Nakin a try!
[GIFTED] These products were gifted to me to test and review, this is not a paid advert or a sponsored post.