Polette is a new, independent optical brand that uses eco-acetate and recycled acetate to make their sustainable glasses, which is why I was keen to check them out. 
Their sustainable sunglasses and optical frames are designed in Amsterdam and produced in China. Using a conscious design philosophy & controlling production in their own factories and cutting out the 'middle-men' they have control over how things are done.  They are able to make stylish glasses that are high-quality with a focus on sustainable production that is without the designer price tag.  In this blog review, I am highlighting my overall experience with the brand, their service (the Oxford Street store), and the products themselves (all gifted), and of course, I do a deep dive on their ethics and sustainability practices – and review all their public information to see how transparent they are.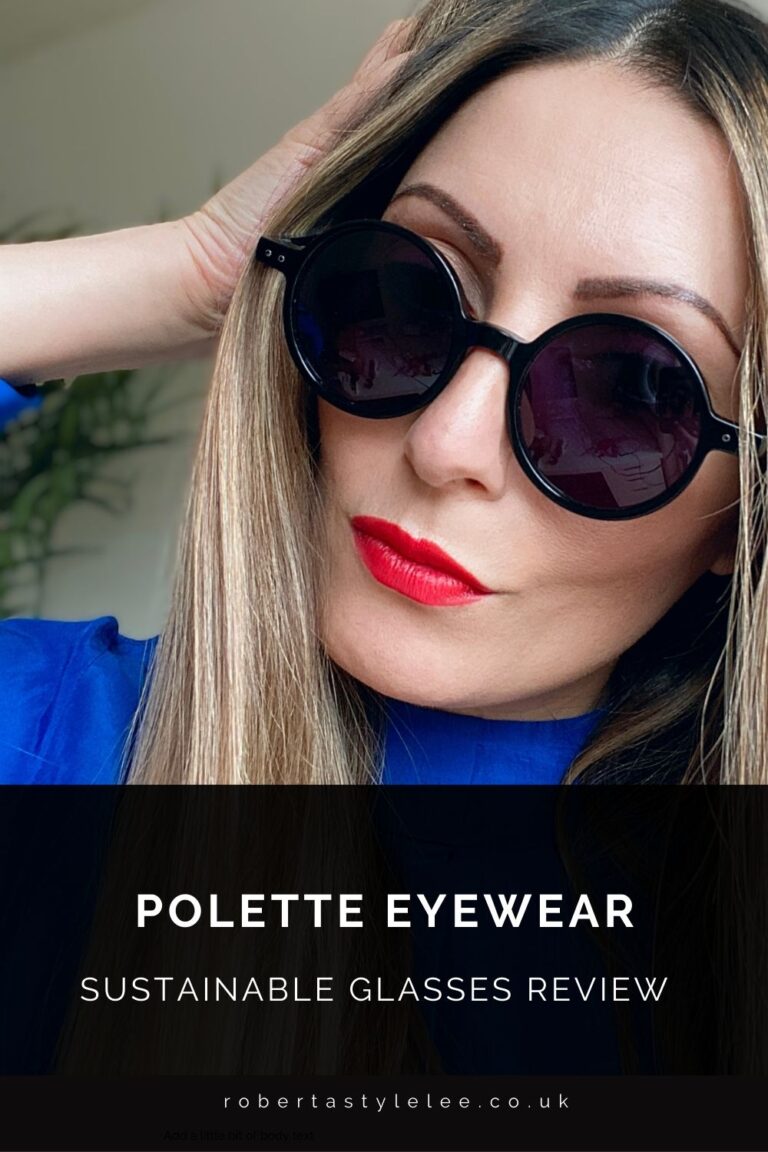 FIRST IMPRESSIONS OF POLETTE
Polette Eyewear is a pretty new brand to reach the UK shores with its Oxford Street opening just before the pandemic hit. I was initially drawn into the showroom for a number of reasons:
The minimalist and chic looking showroom appealed to me
The style of glasses on display varied from lots of hip, modern, designs to classics – and even ski masks
There was an entire section dedicated to their Eco-Acetate range which caught my attention…
Polette 'felt' more modern with a fresh approach to an opticians (which can often be be so clinical and void of personality)
Warm and friendly staff
I instantly explored the sustainable 'section' and then we went on to ask many questions about what sustainability means to Polette and how that manifests itself in their products and their business model.

When the assistants discovered I needed my eyes testing they encouraged me to book myself in for a FREE TEST (this service is available to everyone).
POLETTE FREE EYE TESTS (LONDON)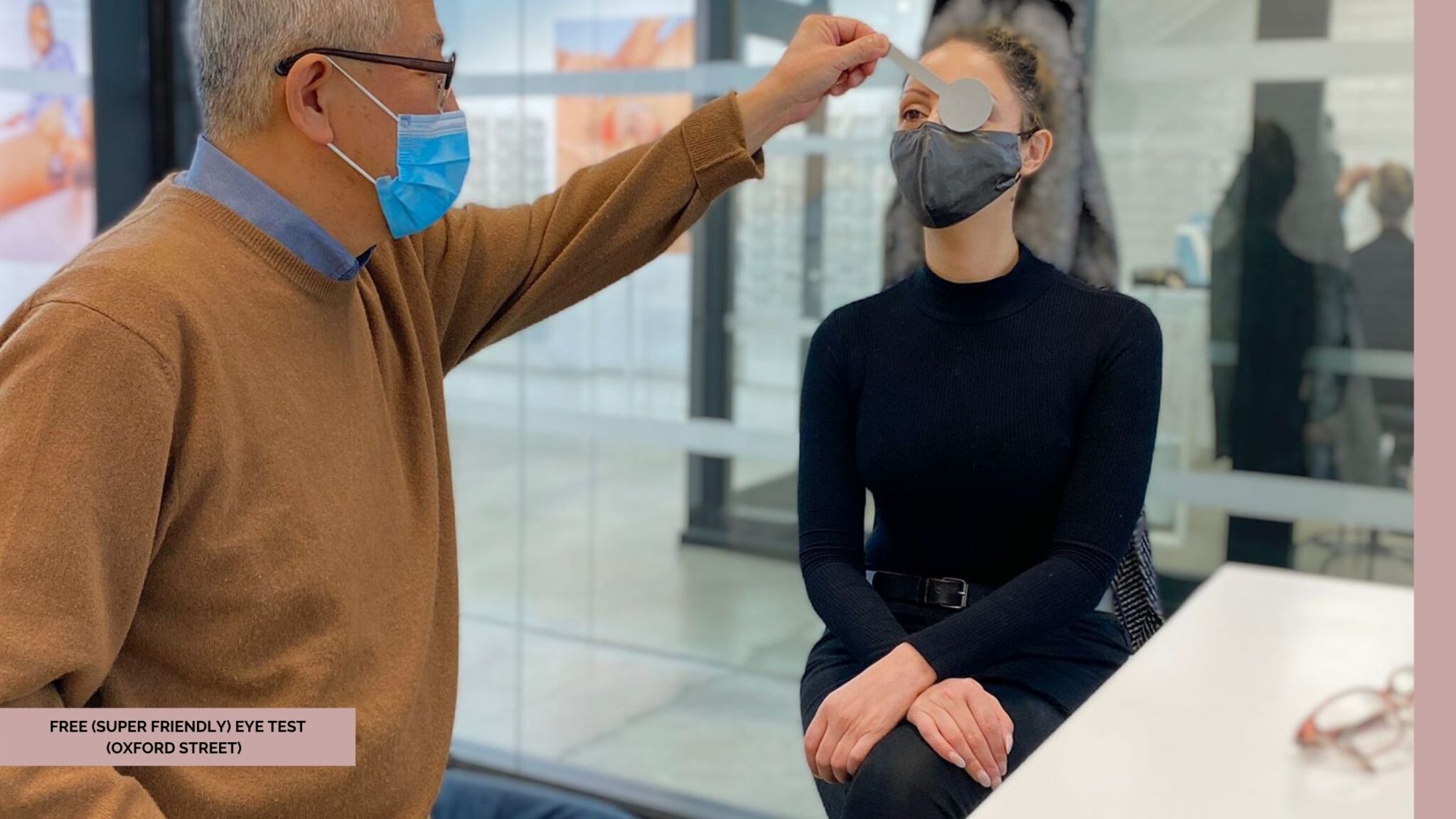 I found myself back at Polette on Christmas Eve, getting one of the most fun & friendly eye tests I think I have ever had.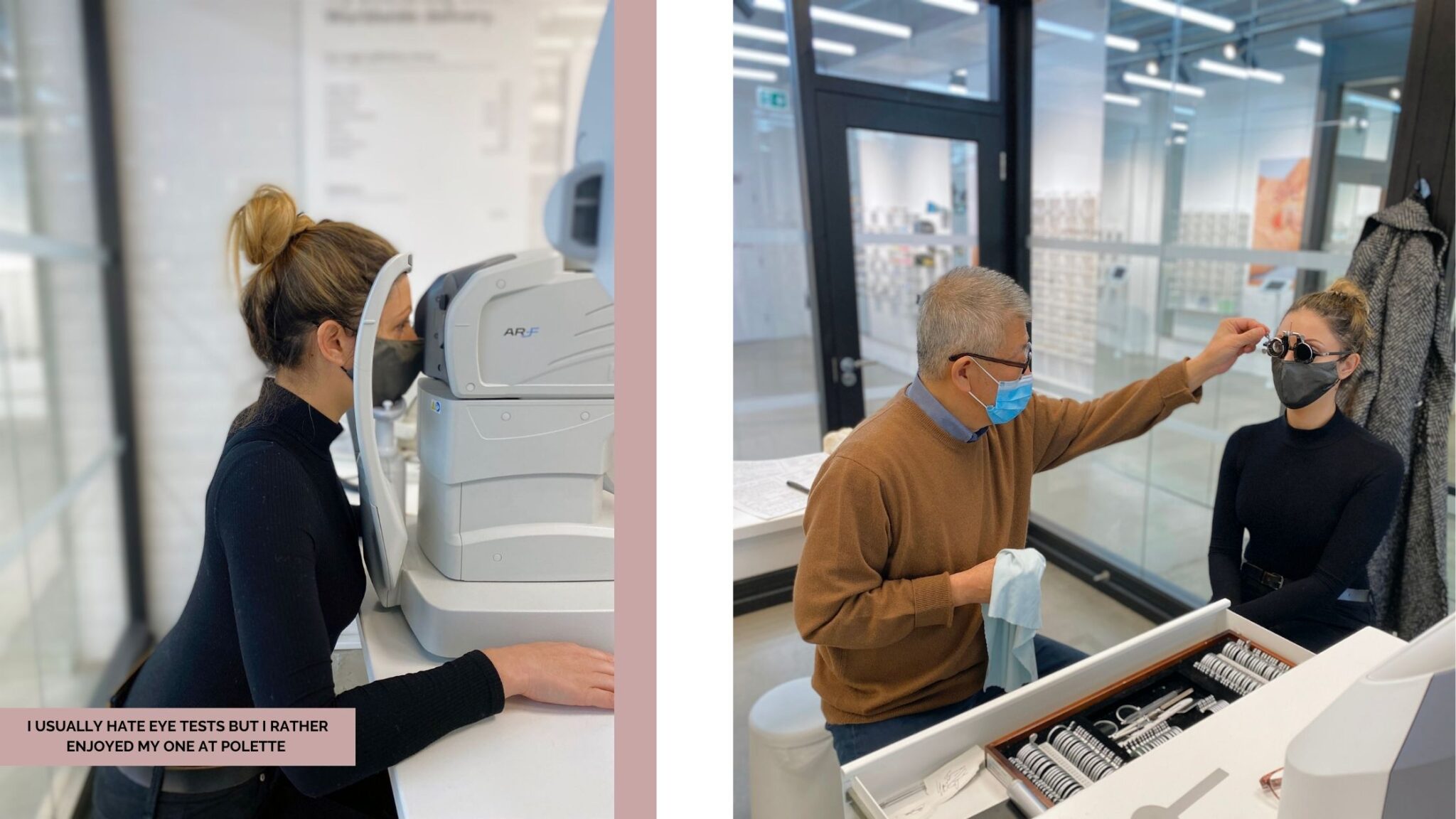 SUSTAINABLE GLASSES & SUNGLASSES

There were a lot of styles to try on, and I was a bit like a kid in a candy shop. I've always thought glasses are bling for the face – and this is the one time, I don't believe that less is more. I truly think if you need to wear glasses you should have a pair for every version of your personality. The team encouraged me to go for shapes that would suit my face shape, but also some styles that despite them being made of "sustainable materials" by Polette standards – I knew these were too far out and too trendy for me, and I couldn't see myself wearing them in 5-10 years.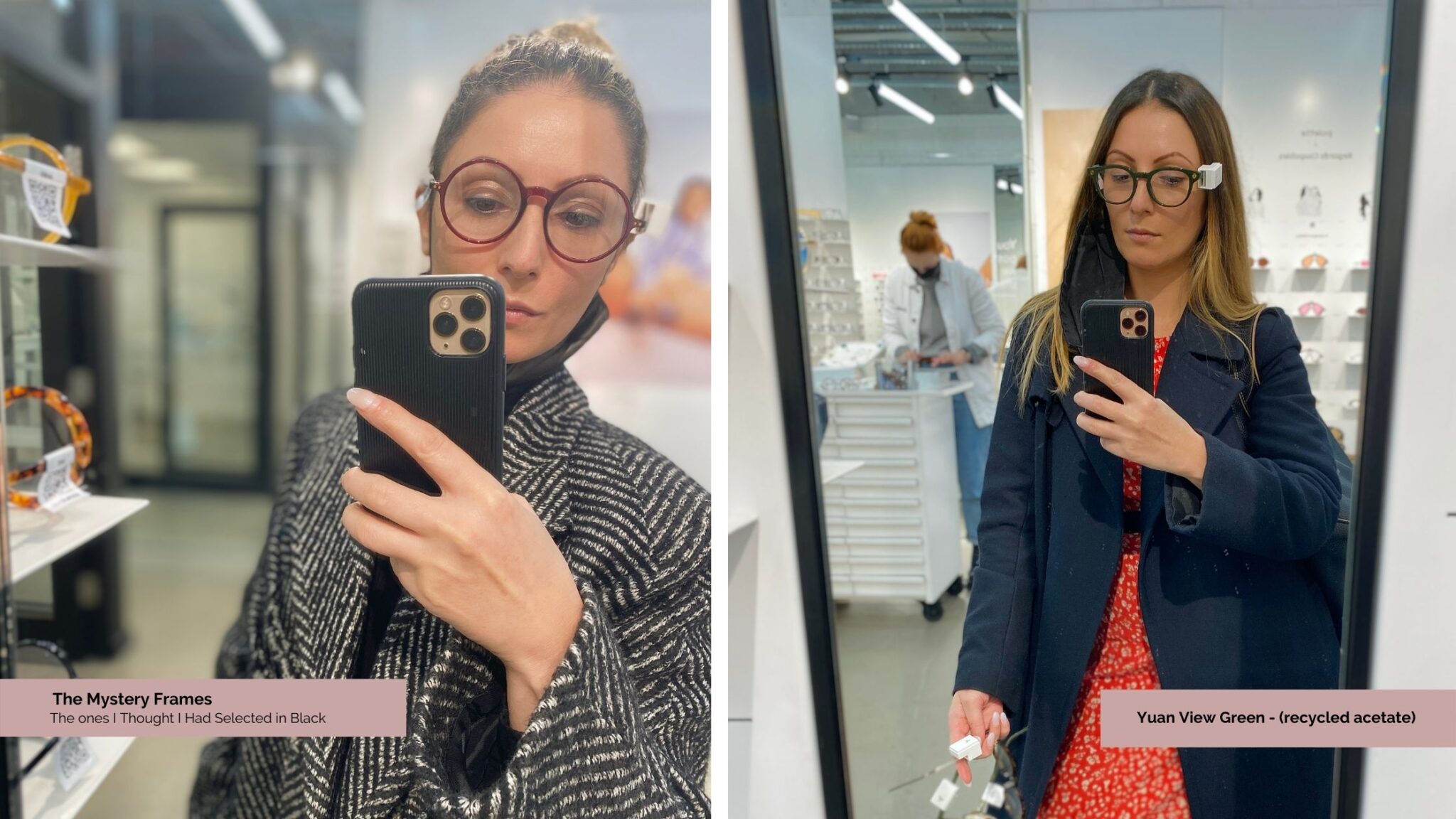 I tried on several different pairs as recommended by the team – the 2-pairs above I liked more than the other recommendations. I have a very sensitive face and I don't like the way many glasses rest on the bridge of the nose or press above or behind the ears… Just like Cinderella, I tried on many styles until I felt I had a few pairs that would 'go' with the variations of my own style personality, natural colourings, and colours in my wardrobe.
You need to Download the Polette app to complete your purchase – no sales are done in the showrooms. You can also try on glasses virtually too – but be warned the sizing of the frames can come up a little odd. It's best to try them on in-store and not risk the app unless you check your face measurements against the size of the frames (which is detailed in the app).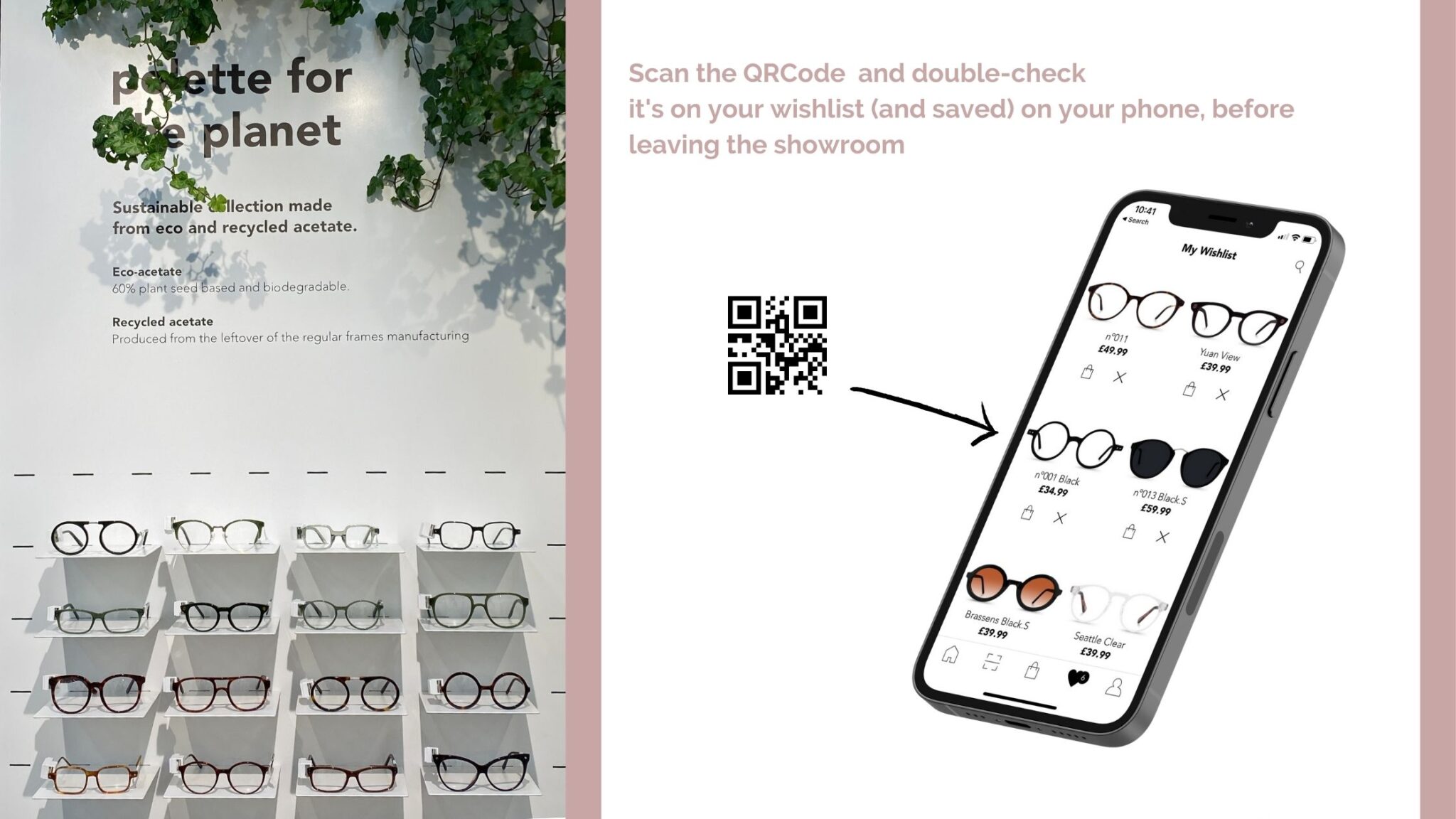 POLETTE EYEWEAR 'SUSTAINABLE' GLASSES & SUNGLASSES
Yuan View Black – (recycled acetate) £50

No.011 Tortoiseshell (eco-acetate) £60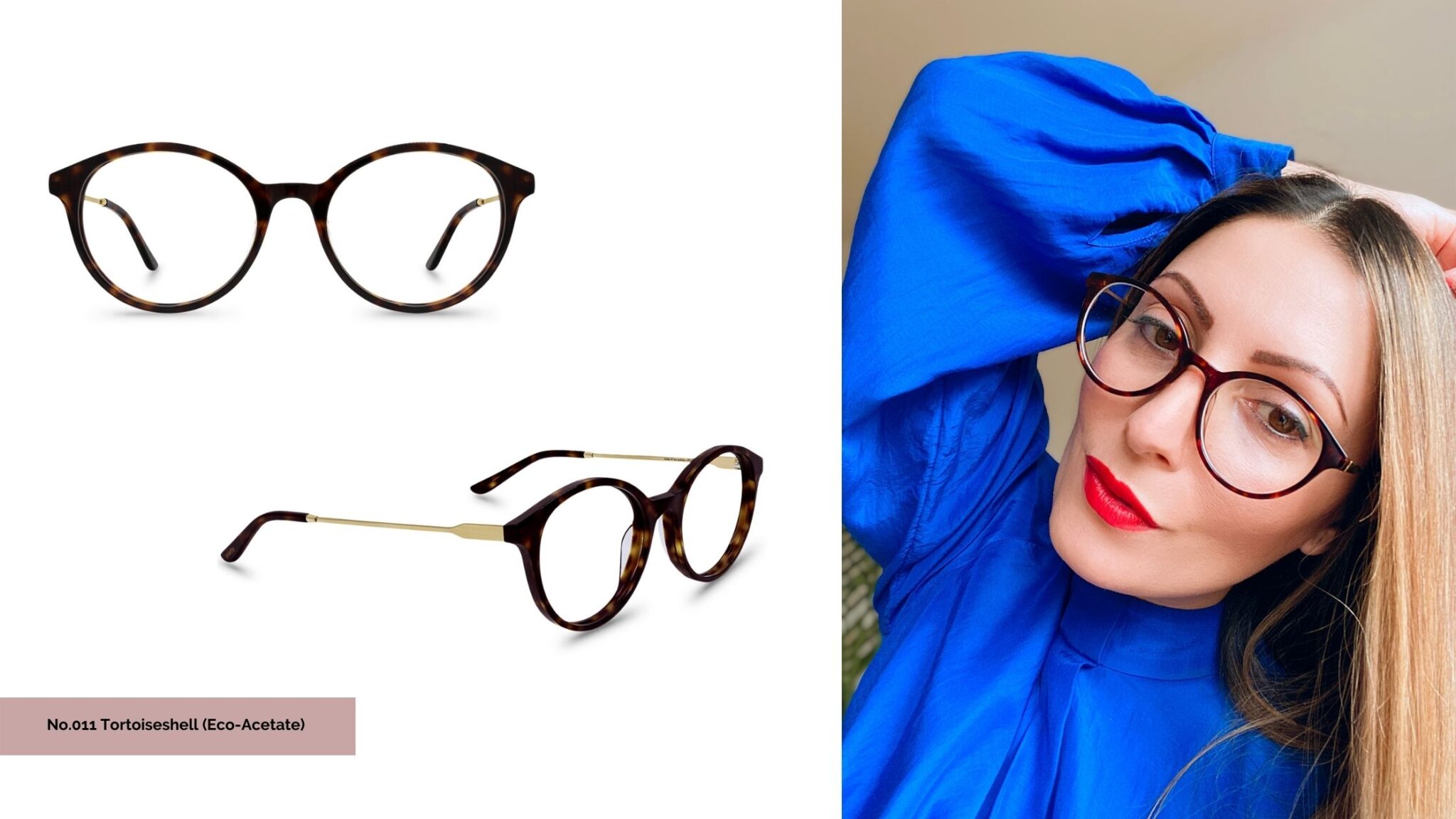 No.013 Black S £75 (currently out of stock)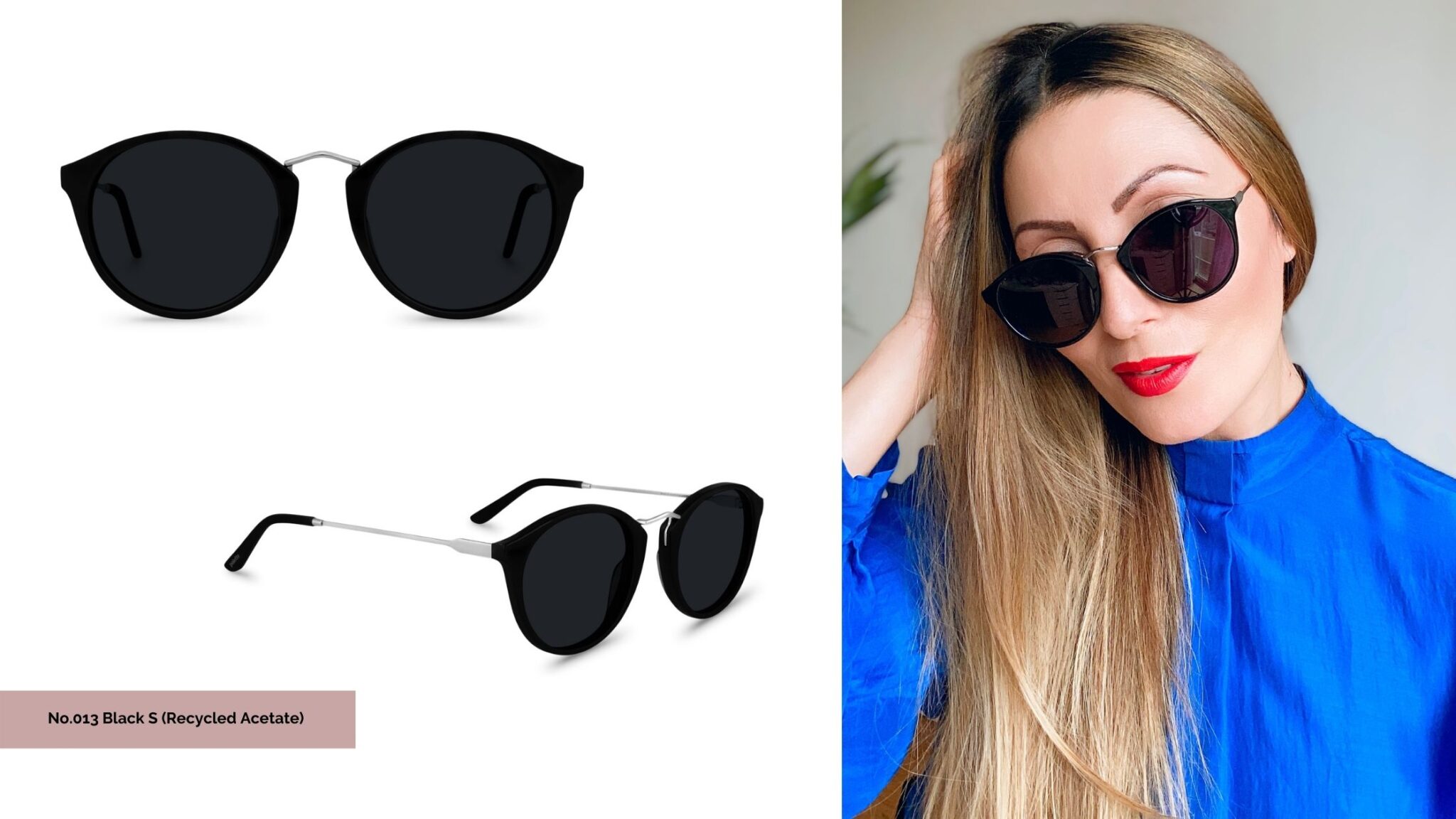 Seattle Clear £50 (eco-acetate)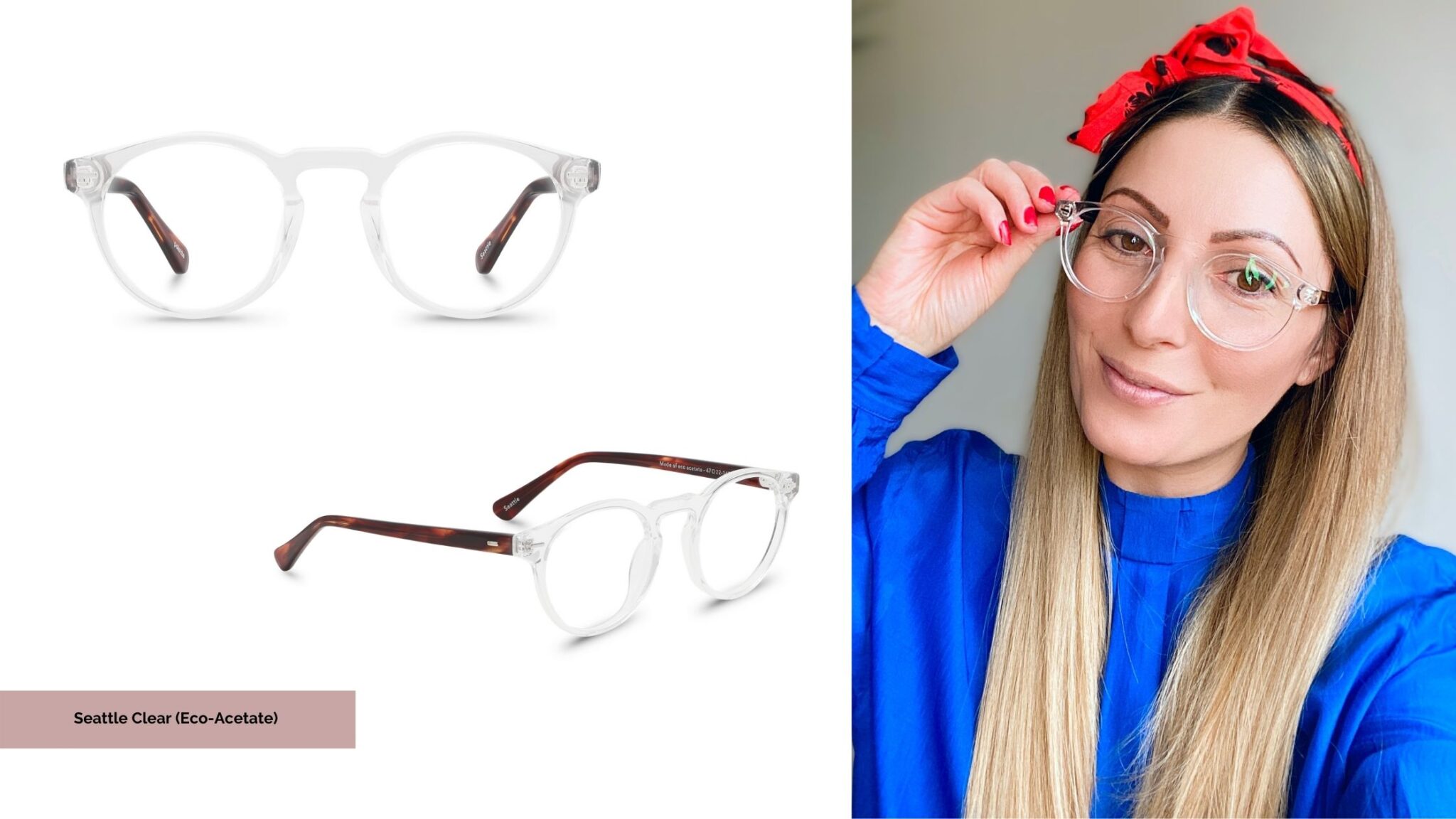 OOOPS…

I accidentally ordered 2-pairs of styles that were similar to what I tried on in-store – but actually very different in size to what I thought I was getting.

Here's how that happened: The styles I scanned in-store, somehow dropped off my favourites list on the app – and I had to try and guess the styles by scrolling the app. In hindsight, I should have called the Polette store and asked them if they remembered the styles I tried on and they could have helped me get the right ones.
*Brassens Black. S £35 (not made from eco-acetate)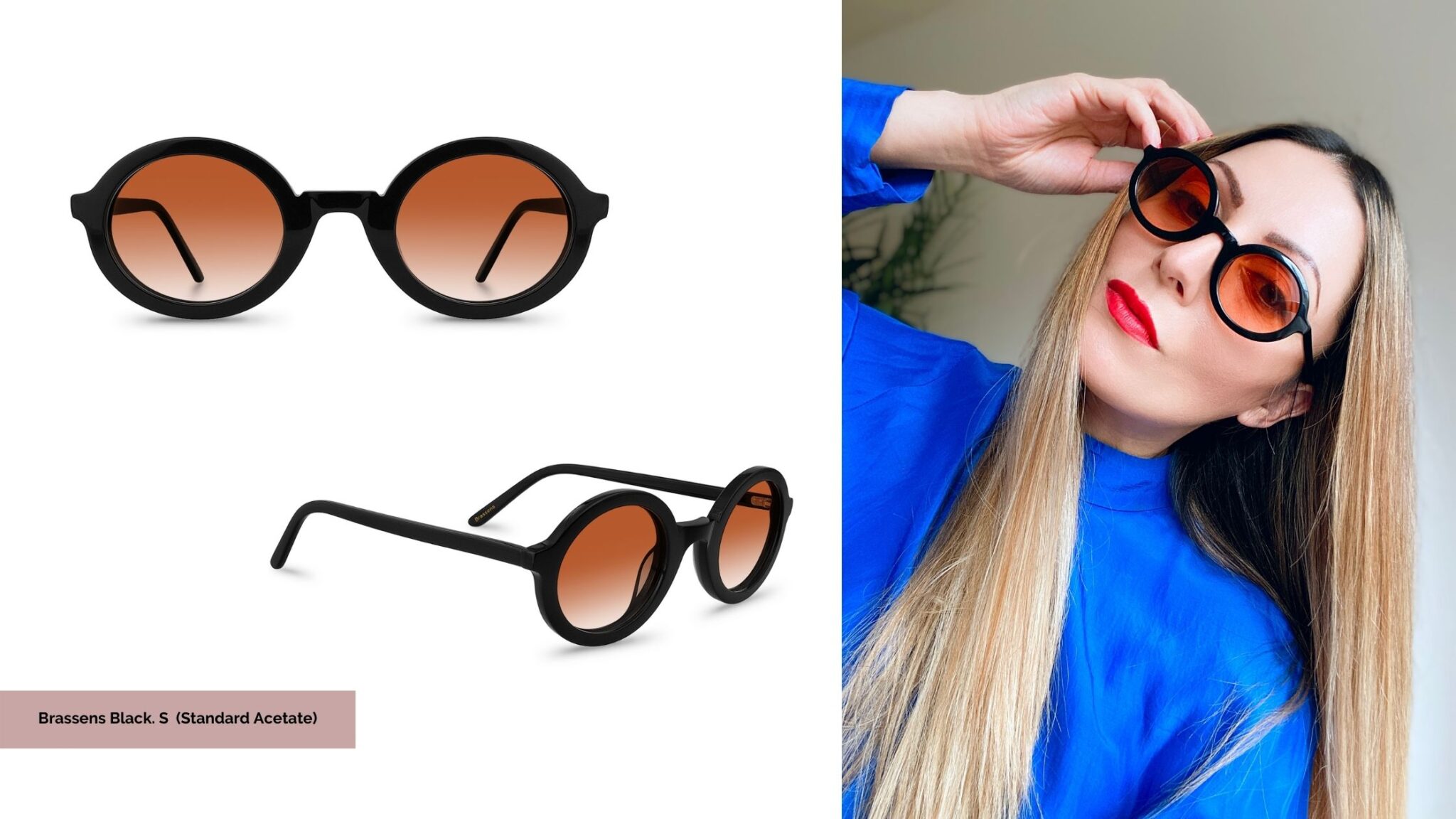 *No.001 Black £50 (recycled acetate) with dark lenses
THE PROCESS
The glasses all arrived around 2 and a half weeks after the order was placed online, they came packaged in 2-little boxes – all plastic-free.

The styles I selected were really quite safe but by accident, I ordered smaller frames instead of 'large' ones. I have to say it was a welcomed mistake and I like the 90's vibe of them. I LOVE when a mistake ends up being a pleasant surprise. The quality of the glasses and sunglasses all is pretty great – the only pair that requires adjusting is the Yuan View Black that arrived very wonky, 1 out of 6 pairs requiring adjustment isn't bad. I will take them into the showroom the next time I am nearby.
IS POLETTE EYEWEAR AN ETHICAL BRAND?
It's difficult to say if Polette is an ethical brand – as they do not have any information about who makes their glasses or the welfare of workers in their factories on their website. Upon agreeing to do a review of the brand I mailed their PR team and asked for the following information:


"Could you send me detailed information on how & where these glasses are made, the name of the factory & any suppliers involved, it would be great to know exactly who made them? I can create a very detailed review of the company ethics & sustainability of products alongside the ease of purchase & quality of glasses"
I was told that they were unable to share factory and detailed materials information – but I have since emailed again, and asked if they can update me on this, as an ethical supply chain (even if it is technically owned by the same company) is just as important to me as a sustainable product.
There are no Sustainable Development Goals and very little information on the welfare of their workers in China. I know they own the factories – and there are no intermediaries, but I still don't feel comfortable that I have enough information on that side of things. There's room for improvement on their website when it comes to their factory and how it's safe for its employees, workers' welfare. I would like to see a picture of a few of the people involved in creating the frames holding a sign saying #IMadeYourGlasses, that'd be pretty cool.
IS POLETTE EYEWEAR A SUSTAINABLE BRAND?

I wouldn't go as far to say that Polette is positioning itself as a sustainable brand, but they have made a big effort to discuss sustainability and its importance on their website. They do have a sustainable range (Eco-Acetate) which seems to keep growing in their design offerings. They also talk about recycled acetate a lot on their website too. In this video, they explain what Sustainability means to them:
How sustainable is Polette Eyewear?
Commitment to Sustainability: Polette have a statement about Polette for the planet which highlights the things they are doing to minimise their impact.
Showrooms: They are minimalist in the functionality and design, and they only stock 1 pair of glasses per design available (however they do have a lot of frames!)
Design: All of this takes place in Copenhagen
Product range: Extensive, so many styles to choose from and no signs of slowing down on design options either
Production: They have everything created in China and within a region the size of France and then ship direct to the consumer
Popular Materials: Acetate & Recycled Acetate Eco-Acetate (made from plant seeds, the eco-acetate glasses are bio based at 61%. Their eco-acetate frames contain less than 1% of Phthalate/DEP, which is harmful for your health)
Waste: Polette only produces frames made to order – so there is no overstock. They recycle the offcuts, scraps, defected and deformed acetates in order to produce new glasses. Polette suggest that its research proved that their eco-acetate collection is biodegradable at 60% after 150 days and the tests to improve are still ongoing *[from their website]
Circularity: Currently they are unable to recycle customers' old glasses – but it is on their roadmap.
Eco-Friendly Packaging: Mailed out in plastic free packaging, recycled cardboard boxes with the frames themselves in cases made from sugarcane pulp
Delivery Service: Royal Mail
There is a lack of detailed information regarding sustainability on their website. There is no mention of materials, in any detail at all, just one or two sentences – I know they use acetate and eco-acetate (is this the same as bio-acetate?) It's not clear how unsustainable acetate is, considering this covers the majority of their range. There are no Sustainable Development Goals laid out and very little information on how they operate sustainably in their buildings and factories – do they use renewable energy sources? Are all the materials & chemicals used to assemble the frames and lenses safe and disposed of safely after use? I have a lot of questions…
FINAL THOUGHTS ON POLETTE & THE SUSTAINABLE GLASSES RANGE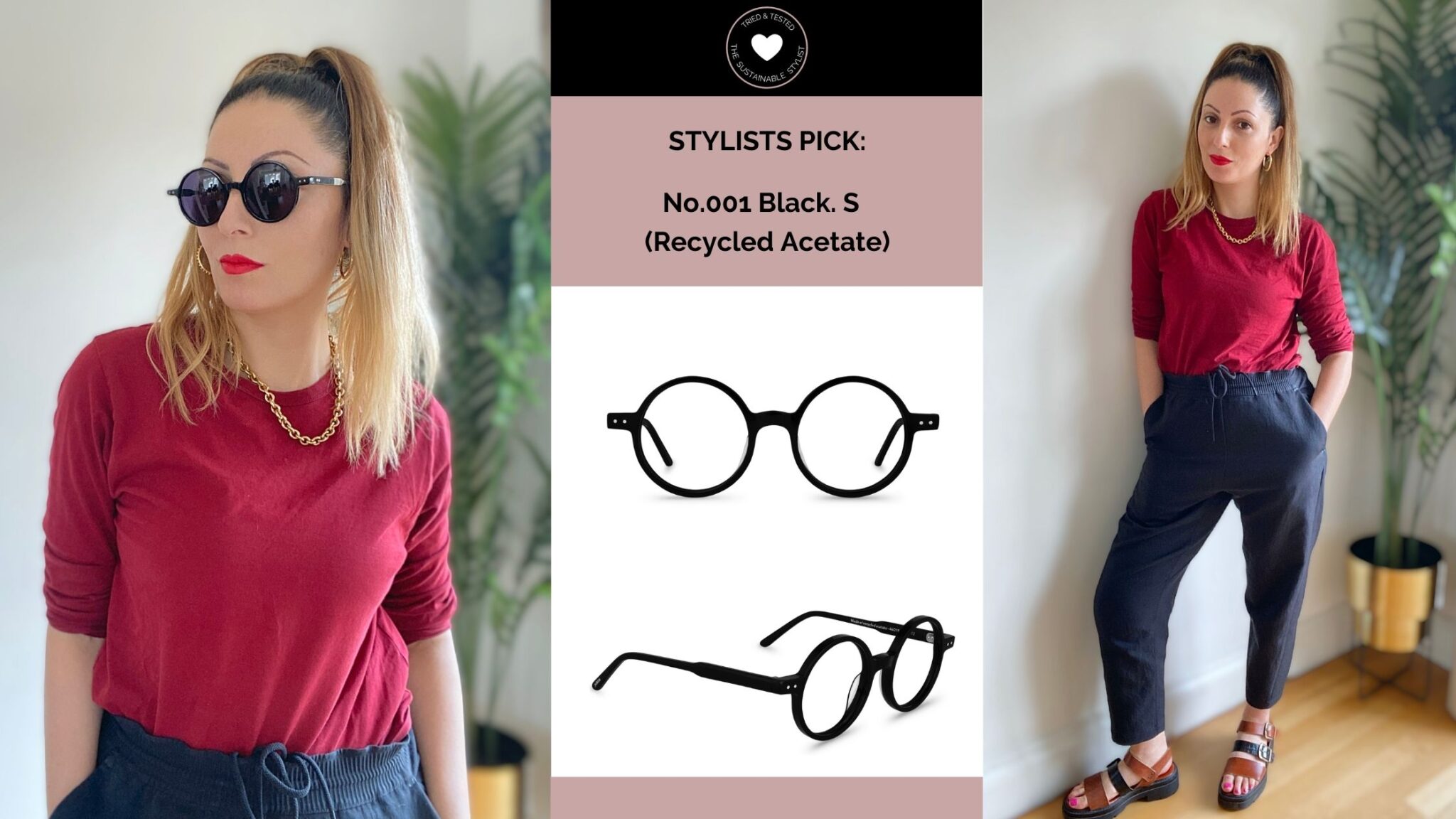 Overall, I have been impressed with the quality of the glasses – especially since I have in the past paid over £350 for frames and then lenses.  In terms of being accessible and super stylish, they tick a big YES box for me.
The showrooms are great
Staff are friendly
The service is efficient
The app is pretty cool
The eye tests are friendly (and free)
They have many designs and options to try on in the showrooms
It's easy to customise frames suit your own taste
Packaging is eco-friendly
it really has been a great experience, I cannot knock them for that. I think their commitment to Sustainability feels good at a surface level for a brand you can shop from on the high street, but if I'm honest I would like to see way more detail and transparency on their website, there's room for improvement on how they communicate about their company ethics, their sustainability and safety in their factories, materials used could be elaborated on, information on their worker's welfare would be great, and much clearer sustainability targets with deadlines would really be a great step forward.
I am excited to see the 'glasses take back scheme' launch. I'm keen to know just 'how soon' it will be until their entire range of glasses will be made from eco-acetate.
I hope you enjoyed reading my honest review – don't forget to check out the location of Polette on the Sustainable Shopping Map in London
Roberta x