Tune into episode 23 on the Roberta Style Lee podcast with Ava J Holmes, the co-founder of Fashion for Conservation and all round super inspirational force of nature. Ava believes in bridging the gap between the industries of conservation and she believes that fashion is key to human survival.
In today's episode Ava shares her personal story, from life as a child growing up in the jungle, to finding her way into the world of fashion in New York, finding veganism and more recently her focus on conservation.
Pop your headphones on and take some time out, discover what what keeps Ava happy, healthy, confident and sane – plus she'll share her top 3 tips for women who want to feel more empowered, find more confidence in themselves and/or create a positive changes in their life or the lives of others.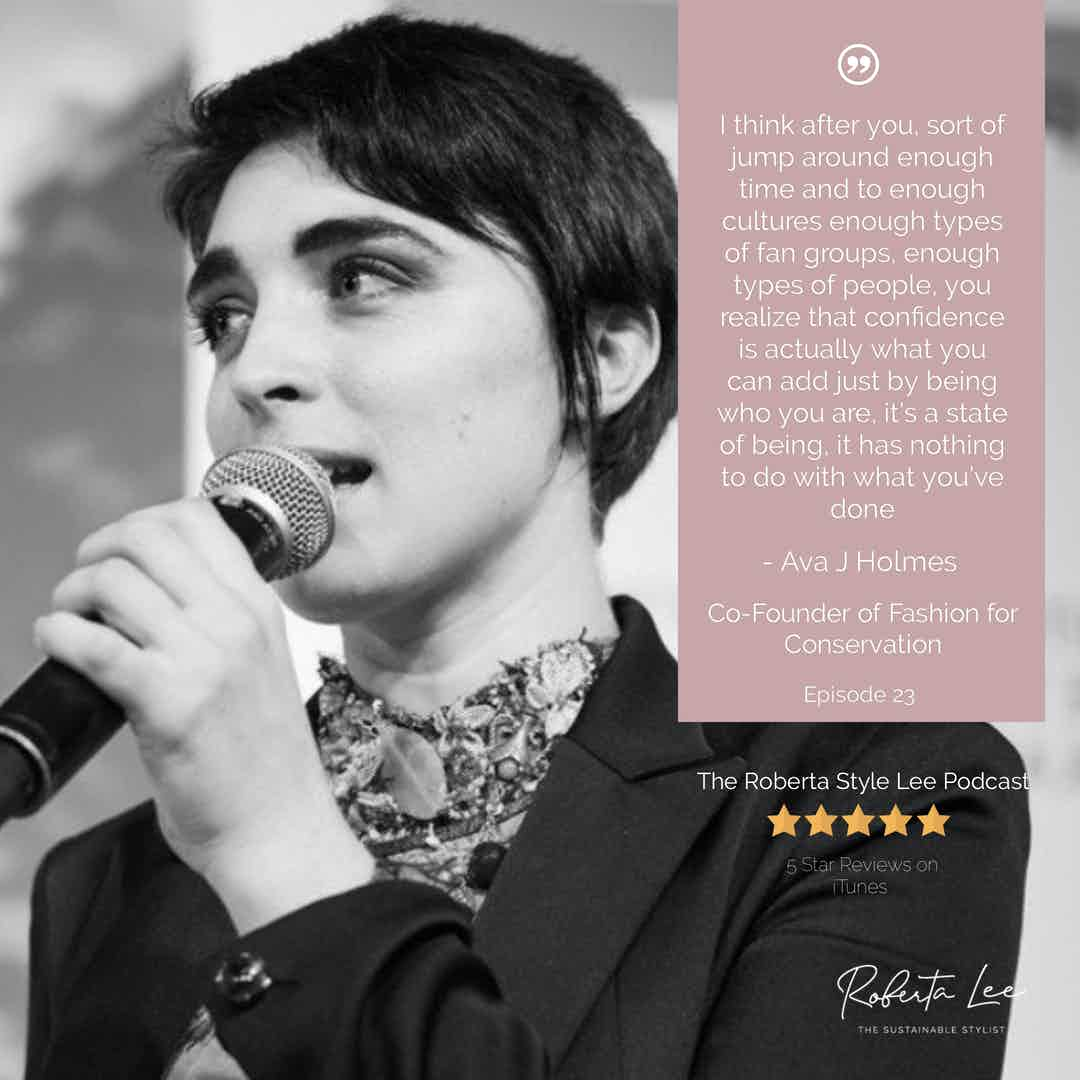 "The time to invest in the conservation of our shared home here on earth—through our collective talent and individual consumer choice (buying from brands that also invest in conservation and sustainability)—is now. The urgency of conserving the earth today goes beyond cultural and wildlife preservation. Its basic human survival." – Ava Jordan Holmes, Fashion for Conservation Co-Founder
What did you think?
If you loved this podcast, please let us known by leaving a comment (on the blog). What did you love about it and why? We'd be really interested to hear your views.
Please Support The Show
You can listen to the podcast series on iTunes, Soundcloud and Youtube for FREE. You can also subscribe to each channel easily and be alerted to new releases when they become available. Please don't forget to leave us your comments, rate and review us in the iTunes store.
The Roberta Style Lee Podcast
Interested in being a guest on the series? Drop us a line via the contact me option on the website. For more information on the Podcast head over to: www.robertastylelee.co.uk/podcast
About Roberta Style Lee
Roberta Style Lee is a lifestyle brand designed to make a social impact – it's about inspiring confidence and empowering women to be the best version of themselves and doing it in a responsible way, from the inside out. Roberta Lee the founder, is a confidence coach, a stylist and the host of the Roberta Style Lee Podcast. Roberta Lee is also the founder of the Ethical Brand Directory
Head over to the website robertastylelee.co.uk for general information relating to confidence coaching and sustainable personal styling.