In this post I share some tips for a stylish and warm winter wardrobe, that won't cost the earth. Winter is definitely here… but that doesn't mean you have to look like a giant yeti or commit to being frumpy to stay practical and warm.
Many people get into a functional Vs style conflict when it comes to the colder weather, ice and snow both cause functional outfit nightmares… but do you need to compromise on your style or can you have both?

I've often asked myself if I can forgo my style and commit to a giant puffer coat and just accept I must look like a sleeping bag in order to stay warm. And then I remind myself – this is the fun bit, mastering the art of staying stylish in winter…its all about those layers…
Here are my top 10 tips to ensure you stay stylish and warm this winter:
Tip 1. Focus on your feet
Get ready for the icy pavements and cold toes!

Take a look at your existing footwear collection and see which ones can be given a winter makeover. Many cobblers now offer grippy non-slippery soles for our shoes which can extend the life of your existing collection.
Don't forget to protect your shoes with suitable weatherproofing sprays. I'm not sure how many 'ethical' or 'natural ones' there are out there mind you as I haven't needed to buy any new leather or suede protector spray yet, but when I do I will update this blog!

If you are deciding to invest in new boots for the winter – leave enough room to be able to wear a nice pair of thick thermal socks layered over tights. When it gets bitterly cold, you'll be glad you remembered this, especially if you're opting for wellies!
Check out these cute heeled vegan-friendly ankle welly boots by Noah available in 5-different colourways!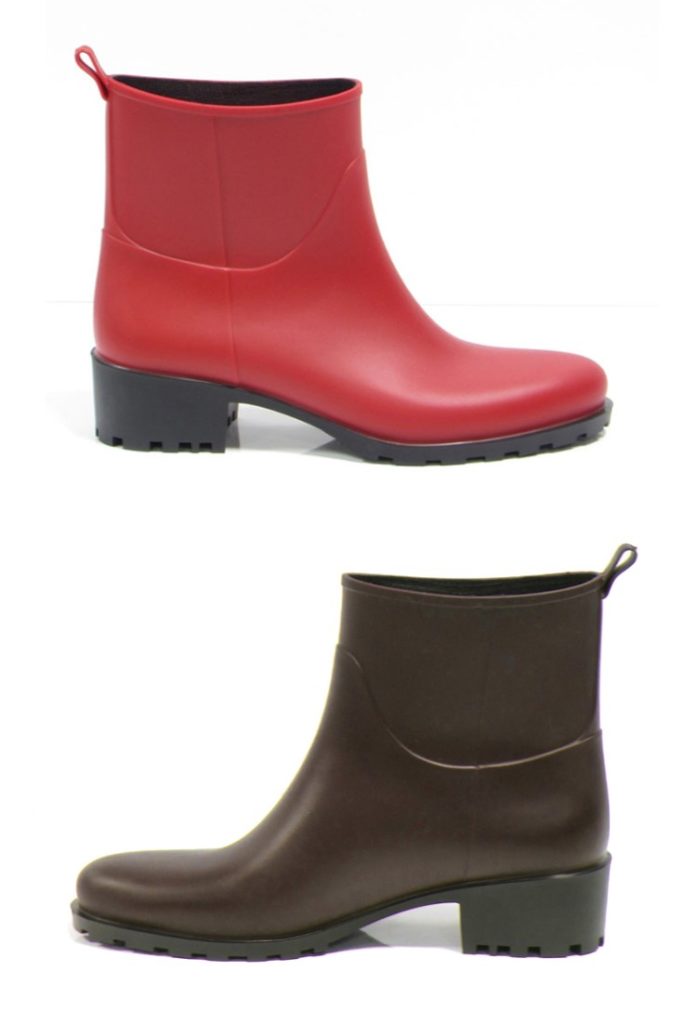 Tip 2. Get close to the skin
What you wear underneath matters. Opt for really thin lightweight breathable thermal underwear – having this invisible layer at the foundation is going to reduce the 'bulk' associated with winter style.

I love ultra-thin thermal vests, micro shorts, and socks. These are an essential part of my winter wardrobe, without these pieces, I would have to stop wearing a huge proportion of my existing wardrobe. I like to opt for super thin thermal socks to layer under my tights. Finding ethically sourced versions of the ones I have had for years, hasn't been easy – so I would just recommend looking for thin base layers in cotton and thin merino wool.

Tip 3. Tights ahoy!
Oh the joy of 100% denier and wool tights! Every woman who hates her legs rejoices at the flattering effect tights have on the old pins. Shorts, skirts and dresses can remain solid wardrobe staples with the addition of the right hosiery. There are so many options, patterns, prints bold colours or the classic black. A good selection of tights is always a must.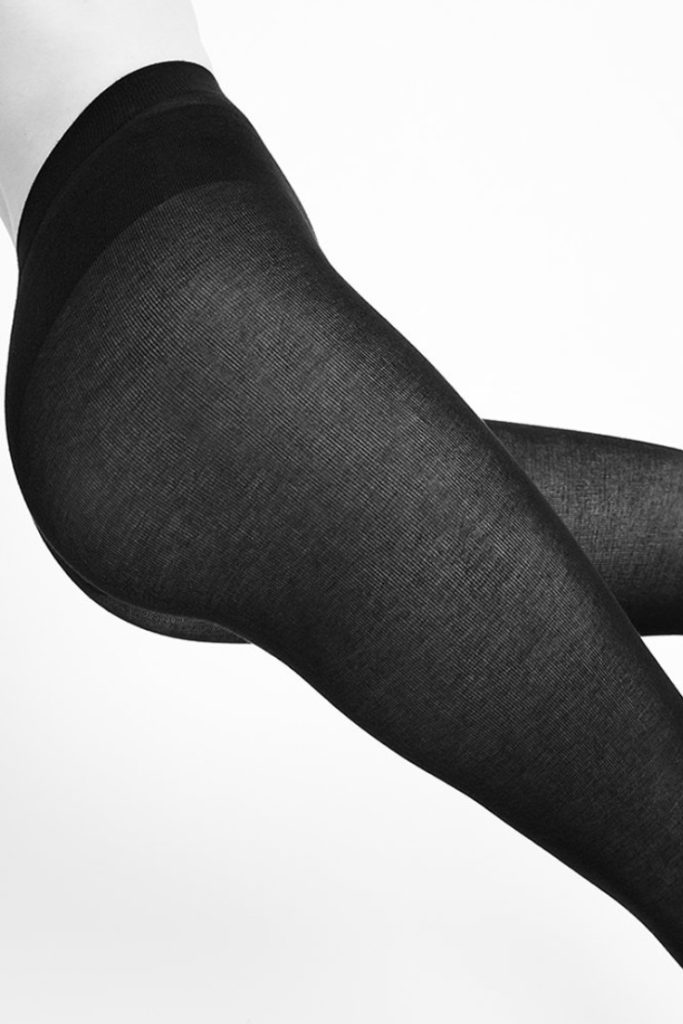 I have done my research and Swedish Stockings are my new go-to for tights, once I have worn out my existing pairs. If you didn't know this, tights are a terrible waste, the entire hosiery industry is outdated and a major source of pollution and Swedish Stockings are on a mission to clean up the industry. Send in 3 pairs of your ruined tights to their recycling club and they give you 10% off your purchase with them.

The ones featured in this post are made from 10% cashmere and will be sure to keep your legs warm. These are on my list to try!


Tip 4. Don't say bye to all your summer clothes
Before packing away that floral summer dress… take a moment to see if it can be layered with a turtleneck and tights. Darker background floral prints tend to transition into a winter wardrobe easier (due to the fact they team up well with black tights) – the pops of colors from flowers keep your style looking fresh.

Tip 5. Love layers
This is my favourite part of winter styling – it's ALL about the layers. Layering is an art and many women try and layer with chunky knits and bulky fabrics. This is a big no-no. This is why some of your light, thin summer clothes lend themselves to winter, they are perfect for layering.

If you layer light, you can wear a thin knit roll neck jumper in cashmere, underneath a dress and you'll be able to keep the warmth in without looking like you've put on a stone.
I have several silk dresses that are perfect for layers underneath, which go well with tights and knee-high boots – finished with a smart blazer – its professional yet chic, and super warm!
This is what I use to layer up for extra cold days

1. Thin thermal vest
2. Black long-sleeved bodysuit
3. Cashmere jumper
4. A light silk dress layered on top
5. Thermal tights
6. Thin thermal socks
7. Knee-high boots
8. Smart black double-breasted blazer

I love my long sleeve black cotton bodysuit from The White T-Shirt Company – which you can get 15% off with by using code: ETHICAL15
Tip 6. Jazz up your existing jumpers
Finding a well-fitted jumper that compliments your proportions is so much more important than the cute design work or embellishment – which is what most people buy into. Jumpers are so easy to jazz up with removable pin-on Christmas designs, meaning your classic jumper can be used time and time again, whereas your jumper with elves and bells doesn't have the same versatility.
Knitwear is ideal for customising, simple embellishments can be stitched on by practically anyone – you don't need to be an expert at sewing. Finding embellishments and making bobbles is super fun and a great thing to do with your kids at the weekend as well.
Tip 7. Belt it up
Belts really come into their own in winter, ill-fitting jumpers can be transformed. Coats can look totally different with a quick belt switch up and… and most importantly layering… using a belt will add some structure and make you look like less of a coat rack.
Because I am petite and curvy, belts are an absolute must, otherwise, my small frame can become lost in winter layers.
Tip 8. Enjoy wraps, scarves and bobble hats
The most fun part of winter styling is wraps, scarves, and hats! These are pretty much the cherry on the cake part of your outfit. You can get away with wearing pretty much the same 5-outfits throughout the winter without anyone really noticing because it's all about those outer layers. Inject some colour to your outfits by wearing fun, bright accessories. Opt for natural materials like wool and cashmere to keep you super toasty and warm.

If you find shopping for wool or cashmere a bit of an ethical conundrum like me, buy recycled versions or try shopping for pre-loved instead.
Try Organic Basics or Vestaire Collective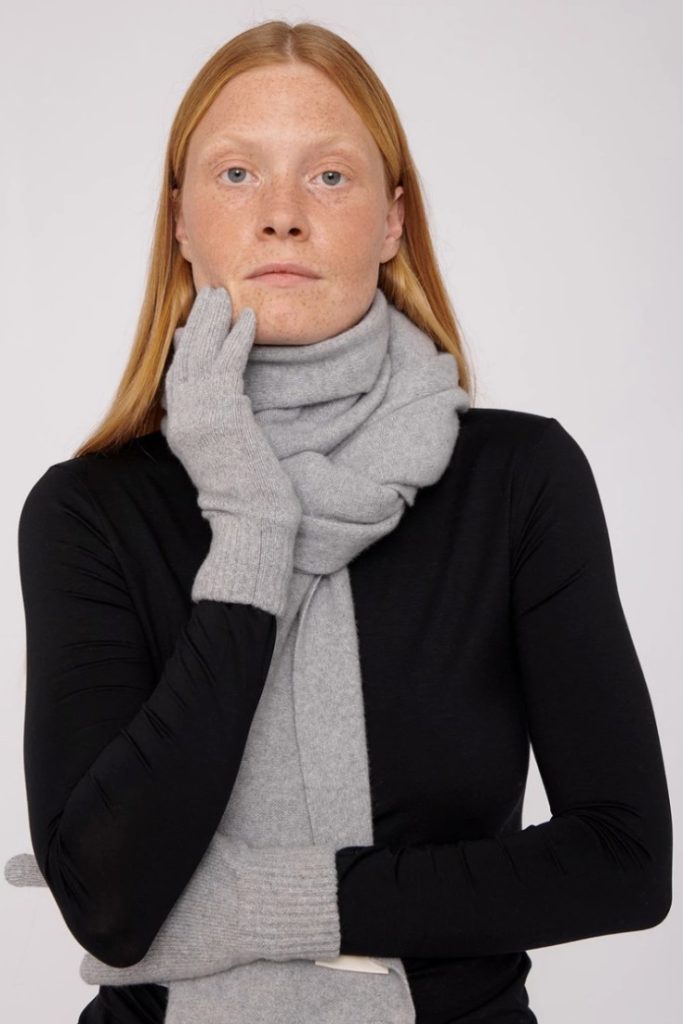 Tip 9. Invest in a decent winter coat or two
Coats, as I have alluded to are essential for the winter months and its easy to get bored with the same one. Personally, I have shifted away from wearing just the one coat (as I used to do in previous years) and I have invested in some nice bright pops of colour – and found some wool blend coats (pre-loved) which I have had modified for a perfect with by the tailor.

Now, these coats have been selected to be worn as part of the layering process – I have my black roll neck jumpers and black layers to wear underneath, it was all thought out in advance, so I didn't end up with coats I would never wear taking up valuable storage space.
I still recommend everyone has a basic black, navy or grey coat as a foundation piece for a sustainable wardrobe. The one below is sold by mi apparel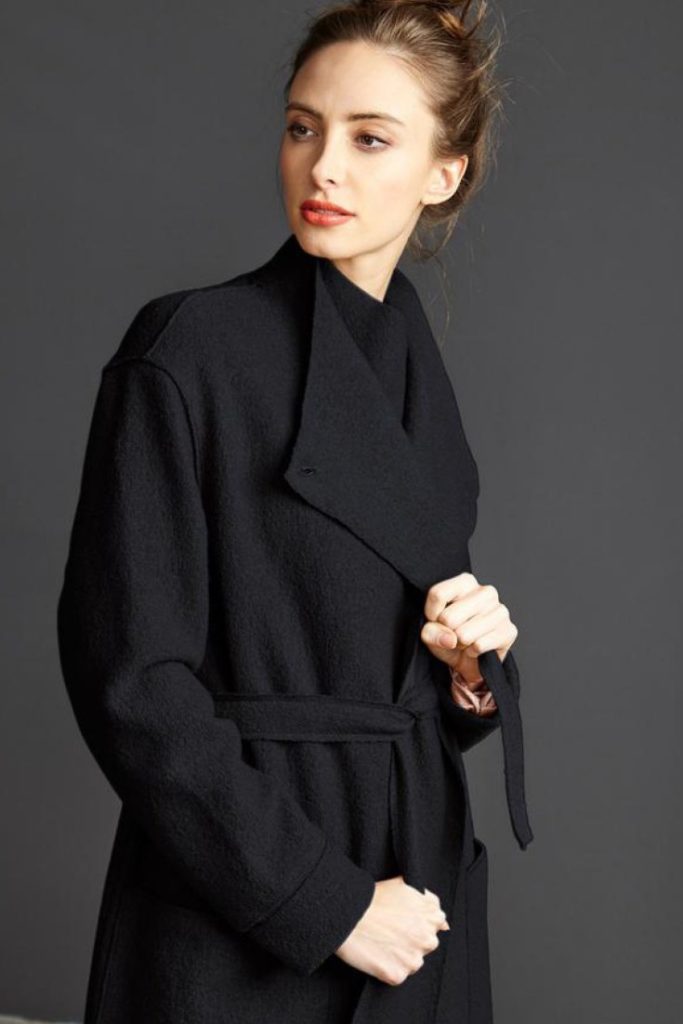 Tip 10. Ditch the ripped jeans – and go for velvet instead
As much as I love my skinny ripped jeans for my casual outfit combos – having skin exposed at minus 5 degrees isn't a good idea. It's getting colder here in the UK and our mild winters are a thing of the past. I would suggest layering up with tights underneath or even leggings if you must wear them.

I recommend focusing on cosier fabrics in the winter like velvet which can only really be worn during the festive season. Wearing high waisted flares in velvet is a look that can only really be pulled off in the midst of the winter. Velvet phases out as soon as spring arrives – so make the most of the plush materials on offer and save the skinny jeans for spring and summer.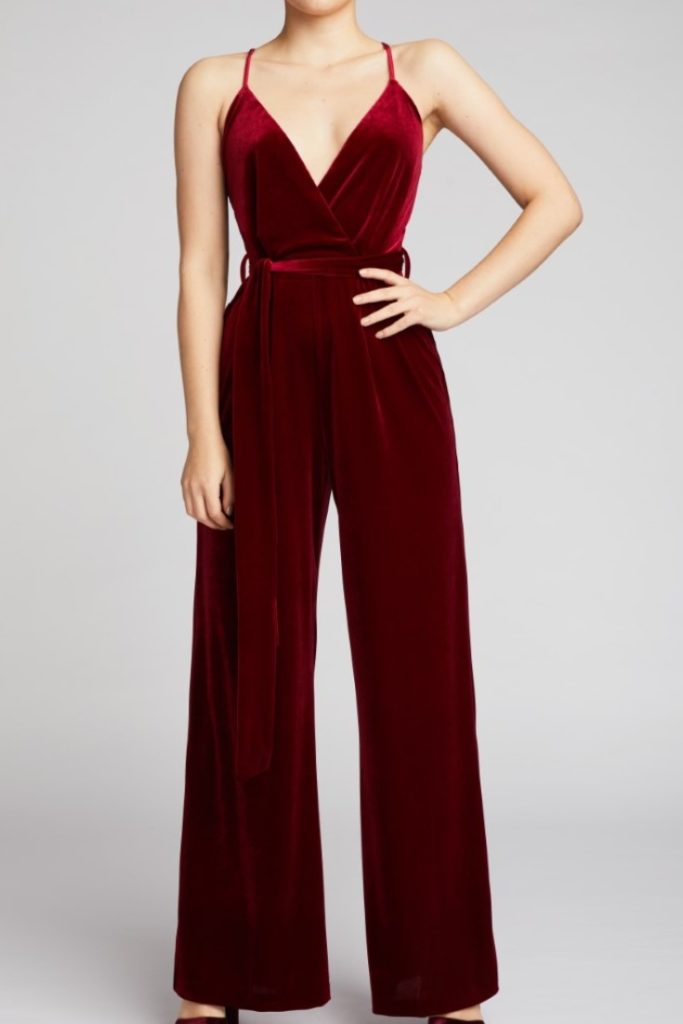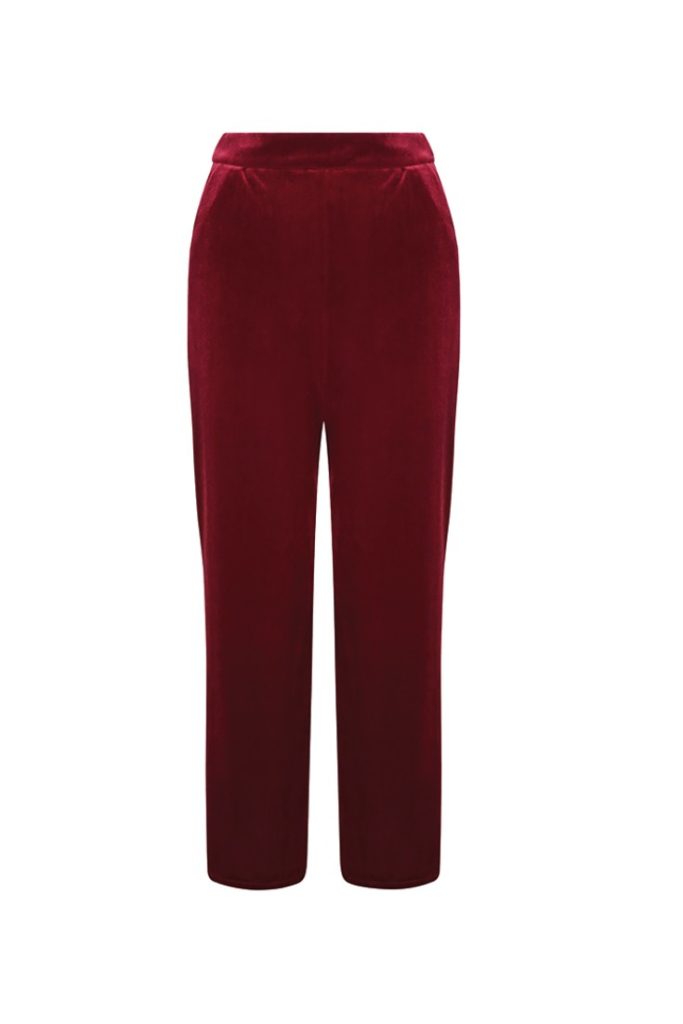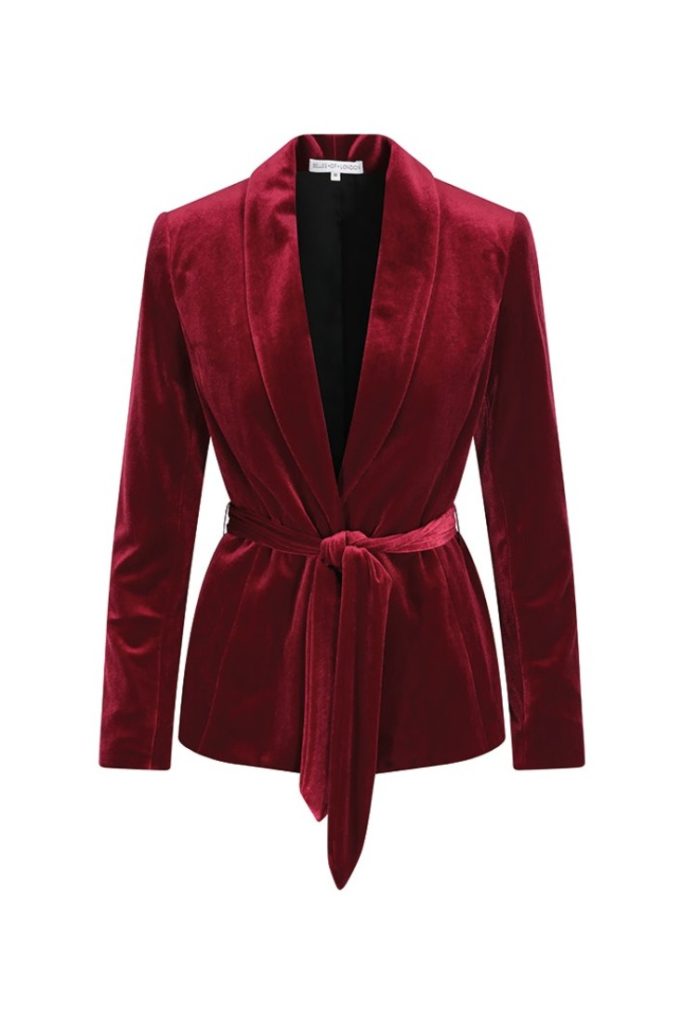 Shop the Belles of London range here:https://www.bellesoflondon.com/shop