Organisation goes a long way if you want to travel light and look good every day on your holiday. The idea is to pack less and wear more. These 10 holiday packing tips that will make filling your case a doddle. By packing smart you can enjoy 'stress free' holiday styling during your travels. Seriously, less stuff equals less stress!! Basic tips such as
Pack a bar of soap instead of buying a miniature shower gel

Refill existing plastic bottles you have at home, instead of buying new ones

Pack some snacks such as fruit and nuts in reusable collapsible containers to avoid buying single use plastics at the airport

Carry a reusable aluminium bottle and use drinking water fountains where you can
Are great – but what if traveling in 'style' is your thing and you 'need the stuff' to look good too? Well, it's an important balance of having just enough of the right stuff and not too many unnecessary things that waste space in your case.
The last thing you want to do is underpack and take minimalism to the extreme – because that creates the temptation to shop for things you don't really need. After so many badly packed cases over the years and the increased use of budget airlines like RyanAir, I've had to master the art of packing for long trips with one carry on case. So without further ado, here are my top 10 tips for packing for your next holiday..
Packing Tip 1 – Write down out every activity you intend to do

Make a note of everything you plan to do whilst away – and this will encourage you to think what special items you need for each activity. It may even help you prioritise what activities you can get done, given the time and space you have to pack things in your case. For example, for a city break to New York I would need to pack for typical activities such as:
Afternoon sightseeing in the city

Dinner / cocktails outfit

Poolside relaxation
And let's face it, these days we're never off the clock when it comes to filming or taking snaps for social media. So packing a tripod and lapel mic is a must for me.
Packing Tip 2 – Make lists

Make a list of everything you think you'll want to take before you pack so you can easily see what you have to organise (and possible substitutes). Double check the weather forecast for your destination before you make your lists.
Daytime clothes & footwear

Evening clothes & footwear

Poolside clothes

Sleepwear

Toiletries

Make-up

Tech bits

Work/Filming outfit
Once you see how much is on each list, you'll be able to make those edits before pulling everything out of the wardrobe and draws! It's much easier to edit your packing on paper. Plus once you do this exercise, you'll have a list you can quickly refer back to time and time again, so save yourself even more time in the future too.
Once you see how much is on each list, you'll be able to make those edits before pulling everything out of the wardrobe and draws! It's much easier to edit your packing on paper.
Tip 3 – Plan ahead, discover & share

Check with your travel companions (if you're travelling alone – or check with your host/hotel what's available for you at the other end) what they are taking/or have and see what you can share/use there.

If travelling with girlfriends check what accessories you are all taking and suggest you borrow one another's to make outfits look a bit more diverse. For example the black trousers you travelled in, could look get a few more looks out of them with your friends blue striped top and her long gold necklace.
When I travel with my partner, we share our toiletries, sunscreen etc. When I visit hotels or stay with my girlfriends I always ask if they have hairdryers, straighteners or hair serum I can use – things I may need to use sparingly in the humidity – but don't really want to pack. Knowing what's available to you, borrowing and sharing amongst your travel companions is a great way to lighten the load.
Packing Tip 4 – Get colour coordinated
It's so easy to want to be boho by the pool, but also look super city slick for those city nights out and urban cool by day…. but smart travel packers don't attempt to do too many diverse looks. To make holiday packing easy peasy – focus on one style and a three/four set of colour combinations. For my recent trip, I opted for red, white, black & blue – with a few different sets of jewellery, one red lip colour and red nail polish.
The outfit ensemble above is an example of how I colour coordinate and try and focus on one particular style. Start with 3-main colours and then go for an accent colour. In this example the accent is red.
Packing Tip 5 – Lay your clothes out – apply the rule of 5

Spend a little time laying everything out on the bed, that's right I'm going all Marie Kondo on you… see it and then you'll be sure that you have enough options per piece packed – and that the colours match up well.
Want to be super certain? If you have time I do recommend quickly trying everything on and make sure it all works. Take into account any weather conditions that may make it hot or cold (again, always check the weather forecast) – and think about the materials you are packing are they light and breezy or thick and warm. Once you've got the balance of materials right, you should have a collection that will work for the heat and cooler days too.
For example, the 12 pieces shown in tip 5 all work together and create 15-outfit combinations and can accomodate for a light and breezy day, a muggy one or even a day with a chill.
Try to apply the rule of 5
Ask yourself "can I wear it 5-ways?" "does it go with at least 5 things I've packed?" If it's not used for at least 3-outfits it's likely to be 'dead weight'.
You have to pack smart if you want to look good without bringing your entire wardrobe. It takes time to master it – but once you do, travelling light and looking good doesn't need to be a compromise.
Normally, I would go for a maximum of:
5 bottoms (skirt, trousers, shorts)

5 tops (short sleeve, long sleeve, vest tops, layering top)

1-2 dresses (dress it up or down dinner / cocktails outfit)

2 mix and match bikinis (2 bikinis = 4 different combinations!)
Packing Tip 6 – Focus on your feet!
Don't take your entire shoe collection. Limit yourself to three pairs of shoes, ok – maybe four – making sure that each pair you pack works with all of your outfits.
Ideally:
Beach / daytime sandals (flats)

Evening shoes (heels or fancy flats)

Trainers (perfect for holiday strolling)
Never pack shoes you've not broken in, and remember to account for foot swelling post flight. Pack your flights socks and remember to pack plenty of plasters.
Do pack your shoes first, put them at the edges of your case. Fill your shoes with smaller pieces of clothes that roll up easily, underwear and encase gadgets or jewellery to protect them. Make sure the soles of your shoes are clean before you pack. Put in shoe bags if you have them. Wear the chunkiest of pair of your shoes to the airport and switch into your flats as soon as your case has been accepted onto the flight. I normally carry mine in the top part of my handbag.
Packing Tip 7 – Make shapes and distribute the weight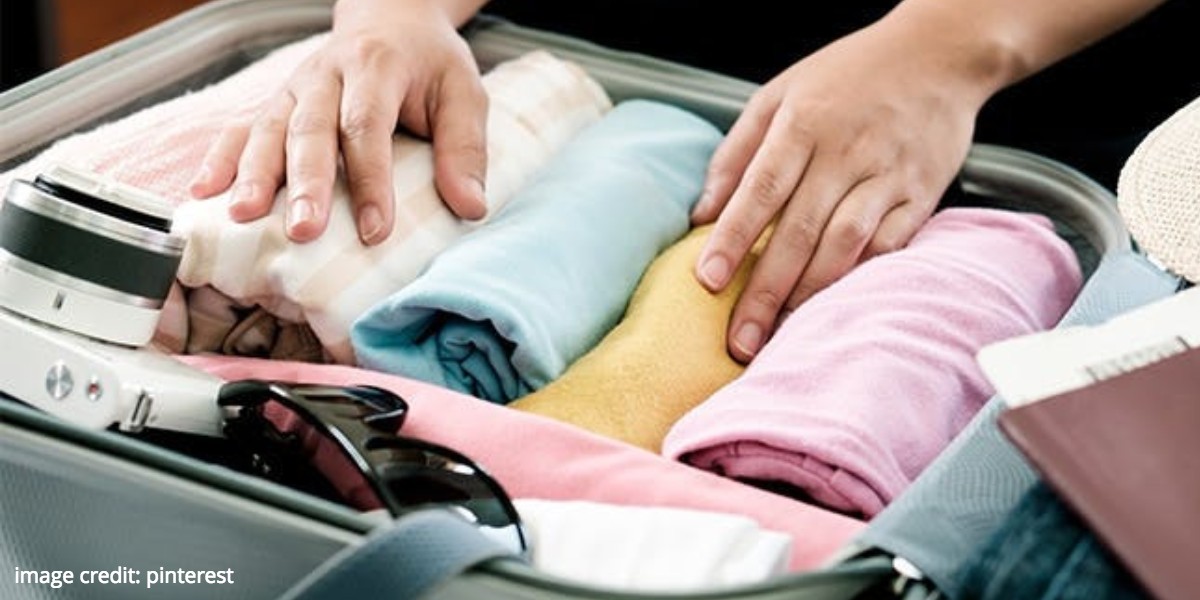 Pack your heaviest, bulkiest items at the bottom of your suitcase. When the weight is more evenly distributed, it's easier to carry, roll and lift into the overhead compartments. Just be warned rolling your clothes means you can squeeze in more items and you may be tempted to go over the allocated hand-luggage allowance which is usually just 10KG!
Don't forget to pack extra thin eco bags you can use these to help separate your clothes and shoes from all the other items in your luggage. I like to roll my clothes and then pop in a eco-bag so if I need to grab something easily I know exactly where it is and it won't disrupt my entire case. I'm then totally prepared for any shopping trips I may need to make at the airport or on holiday and can avoid consuming extra single-use plastic. You can fit so much more in your case and avoid creases by rolling up your items instead of folding flat. Keep a eco-bag packed rolled up near the top of your hand luggage, with your toiletries toothbrush & sleeping gear if you are travelling overnight or expecting to arrive late to your destination.
Packing Tip 8 – Minimise the toiletries

For any trip you'll always need the basics:
Soap

Toothbrush and paste

Shampoo & conditioner

Moisturiser / SPF

Deodorant / Body spray or perfume

Any medicine you take or anticipate you'll need
Use your testers and travel size products instead of taking full sized ones. Overloading on toiletries is a common faux pas by many last minute packers; it weighs down your case and increases the risk of a suitcase accident and means you'll have less space for those all important things you really need. Another great tip is to tape up your bottle lids to avoid any spills whilst in transit.
Packing Tip 9 – Carry on an extra outfit, wear what you can't pack

Select a large tote style handbag that you can use on your holiday and not just as a bag for the airport.
Always carry at least one light outfit / change of clothes in your hand bag if you're checking in a case. You just never know how long you may be separated from your it during arrivals and transfers (and worst case scenario it gets lost).
Wear/carry a jacket with plenty of pockets and try to wear the bulkiest items, such as jumpers to the airport to save on precious suitcase space. You can board the plane with a couple layers draped over your arm – no questions asked. Then you can stuff these into a tote bag and store in the overhead or underseat space.
In case of missing luggage – think ahead to the day you arrive (and the following day) and make sure you consider what you need, then wear those items to the airport or pack as your backup outfit in hand luggage .
Packing Tip 10 – Carry all important information in your handbag

Make sure you utilise the space in your the carry on bag and your handbag if you're allowed to take onboard 2 pieces. This is why a decent size handbag is essential and well worth the investment. Just make sure it has a zip so you can fully fasten it up. The next tip I have for you is to get everything that is precious to you or important packed into your handbag. This includes:
Notes for the trip,

Flight details,

Your passport,

Important phone numbers etc

A fully charged battery pack

A USB phone charger

And travel adapter in my handbag too.
I always email myself a list all the important information, a copy of my passport, flight details, a quick scan of my bank cards- it may seem a bit OTT but I always think it's better to be super organised and prepared so you can tackle any challenges that are thrown at you, without it ruining your holiday.
---
BONUS PACKING TIPS
Some readers got back to me and added some extra tips:
If you have an outfit and you don't want it to crease in a suitcase and you aren't sure whether you'll be able to iron it, put it in a plastic bags you get at dry cleaner's. It also applies to men's shirts 🙂 Try it! (Tereza)

Check out Encircled — they're a sustainable clothing company in Canada focused specifically on travel smart clothes. (Sarah Jean)

I always have 2 two lists prepared – one for business travel and one for personal travel, because work trips can require considerably different bits (Adrian)
---
If you've got one or two more useful tips to share let me know by adding them in the comments. As always if you ever need any help with your styling, online or in-person (London) please do get in touch.
Roberta x