Tune into episode 25 on the Roberta Style Lee podcast with Sian Conway founder of Ethical Hour an online network, dedicated to empowering people to live and work more ethically.
In this episode Sian shares her passion for ethical living and how her background in marketing and social media enabled her to find her tribe and thrive online. We uncover a lot of the ups and downs of running your own business, why being unclear of your values can leave you overwhelmed, and why mental and physical health is key for a happy life and successful business too.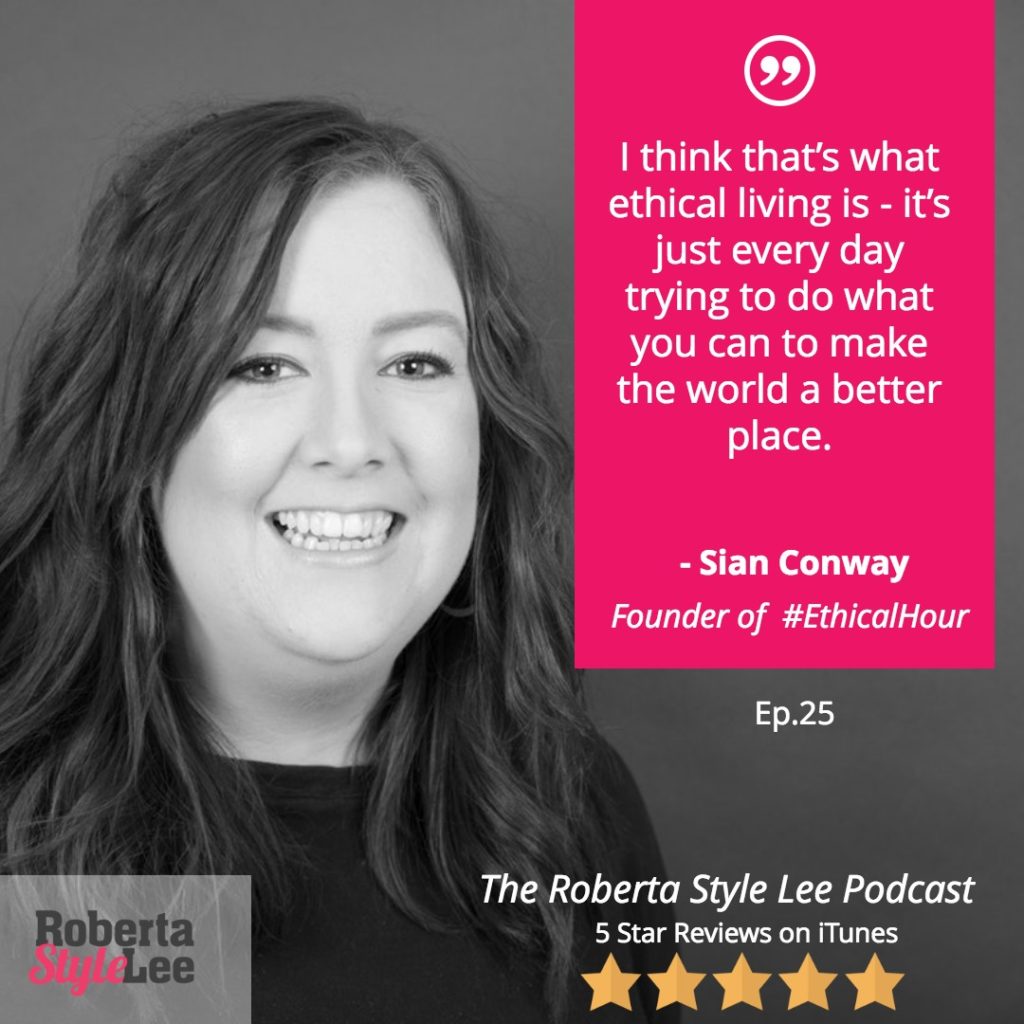 Sian shares pure gold in this  episode – don't miss it! Find out what keeps her happy, healthy, confident and sane. Tune in to get the full story, find out what her top 3 tips are and what her last ethical purchase was too (In April). If you enjoyed the show please leave us a comment below 🙂
Fid out more about Sian Conway from Ethical Hour 
You can find Sian on al the usual social media @ethicalhour and over at www.ethicalhour.com 
"I think that's what ethical living is – it's just every day trying to do what you can to make the world a better place." – Sian Conway, Founder of Ethical Hour
Please Support The Show
You can listen to the podcast series on iTunes, Soundcloud and Youtube for FREE. You can also subscribe to each channel easily and be alerted to new releases when they become available. Please don't forget to leave us your comments, rate and review us in the iTunes store.
The Roberta Style Lee Podcast
Interested in being a guest on the series? Drop us a line via the contact me option on the website. For more information on the Podcast head over to: robertastylelee.co.uk/podcast
About Roberta Style Lee
Roberta Style Lee is a lifestyle brand designed to make a social impact – it's about inspiring confidence and empowering women to be the best version of themselves and doing it in a socially and environmentally responsible way, from the inside out. Roberta Lee the founder, is a confidence coach, a stylist and the host of the Roberta Style Lee Podcast.
Roberta Lee is also the founder of the Ethical Brand Directory ethicalbranddirectory.com
Head over to the website.robertastylelee.co.uk for general information relating to confidence coaching and sustainable personal styling.